A Holiday Progressive Dinner That Will Never be Perfect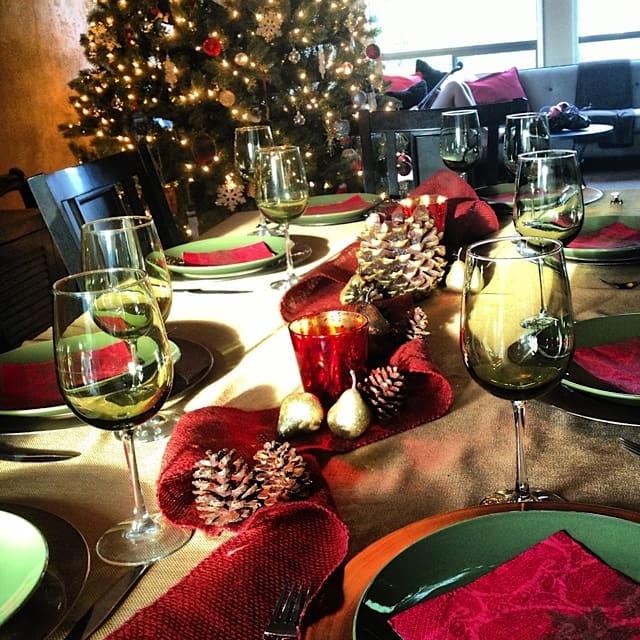 For 10 years now, we've been joining our friends for an annual Holiday Progressive Dinner – 4 courses, 4 couples, 4 houses. It's hard to describe the beauty of the night – it truly is a magical.
Last weekend was our 10th year, and every year gets better and better. I say our holiday progressive dinner that will never be perfect because we've learned to laugh at our imperfections … more on that as you keep on reading. :)
If you've never done anything like this, starting your own tradition with great friends can be such a joyful time, something to look forward to each year, and since all 4 of us girls love to cook – it's fun being creative in the kitchen, depending on what course we're in charge of!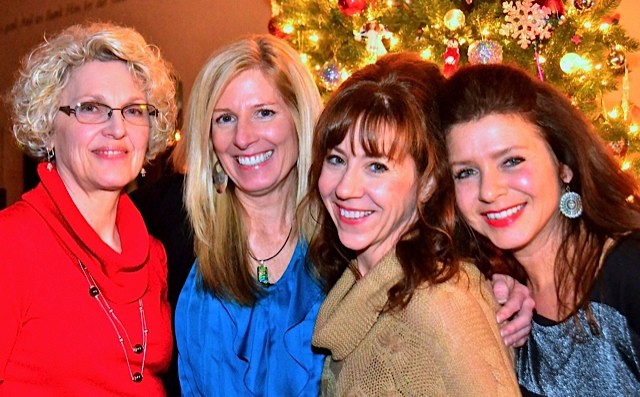 Here are a few flash back iPhone moments of our night, starting with Appetizers.
I love Kristi's buffet-style presentation of appetizers. We have a new Trader Joe's in town, so we got to try a lot of little bites that were new to us.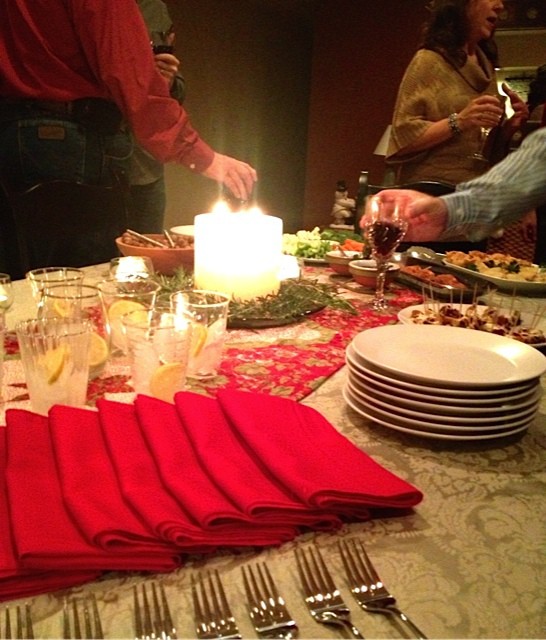 Look at the big candle as the centerpiece, surrounded by fresh rosemary.
Rosemary = the herb of friendship.
Perfect!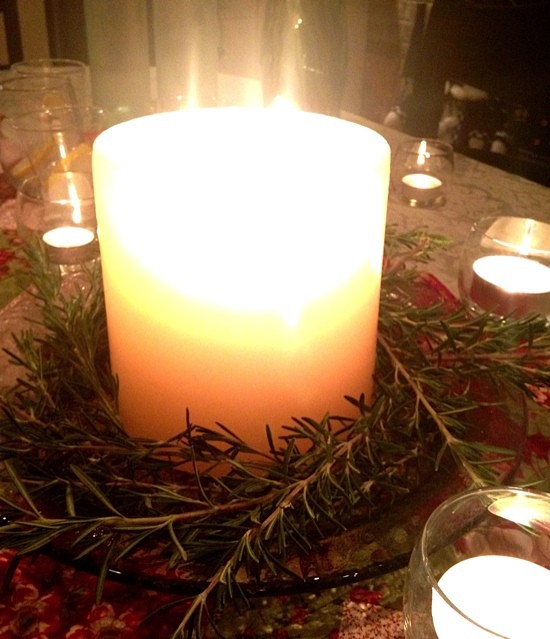 Salad house was next. Guess where? Our house! (My table was set with a red burlap runner and pine cones and mini gold pears – easy!)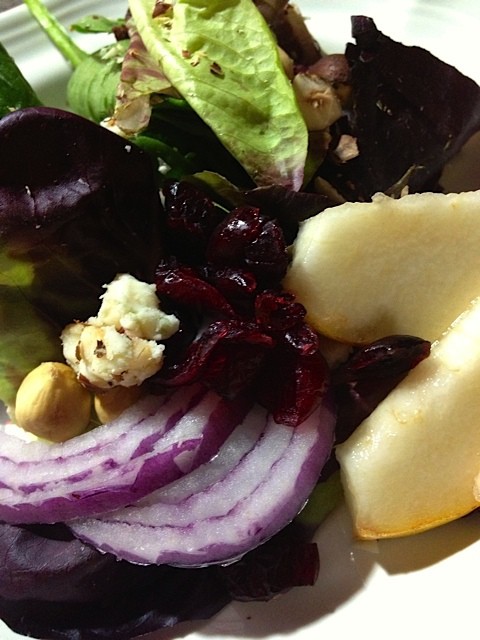 I made this recipe, and added red onion and cranberries to make it festive for the season.
-Fresh Greens
-Smokey Blue Cheese
-Fresh pear slices
-Hazlenuts, toasted
-Red onion, sliced
Instead of bread, we served Lesley Stowe Raincoast Crisps. A big, big hit.
Main course: You've guessed it. Cornish Game Hens from Jenny. I'm pretty sure I'll be posting this recipe later as I plan to make these birds on Christmas Day.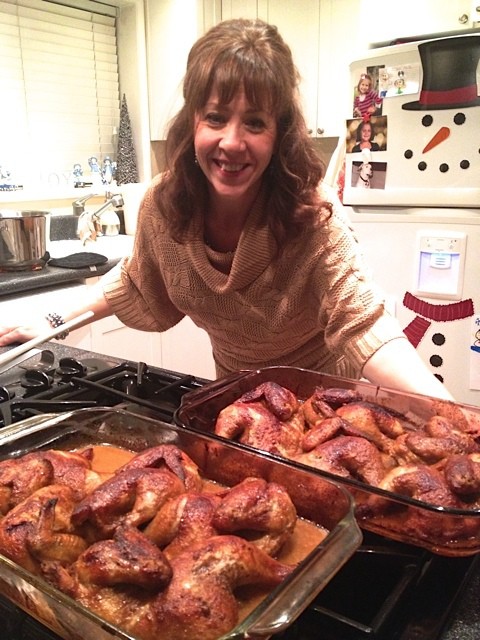 Oh, and why was our Progressive Night not perfect?
One of us usually forgets something – and yes, we've learned to laugh about it. This time it was Jenny (she gave me permission to tell her story). The game hens were served. Mm-m-m-m, the aroma from the hens flooded the house …
We said the blessing, and got ready to dive in …
But there was no silverware on the table. Oops!
Jenny also forgot the sauce over the asparagus, so the plates went back in to the kitchen for the added sauce, and they quickly gathered up the silverware.
There's always a few blunders that happen. A few in each home, I'm sure.
Ending with dessert, we all agreed that Cindy's cheesecake was the best we've had – so light and fluffy. And the mini place cards made out of a porcelain white (with erasable names) — so cute and reusable!
The "dessert house" is always a perfect ending to a beautiful night.
A magical night.
We said our goodbyes–spirits and bodies fed–and before we know it, the next festive season will be here.
What favorite tradition do you repeat each year?

I'd also love to answer any questions you have on how to host a progressive dinner, or you can visit this link to 4 posts on How to Plan a Progressive Dinner Party.
Hello and welcome to my home and table!
I'm Sandy—lover of food, family, cooking, THE BIG BOARD, travel, and bringing people together. Through great recipes and connection around the table, we become better, stronger, and more courageous people. Feasting on Life is real, and every time we do it, we grow a little more. Read more...