Are Chargers Essential to Setting a Pretty Table?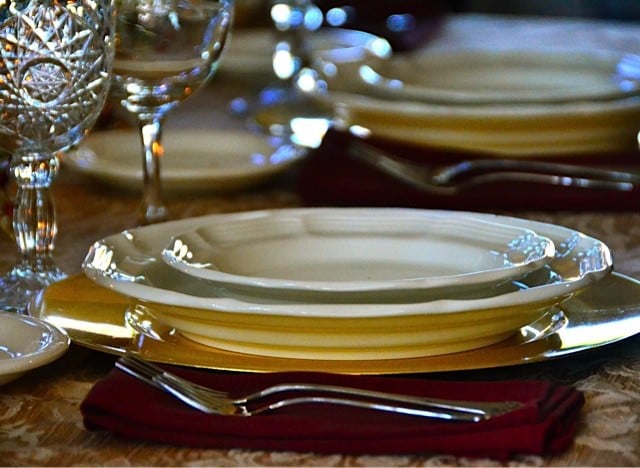 When I think of the glitz and glamour of holiday entertaining, it can really mess with my mind. So if we want to keep a more simple approach, we can't let "glitz" dictate us.
The table. It can be overwhelming when you think of all the holiday entertaining tableware, that is usually NOT brought out on a daily basis.
Remember to KISS! Kee it Simple, Sisters!
I love reader-inspired questions here at RE. I recently heard from my friend, Carolyn, who asked a very good question:
I had some questions about chargers. I've never used them, don't own any and wondered 1) what is their purpose 2) how do I pick a set (color, design, size) and 3) do you use them for every dinner party, just formal ones or just for holidays?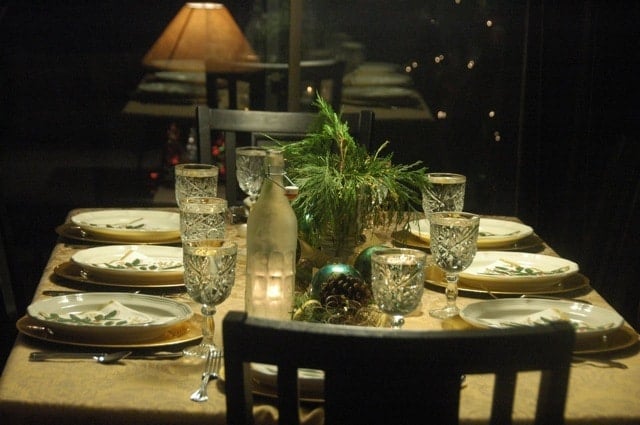 This is what I know about chargers:
-They are large decorative plates that sit beneath the course plates.
-They create a background for the meal.
-They really make a table pretty!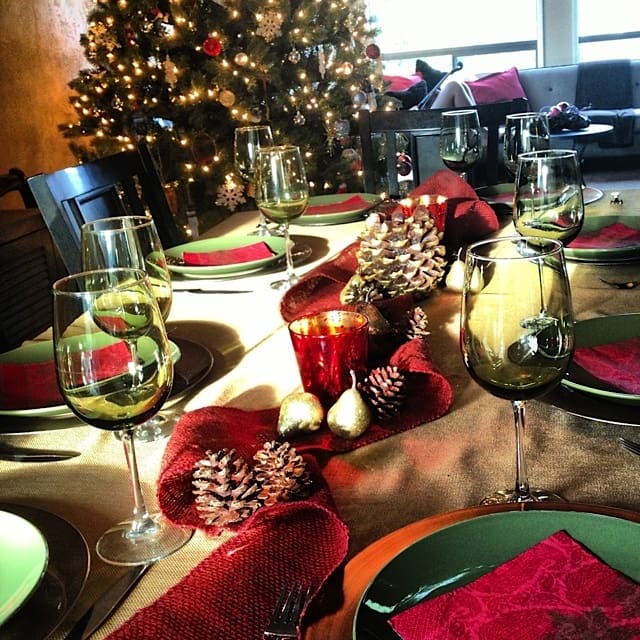 -Are they essential to entertaining? No.
-What's the purpose of a charger? They are for decoration, so food is not to be served directly on a charger.
-Do they add to a table setting? Yes.
-What if your space is cramped? Don't use them. It's more important to fit people around the table comfortably than to worry about the table looking "perfect."
-Do I use them only holidays? No. I keep them in an accessible place to use for all kinds of entertaining.
-Do I use them for everyday? Absolutely not.
-Do you keep them on the table for all courses? Some remove them when the main course arrives, but it's up to you. Usually they should be removed (down to the placemats or table cloth) when dessert is served.
I like to encourage "newer" hostesses to borrow a set of chargers for a special party, rather than go out and buy brand new. In this case, I borrowed white chargers for this outdoor dinner party.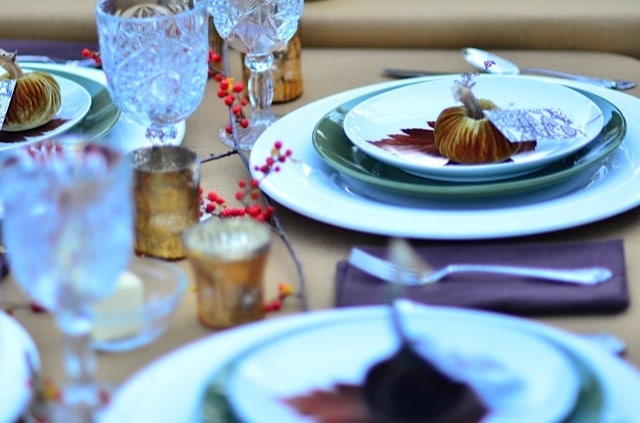 My friend borrowed my dishes, here, but used her own RED chargers for the table setting. So pretty!
I saw this beautiful blue color at Michaels the other day and text this photo to my friend Lindsay (they matched her dining room perfectly).
How to get started using chargers
-How many? Buy a set of 12.

-Where do you buy them? Inexpensive ones at Michaels or Dollar Tree. For more expensive chargers, the sky's the limit … Pottery Barn, Crate and Barrel.

-What colors do I have? I have a set of 12 gold and 12 silver. And then a set of 12 more pewter (silver), in the smaller size, that I use for outdoor entertaining. I bought all 12 of these at a yard sale for $5. Bargain! I recently bought 16 bronze colored chargers at Michaels for 80-cents each. ($1 on-sale plus a 20% off coupon.)

-What color do you use the most? Silver – because my "silverware" is silver.
But I also love gold, for holiday or fall-time entertaining.
Mix and match for holidays! Here I used gold and silver.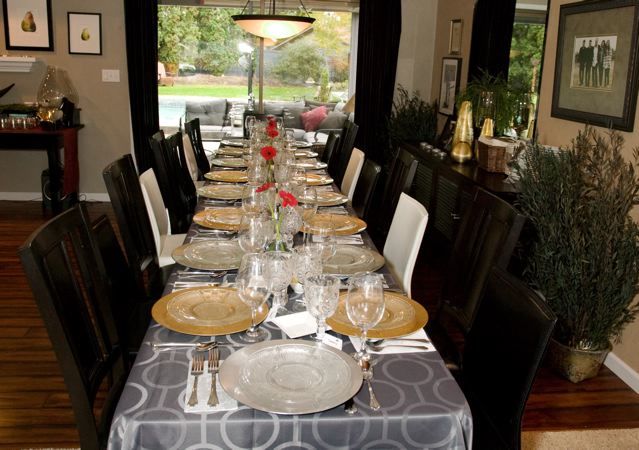 Have you ever used chargers under your dinner plates with holiday entertaining, and what's your favorite color?
Hello and welcome to my home and table!
I'm Sandy—lover of food, family, cooking, THE BIG BOARD, travel, and bringing people together. Through great recipes and connection around the table, we become better, stronger, and more courageous people. Feasting on Life is real, and every time we do it, we grow a little more. Read more...