Over Commitment … at Simple Mom's & Red Letter Words Canvas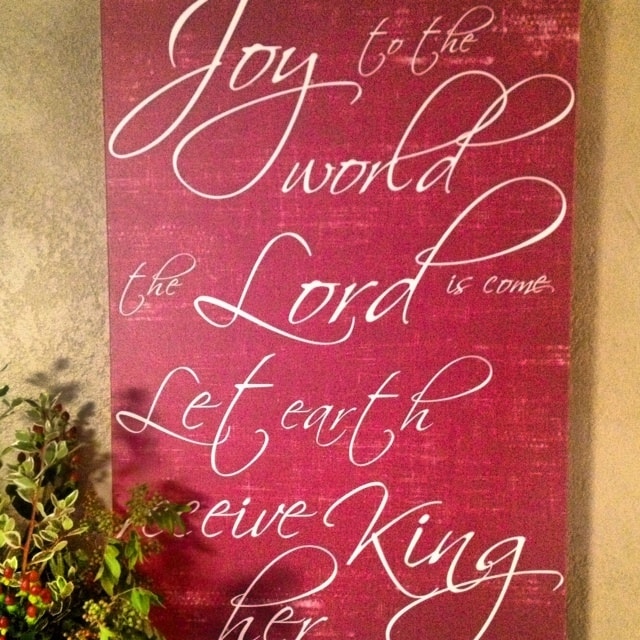 The families were coming, wagons drying off in the garages, gloves and hats laid out by the front door.

They had all responded to our invitation, our annual night of caroling through the neighborhood.

Snow or rain, about 40 people, big grown-ups down to the wee little babes, would pack in our tiny house for hot chocolate, sweets, and to practice up on our songs.

Then out the door to the neighbors we'd go, with our harmonies, kids, and sometimes umbrellas.

But then, what once was a blessing turned into a burden. It wasn't fun for us anymore. Continue the story => over at Simple Mom's.
It's been a privilege the past few years to be a contributor on Simple Mom's network. I've also been blessed with Red Letter Words as a sponsor to RE. This year I have hanging on our walls the beautiful Joy to the World canvas.
It hangs in our dining room.
Catches our eye.
We hum along, the all-too-familiar words.
Joy to the World, the Lord is Come …
Let Earth Receive Her King …
They permeate our heart, soul, being …
Ground us and remind us of the season and week ahead.
I love Christmastime, and pulling out of the attic reminders of the season.
This one, I'll have to say, will be hard to put away …
What do you have hanging in your home, that keeps reminding you of the "season"?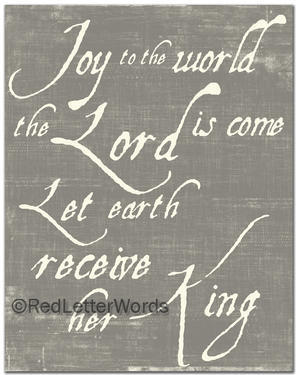 This post is sponsored by Red Letter Words. These canvas prints are on sale right now. I love the red and the gray color choices.
GALLERY WRAP CANVAS ART PRINT:
Each Gallery Wrap Canvas Art Print is wrapped around a 1 ½ wood frame.
In addition, the canvas is coated with Hahnemuhle protective spray which protects it from harmful UV rays and other atmospheric contaminants. Prints are finished with a wire hanger, bumpers, and covered with Tyvek® backing.
Hello and welcome to my home and table!
I'm Sandy—lover of food, family, cooking, THE BIG BOARD, travel, and bringing people together. Through great recipes and connection around the table, we become better, stronger, and more courageous people. Feasting on Life is real, and every time we do it, we grow a little more. Read more...