Homegrown Strawberries with Matez' Tortas de Aceite
All you need is love. All you need is love. All you need is love, love. Love is all you need.
I'd like the change the words to this Beatles song to … all you need is cheese, crackers. Fruit is all you need. :)
Some people are so good and creative at making killer appetizers, but I find the easiest appetizer to put in front of your guests when you're in a pinch is cheese, crackers, and fresh fruit! And a little fig jam, if you have it.
In our backyard, our strawberries are finally coming on strong right now! It's going to be hard to keep up with what our beds produce, so the next few weeks we'll be enjoying pies, tarts, eating them for breakfast with Greek yogurt, smoothies, … you name it, there's nothing like enjoying a good homegrown strawberry for any course of the meal!
The color, flavors, and passion for berries started for me as a little girl in Oregon, when my mom would bring flats home and we'd make fresh strawberry jam! I've posted about Mom's easy method, here – How to Flip and Seal the Jars, but another way to enjoy them, especially with your guests, is to serve them in an easy appetizer.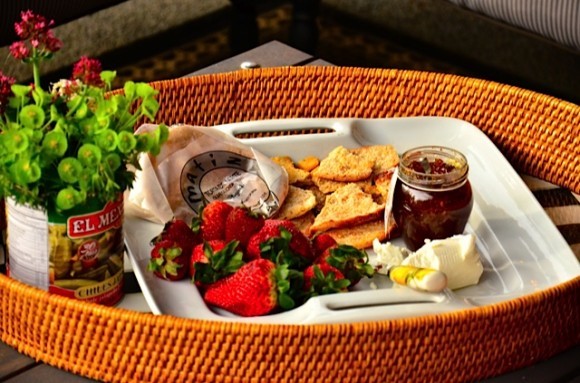 Appetizers are sometimes the last thing I think about when we are entertaining, I guess because if no one is bringing them, I know they are easy to put together. Last minute.
Cheese, crackers, and fresh fruit!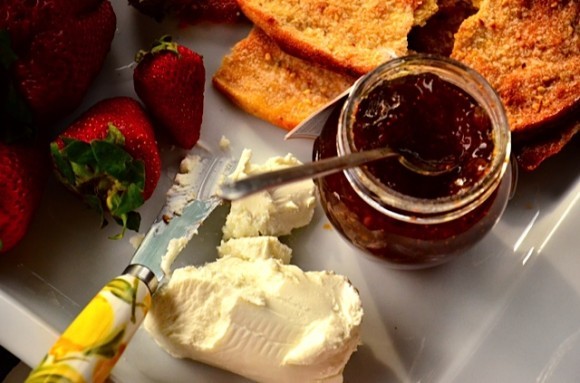 Goat cheese, fresh strawberries from the garden, fig jam, and Matez' Tortas de Aceite (which are a traditional Spanish crisp bread made with 24% Spanish olive oil. They are produced entirely by hand – each torta with its own distinctive hand-patted shape.)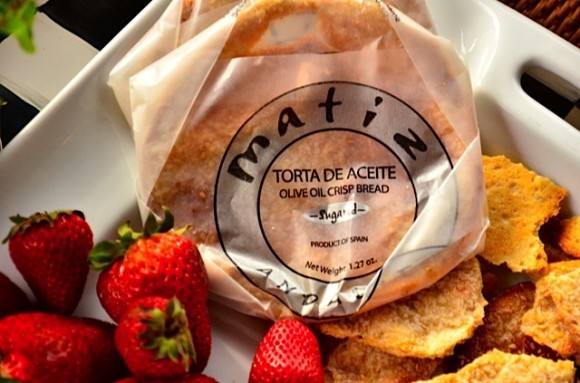 I have to say, not a drop was left on the platter as we transitioned over to our outdoor dining area.
I'll leave you with few thoughts about appetizers. I love appetizers because it's what your guests first partake in–often coming in from the weary world of work, family, problems … life– usually served with a glass of wine. It's the course when your guest sit back with a sigh of relief, knowing that it's now time to relax, unwind, let our hair down, and get to know each other.
Appetizers are the start of listening, staying, and connecting.
And they don't always have to be fancy.
What are your favorite 3-4 ingredients to serve for a last-minute appetizer?
If you're looking for more platter appetizer ideas, I wrote this post at Answers.com How to Make a Knockout Appetizer Platter, excellent for large-group parties!
Hello and welcome to my home and table!
I'm Sandy—lover of food, family, cooking, THE BIG BOARD, travel, and bringing people together. Through great recipes and connection around the table, we become better, stronger, and more courageous people. Feasting on Life is real, and every time we do it, we grow a little more. Read more...