Hot Pastrami Sliders
These Hot Pastrami Sliders are a cheesy, delicious party food for game day, tailgating, or to bring to a potluck! Made on pretzel rolls, they are the perfect Irish dish to serve for a St. Patrick's Day party!
Friends, these Hot Pastrami Sliders are delightful to bring to a party, or serve for St. Patrick's Day!
But first, there's a lovely side to hospitality, and a not so lovely side.
That is when your tummy hurts and you are anxious as can be, about an hour before the company arrives!
Crazy hour
This past weekend we hosted friends for an easy meal. I was telling my son (who was helping me with last-minute details, making these Hot Pastrami Sliders), how I'm not crazy about the "crazy hour" before guests show up.
When I'm organized, it's much easier. When I save everything for the last-minute, well … that is when it becomes the crazy hour.
When you're an introvert, and struggle a bit more with socializing, add that to the mix. Not so fun!
But whether you're an introvert or an extrovert–you're shy, or you just want to get the party rolling–so much of entertaining has to do with knowing yourself well.
Introvert or extrovert?
Maybe it's a sit-down dinner, where you're in control of the entire meal and you love to serve. Or, maybe you truly are an introvert–you know that you should practice hospitality, and your life is better when you make the effort, but you worry about all the details. In fact, my friend Nester wrote An Intovert's Guide to Having People Over. Check it out!
My husband, did not like to host when we first got married. He was more an introvert, and he worried about conversation. He learned to overcome this, with the help of his extroverted wife (smiley face), and years later, we both love to host people in our home.
I'm an extrovert, and a doer, and I can come up with a plan, menu, and guest list pretty easily.
Hot Pastrami Sliders
To avoid the "crazy hour" for a fun St. Patrick's Day party, today I'm sharing a very simple recipe that you can make ahead of time, and bake for 15 minutes.
Set up a party station with everything you need, from drinks to food.
I found these cute green glasses at the grocery store for 50-cents each. Bargain!
Of course Guinness is a good drink for St. Patrick's Day, and for dessert you can make my Oreo Mint Pistachio Ice Cream Pie. Yum-yum!
Ask your guests to bring a salad.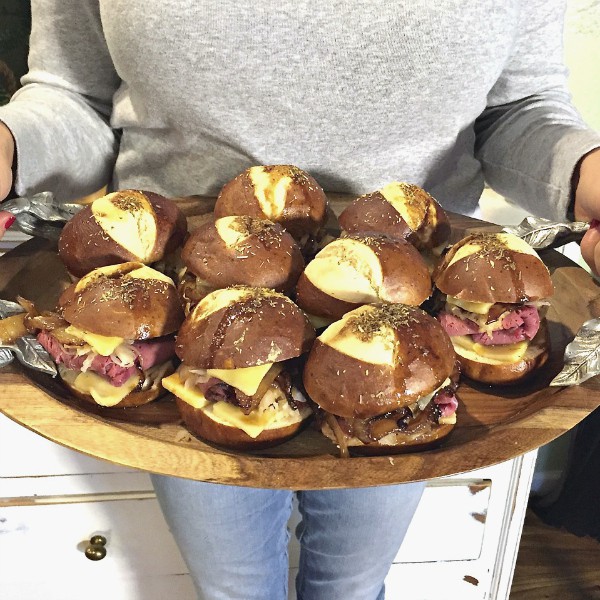 Pastrami vs. corned beef
These Irish Sliders are a huge hit. With Dubliner cheese, pastrami or corned beef, pretzel rolls, grilled onions and sauerkraut – you just can't go wrong!
By the way, we were talking the other day about the difference between corned beef and pastrami. Both cuts of beef are cured (brined in a salt water solution), sometimes with spices and seasoning. Here's the difference, it all has to do with the curing process. Corned beef is boiled, while pastrami is smoked.
What works best for you? What style of "party" fits your personality well?
Get the Recipe: Hot Pastrami Sliders
Ingredients
1 large sweet onion, thinly sliced
4 Tbsp butter, divided
2 Tbsp brown sugar
1 tsp salt
9-12 pretzel rolls, or 12 King's Hawaiian Rolls
7 oz. Dubliner cheese, sliced
9 large slices of pastrami or corned beef, about 1 pound
1 cup sauerkraut, drained
1 tsp oregano, dried
Instructions
Preheat oven to 350 degrees.

Melt 2 Tbsp of butter in a large skillet over medium low heat. Add in the onion, brown sugar and salt, stir and cook until softened, 5 to 10 minutes.

Meanwhile, place the bottom of the rolls in a baking dish. Lay slices of cheese over the roll bottom. Next, lay 1 slice of roast beef on each roll, folding it over to fit on the roll.

Next, spoon about 2 Tbsp. of sauerkraut and 2 Tbsp. of the onions over the meat. Add another layer of cheese. Place the bun back on top.

Melt remaining 2 Tbsp. butter in the same pan in which the onions were cooked. Brush or drizzle over the tops of the rolls. Sprinkle with oregano.

Bake for 10-15 minutes or until cheese is melted. Serve!

Hello and welcome to my home and table!
I'm Sandy—lover of food, family, cooking, THE BIG BOARD, travel, and bringing people together. Through great recipes and connection around the table, we become better, stronger, and more courageous people. Feasting on Life is real, and every time we do it, we grow a little more. Read more...