How to Make Fajitas Tostadas with Green Pepper Hot Sauce
Here's an easy Father's Day idea: How to Make Fajitas Tostadas with Green Pepper Hot Sauce, a Vegetarian recipe perfect for the week ahead.
I've been on a tostada mission as of late, trying lots of varieties. I have another recipe coming up with strawberry beet salsa, which I'll be posting soon. This time we had our friends over for an impromptu easy dinner out by the pool. What I love about hosting a "tostada bar" is that it's not only made up of easy ingredients we keep on hand, but we just set it all out on the kitchen island, and everyone creates their own tostada delight.
This nibble-friendly recipe involves Cholula Green Pepper Hot Sauce. I say "nibble-friendly," because the pepper and bean mixture is good enough to eat by itself. You can just nibble on that, or on the guacamole; you can make a taco salad instead of a tostada, or even nibble on the tomatoes. There's no rules involved when you build your own tostada! And when you add a few drops of this amazing hot sauce, the bites get better and better!
The flavor with this Green Pepper Hot Sauce was bold, but you can tailor the spice to your preferred level of hotness. That is what I love about Cholula hot sauce – drizzle it on or pour it on, whatever works best for you.
I specifically am loving all the new flavors they offer!
And I love setting them out for the guests to also decide what "flavor" settles best with their palate. Although on this night, I served the new Green Pepper flavor.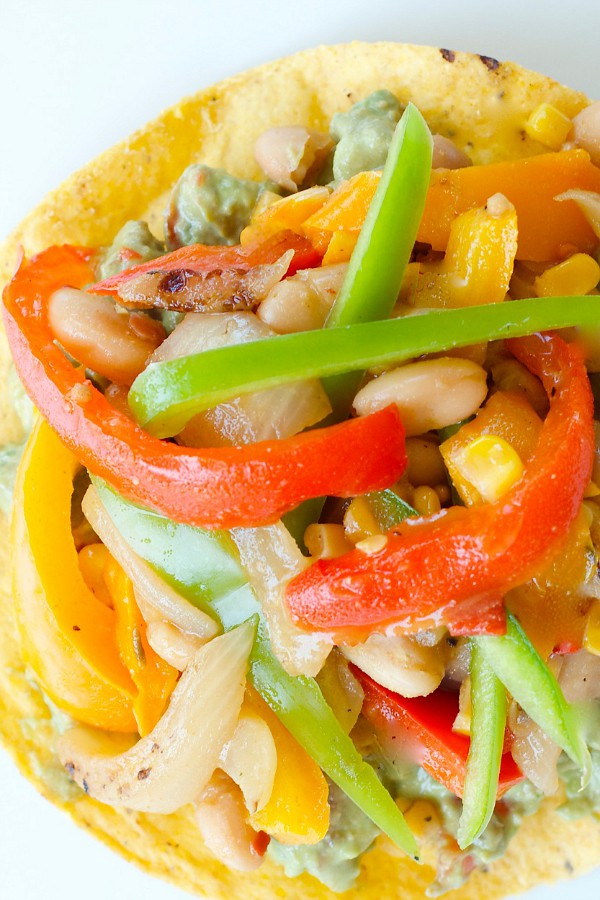 Now to the Fajitas Tostadas. It only takes a few minutes to cook up the onions, peppers, and add in corn and spices and a can of beans.
Don't forget the delicious toppings, especially heirloom tomatoes that are already in the stores. This Vegetarian recipe is so quick and easy, if you're short on time, you can always buy store-bought guacamole.
So, perfect for Father's Day week ahead!
What yummy recipes will you be serving up to your favorite Dad?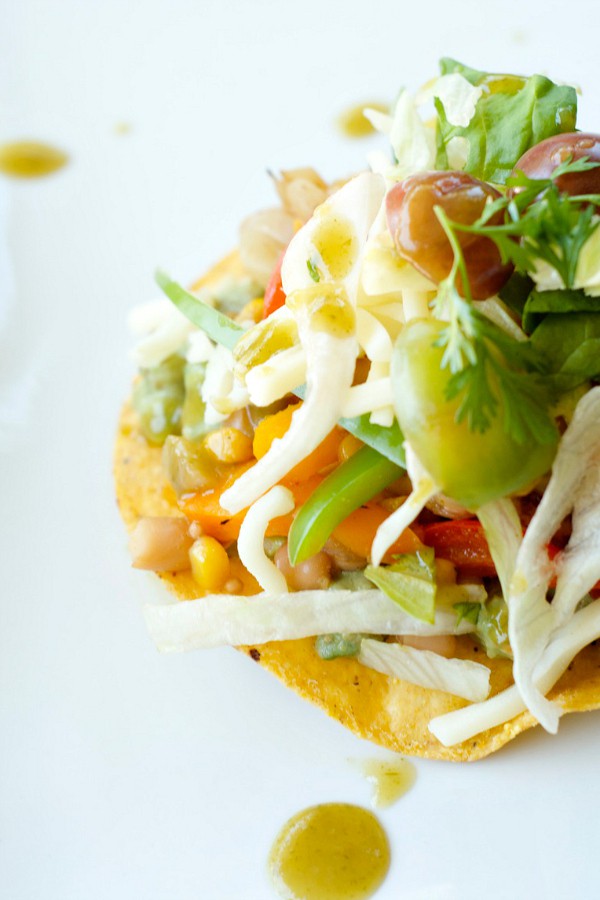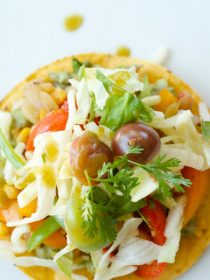 Get the Recipe: Fajitas Tostadas with Green Pepper Hot Sauce
Ingredients
2 T. olive oil
1 red pepper, thinly sliced
1 orange or yellow pepper, thinly sliced
1 green pepper, thinly sliced
1 medium sweet onion, thinly sliced
1 cup frozen or fresh corn, or corn chili
1 tsp. cumin
1/2 tsp. chili powder
Salt and pepper or taco seasoning
2 tsp. Cholula Green Pepper Hot Sauce
1 can, 15 oz Bush's Cannellini Beans, drained
1 large avocado, mashed
1/8 cup finely chopped onion
1/4 cup sour cream
1 lime, squeezed
Salt
1 tsp. Cholula Lime Hot Sauce
Prepared tostada shells
Iceberg lettuce
White cheese
Heirloom tomatoes
Instructions
Sautee the onions and peppers for about 5 minutes. Add the corn, cumin, and green pepper hot sauce. Salt and pepper, or season to taste. Add a can of drained Cannellini beans.

To make the guacamole, mix the mashed avocado, sour cream, onions, and lime. Add the green hot sauce (to taste) and salt.

Layer on top of the prepared tostada shell a thick layer of guacamole. Spoon the bean and pepper mixture on top, adding lettuce, cheese, and tomatoes.

Drizzle with more green pepper hot sauce if desired.
I am working with
Cholula Hot Sauce
, who sponsored this post today. As always, all opinions are my own.
Hello and welcome to my home and table!
I'm Sandy—lover of food, family, cooking, THE BIG BOARD, travel, and bringing people together. Through great recipes and connection around the table, we become better, stronger, and more courageous people. Feasting on Life is real, and every time we do it, we grow a little more. Read more...