How to Make Zucchini Noodles with a Peeler Recipe
How to make zucchini noodles with a peeler recipe: Peel zucchini with a peeler; lightly saute in oil. Serve with a cheesy white sauce!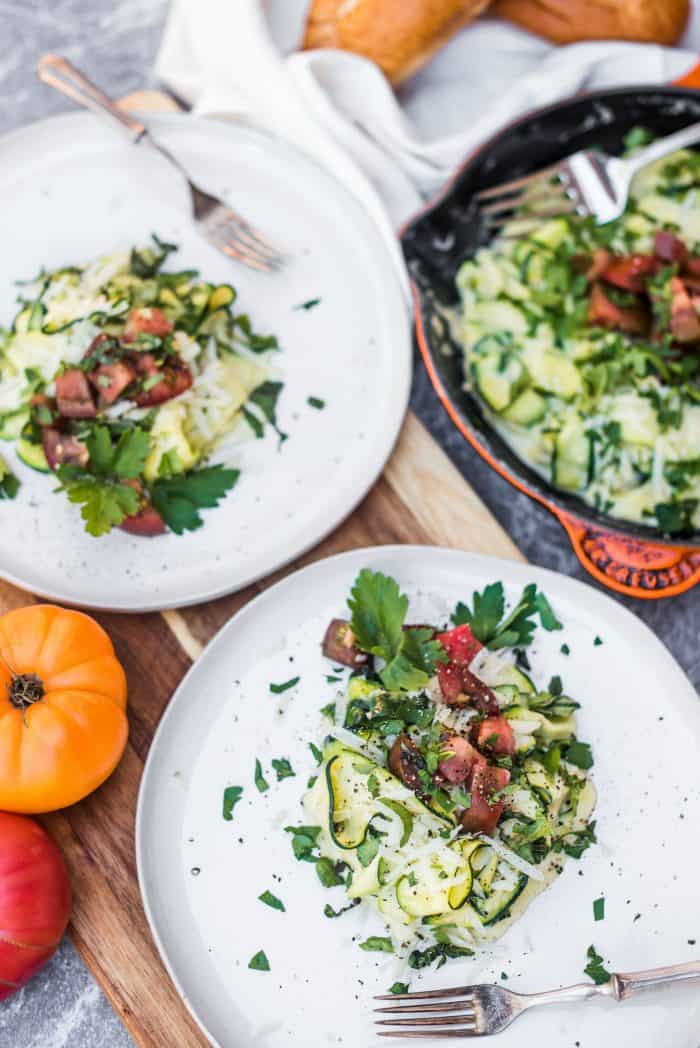 Inspired by garden zucchini and a simple way to teach kids how to eat zucchini, How to Make Zucchini Noodles with a Peeler Recipe, is a great place to start!
You may also want to try my Summer Zucchini Turkey Burgers or Cold Zucchini Soup Recipe! For dessert? This Zucchini Banana Cake (will melt in your mouth).
How to Make Zucchini Noodles with a Peeler Recipe
Yay for summer and this delicious recipe, a great substitute for any pasta! Zucchini noodles are so easy, the essence of summer! Serve them with your favorite alfredo sauce!
The first thing you need is a good peeler. Here is the one that we use: OXO Good Grips Swivel Peeler.
Buy one, HERE.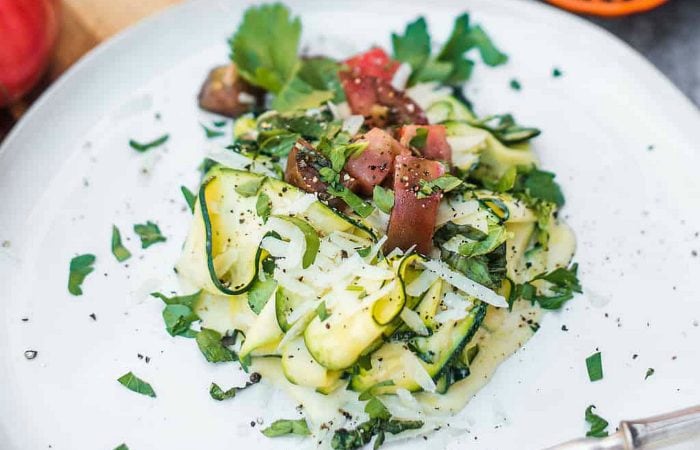 Ingredients for zucchini ribbons
For this recipe, we've served it with a creamy white sauce!
Zucchini
Olive oil
Butter
Fresh garlic
Whipping cream
Parmesan cheese
Cayenne pepper
Salt and pepper
Basil
Fresh tomatoes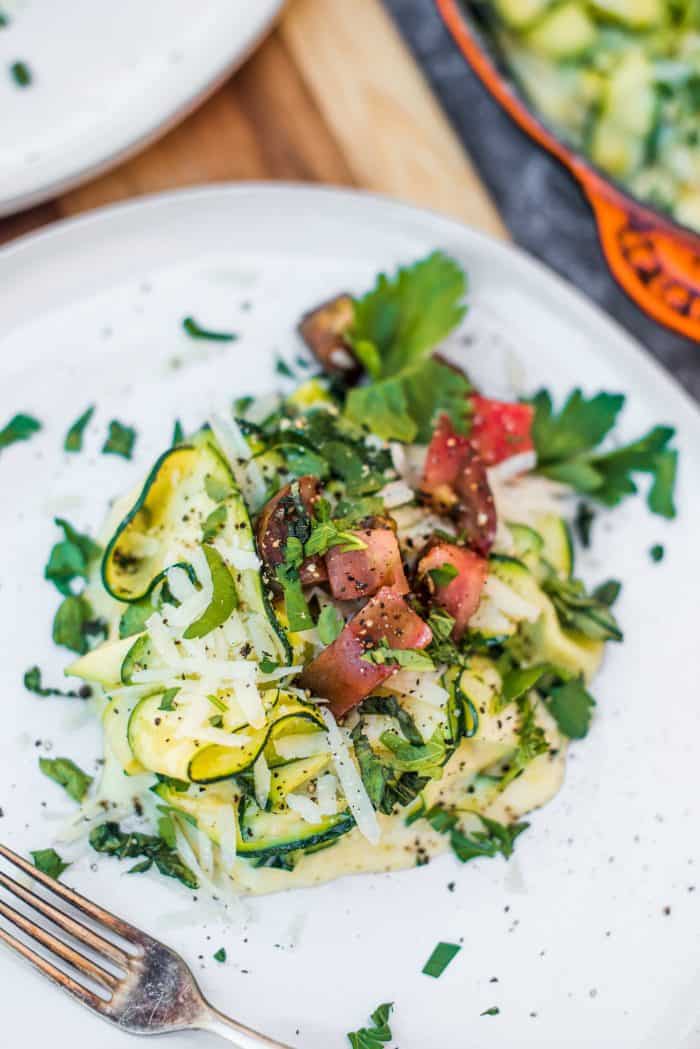 Friends, are you enjoying summer?!
"Summer will end soon enough, and childhood as well."– George R.R. Martin
So very true. In a blink of an eye, summer will be gone. Our kids are grown and gone. Paul and I are true empty nesters. It's a bittersweet time for us for sure, but we are excited for our kids.
Zucchini ribbons
I do miss our garden that we had in Medford for 10 years, but it's certainly easy to head to the Farmer's Market to pick up fresh produce! Or, be on the list to get a local CSA box!
We've been eating zucchini noodles (or ribbons) for years, so keep on reading :)
How to Make Zucchini Noodles
Do you know how to turn your vegetables into lovely noodles? It's so easy and your kids can do it quickly with a good vegetable peeler! When my kids were little, this was their job!
Simply slide the peeler over the washed zucchini (keep skin).
Peel and slice from the top to the bottom.
Make as many ribbons as you can. Don't use the very center, it is too flimsy and has too many seeds.
This method works for making ribbons with any summer squash, cucumbers, and melons. YUM!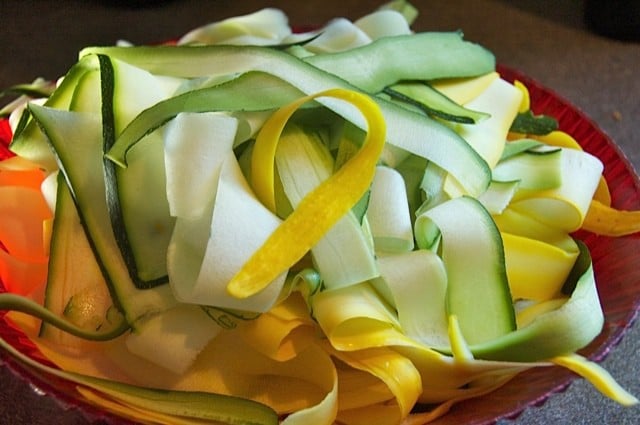 You can always compost the center part of the squash or put into a soup! Or feed to your chickens!
Make a white sauce
Make your own garlicky white sauce. Add the parmesan cheese and season to taste.
In olive oil, barely saute the zucchini to tender in a hot pan. Do NOT overcook.
Mix the two together and ENJOY!
We like to add chicken and whole wheat pasta for a full meal, and this also makes a great side dish.
Garnish with fresh herbs and garden tomatoes!
TIP: Grab Trader Joe's alfredo sauce if you're in a pinch!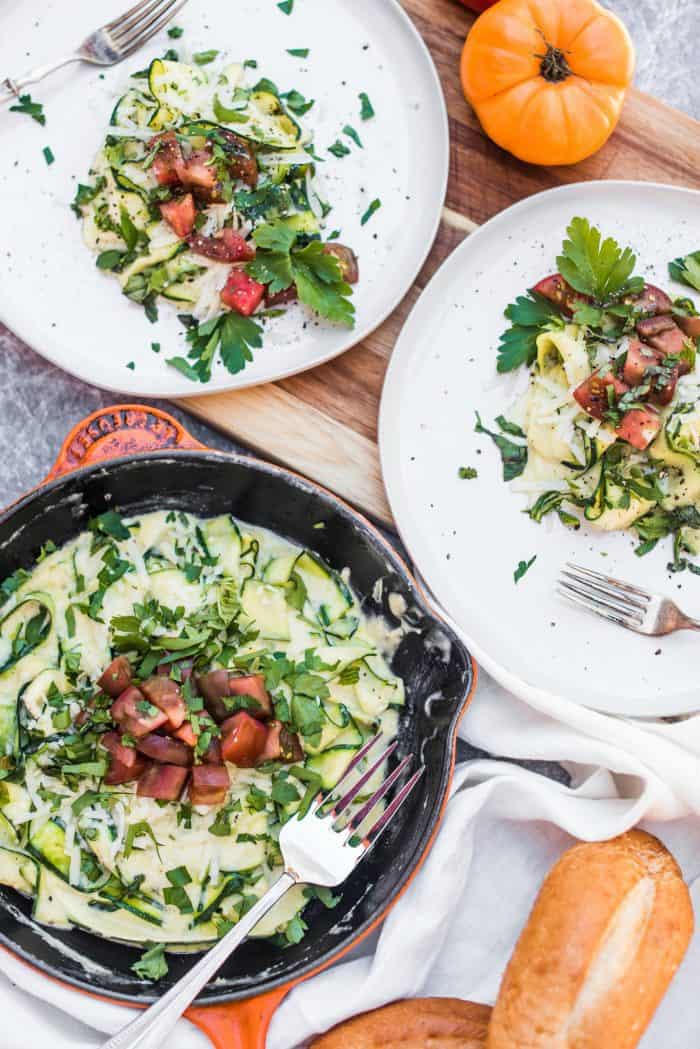 Buy a 10-Blade Spiralizer
If you love cooking with spiralizers, then here's the one I always recommend!
Brieftons 10-Blade Spiralizer: Strongest-and-Heaviest Vegetable Spiral Slicer, Best Veggie Pasta Spaghetti Maker for Low Carb / Paleo / Gluten-Free recipes.
Comes with Blade Caddy, Container, Lid & 4 Recipe Ebooks! BUY ONE, HERE.
Enjoy the last day of July, Friends!
More zoodle/noodle recipes:
Zucchini Noodle Mock Pasta Salad [Kalyn's Kitchen]
Cheesy Zucchini Pasta Quinoa Bake [Sugar-Free Mom]
Skinny Marinara Zoodle Pasta [RE]
Salmon Mushroom Zoodle Marsala [RE]
Get the Recipe: How to Make Zucchini Noodles with a Peeler Recipe
Ribbons of zucchini slightly cooked in olive oil and served over a bed of whole wheat pasta with Parmesan sauce.
Ingredients
Noodles:
8-10 medium zucchini
3 tbsp olive oil
Sauce:
2 TBSP butter
3 TBSP pressed garlic
1 cup whipping cream
¾ cup grated parmesan cheese
1 tsp cayenne pepper
Salt and pepper to taste
Fresh tomates and basil, chopped for garnish
Shaved parmesan cheese, for topping
Instructions
Using a vegetable peeler, carefully peel zucchini into long ribbons—scraping form top to bottom. Place in large bowl and set aside.

In medium saucepan, heat olive oil on medium low, then add garlic. Cook garlic until it is golden brown, then add in the whipping cream. Bring to a simmer on medium heat—about 4-5 minutes—then add parmesan, cayenne, and salt and pepper to taste. Bring to simmer once again and stir frequently until cheese is melted—about 3-4 minutes. Reduce heat to lowest and keep warm.

In large saucepan, heat olive oil on medium heat, then add zucchini ribbons. Sauté ribbons until they reduce in size slightly—about 5-7 minutes—then salt and pepper to taste. If there is excess moisture at the bottom of the pan, drain before adding the Alfredo sauce.

Mix sauce into noodles completely. Serve with fresh tomato, basil, and shaved parmesan.
Notes
This post is updated from 2011.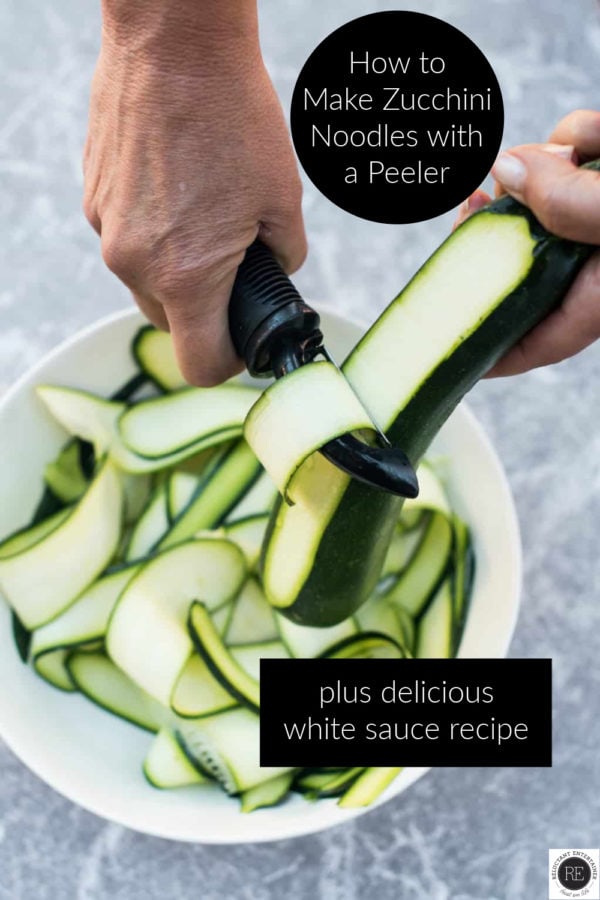 Hello and welcome to my home and table!
I'm Sandy—lover of food, family, cooking, THE BIG BOARD, travel, and bringing people together. Through great recipes and connection around the table, we become better, stronger, and more courageous people. Feasting on Life is real, and every time we do it, we grow a little more. Read more...