How to Stock up on 4th of July Entertaining Supplies
It's hard to believe that next week is the 4th of July, because the weather has been cold in Oregon! Brrr! It's hard to get in the entertaining mood and think about entertaining outdoors when it's rainy and chilly. But … I did pull out my tub of 4th supplies, which I keep up in the attic.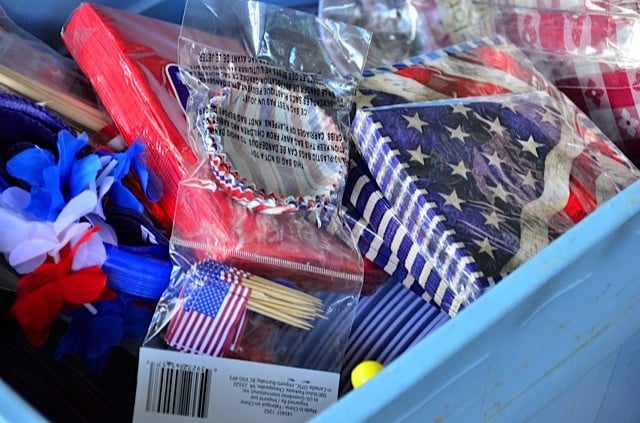 Every year I stock up for supplies at the Dollar Store for the next year.
It makes for easy entertaining, because all I have to do is invite the people and plan the menu, knowing I already have all the stuff.

For the 4th of July, I find shopping the Dollar Store to be very helpful, because it's such a simple, easy holiday.
Colors: Red, white and blue
Theme: American flag
Dinnerware: Mix and match plastic, paper, and glass
Tablecloths: Plastic which you can reuse or toss
Who to invite: Friends, family, neighbors, those who don't have a place to go to
Menu: Traditional American BBQ – make sure and delegate so you don't have to do it all
Dessert: Homemade ice cream (a must!)
I bought 24 Melamine plates that I store in the tub, and use year after year. They are nice and big, perfect for adults and kids! Easy to wash up and store.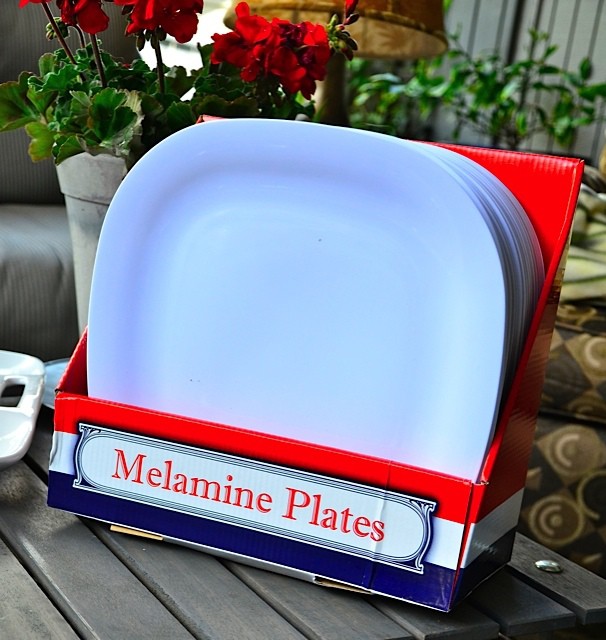 The Dollar Store always carries classy napkins, and each year is different as far as what kind of tablecloths are available. But even if they are plastic, they are $1 and easy to toss out when the night is over.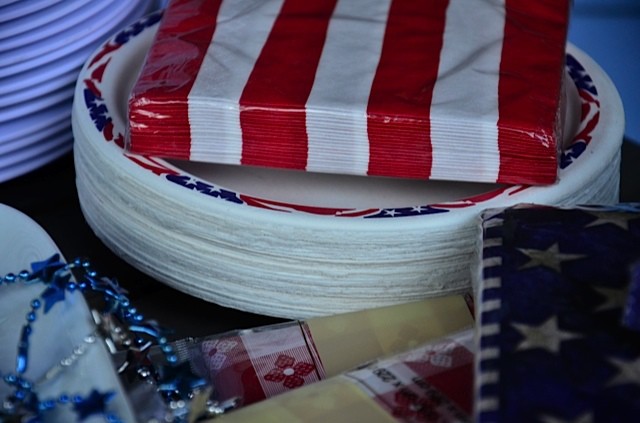 This year, I love the "geranium" or "red" plant theme.
Stick a flag into the soil. (Oops, flag upside down, I'll fix for the "big day.") :)
Add your Dollar goblets on a pretty red tray.
Silverware in a basket.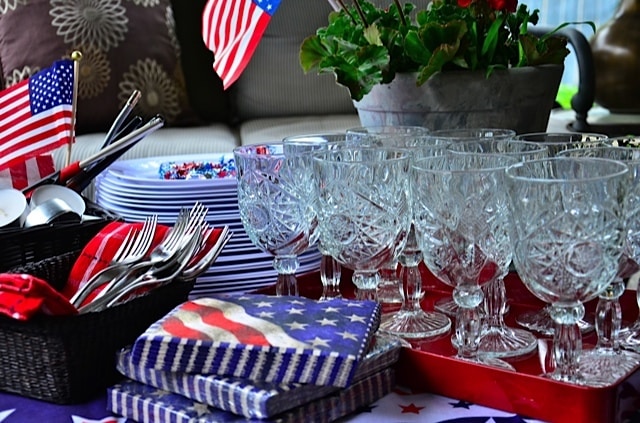 Now hopefully all of your family and friends are coming with food so you don't have to do it all. :)
Do you save 4th of July entertaining supplies, or do you buy "new" every year?
Hello and welcome to my home and table!
I'm Sandy—lover of food, family, cooking, THE BIG BOARD, travel, and bringing people together. Through great recipes and connection around the table, we become better, stronger, and more courageous people. Feasting on Life is real, and every time we do it, we grow a little more. Read more...