Ingredients for a Girlfriend Dinner Party
Sometimes a middle-of-the-week dinner party is just what you need to jolt you out of the wintertime blues. Last week, I hosted a girlfriend no-fuss dinner party, and it did just that. With bright and cheery tulip tabletop, a simple menu, delicious wine, and a celebration for our friend who was turning 50, we girls left the table inspired, encouraged, and happy. It jolted us out of the doldrums for sure, and after we were kind of seduced into thinking that spring might be on its way during a recent stint of glorious days of sunshine, we're back in the cold and rain and snow storms hitting Oregon. (Except today – rain and sunshine mixed!)
In no winter of recent memory is a gathering of friends around the dinner table more uplifting than getting the girls together and celebrating —just being together.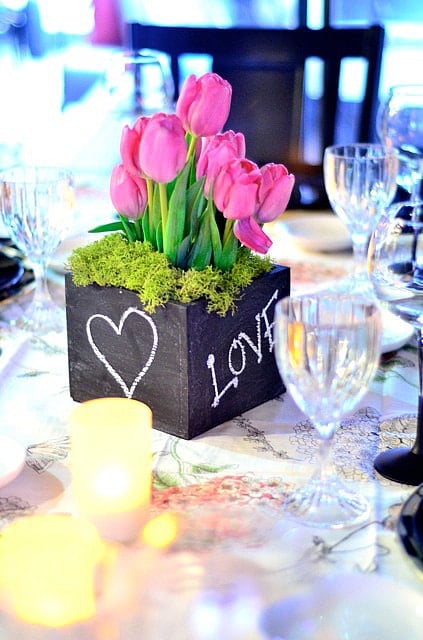 Bringing people together.
Do you ever have a party, "just because?" To me it's the best kind, and it's what hospitality is really about. It's the kind of hospitality that is less a responsibility, and more of a just wanting to connect.
Bringing people together is a tangible expression of love, one that I love to give. Add in the food, as it becomes an additional blessing.
The food.
There was a hummus appetizer. Baked chips, carrots and a few olives. I made a giant salad — which I've talked about in a previous post. A quick refresher — the salad is made with fresh organic greens, chopped chicken, orange cranberries, spicy nuts, red onion, and feta cheese. Friends always rave about my salads (I don't think they're that great, but I'll take the compliment anyway), and I pulled out of the oven 2 fresh baked bolanis and served them with 3 different sauces (sort of like a pizza). A hot loaf of crunchy bread and butter was on the side, and we each dished up our own servings.
What is a bolani?
Bolani is a vegan flat-bread from Afghanistan, baked or fried with a vegetable filling. It has a thin crust and can be stuffed with a variety of ingredients, such as potatoes, spinach, lentils, pumpkin, or leeks. It is very low-calorie. And very tasty, especially when served with pesto!
Taking it from there, we hung around the table for a few hours, discussing family, friends, work, struggles and joys.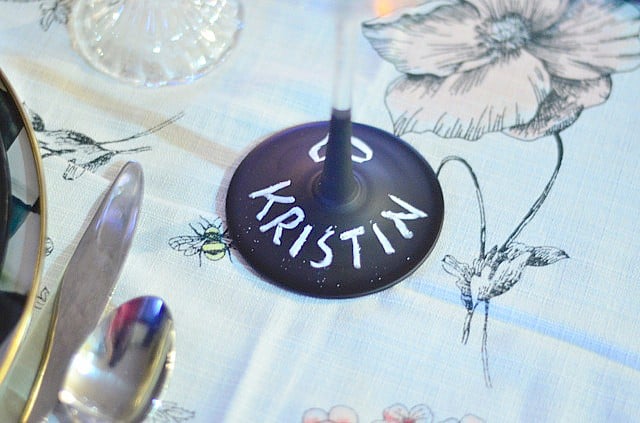 Table love.
I love bringing people together, and it isn't that hard to do. You provide the space, set the time, come up with a simple menu, and set the table. It's so easy, it really is!
I always try to make it special by buying 1 bunch of fresh flowers, especially during the winter months when our garden is not producing. This time I used a 4-sided chalkboard box from my friends at Penny & LuLu.
Above, chalkboard wine glasses from Mikasa and tablecloth from Macy's sale rack. Below, MacKenzie-Childs Courtly Check charger.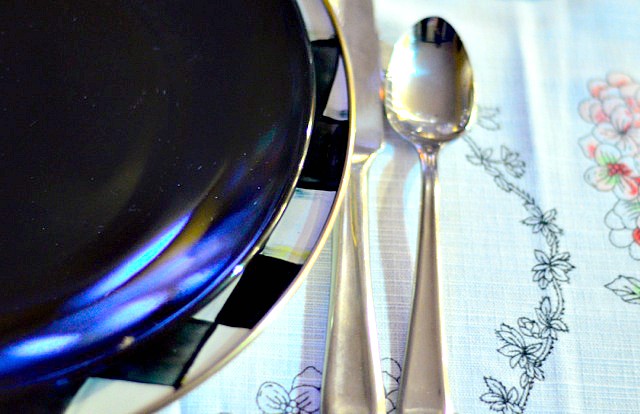 Blessings of friends.
I really do get teary-eyed when I think about the friends I've been blessed with, the subjects and stories shared around the table, the encouragement that takes place. Life isn't easy for anyone – and that's even more reason why we need to gather more.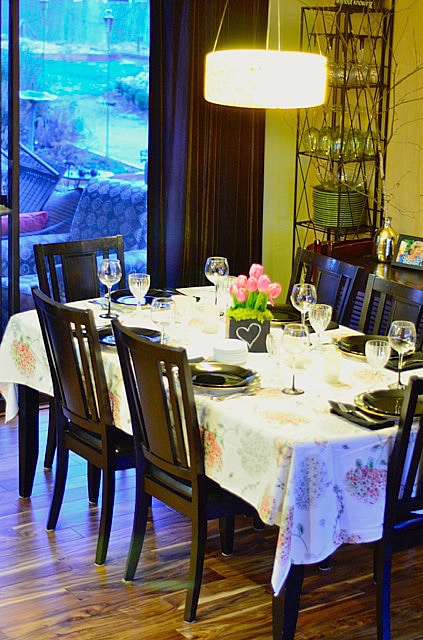 Girlfriend parties take on a whole new life of their own. You don't have to cook anything fancy, and in fact, you don't have to cook much at all (we're all such light eaters).
It's really about mingling, munching, grazing, and talking.
My goal: Bring people together and talk about things that really matter.
Girlfriend Dinner Party Ingredients:

~Appetizer
~Chips
~Finger veggies
~Salad
~2 bolanis
~3 sauces
~1 loaf crunchy bread
~Butter
~Wine or other special drink
~A few flowers
~An open heart
~6 (or however many) girlfriends
~A little undistracted time
Have you ever hosted a girlfriend get-together in your home? What made it special?
Hello and welcome to my home and table!
I'm Sandy—lover of food, family, cooking, THE BIG BOARD, travel, and bringing people together. Through great recipes and connection around the table, we become better, stronger, and more courageous people. Feasting on Life is real, and every time we do it, we grow a little more. Read more...