Set the Table with Love and Classic Shirley Temple Drink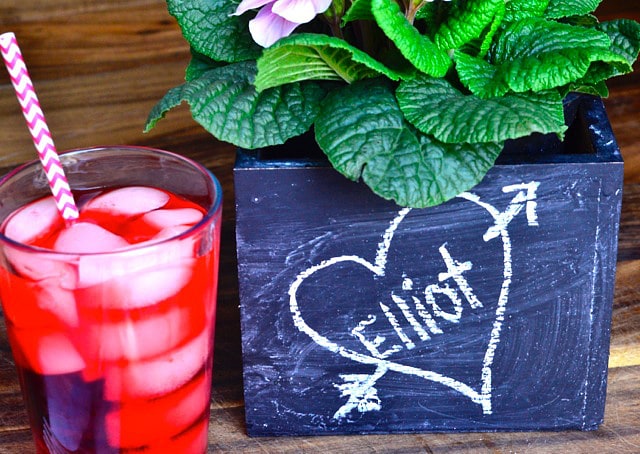 Valentine's Day is all about love, and whether you're on a date with your favorite person, sending a special note or gift or text message, giving your favorite gift, or cooking a home cooked meal for the family, there are so many ways to make the day special. Today I'm sharing tips for a very easy table setting, plus the Classic Shirley Temple Drink recipe that most kids love!
My 3 sweet Valentines will all be home this year (3 kids), plus my main sweet Valentine (the love of my life, Paul). At this point, I believe I'll be serving lamb chops, sent from my friend Barb's farm in Wisconsin. Woo wee! She sent fresh lamb chops, right off the lambs, to our home, and they are in the fridge ready for a delicious meal. I'll probably make a risotto and a fresh vegetable as the side stars. But the lamb chops will be a big HIT.
Oh, and Classic Shirley Temple drinks. Which, by the way, if you don't have maraschino cherries for the garnish, use a fresh blackberry or raspberry.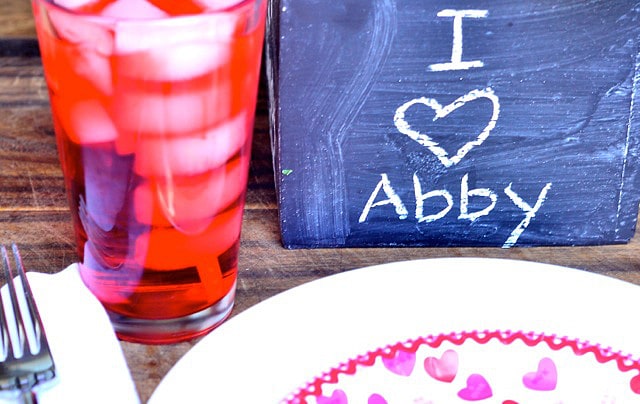 As for the table, I'm keeping it family focused. A loving, healthy marriage is the prefect Valentine's Day gift to our children. To witness their parents who are committed, strong, and imperfect — who get in fights like other couples, argue, complain, and struggle—but stick it out, work through tough patches, come together and forgive, and go on regular dates – all of this is a BIG GIFT to our kids. It sets the stage and shows them how it can be done, what true love and commitment look like, and that giving up is not an option. Add the BIG RED BOW on top … we've shown our kids for 23 years the importance of regular dating in a marriage. No matter what – it's key. (You can follow my brand new Still Dating series:)
This will be a first, that all of our kids will be home from college and together on February 14th!
I took a chalkboard box and wrote on all sides, little notes of sweet love for my kids.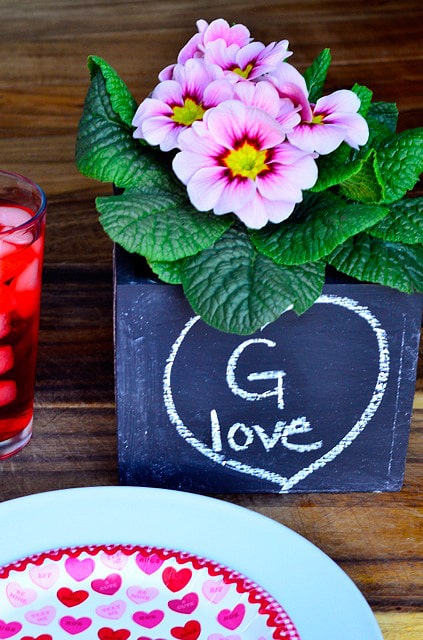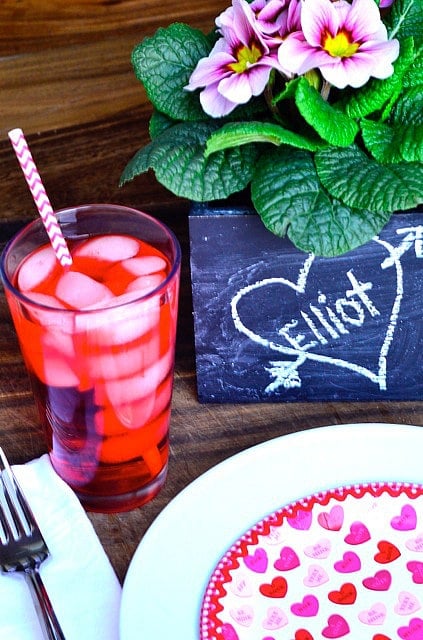 G Love (Garrett), Elliot, Abby.
Paul + Sandy = Love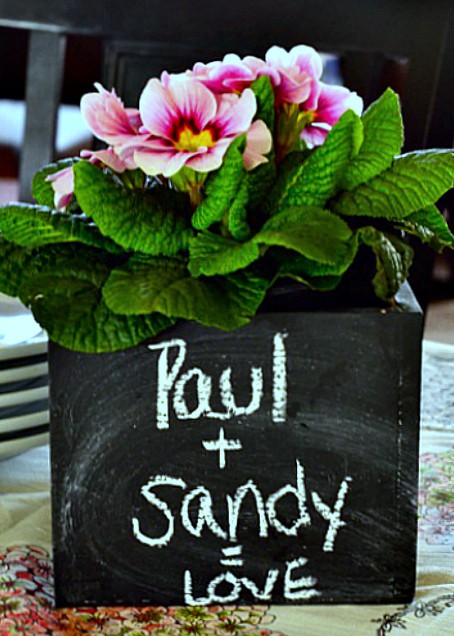 Added a sweet primrose in the middle.
Accented with a festive paper plate (who would have thought?)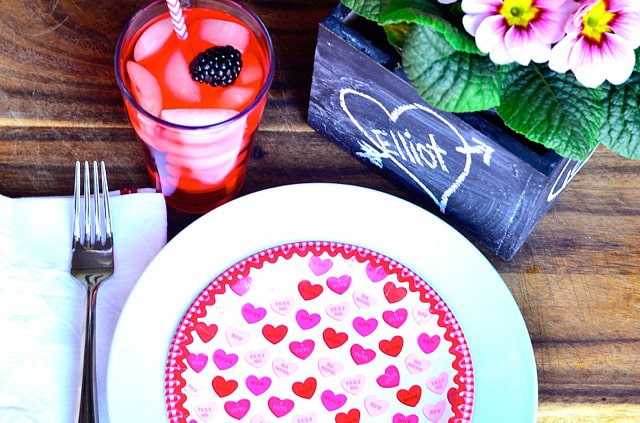 Delicious, great catching up on life, college, what's happening in our community and in the world, jobs, interests—and our kids always ask in return about our lives.
They've turned out to be pretty good conversationalists, and that makes their mama and papa proud.
Love is in the air, at any age, at any time, and making a homemade meal and gathering with the family for me will be the ultimate gift on this day.
What are your plans for Valentine's Day, if you choose to stay home and cook for the family?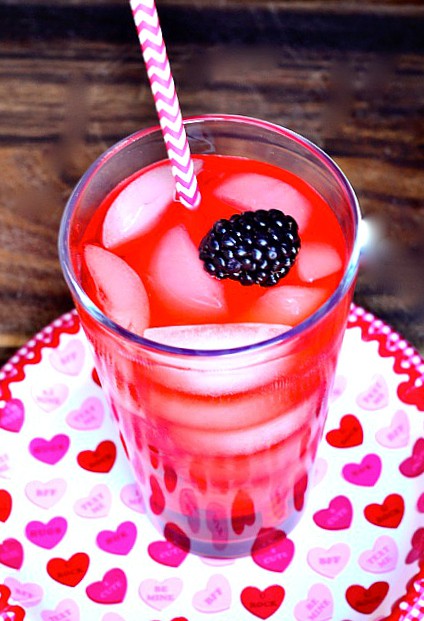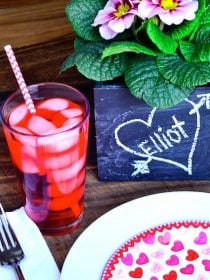 Get the Recipe: Classic Shirley Temple Recipe
Cherries are a classic garnish, but if you run out, use a fresh blackberry or raspberry.
Ingredients
1 cup ice cubes
1 can Sprite or 7-Up or Fresca
1 tsp. Grenadine syrup
1 maraschino cherry or a berry
Instructions
Fill a tall glass 3/4 full of ice cubes.

Pour Sprite over ice cubes, filling almost to the top.

Add a tsp. of Grenadine syrup; stir.

Garnish with a maraschino cherry or a fresh berry.
Hello and welcome to my home and table!
I'm Sandy—lover of food, family, cooking, THE BIG BOARD, travel, and bringing people together. Through great recipes and connection around the table, we become better, stronger, and more courageous people. Feasting on Life is real, and every time we do it, we grow a little more. Read more...