Insight Vacations Luxury Gold trip to Italy: Calcata, Umbria, Perugia
My recent Insight Vacations Luxury Gold Trip to Italy highlights Calcata, Umbria, Perugia–a class-act escorted trip by coach through Italy.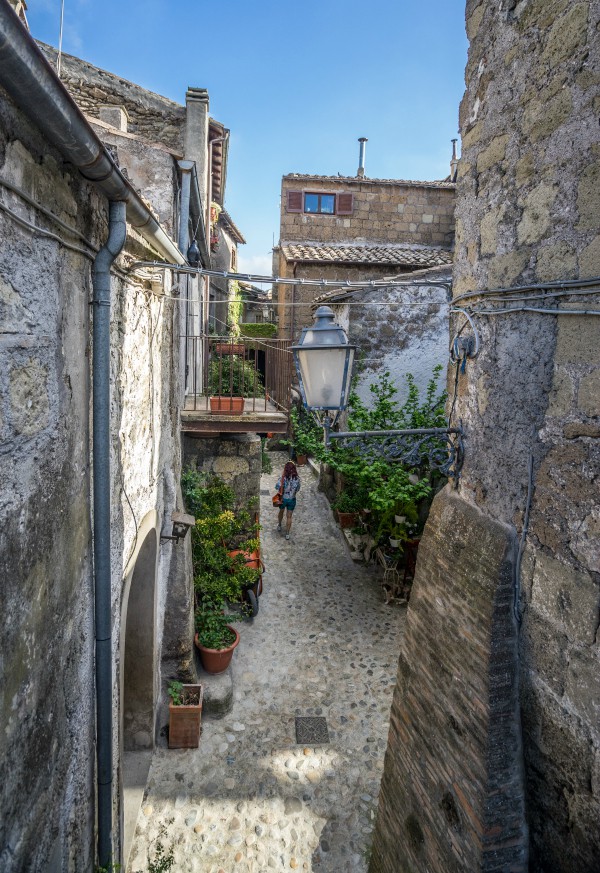 Friends, on a recent trip to Italy with my good friend, Lori, from RecipeGirl.com, my experience was different than most. Hopefully you started the journey with me in Rome, where our deluxe visit began with Insight Vacations.
After our 2 amazing days in Rome, we went to our next destination, Calata, and then onwward to Umbria, where the capital of Perugia resides, in our luxurious, classy motor coach.
Insight Vacations Luxury Gold trip to Italy: Calcata, Umbria, Perugia
Insight Vacations Luxury Gold Trip to Italy is all about bringing people together, and quite honestly, the high standards and class of this trip should remove any misconceptions that people may have of what a "tour" company is like. Insight is a true "class act" international company that not only believes in mixing up an escorted tour with history, amazing food, five-star hotels, and nature … but a whole lot of soul.
Calcata
Let's start with a little bit of charm.
Calcata is a community in the Province of Viterbo, in the Italian region of Latium, located about 30 miles north of Rome, overlooking the valley of the Treja river.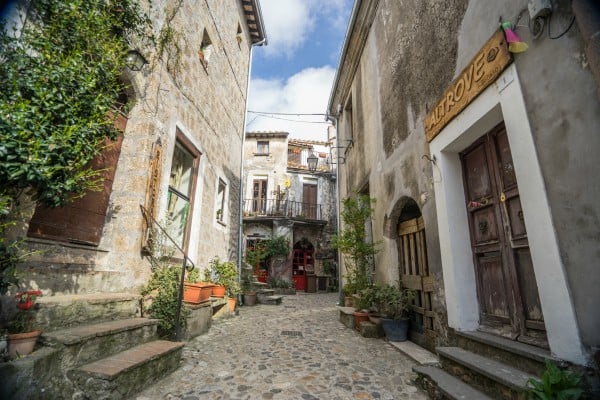 The photos were so beautiful and unique, and the views and the "feeling" made me want to stay there all day!
The picturesque village of Calcata is perched on a rocky outcrop, overlooking a gorgeous green valley.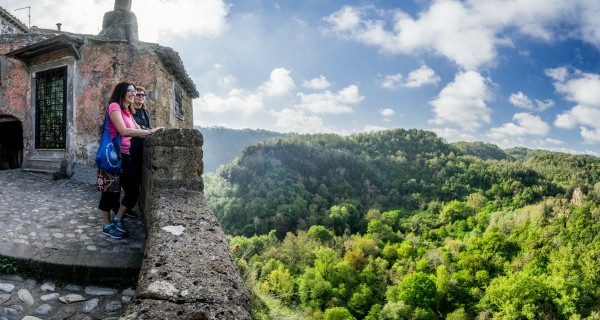 It's a very small village, with sort of a medieval feel, an off-the-beaten-track destination for a day trip, which is why I love Insight Vacations so much!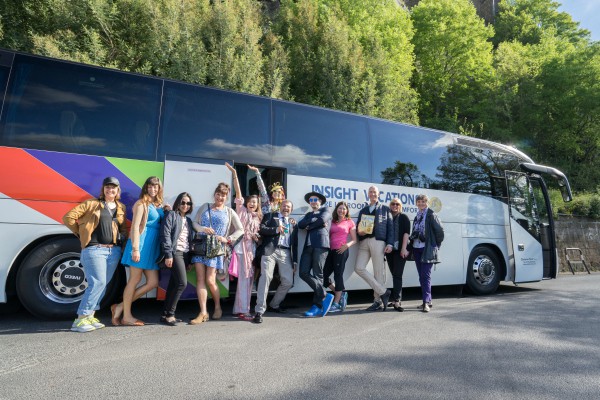 This unique stop is one that most tourists do not get to enjoy, although an infrequent public bus service links Calcata with Rome, and it was one of my favorite parts of the trip.
I felt like I was in another world. Which I was.
In the 1930s, Old Calcata, Calcata Vecchia, was abandoned because of safety, and fear over crumbling buildings. A new village (Calcata Nuova) was built on a higher plateau close by.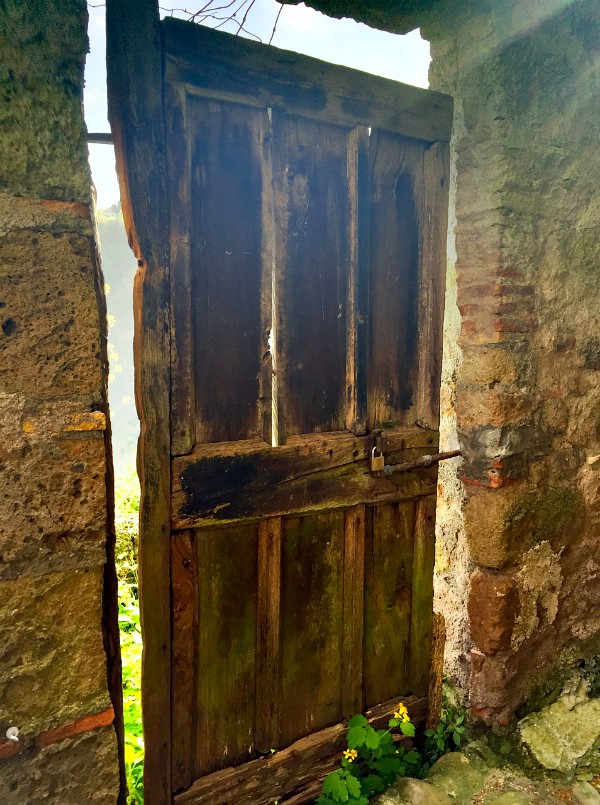 A few decades later, the crumbling old village was rediscovered by Italian artists and "creatives", which led to the restoring of the ruins and buildings, bringing the ancient village back to life.
The village definitely had a sleepy atmosphere, as we walked through the dwellings and reclaimed spaces. But we did find some unique shops open, and a very clever cafe that was serving coffee, or whatever you wanted to drink – Italian style!
So loved this little hidden secret, a quintessential Calcata. I could have spent a week here! Solitude!
Umbria
Onward to Umbria, where the capital of Perugia resides.
Here we explored the city, and of course Lori, Judi and I had our #dailygelato!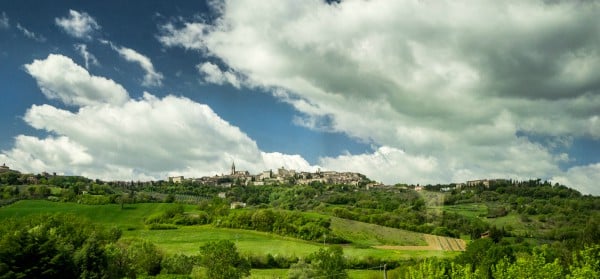 Umbria has no borders, no ocean view, and is the "green hart" of the country with about 900,000 people.
Perugia
There in Perugia, we also visited experienced the true art of hand weaving at the "Giuditta Brozzetti" Hand Weaving Museum.
The museum/laboratory was founded in 1921 by Giudittta Brozzetti, and is one of the few remaining hand-weaving workshops in Italy today. It's located at the first Franciscan church in Perugia, a stunning building built around the year 1212.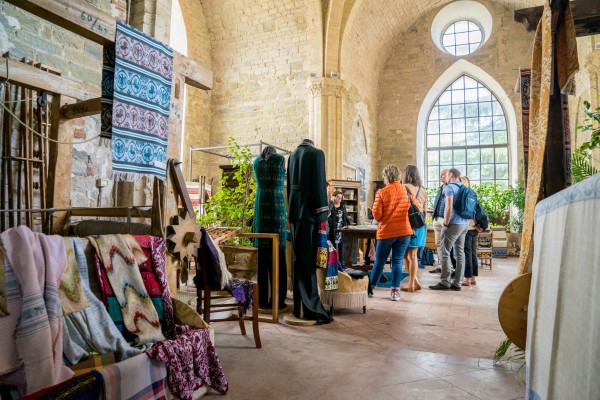 The technique of creating textiles is a family tradition, handed down through four female generations. Marta told us that today, it takes 3 full days to weave a beautiful 12 x 36 piece.
And then can you say "peace and serenity?"

Assisi
My favorite was looking out over the beautiful valley of Assisi, one of the most famous artistic towns in Italy, and also homeland of St. Francis, a wonderful man who renounced all his possessions in order to devote his life to helping the needy.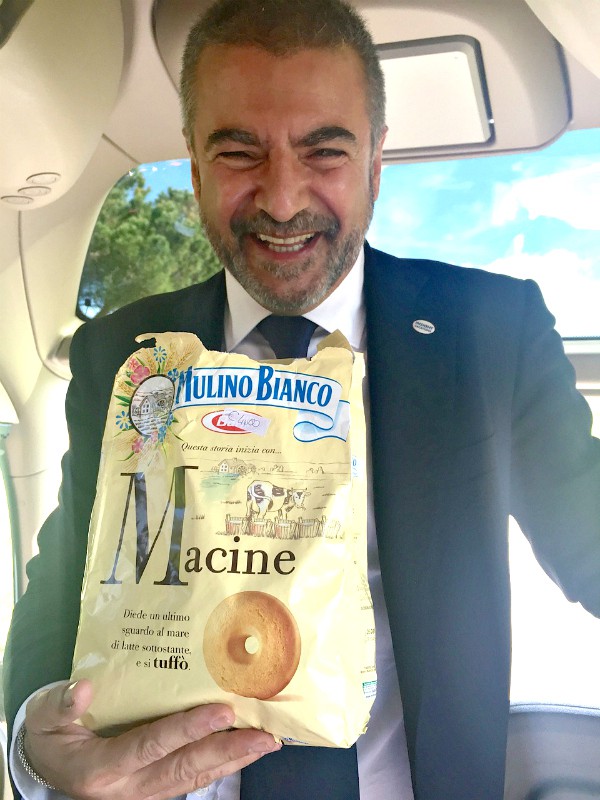 How can you explore so much beauty and history in one day?
It was indeed a full day, but as we hopped back onto our comfy coach, and headed toward the hills of Tuscany (with a little snack), I must say there was great anticipation for what was next on this fabulous trip!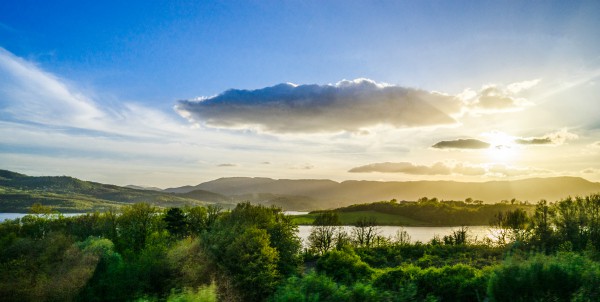 One of my favorite songs that Daniele played on the coach … I Will Survive, by Puppini Sisters. Check it out on iTunes!
Insight Vacations generously sponsored and paid for my trip to Italy, but as always, all opinions are my own. More to come, my adventures to Tuscany and Venice. Photos shared are a mix of my own photos… and some from professional photographer Simon Boucher-Harris from Insight Vacations.

Hello and welcome to my home and table!
I'm Sandy—lover of food, family, cooking, THE BIG BOARD, travel, and bringing people together. Through great recipes and connection around the table, we become better, stronger, and more courageous people. Feasting on Life is real, and every time we do it, we grow a little more. Read more...