Serving La Brea Bakery Whole Grain Bread at a Dinner Party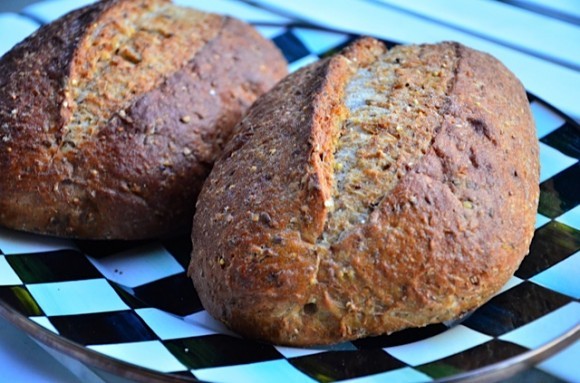 I love bread and my family loves bread, so we are a bread-lovin' family!
When it comes to a dinner party, the kind of bread I love to serve is crusty and hearty, and warm and crunchy when you take that first bite.
My heart is racing right now just thinking about it. Especially if there is real butter nearby. :)
I have a standard bread that I love to serve at most every dinner party if I'm in charge of the bread.
Everyone always asks … what kind of bread is this? Because it's really that good.
Other fresh breads are just as delicious to buy at the market, too, but the process of freezing it first is PERFECT for last-minute company! Because you'll always be prepared with it stored in the freezer, and pulled out last-minute for baking.
The bread I serve is a whole grain loaf from La Brea Bakery, which I buy at Costco, but I've also seen in local grocery stores, too.
Love this quote right on the package:
Upon your first bite, the crackle of the crust gives way to a caramelized layer of crunch that surrounds the loaf; a slight sweetness and developed tang, in one wonderful taste. – Nancy Silverton, Founder and Chief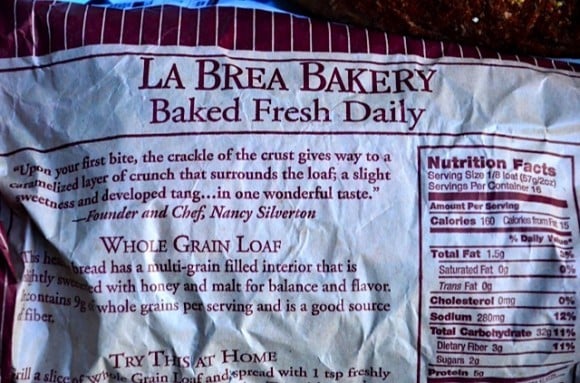 Here's my secret on how to bake and get that fresh taste–and crunchiness on the outside–that I learned from my friend, Jami. And remember you can follow this method with almost any kind of bread, as long as it's frozen first.
How to bake and prepare La Brea Bakery's Whole Grain Loaf

1. Buy the bread fresh and immediately freeze (in the same packaging it comes in).

2. Heat oven to 375.

3. Take the bread out of the freezer right before baking, and place in the oven for 23 minutes.

4. Remove from the oven; let sit for 3-5 minutes. Slice and serve.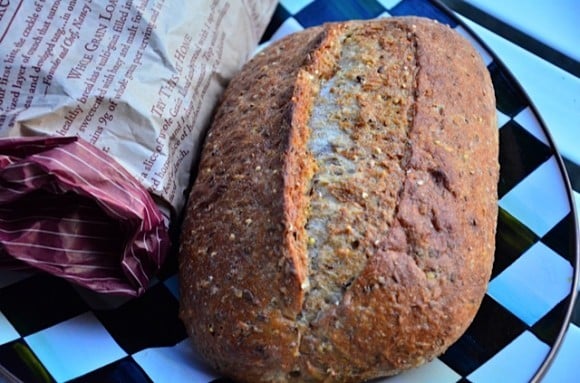 Connecting through a home-cooked meal has always been one of my favorite ways of catching up with friends and getting to know someone new! And it always tastes better with bread and wine.
So try the bread; with butter, of course.
I just know that your guests will ask you about it …
Every single time.
Do you have any bread secrets to share, what's easy and what kind you love to serve at a dinner party?

If you're looking for a new spin on butter to serve with the bread, try my Meyer Lemon Honey Butter.
Hello and welcome to my home and table!
I'm Sandy—lover of food, family, cooking, THE BIG BOARD, travel, and bringing people together. Through great recipes and connection around the table, we become better, stronger, and more courageous people. Feasting on Life is real, and every time we do it, we grow a little more. Read more...