Serving Carrot Orange Soup at a Dinner Party
I love the combination of carrots and orange. So much that last winter I served it to my friends.
The recipe today, with carrots and oranges, is in my book, but I want to remind you how yummy it really is.
Feeding people around my table is about connecting. It's not about showing off my culinary skills or my dinner party menu. Feeding people to me is about providing nourishment; loving people through good flavors and conversation.
Enter Carrot Orange Soup. Delicious in flavor and vibrant in color!
The soup is very reasonable in price to make, it's colorful, flavorful … and different.
You can serve it hot or cold, but we love it hot.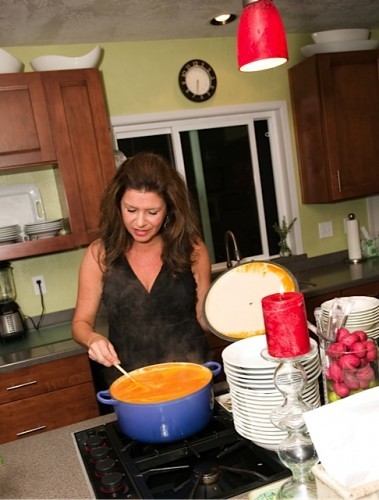 We stack the dishes right next to the pot – nice and easy for serving.
My husband usually helps me serve to our guests. He's the best host!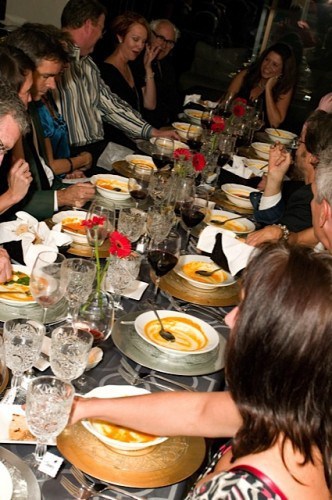 You can add an edible flower.
Or a leaf of lovage.
Cilantro would be good.
Even a tiny bit of cream and green onions.
TIP: You can make this soup up a day or two in advance, because the longer it sits, the flavor steeps and … well, I won't say any more. You just need to try it!
What happens around the table–especially with a dinner party where you've hand-picked your guests–has a rhythm of its own, a sense of love and acceptance that no one can explain unless you are sitting there at the table yourself.
What's your favorite combination to blend with carrots in a soup recipe?
Get the Recipe: Carrot Orange Soup Recipe
I always double or triple this recipe. It's great for a crowd and is delicious leftover, hot or cold.
Ingredients
4 T. butter
2 cups finely chopped sweet onions
12 large carrots peeled and chopped
4 cups chicken stock, divided
1 cup fresh orange juice
salt and freshly ground pepper, to taste
fresh grated orange zest, to taste
Instructions
In a large saucepan, melt the butter. Sauté onions on low heat for 25 minutes.

Add carrots and half of the stock and bring to a boil. Reduce heat and simmer for 30 minutes.

Blend the mixture in blender or food processor to the texture you prefer.

Return to the pot and add the rest of the stock, orange juice, salt, pepper, and zest. Serve hot.
Hello and welcome to my home and table!
I'm Sandy—lover of food, family, cooking, THE BIG BOARD, travel, and bringing people together. Through great recipes and connection around the table, we become better, stronger, and more courageous people. Feasting on Life is real, and every time we do it, we grow a little more. Read more...