Leftover BBQ Hamburger Crostini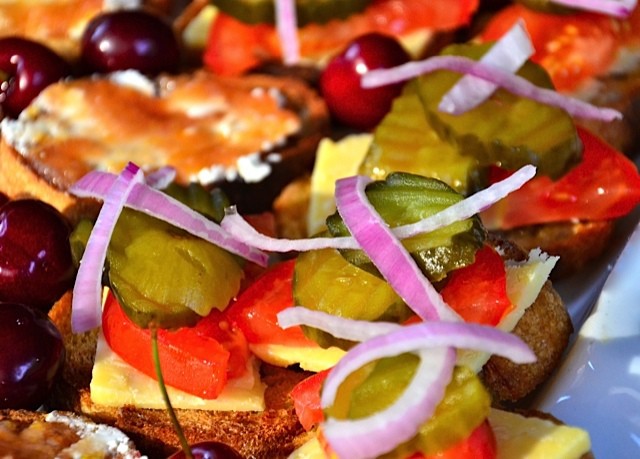 At our last barbecue, we hosted a large group. We ate burgers and fresh salads, watermelon and brownies, and trifle for dessert.
It was the simplest menu, but yet so tasty.
I took all the leftover hamburger toppings and put them in Ziploc bags. You know … onions, pickles, lettuce and tomatoes.
The next night we were hosting again, but this time just a small group.
I always delegate the menu, so this time I was making the appetizers and our friends were doing dessert. (We usually make the main dish, except in this situation).
I grabbed the bag of leftover hamburger goods, whipped up some crostini, and made "Leftover Hamburger BBQ Crostini."
-Tiny bit of mustard

-Cheese

-Tomato

-Pickle

-Tiny slices of onion
So tasty – SAVORY!
And we served these on the other side – SWEET!
Feta, golden raspberry jam; garnished with fresh cherries.
I love using what we have on hand.
And using up the leftovers!
What's your creative way of reusing what you have on hand for appetizers?
Hello and welcome to my home and table!
I'm Sandy—lover of food, family, cooking, THE BIG BOARD, travel, and bringing people together. Through great recipes and connection around the table, we become better, stronger, and more courageous people. Feasting on Life is real, and every time we do it, we grow a little more. Read more...