Mom's Last Letter and Lost Art of Letter Writing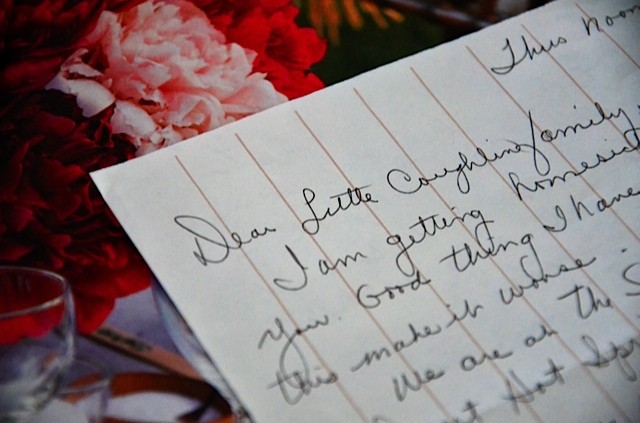 Last night I was inspired to write a letter.
It was after I read an older book on my shelf, written back in 1971, The Hidden Art of Homemaking.
Yes, the book's outdated a bit, but Mrs. Schaeffer's love for "art" and the art found in the ordinary areas of everyday life, is inspiring. Edith Schaeffer's writings have had a positive influence on Christian women, as she writes about how we all have hidden talents, unfulfilled talents, just waiting to be expressed and developed.
Which made me think of words … speaking and writing them.
I always had a love for words and writing, but I didn't feel very skilled with them. When I discovered blogging, I learned to be creative with my words regarding hospitality.
I do love to share my heart with others when it comes to the subject of hospitality. I want to help others. Which, by the way, I always wonder if my mom really knew that my name means "Helper." :)
One of the ways that we can help or encourage others in life is by the words that we choose to use. And we never know what our last words will be, either.
The other day I found the last letter that my mother wrote to me. I keep it in a safe place and read it often. My mom was an avid letter-writer, card-sender. That was her way of encouraging others.
Dear Little Coughlin Family,

I am getting homesick for all of you. Good thing I have pictures or does this make it worse?

She went to tell us what she and my dad were doing, how much things cost, the friends they were seeing, the places they were traveling to …

We miss all of you. Not sure when we will head home … Love, Mom and Dad

Today things are so different. We text, call, send pictures through email but we do little letter writing.
I'm thankful for the gift of my mom's last letter. I love seeing her handwriting; it reminds me of when I was young. I love that she was homesick for our family. I love feeling her heart …
Writing is an art that I hate to say is diminishing quickly, especially writing letters. And paper notes can also reflect a hospitable spirit …
Do you think writing letters or cards is important, and when is the last time you practiced the art?
Hello and welcome to my home and table!
I'm Sandy—lover of food, family, cooking, THE BIG BOARD, travel, and bringing people together. Through great recipes and connection around the table, we become better, stronger, and more courageous people. Feasting on Life is real, and every time we do it, we grow a little more. Read more...