Make your Easter Guests' Taste-Buds Sing with Easy Chocolate Molten Cakes
When it comes to celebrating Easter with food and family, I always think about the traditional coconut white cake that my mom made our family. In fact, I have the green platter that she served it on (and she always died the coconut green, to look like grass). The problem of carrying that tradition on to my family is that they are not crazy about coconut. Go figure.
But we are a chocolate family, so I can't complain.

Last year my daughter made the Easter cake and it was delicious, but this year I'm trying a new guilt-free approach to entertaining.
I'm not going to devote hours to creating an elaborate dessert (or expect my daughter to), because I found the easiest chocolate Molten Cake recipe, that I modified just in time for Easter.
And what I love is that I can make this up the morning of, and set aside until it's dessert time, when I'll place them in the oven for 13 minutes.
Yup, it's that easy – and tasty, too. Perfect for the "reluctant entertainer."

Let me know if you try this recipe for your Easter feast. I'm telling you that your guests' taste-buds will be SINGING!
Molten Spiced Chocolate Cakes
Serves 8

8 oz. semi-sweet baking chocolate
1 cup (2 sticks) butter
2 tbsp. red wine (Cabernet or Merlot)
2 tsp. vanilla
2 cups confectioner's sugar
6 eggs (4 whole eggs and 2 yolks)
3/4 cup flour
1/2 tsp. cinnamon
1/4 tsp. ginger
1/4 tsp. ground cloves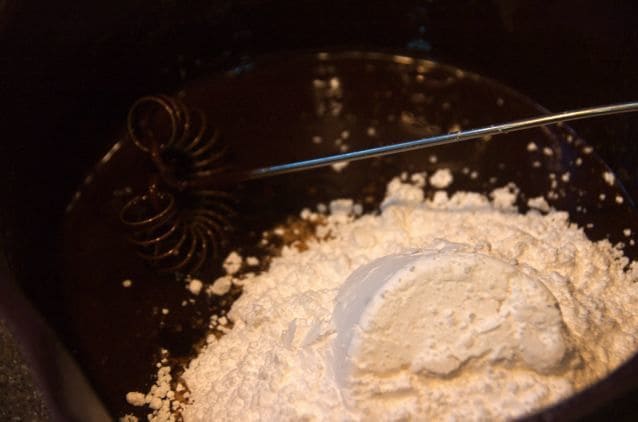 Microwave the chocolate and butter on low until melted. (I actually use the "defrost" option). Stir with a wire whisk until the chocolate is melted into the butter. Stir in the wine, vanilla, and sugar until well blended. Stir in eggs and yolks. Stir in the flour and the spices.
Pour batter evenly into 8 buttered (or sprayed) ramekin dishes. Place on a baking sheet.
Preheat oven to 425 and bake for 13-14 minutes. Sides will be firm and the center will be very soft. Let stand for 1 minute, and then carefully loosen the edges with a knife.
Invert the dishes immediately onto a serving dish.
Sprinkle with additional confectioner's sugar.
Garnish with a springy flower from your yard.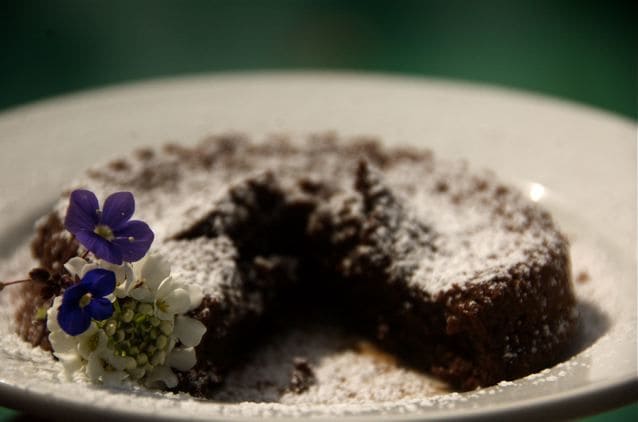 Serve immediately.
OPTIONAL: Omit the spices for plain chocolate cakes. Serve with vanilla ice cream.
What traditional Easter dessert will you be making this year, or will you be trying something new?
Here are more Easter dessert ideas from some of my friends:
Two Peas and Their Pod makes Lemon Cream Bars
If you want to get really creative, Bakerella makes Easter Bonnets
Tickled Red makes Caramel Brownie Cheesecake
Aggie's Kitchen makes Red Wine Pear Crisp
A Southern Grace makes Cinnamon Roll Cake
Dine and Dish (at RE) makes Traditional Strawberry Shortcake
Family Fresh Cooking makes Dark Chocolate Date Cake (and a giveaway!)
Dine and Dish makes Strawberries with Maple Cream Sauce
She Wears Many Hats makes Chocolate Candy Bar Pie
Picky Palate makes an Easter Egg Layered Cake – beautiful!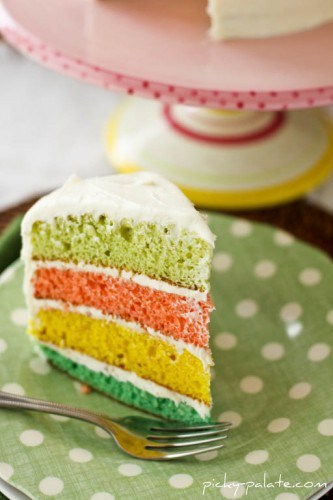 Hello and welcome to my home and table!
I'm Sandy—lover of food, family, cooking, THE BIG BOARD, travel, and bringing people together. Through great recipes and connection around the table, we become better, stronger, and more courageous people. Feasting on Life is real, and every time we do it, we grow a little more. Read more...