4 Holiday Hosting Ideas: Mexican Sausage-Stuffed Peppers
Enjoy these 4 Holiday Hosting Ideas with Mexican Sausage-Stuffed Peppers recipe for an easy, quick gathering! Happy Holidays! I have partnered with Tyson, but the opinions here are my own.

Hosting guests this time of year is one of my favorite things to do! Although the holidays can be stressful, Tyson products makes it easy to impress friends and family with delicious recipes and ways to entertain!
When the holidays are stressful, rather than one big dinner party, plan several small events that make hosting doable and fun. Smaller get-togethers are great, because they're not only more intimate, we can fit more of them into our busy schedules.
The more entertaining moments with friends and family this holiday season, the more memories and time spent with the people we love!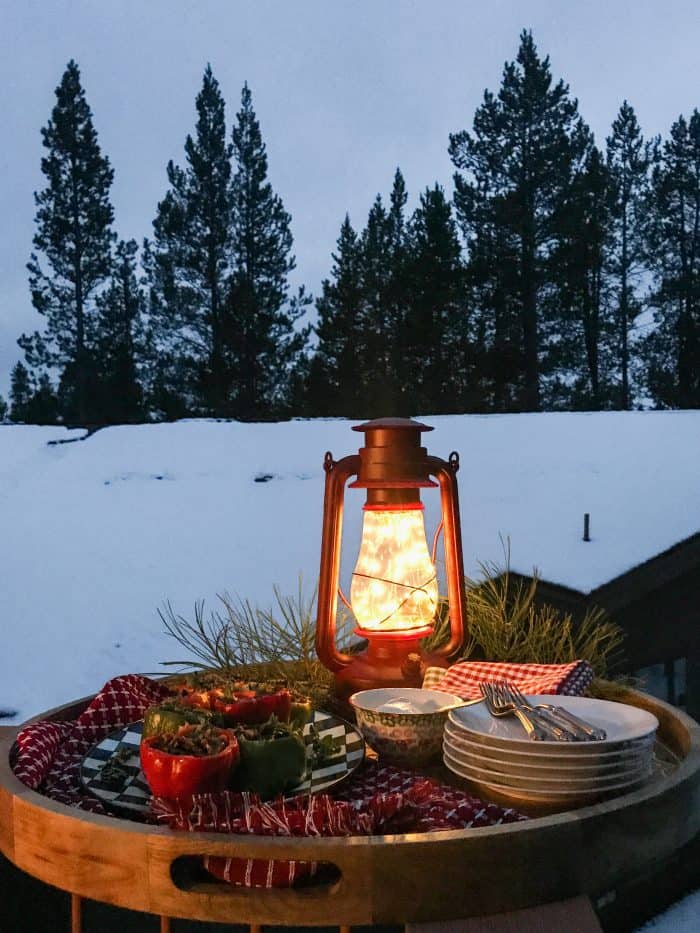 Planning several, cozy gatherings is easy! Tyson products from Walmart is a great place to start. Here are the delicious items I'm sharing about in my post today: Jimmy Dean® Pork Sausage, Wright® Brand bacon, Sara Lee® Cheesecake, and Tyson® Parmesan Herb Crispy Chicken Strips!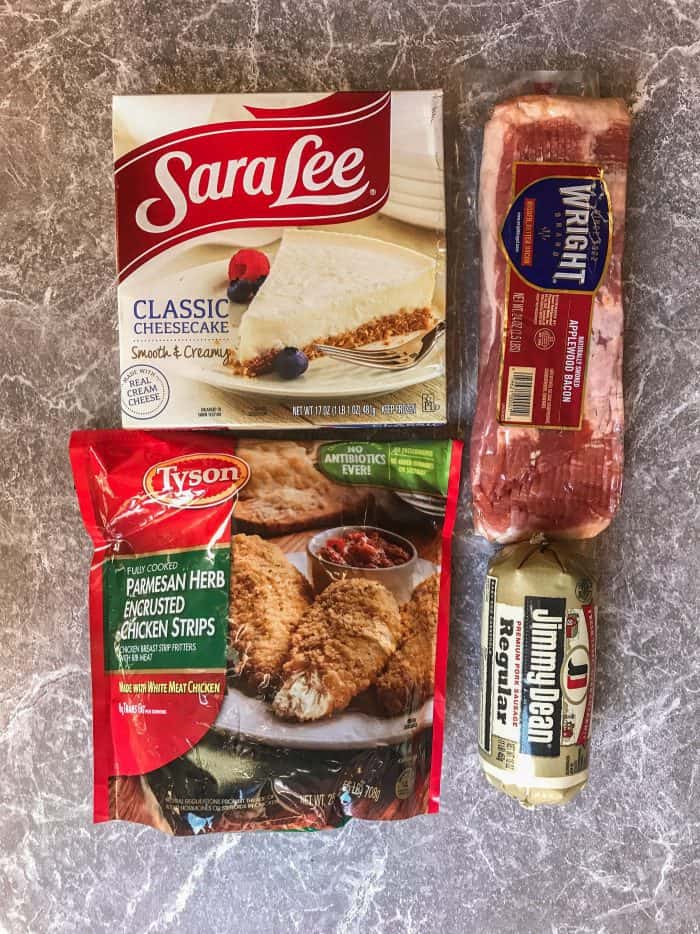 The newest holiday tradition for our family is to go on a hike, and then coming home to enjoy a quick appetizer, and a cozy meal.
We recently hiked the Badlands Wildnerness area here in Bend, and even though we got a little lost (there are miles and miles to hike out there!), it was just great to all be together.
When we got home, we popped these tasty Tyson® Parmesan Herb Crispy Chicken Strips into the oven, which are made of all white-meat chicken, no-preservative ingredients like Romano and Parmesan cheeses!
We served them with Greek Yogurt Pesto Dip for dipping!
EASY RECIPE: 1/2 cup Greek Yogurt, 1/8 cup prepared pesto, 1/8 cup honey, and 1 Tbsp. lemon juice. Oh, and don't forget the orange zest on top.
ENTERTAINING TIP: Always have a small appetizer to serve, especially after an outdoor activity. It takes pressure off the hostess who may feel rushed getting dinner on the table.
Dip and enjoy, because something good and festive is on the menu for dinner.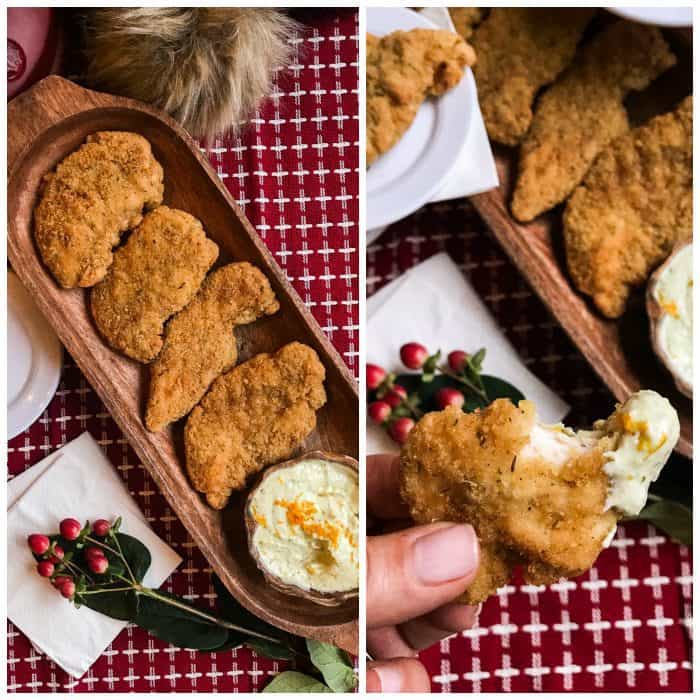 Mexican Sausage-Stuffed Peppers
Looking for a fun red and green dinner idea?
I love to save time, to make more time with my family. This Mexican Sausage-Stuffed Peppers recipe uses Jimmy Dean® Pork Sausage, their signature blend of seasonings, with a savory down-home taste. Make ahead by scooping out the peppers, making the meat mixture, stuffing and getting ready for the oven.
A great party entree!
As soon as appetizers were over, guess where we ate? The night sky here in central Oregon is absolutely stunning, any time of year.
ENTERTAINING TIP: Don't be afraid to try something new. Ask everyone to bundle up and head outside with their plates for dinner. Trust me, they'll be talking about this memory for a long time. Have some blankets handy and if possible, let them rest next to a fire ahead of time.
A cozy lantern, the glow of the moon, a chill in the air. But warm hearts and tummies!
If you're looking to be organized for breakfast for out of town company, look no further!
Slow Cooker Bacon Hashbrown Breakfast Casserole
We enjoyed this Slow Cooker Bacon Hashbrown Breakfast Casserole when family came for Thanksgiving.
A behind the scenes tip for hosting, is to always have the guest room ready 1 day before the guests arrive. I like to check this off my list so I can focus on cooking. The more I pre-cook my meals, the more time I have with the people I love! Also, have bottled water waiting for each guest. They'll think they're at a real hotel.
How easy is this breakfast casserole, made with Wright® Brand Naturally Hickory Smoked Bacon, and you can make the recipe ahead of time, for a pure bacon experience!
Precook the thick-cut, hand-selected and hand-trimmed bacon (also 100% wood smoked, so rich in flavor).
Layer the ingredients in no time; place in the fridge.
Before going to bed, turn the slow cooker on!
In the morning, wake up to this.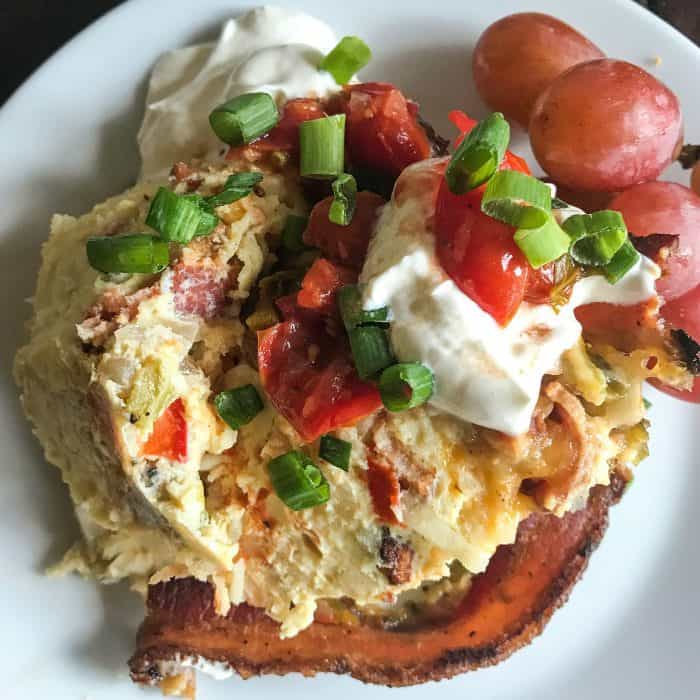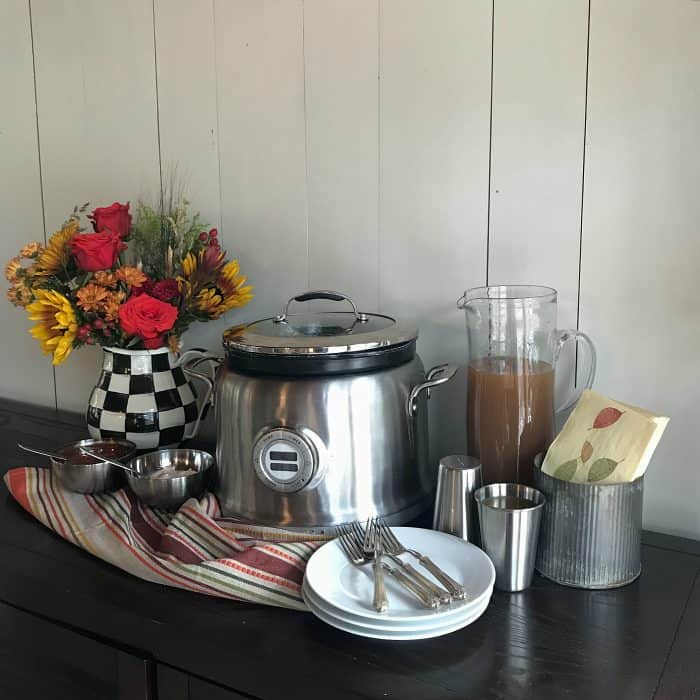 ENTERTAINING TIP: Think ahead to juice, fruit, a sweet nosh, and a main dish for a buffet breakfast.
Cheesecake with Dark Morello Cherries and Almond Whipped Cream
We're an active family! Having guests staying in our home, kids home from college, neighborhood activities, and all-occasion get-togethers are pretty common for our household this time of year.
Sometimes with drop-in guests, I feel a little unprepared. Which is fine. Hospitality is not always perfect and well-planned. I do like to keep a couple Sara Lee® Cheesecakes in the freezer though, for just such events.
Defrost and serve! They're super smooth and creamy, baked with real cream cheese filling. Made with the finest ingredients, for this festive season I opened a jar of Dark Morello Cherries (drained), and made Almond Whipped Cream.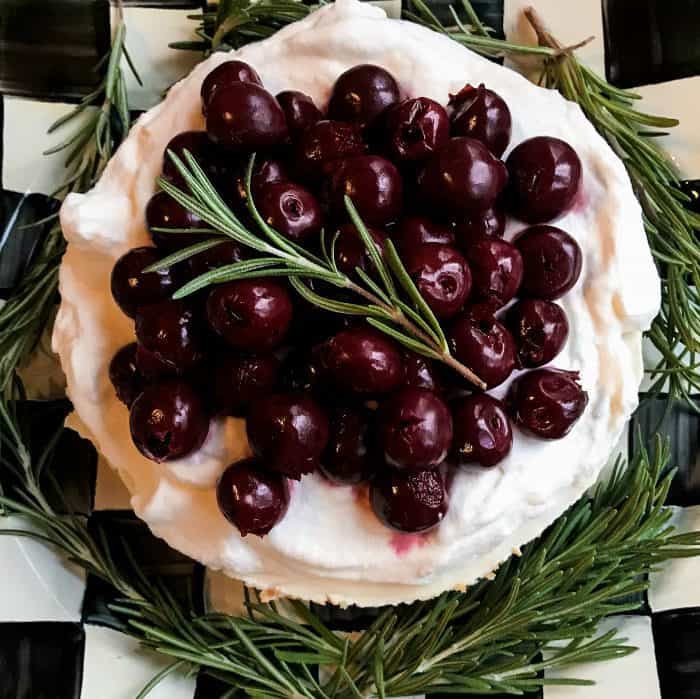 For the cream: 1 cup whipping cream, 1/4 cup powdered sugar, 1 tsp. almond extract. Whip until stiff.
Assemble and serve. Garnish with fresh rosemary.
Why not let the scent of these cherished memories linger a little longer in your home?
ENTERTAINING TIP: For the holidays, take the rosemary that you garnish food with, and burn it in the fireplace or on a wood stove (in water). Rosemary is traditionally known as the herb of remembrance and friendship.
Friends, you can find these items at your local Walmart store, and don't forget their new, convenient Online Grocery Ordering/Pickup service, too!
Happy Holidays!
Get the Recipe: Mexican Sausage-Stuffed Peppers
Ingredients
8 large red and green peppers, tops cut off (remove seeds)
2 pounds Jimmy Dean® all-natural ground pork sausage
1 15 oz. can Bush's Black Beans, rinsed and drained
1 tsp. chili powder
2 tsp. cumin
1 tsp. paprika
1 tsp. cinnamon
1/2 tsp. salt
Juice of 1 lime
2-3 cups freshly grated Monterey Jack/Colby cheese
Topping: sour cream
Fresh oregano, garnish
Instructions
Preheat your oven to 400 degrees.

Place the peppers on the baking sheet, cut sides facing up, and bake until tender, 15 minutes.

Meanwhile, in a large saute pan, cook the meat on medium heat until browned and cooked through, 6-7 mintues. Drain off the fat; season with chili powder, cumin, paprika, cinnamon, salt, and juice of lime.

Add the black beans. Add 2 cups of cheese.

Remove the peppers from the oven. Fill the peppers with meat mixture.

Divide the meat into each pepper; sprinkle with cheese. Return to the oven and cook an additional 10 minutes.

Serve with sour cream and fresh oregano!
I have partnered with Tyson, but the opinions here are my own.
More recipes: Winter Breakfast Casserole Recipe [RE], Brown Sugar Bacon Wrapped Smokies [Spend with Pennies], Lemon Raspberry Pound Cake [Mom on Time Out], Camping Raspberry Butter Cake – good any season with any berries [RE].

Hello and welcome to my home and table!
I'm Sandy—lover of food, family, cooking, THE BIG BOARD, travel, and bringing people together. Through great recipes and connection around the table, we become better, stronger, and more courageous people. Feasting on Life is real, and every time we do it, we grow a little more. Read more...