Mixing Fruit and Flowers for an Inexpensive Tablescape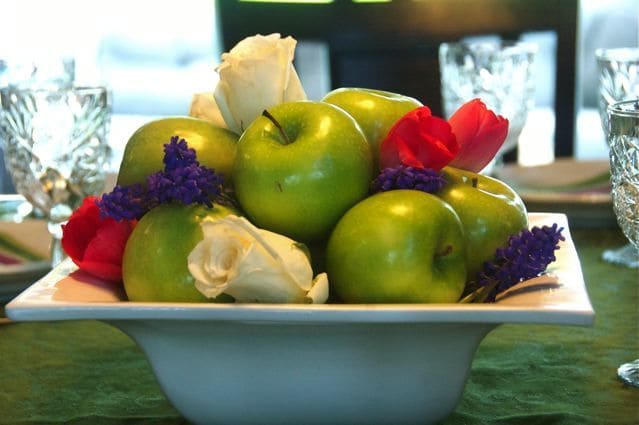 One thing about blogging is that you generally receive nice comments (99.9% of the time), and then an occasional comment that is really critical. If you're a blogger, you know what I mean.
I so appreciate my faithful readers here at RE who know me and what my blog and message is about. Thank you!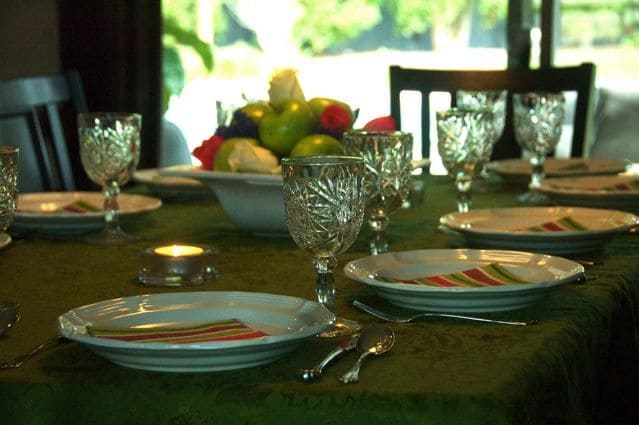 Recently a reader said my "blog" and a "table post" was too bright and colorful, that my dishes were too-perfect, and she said I paid too much for my asparagus – which made me smile, because I bought it on sale right before Easter! (Ha! How did the reader know what I spent?)
Imperfect and inexpensive is what RE is about:
– I love a bright and cheery table.
– I most always use what I have in the house, this time, flowers from the yard (leftover roses from my daughter's bouquet), and apples we are going to eat!
– If you notice, my son set the table and the silverware were placed in far from perfect order and spacing.
– I never pay too much for asparagus. I usually shop "what's in season."
– My white dishes are 20 years old in June this year (when my husband and I will be celebrating our 20th anniversary).
– My tablecloth is from Wal Mart.
– Paper napkins were left over from last year's Easter meal.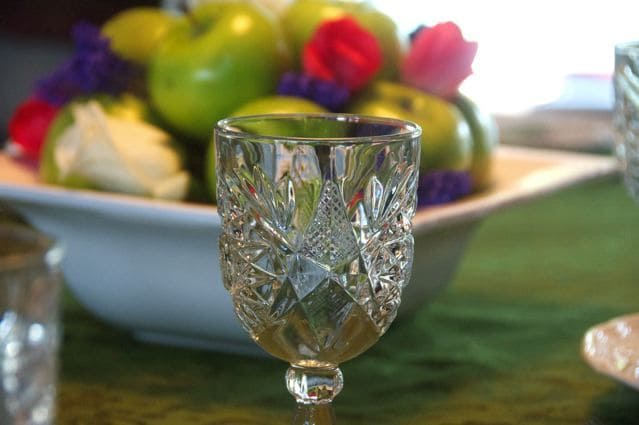 Should I add that I shop at the Dollar Store? I love my $1 goblets.
Enough said …
Beautiful is a must, but expensive rarely happens in my house.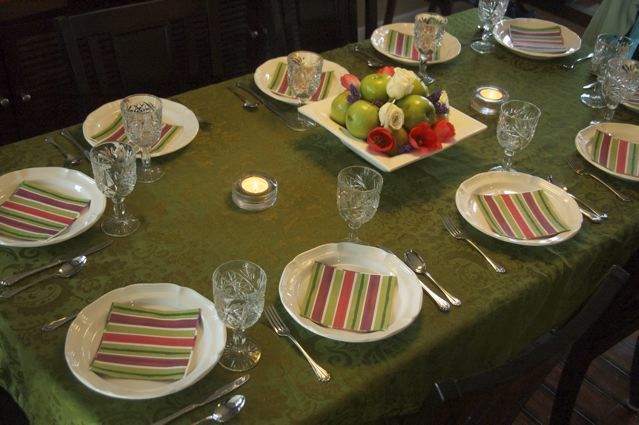 Moving on to the centerpiece …
Whoever thought you could mix fruit and flowers?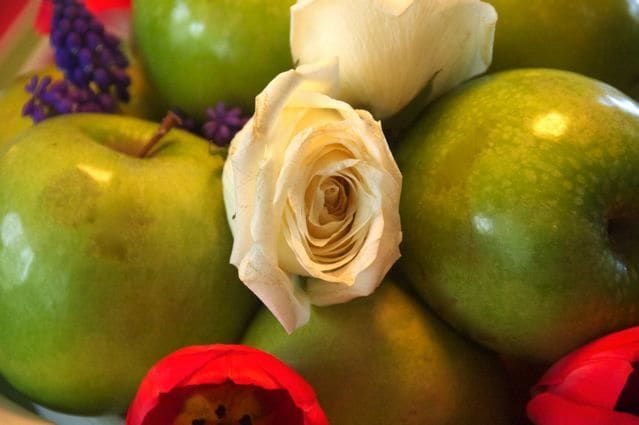 How to Make a Fruit and Flower Centerpiece
– Decide which tablecloth and napkins you'll be using
– Choose a fruit that matches your "setting."
– Stack your fruit on a plate or bowl, into a tier.
– Look for flowers that will match your "setting."
– Cut the stems short and place in the holes between the stacked fruit.
So beautiful and simple.
Do you have a Springy, simple and easy centerpiece that you've recently made for entertaining table?
Hello and welcome to my home and table!
I'm Sandy—lover of food, family, cooking, THE BIG BOARD, travel, and bringing people together. Through great recipes and connection around the table, we become better, stronger, and more courageous people. Feasting on Life is real, and every time we do it, we grow a little more. Read more...