Autumn Breakfast with Mushroom & Tomato Frittata
Our family recently enjoyed an early autumn breakfast on our back patio, on a rainy Sunday morning, with baked Mushroom & Tomato Frittata fresh out of the oven. We sat together under the covered patio and definitely felt the brisk coolness of fall in the air, as we smelled the much-needed rain pouring down.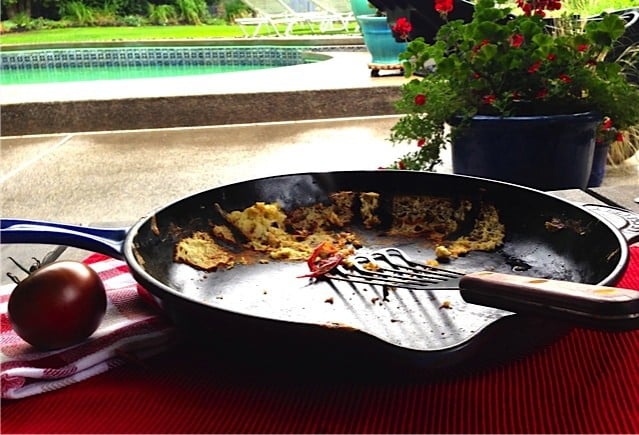 Soon we won't be gathering out here, as the cooler weather sets in, and our 2 sons journey back up to college this week. Oregon colleges start so late in the season, but I'm not complaining, because this meant extra weeks we get to enjoy the boys. Which we love.
Soon all 3 of our kids will be embarking on their own lives. How quickly we'll go from a busy active life with college students (our daughter is a junior in high school), soccer, kid activities, music lessons. Paul and I will be adjusting to the reality that we'll soon be creating a quieter life of our own. Well, we don't really plan to slow down much, with the work that we both do (RE and The Protectors). But we do hope to spend more time in the outdoors glam camping, fly fishing, and enjoying nature, and our garden.
Back to the boys and our early autumn meal. They're already on their way to freedom and autonomy, paving their own way in life. One is studying pre-med, the other Mandarin. I'm thankful for their hardworking father, who also studied at the same university, laying the groundwork of tenacity, courage, and grit. I think it makes it easier for our sons, knowing their dad paved the way. My role, as a mom, is to step back, pray, and let our sons gain their own maturity and competence, by making their own decisions and managing their own lives, as they move in to adulthood.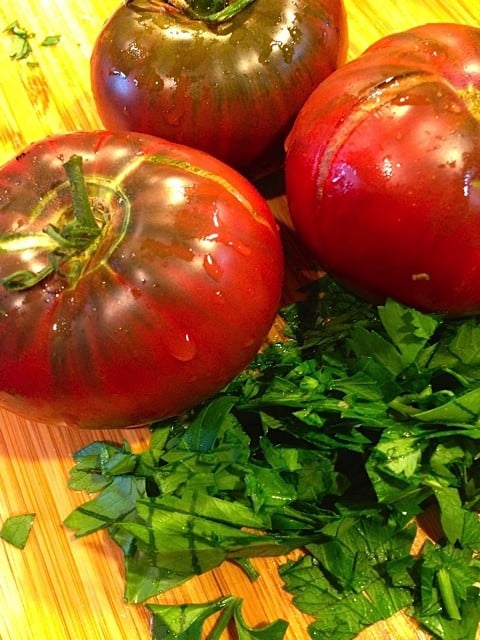 Now on to the food. Our family coming together over a meal has been a highlight for me this summer. Nestled in between my husband, our sons and daughter, and our dog Haggis on the back porch sectional, I'm not only enjoying the harvest of our garden (late summer tomatoes), but the conversation around the meal on this lazy Sunday morning. I'm listening more, interested in the stories, their new lives they are creating, what they are learning, and realizing how precious life really is.
I'm reminded again that things we do together as a family do not have to be over-complicated. Meals can be simple, they don't have to be complex. Usually one entree is enough to nourish our bodies, as it doesn't have to be a huge spread with all the fixings.
Being together is what draws out good conversation. The food is the conduit to bringing us together.
As long as we're in arm's reach of one another, those are the moments to cherish and hang on to.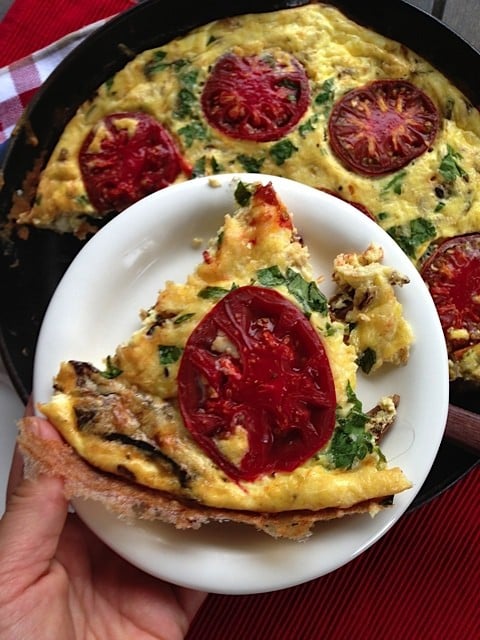 Along with transition and good food, our family is enjoying the last of our fresh garden tomatoes which I added into this delicious Mushroom Frittata.
Our good byes will be happening soon, but for now, we're hanging on to today.
Do you prioritize family breakfasts, and if so, how often?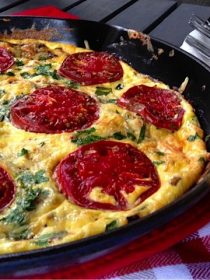 Get the Recipe: Mushroom & Tomato Frittata
Ingredients
3 Tbsp. butter, divided
2 large shallots, finely chopped
1/4 cup green onion, finely chopped
1/4 cup red onion, finely chopped
8 oz. Crimini, baby bella mushrooms, thinly sliced
12 eggs
1/2 cup sour cream
2 Tbsp. parsley, finely chopped
1 cup Dubliner or Parmesan cheese, divided
2-3 to matoes, sliced
Salt and pepper
Instructions
Preheat oven to 350 degrees. Heat 2 Tbsp. butter in a 10″ non-stick ovenproof skillet over medium heat. Add the shallots, cooking for 1 minute. Add the green and red onions and cook for additional 3-4 minutes until tender. Add the mushrooms and cook for 7-9 minutes, until softened and all liquid has evaporated.

Whisk the eggs and sour cream together in a medium bowl. Add in the parsley and 3/4 cup of cheese. Season with salt and pepper.

Increase the heat to medium-high and add the remaining 1 Tbsp. of butter to the skillet. Pour the egg mixture over the mushrooms, pulling up the sides with a spatula to evenly distribute the egg mixture. Cook for an additional 4-5 minutes, without stirring, until the edges begin to set.

Sprinkle with remaining cheese and place the sliced tomatoes on top. Transfer the skillet to the oven and bake for 25 minutes, or until frittata becomes golden brown and the center is set.
Hello and welcome to my home and table!
I'm Sandy—lover of food, family, cooking, THE BIG BOARD, travel, and bringing people together. Through great recipes and connection around the table, we become better, stronger, and more courageous people. Feasting on Life is real, and every time we do it, we grow a little more. Read more...