Kids for Dinner and Slow Cooker Spaghetti Bolognese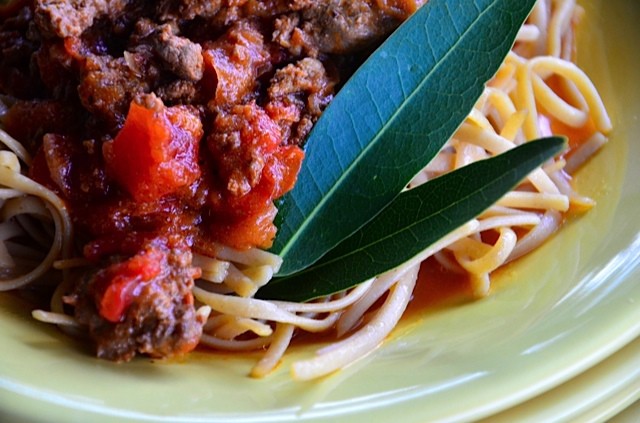 Are you prepared when little ones come for dinner? Try this delicious Slow Cooker Spaghetti Bolognese recipe the next time you're entertaining with kids.
Here's my story …
We recently found out kids were coming to dinner! We have an abundance of toys in the house, but for a last-minute dinner where I planned to seat everyone together at one big table, my dilemma was how to accommodate smaller kids in the mix, and what to serve?
Easy! This time, with little notice, I defrosted ground turkey from the freezer, gathered my veggies, and started the chopping process in my KitchenAid food processor. Within 20 minutes I had my dinner cooking in the Slow Cooker – where I could CHECK dinner off my list.
Tried and true Spaghetti Bolognese!
A good recipe when kids come over (don't all kids love Spaghetti?), plus it's got the whole "ease" factor going on.
How about setting the table for 10, including kids and adults? I love this trick that I learned years ago: Butcher paper and crayons!
How to set a kid-friendly table:

1. Buy a large roll of butcher paper (or ask your local butcher for a few pieces).
2. Lay on top of your table or tablecloth.
3. Set the table as normal.
3. Add Crayons, Sharpies, colored pencils to the table for the little ones (and older ones) to draw and have fun with!
Play Dough works, too! It's very easy to make yourself, with different colors, and place in small plastic containers (found at most craft stores) or a Ziploc bag. Write the child's name on a sticker on the front. :)
How to make your own Play Dough:

1 cup white flour
1/2 cup salt
2 tablespoon cream of tartar
1 tablespoon cooking oil
1 cup water
Variety of food coloring

Combine the first four ingredients in a pan. Add the water and mix well. Cook on medium heat, stirring constantly for about four or five minutes. The dough will be tough to stir and will clump together. Remove from the stove and knead for five minutes. Drop some food coloring as you knead.
You never know, the adults may get in on the Play Dough fun, too!
Between lovely guests coming to dinner, a fun activity for the kids, and having together all at one table, it was a memorable night for all.

What are your last-minute dinner guest recipes or tips when entertaining kids?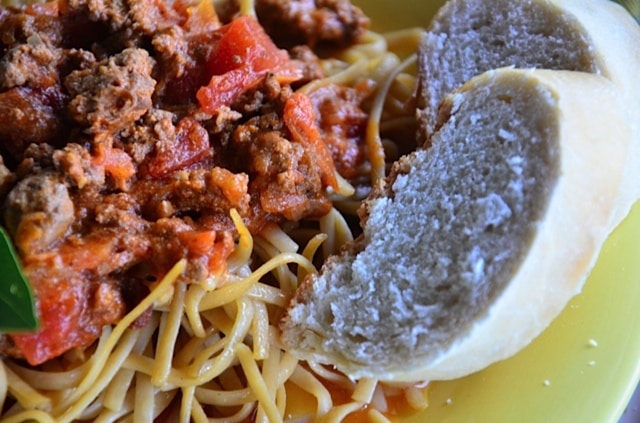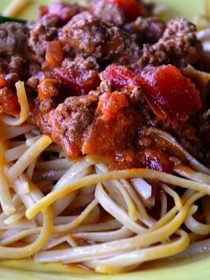 Get the Recipe: Slow Cooker Spaghetti Bolognese Recipe
Ingredients
1 lb. ground, white turkey
1 28- oz. can whole peeled tomatoes
3 carrots, finely chopped
1 medium onion, finely chopped
2 celery stalks, finely chopped
1 pepper, finely chopped (orange, yellow, or red)
2-3 cloves garlic, pressed or chopped
1 can tomato paste
1/2 cup red wine
1 tsp. dried oregano
1 tsp. dried thyme
Kosher salt and pepper
1 bay leaf
1 package whole wheat spaghetti
Grated Parmesan, for serving
Instructions
Using food processor, finely chop vegetables (carrots, onions, celery, pepper) and place in a sprayed slow cooker.

Mix together the ground turkey, chopped vegetables, tomatoes with their juices, garlic, tomato paste, wine, oregano, thyme, bay leaf, 1 tsp. salt and pepper.

Cover and cook until vegetables are tender and the meat is cooked through. On low for 4-6 hours, on high for 3-4 hours.

Fifteen minutes before serving, cook the spaghetti noodles according to the package directions; drain and return to the pot.

Serve in a bowl with cooked pasta, several spoonfuls of Bolognese, and sprinkle with fresh Parmesan cheese.
Hello and welcome to my home and table!
I'm Sandy—lover of food, family, cooking, THE BIG BOARD, travel, and bringing people together. Through great recipes and connection around the table, we become better, stronger, and more courageous people. Feasting on Life is real, and every time we do it, we grow a little more. Read more...