No Apologies Holiday Season + 5 Dinner Party Recipes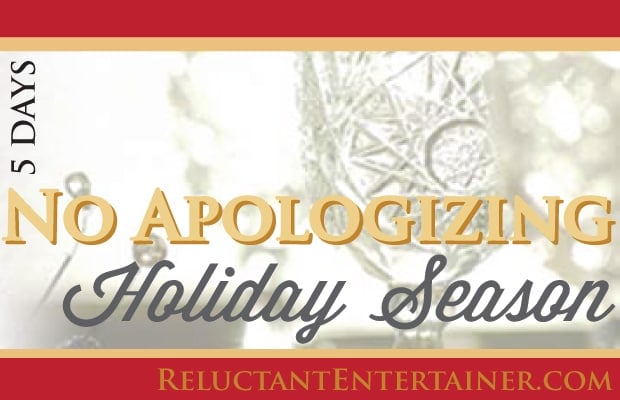 No excuses, no apologies – Julia Child
We're all familiar with Julia Child and her famous quote, "No matter what happens in the kitchen, never apologize."
This next week I'll be sharing, Monday through Friday, 5 posts on why apologizing in the kitchen during holiday entertaining hurts us.
I'll be looking at ways we can thinking differently about our situation and ourselves, and how to get over the failure or mistake quickly.
I'll also be sharing 5 fantastic recipes, that will help you plan a small dinner party!
That is, if you promise to not apologize – even once – to anyone! :)
-Roasted Grapes and Fresh Rosemary
-Beauchamp Orchard Salad
-Pesto Baked Potatoes
-Perfect Prime Rib
-Holiday Pears
Love, encouragement, permission to experience a better life – through people and food. Isn't that what we all want?
Eyes off of ourselves.
I hope you'll join me tomorrow for a great week ahead!
Be honest now …
Are you ever tempted to apologize for your cooking, or the state of your home, when you invite others in?
The posts are live now, you can catch up and plan your dinner party with these 5 fabulous recipes::
REVIEW all 5 posts and fabulous recipes:
Day 1: The Purpose of the Home, Roasted Grapes & Fresh Rosemary
Day 2: Culinary Mistakes and Beauchamp Orchard Salad
Day 3: Learning to be Authentic and Pesto Baked Potatoes
Day 4: Don't Plan for Perfection and Crusted Pepper Prime Rib
Day 5: Laugh at Your Mistakes with Holiday Poached Pears
Hello and welcome to my home and table!
I'm Sandy—lover of food, family, cooking, THE BIG BOARD, travel, and bringing people together. Through great recipes and connection around the table, we become better, stronger, and more courageous people. Feasting on Life is real, and every time we do it, we grow a little more. Read more...