Black Friday Turkey, Mushrooms, and Brown Rice Soup
I hoping everyone had a fantastic Thanksgiving and that you're not all crazily running around shopping this bright and early Friday morning!
I'd love to hear if you're a Black Friday shopper. I've never been – it just doesn't sound like fun to me. But I'd be willing to try it one time with a friend (just to say I've done it). :)
"After Thanksgiving" meals are some of the best. I love what you can do with leftover turkey!
I always think of turkey as comfort food, so by adding brown rice and mushrooms–you've got a very soothing meal!
I actually cooked a turkey a few weeks ago and made this soup with the leftovers. Our friends had a loss in their family, so this was perfect comfort food to bring them, all the way around. I got a text from them saying how much they loved and appreciated it.
KITCHEN TIP: My tip for making soup with rice is in the morning, when you're doing dishes, or even leaving the house, get the rice cooking in the rice cooker. That way it's cooked and ready for putting together a QUICK meal toward the end of the day.
I'd love to hear how you're spending today, or if you found any awesome Black Friday bargains?

Also, what will you be making with your leftover turkey this weekend?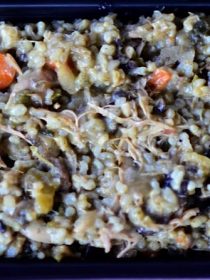 Get the Recipe: Turkey, Mushrooms, and Brown Rice Soup Recipe
This recipe is so good, you might want to try doubling it if you're feeding a household of guests.
Ingredients
1 tablespoon olive oil
8 ounces portabella mushrooms, sliced
1 cup chopped onion
2 chopped celery stalks
2 chopped carrots
4 garlic cloves, minced
8 cups turkey or chicken broth
2 cups brown rice, cooked
1 bay leaf
4 cups cooked turkey, cut into bite-size pieces
1-2 tsp. thyme
Salt and pepper to taste
Instructions
Heat the oil in a large pot or dutch oven over medium high heat. Add the mushrooms, onions, celery, and carrots. Cook stirring occasionally, until softened, about 7 minutes.

Add the garlic, stirring an additional minute.

Add the broth, the cooked rice, and the turkey; cover and bring to a simmer.

Add salt, pepper, and thyme. Serve.
Also, will you join me next week Monday through Friday? I'll be sharing about "no apologizing" during the holiday season + 5 menu items to plan your own dinner party!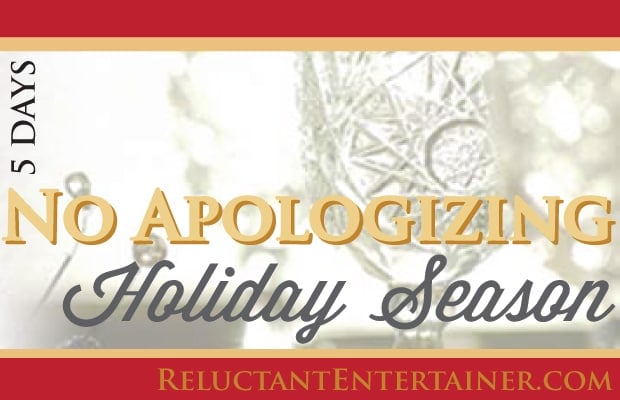 Hello and welcome to my home and table!
I'm Sandy—lover of food, family, cooking, THE BIG BOARD, travel, and bringing people together. Through great recipes and connection around the table, we become better, stronger, and more courageous people. Feasting on Life is real, and every time we do it, we grow a little more. Read more...