No Bake Chocolate Easter Egg Cookies
These No Bake Chocolate Easter Egg Cookies are a fun DIY project for kids, and delicious Easter treat! Make, refrigerate, and serve!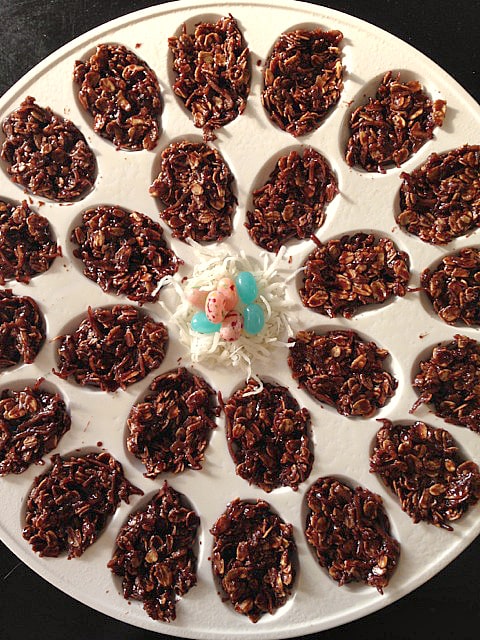 We're crazy about combining chocolate and coconut together in delicious desserts, and Easter is the perfect time to make these easy No Bake Chocolate Easter Egg Cookies.
Creating the right mood for Easter entertaining, especially for kids, can be as simple as letting the kids participate in the celebration. We have so many fond memories of our kids helping out in the kitchen.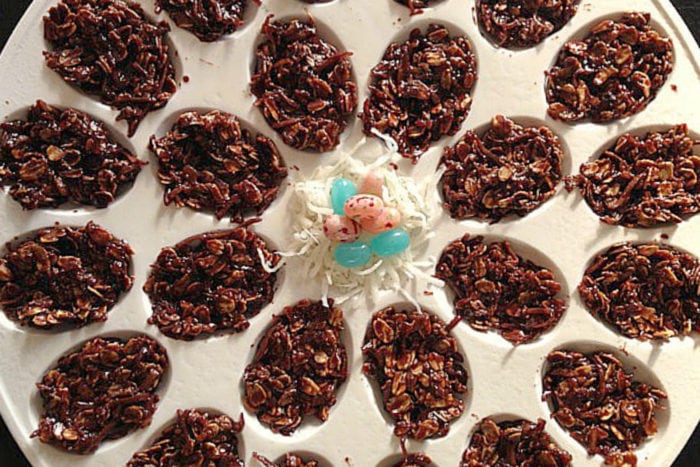 Why DIY?
This DIY project today is particularly a fun recipe for kids to help make dessert for your Easter Feast! And WHY "DIY?" Because they are "no bake" cookies, no oven involved. kids can mix and place the dough into the mold, and then place into the fridge, and within 30 minutes they'll have created their own Easter Dessert.
The egg dish.
You start with a deviled egg dish. I bought mine a few years back at Crate and Barrel, and I noticed they have a similar one on sale right now for $15.96.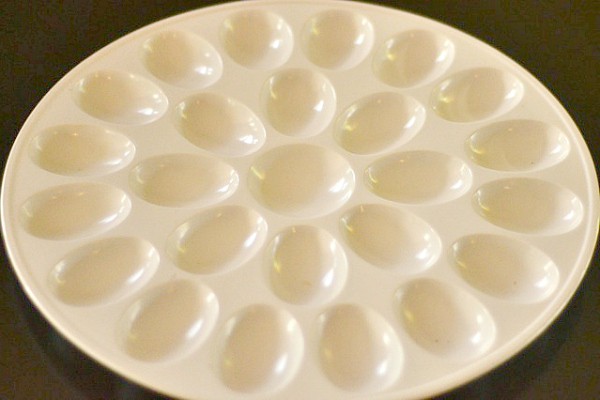 DIY Easter Egg Cookies:

1. Spray a deviled egg pan with cooking spray.

2. Make the no-bake cookie recipe (below).

3. Fill the egg molds with dough.

4. Refrigerate.

5. Display by either leaving in the pan and adding coconut and jelly beans in the center, or remove the cookies from the mold, flipping them over to look like an egg, and display on a platter.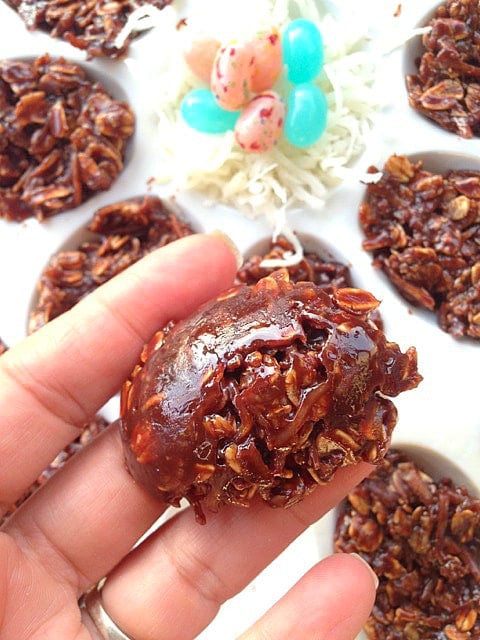 Touch of coconut.
Such a quick way to whip up an Easter dessert! Everyone loves no-bake cookies. And with a touch of coconut?
It's a done deal.
What's your quick and easy go-to Easter snack?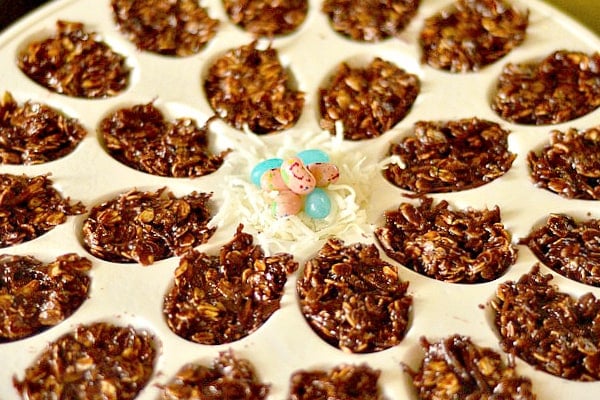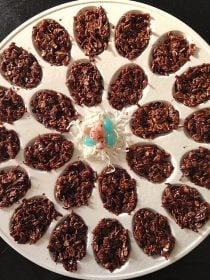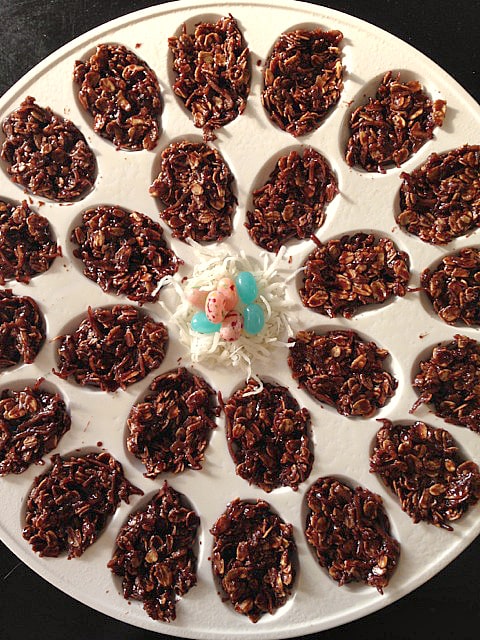 Get the Recipe: No Bake Chocolate Easter Egg Cookies
Ingredients
1/4 cup of milk
1/4 cup of butter
3/4 cup of sugar
3 tbsp cocoa powder
1/2 tsp vanilla
1/2 tsp coconut extract
1 1/2 cups of quick cooking oats
3/4 cup of coconut
Instructions
Bring the milk, butter, sugar and cocoa powder to boil for 2 minutes. Remove from heat and add the vanilla, coconut extract, oatmeal and coconut; mix thoroughly.

Drop spoonfuls onto a molded pan (such as deviled egg pan) or wax paper (shaping yourself into eggs) and refrigerate for 30 minutes.

Serve!
More "No Bake" Easter recipes to try:
Nest Cookies from Chef in Training
Easter Oreo Cookie Suckers from How Does She
Egg in a Nest Stuffed Peanut Butter Cookies from Averie Cooks
Robin Eggs No Bake Cheesecake from Barbara Bakes
Malt Ball Cookie Dough Bars from Sugary Sweets
Hello and welcome to my home and table!
I'm Sandy—lover of food, family, cooking, THE BIG BOARD, travel, and bringing people together. Through great recipes and connection around the table, we become better, stronger, and more courageous people. Feasting on Life is real, and every time we do it, we grow a little more. Read more...