Old-Fashioned Cinnamon Rolls Recipe
Enjoy these Old-Fashioned Cinnamon Rolls recipe for holiday entertaining, breakfasts, brunches, nighttime fires, or to make as holiday gifts!
Friends, when I think of a comforting friendship, I think of my cousin, Terri, who's been like a sister in my life. We've always been close, and been there for each other.
Homemade cinnamon rolls
Today I'm sharing her delicious Old-Fashioned Cinnamon Rolls recipe that she makes for our family every year. This year, since we moved, I'll be taking the Cinnamon Roll Torch and making Terri's beloved recipe. There's nothing like homemade!
Old-Fashioned Cinnamon Rolls Recipe
We love cinnamon rolls during the holidays (remember my friend, Ree's Caramel Apple Sweet Rolls?) Our friend, Karen, also makes them with whole wheat flour. Amazing. It's a treat, something that we don't normally enjoy during the rest of the year. They are delicious! Amen!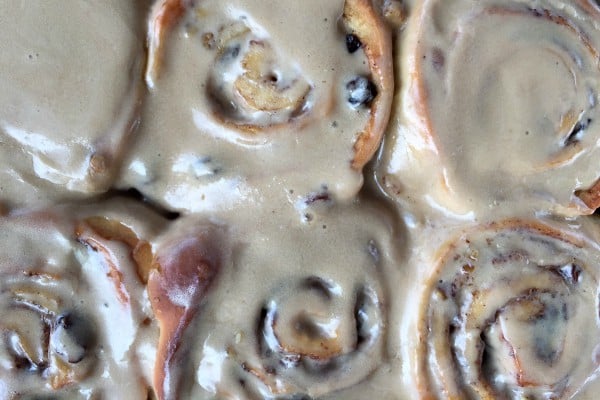 This week we got our first snow in our tiny town, which was very exciting. Even though it didn't stick, it felt so good to be out on a walk, with the snow sticking to my jacket, my hair, and flakes on my tongue when I opened my mouth.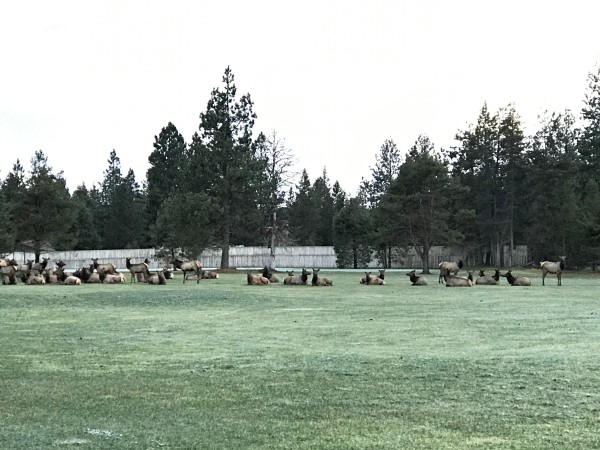 Winter in Sunriver, OR
The cold front brought the elk into our community, migrating through the golf course. We've heard that they would be here, and walking along with Haggis, we both looked up, and there they were!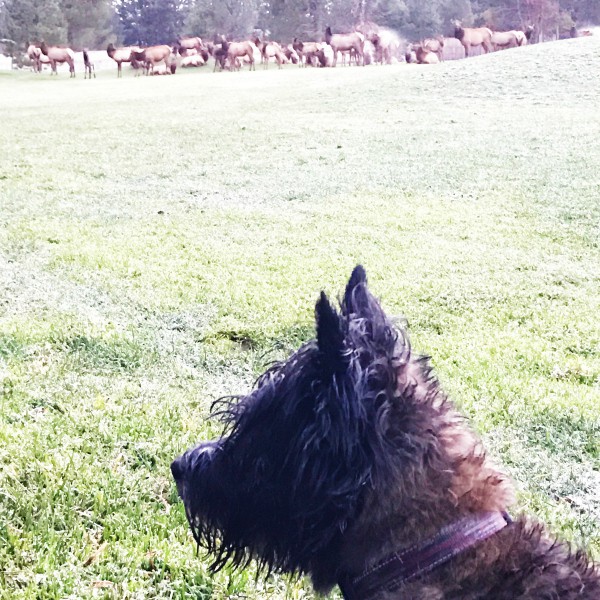 This was Haggis' first time to see such large creatures. He wasn't at all amused!
Funny little boy.
We're hunkering down for winter, Friends. Yesterday my hubby and I worked on gathering wood, and at the end of the day, sipped on drinks by our wood stove. I do love this time of year!

5 Things I Love About This Season
Cool Weather. Nighttime walks. Snow

. We are getting our snow shoes, cross country skiis, and snow blower ready! We also found these cool traction cleats (like car chains) for our boots (LINK TO REI).

Cinnamon Rolls

. With raisins and walnuts. The more frosting, the better. Storyville coffee in the morning, a delicious cinnamon roll. Mostly a "weekend" treat.

Boots & Sweaters & Cozy Blankets

. I love my new boots this year. And sweaters and cozy blankets for cuddling up on the sofa, by the fire. We will watch a lot of movies, and our favorite television shows, I'm sure.

Wood Stove

. This is our first year to enjoy our Vermont Castings stove. We are working on our wood piles! Winter is coming alive right before our very eyes. It's frosty, snowing, icy in the mornings. A new kind of cold for us. Will we be ready? We hope so.

Anticipation. Joy. Hope

. There's something about this season that feels like good things are about to happen. Because celebrating Christmas gives our family hope, the reminder that it is not about materialism, but about the baby Christ child, settles in our hearts and brings a unity with all who believe.
It doesn't matter what political side you are on, Christmas is Christmas.
We anticipate, we wait, we enjoy each other. We connect and open our homes, and we invest in the people in our lives.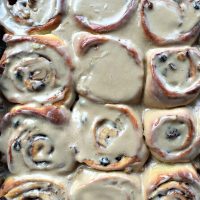 Print Recipe
Old-Fashioned Cinnamon Rolls Recipe
Adapted from Betty Crocker..
3 1/2 to 4

cups

all-purpose flour

1/3

cup

granulated sugar

1

tsp.

salt

2

packages regular or fast-acting dry yeast

4 1/2 tsp.

1

cup

milk

1/4

cup

butter or margarine

1/2 stick, room temperature

1

large egg

Cooking spray to grease bowl and pan

Filling: 1/2 cup granulated sugar

2

tsp.

ground cinnamon

1/4

cup

butter or margarine

or 1/2 stick, room temperature

1/2

cup

raisins

1/4

cup

finely chopped nuts

if desired

Glaze: 2 cups powdered sugar

2

Tbsp.

butter or margarine

room temperature

1

tsp.

vanilla

1

tsp.

maple extract

2-3

Tbsp.

milk
In a large bowl, stir 2 cups of the flour, 1/3 cup granulated sugar, the salt and yeast with a wooden spoon until well mixed. In a 1-quart saucepan, heat the milk over medium heat until very warm, and an instant-read thermometer reads 120°F to 130°F. Add the warm milk, 1/4 cup butter, and egg to the flour mixture. Beat with an electric mixer on low speed 1 minute, stopping frequently to scrape batter from sides and bottom of bowl with a rubber spatula, until flour mixture is moistened. Beat on medium speed 1 minute, stopping frequently to scrape bowl. With a wooden spoon, stir in enough of the remaining flour, about 1/2 cup at a time, until dough is soft, leaves the side of the bowl, and is easy to handle (dough may be slightly sticky).

Sprinkle flour lightly on a countertop or large cutting board. Place dough on floured surface. Knead by folding dough toward you, then with the heels of your hands, pushing dough away from you with a short rocking motion. Move dough a quarter turn and repeat. Continue kneading about 5 minutes, sprinkling surface with more flour if dough starts to stick, until dough is smooth and springy. Spray a large bowl with the cooking spray. Place dough in bowl, turning to grease all sides. Cover bowl loosely with plastic wrap; let rise in a warm place about 1 hour 30 minutes, or until dough has doubled in size. Dough is ready if an indentation remains when you press your fingertips about 1/2 inch.

In a small bowl, mix 1/2 cup sugar and the cinnamon; set aside. Spray the bottom and sides of a 13×9-inch pan with the cooking spray. Sprinkle flour lightly on a countertop or large cutting board. Gently push your fist into the dough to deflate it. Pull the dough away from the sides of the bowl, and place it on the floured surface.

Using your hands or a rolling pin, flatten dough into a 15×10-inch rectangle. Spread 1/4 cup butter over dough to within 1/2 inch of edges. Sprinkle with sugar-cinnamon mixture, raisins and nuts. Beginning at a 15-inch side, roll dough up tightly. Pinch edge of dough into the roll to seal edge. Stretch and shape roll until even, and 15 inches long. Using a sharp, serrated knife or length of dental floss, cut roll into 15 (1-inch) slices. Place slices slightly apart in the pan. Cover pan loosely with plastic wrap; let rise in a warm place about 30 minutes or until dough has doubled in size. Remove plastic wrap.

Move the oven rack to the middle position of the oven. Heat oven to 350°F. Bake 30 to 35 minutes, or until golden brown. Immediately remove rolls from pan; place right side up on a cooling rack. Cool 5 minutes.

In a small bowl, stir glaze ingredients until smooth, adding enough milk so glaze is thin enough to drizzle. Over the warm rolls, drizzle glaze from the tip of a tableware teaspoon, moving the spoon back and forth to make thin lines of glaze. Serve warm.
More holiday treats:
Sour Cream Pear Muffins (Anticipation, and not over-committing during the holidays)
Orange Banana Bread with Cranberries