One-Pot Beef Marsala Stew
This One-Pot Beef Marsala Stew is a delicious savory meal, made with boneless chuck roast, carrots, garlic, onions, marsala, and mushrooms!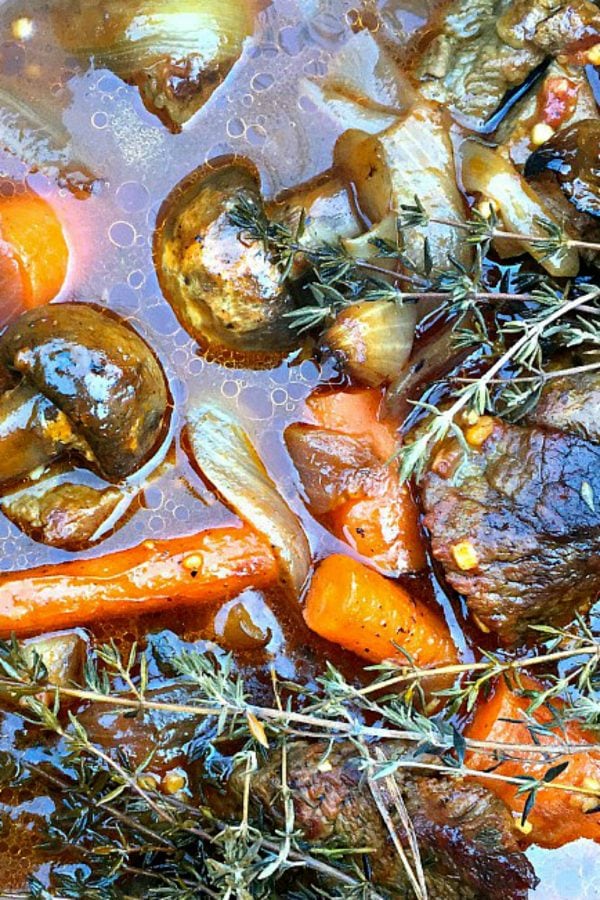 My husband and I took dinner to our friends' house last Friday evening. Nothing fancy, we brought the main dish, One-Pot Beef Marsala Stew, and crunchy bread, and they whipped up the appetizer and salad (along with wine of course!). [This is a repost from Jan 2015.]
One-Pot Beef Marsala Stew
This recipe has easy ingredients:
Canola oil
Boneless chuck roast
Kosher salt + pepper
Butter
Red onions
Garlic cloves
Tomato paste
Marsala wine
Beef stock
Thyme sprigs
Button mushrooms
Carrots, cut into 1-inch pieces

Beef Marsala Stew Recipe
This delicious One-Pot Beef Marsala Stew is the perfect cozy winter meal! You may also want to try my One Pot Asian Braised Beef or One-Pot Sausage Spaghettini Dinner or Lori's One Pot Creamy Chicken and Vegetable Pasta recipe.
I would say that 2020 was the year for cooking, so let's keep it going! [I also have some exciting news that I can share in a couple of months!]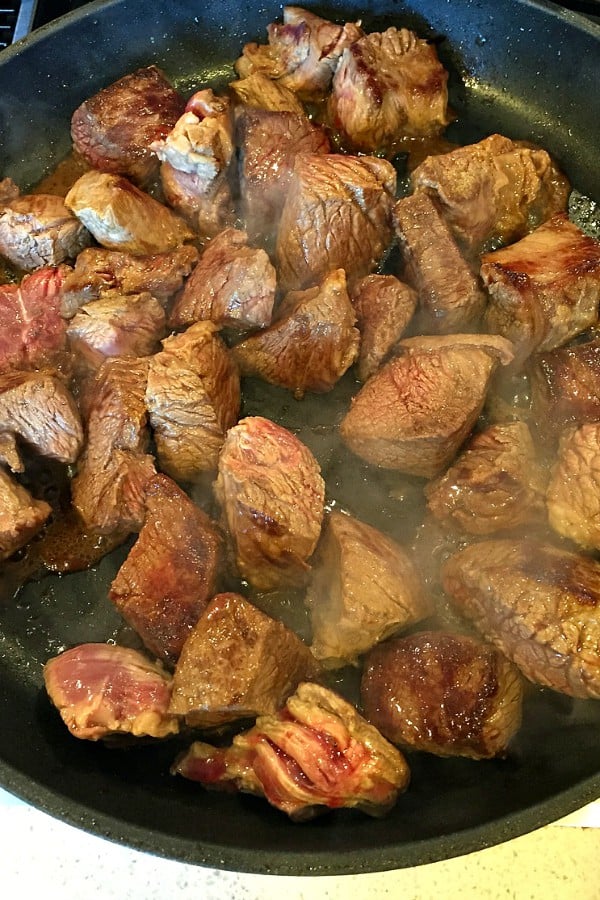 It only takes a few minutes to combine all the ingredients.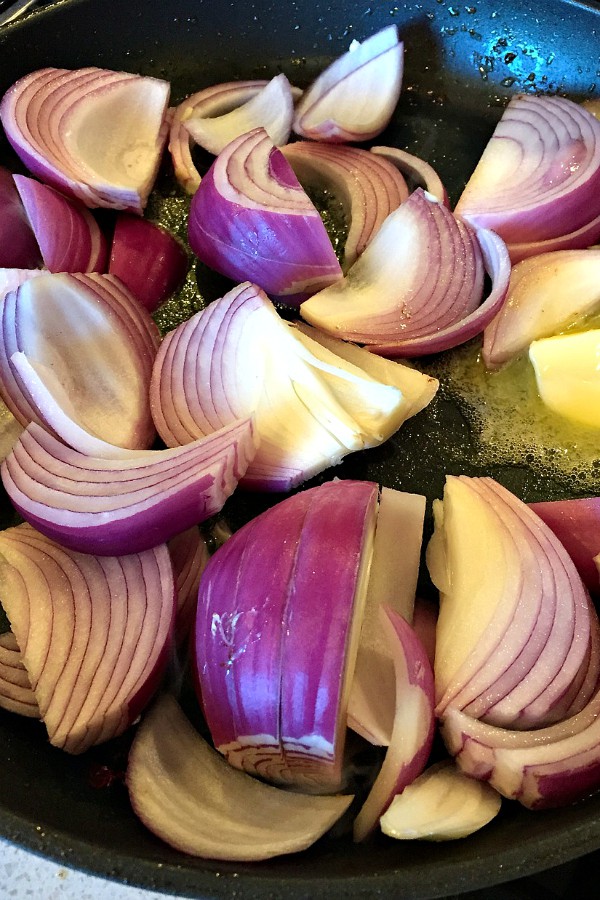 Then place in the oven for a few hours to braise and cook.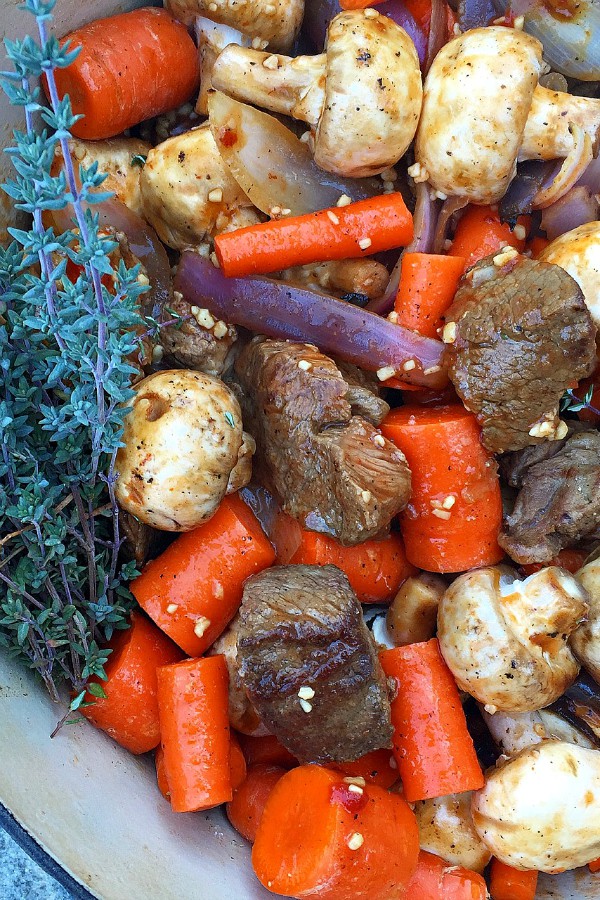 Oh, and a little warning. The house will smell very, very good.
Use our gifts and love others
We sat and talked for hours – literally hours. It was a fun night, and a great start to a new year. Our friends are wise, spiritual, caring, dreamers, movers and shakers. They are good for me and my husband to hang out with. They get us thinking, they care about what's on our minds, our goals, our passions. They aren't just people who sit back and take life in, rather they live life daily by using their gifts and loving others.
Burning candles
During our conversation–bodies leaned in, dinner consumed, tummies warm and full–I glanced at Karen's burning candles on the table, and I thought back to a post I had started over a month ago.
For three years I've had a box of candles and 2 silver candle holders stashed in my entertaining closet. Brand new, I'm not quite sure what I was waiting for to use them. I also have a few boxes of beautiful paper napkins stashed away … ready for company! My daughter has reminded me over and over, Mom, do not buy any more paper napkins! :)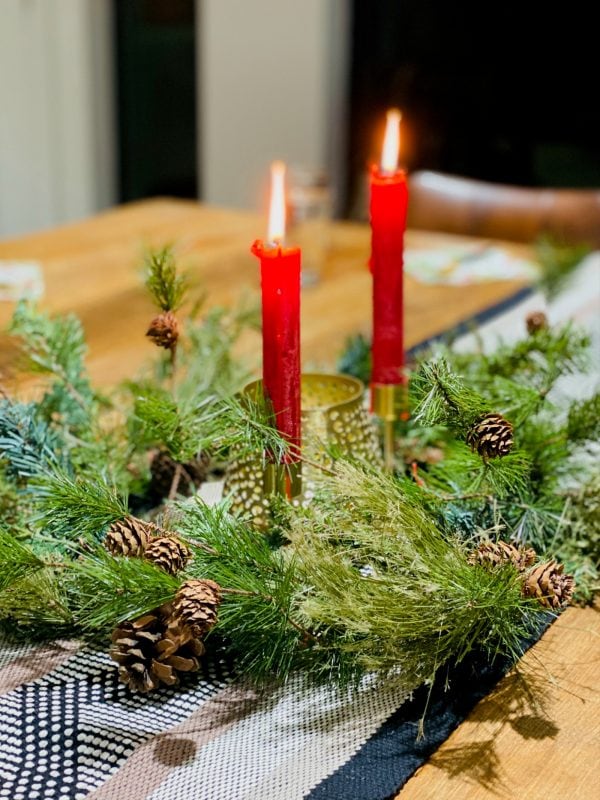 Stashing candles away
How many of us save what we have because it's pretty, we're keeping it for that "special day" or dinner party, or the right time to use it. "Things" sit in our cupboards or on the shelves for months, or years?
This year I opened the shiny new (dusty) box of IKEA candles and silver candle holders, and used them at every dinner party we hosted over the holidays! It was a reminder for me to use what I had, and not buy anything new!
Awhile back I read a post that resonated with me that said, "just burn the candles," which I loved.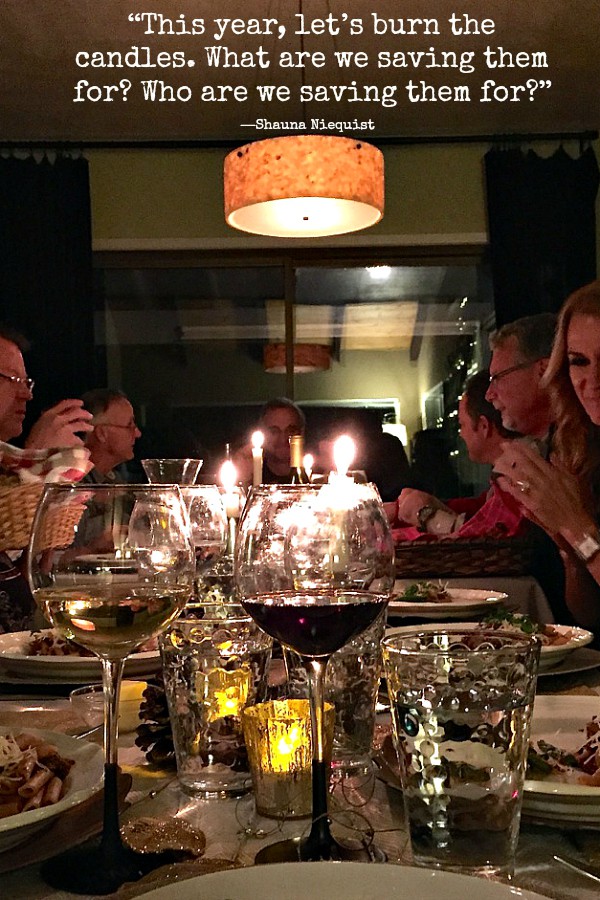 Just burn the candles
Shauna says, "This year, brew the good coffee, wear the sparkly jewelry, crack open that fresh journal. Gifts are to be loved, to be burned, to be eaten and used up completely, reminders that someone loves us, that someone thought of us.

What would would it look like for you, this year, to burn your candles, to allow yourself to be as loved and worthy as the people around you believe you are? What are you hoarding away for another day, for someone else, someone more deserving or special or fancy? What have you been given that you won't allow yourself to enjoy?

Open the jam, the journal, the wine. Slather that fancy lotion all over your feet. Put on those sparkly earrings even if you're just going to the grocery store. Because someone gave them to you out of love. Accept that love. Burn the candles."
Shauna says it well. Karen lives it well. I'm inspired by both to have NEW (monthly) entertaining goals where we invite people in—and I open up a brand new package of pretty napkins, make an easy one-pot dish, and we burn the candles.
Are you a "stasher" like me? Do you have candles or napkins sitting in your cupboard or drawers just waiting to be used?
I'd love to hear your hospitality goals for the winter months!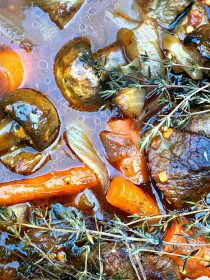 Get the Recipe: One-Pot Beef Marsala Stew
Adapted from Cooking Light Magazine, December 2014
Ingredients
2 tablespoons canola oil, divided
4 pounds boneless chuck roast, trimmed and cut into 2-inch cubes, divided
1 teaspoon kosher salt, divided
1 tablespoon butter
2 red onions, sliced
4 garlic cloves, minced
3 tablespoons tomato paste
1 cup plus 2 tablespoons sweet Marsala wine
4 cups beef stock
1 teaspoon freshly ground black pepper
5-6 thyme sprigs, divided
16 ounces small button mushrooms
8 large carrots, cut into 1-inch pieces
Instructions
Preheat oven to 300 degrees.

Heat a large, heavy skillet over medium-high heat. Add 1 tablespoon oil to pan; swirl to coat. Add half of beef; cook 8 minutes or until well browned, turning to brown on all sides. Place browned beef in an oven-proof pot; sprinkle with ⅛ teaspoon salt. Repeat with remaining 1 tablespoon oil, remaining beef, and ⅛ teaspoon salt. Set aside.

Melt butter in the same frying pan; add onions to pan; cook 1 minute on each side or until browned. Add onions to the oven-proof pot.

Add garlic to pan; sauté 1 minute. Add tomato paste; cook 1 minute, stirring constantly. Add 1 cup wine, scraping pan to loosen browned bits; cook 2 minutes or until half of liquid evaporates. Add stock and pepper; bring to a simmer. Nestle thyme sprigs into liquid. Add beef into the pot; top beef mixture with mushrooms; scatter carrots over top.

Cover with a lid and cook in oven (300 degrees) for 3 hours, or until meat is tender.

Remove the thyme leaves; serve over mashed potatoes, brown rice, or quinoa.

Garnish with fresh thyme sprigs (optional).
Notes
Reposted from JAN 2015

Hello and welcome to my home and table!
I'm Sandy—lover of food, family, cooking, THE BIG BOARD, travel, and bringing people together. Through great recipes and connection around the table, we become better, stronger, and more courageous people. Feasting on Life is real, and every time we do it, we grow a little more. Read more...