Oregon Marionberry Galette Recipe
Oregon Marionberry Galette Recipe is a dessert made with frozen or fresh berries, with a sweet crust! It's best eaten the day it is baked.
Hello friends! When is the last time you enjoyed a delicious baked galette out of the oven? It's even better served with vanilla ice cream!
Oregon Marionberry Galette Recipe
Today enjoy this Oregon Marionberry Galette Recipe! A delight of summer is this super quick and easy berry galette. You can make your own pastry dough, or use a store-bought crust.
And what I love … you can use fresh or frozen berries!
A quick (only 10 minutes prep time), easy and super delicious summer dessert, this galette is a crowd-pleaser every time!
What is a galette?
A galette is a round pastry wrapped and fruit filled dessert that is baked on a baking sheet. They are very easy to make because they don't have to be perfect. You can also make savory galettes, like my Whole Wheat Leek Salmon Galette.
Can you make a galette ahead of time?
Yes, you can make and freeze ahead!
Baked galette freezes well for up to 3 months.
Thaw overnight in the fridge.
Serve warm.
Both the dough and filling can be made ahead of time, covered tightly and refrigerated for up to 3 days.

Easy entertaining
For quick and easy entertaining … look what you can make your guests! WOW!
When company stops by, it's sure easy to whip up a hot, delicious dessert, with Oregon berries! Today, when I think of holiday desserts, my mind goes to pie.
Nothing beats a fresh pie from the oven. The wonderful aroma is nostalgic, because my mom would use frozen berries in the winter for a delicious pie.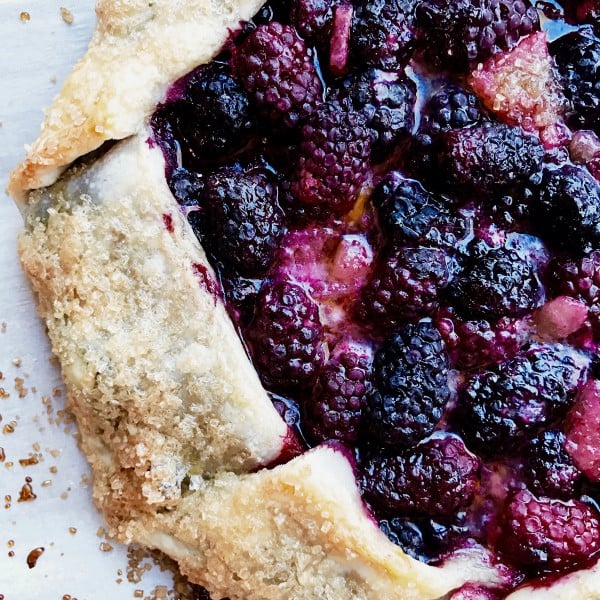 Berry Galette Recipe
But what I love about making a galette is, its quick, and it doesn't have to be perfect. They're rustic, open faced, and pretty, too.
Also delicious served warm, with possibly a big scoop of ice cream? Or not.
If pies intimidate you, then a galette just may be for you!
My mom, an amazing hostess and baker, was able to whip out a pie, but now looking back, she made more cobblers than pies. Making a galette is sort of mid-road … the same flavors of a pie, but prettier presentation than a cobbler.
Bringing summer to winter, I started off with a frozen bag of Willamette Valley Marionberries. Frozen Oregon berries are a great way to get delicious fruit, summer taste and maximum nutrition year round.
I loved their little slogan on the bag, The best from our land to your hands.
Company is coming over? You want to enjoy a cozy dessert?
Bring on the galette!
More recipes with frozen berries:
Lemon Poppyseed Pancakes with Berry Compote
Blueberry Salted Caramel French Toast Casserole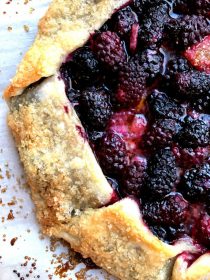 Get the Recipe: Oregon Marionberry Galette Recipe
Ingredients
1 pound frozen Marionberries, I bought Willamette Valley
1 pie crust
1/4 cup sugar
2 Tbsp. corn starch
Juice from half a lemon
1 tablespoon butter
1 egg
1 Tbsp water
1/4 cup crystalized ginger, optional, if you don't use, use 1 Tbsp. dried ginger
Turbinado sugar, Sugar in the Raw
Instructions
Preheat oven to 425 degree F.

Line large baking sheet (with sides) with parchment paper.

Roll out dough of your favorite pie crust or use refrigerated pie crust.

In medium bowl mix sugar, cornstarch, lemon juice, crystalized ginger, and frozen berries.

Pour berries into center of pie crust, mounding berries in the middle.

Fold and crimp the dough, so it covers at least 2 inches of the filling. Freeze the galette for at least 15 minutes to chill the dough.

Whisk egg and water together. Just before baking, brush edges of pie crust with egg wash, and sprinkle the dough generously with turbinado sugar.

Add pats of butter on top of berries, in three or four small pieces.

Bake for approximately 30 minutes or until crust is golden brown.

Serve warm or at room temperature. Serve with vanilla ice cream.
This post is sponsored by Oregon Berries, but as always, all opinions are my own. We use Oregon berries (frozen) in our kitchen regularly!
Hello and welcome to my home and table!
I'm Sandy—lover of food, family, cooking, THE BIG BOARD, travel, and bringing people together. Through great recipes and connection around the table, we become better, stronger, and more courageous people. Feasting on Life is real, and every time we do it, we grow a little more. Read more...