White Chocolate Peppermint Bark Ice Cream Cake
This White Chocolate Peppermint Bark Ice Cream Cake recipe is a delicious holiday dessert to make ahead, freeze, and serve to family and friends!
Friends, we practice hospitality because it shows our appreciation, and an overflowing sense of gratitude for others. It's even sweeter when dessert rolls around, and this Peppermint Ice Cream Cake is pulled out of the freezer—a delicious way to end the night!
Opening our home means that we extend ourselves, our time, our budget (it can cost a little extra to cook for others!), listening, empathizing, and loving the people that we invite in.
What warms my heart the most is when we gather with friends, and our kids are around the table. When they engage in the conversation, which sometimes goes deep, they're learning all about grace, from a more unusual perspective. I say unusual, because I think it's less the norm now to open our homes.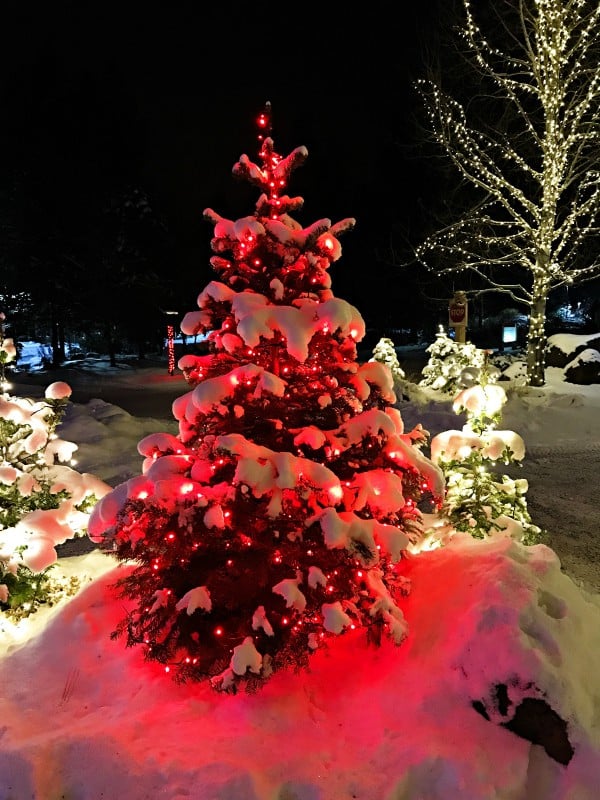 Hospitality just isn't something that comes naturally to people anymore, so it seems.
White Chocolate Peppermint Bark Ice Cream Cake
But those times that it is, and our guests feel at home, and our kids keep learning about hospitality, it's like that first bite of a rich dessert … it tastes so good.
Like this White Chocolate Peppermint Bark Ice Cream Cake!
A festive, delicious and easy-to-make dessert, drizzled in hot fudge sauce, and loaded with rich white chocolate peppermint bark flavors.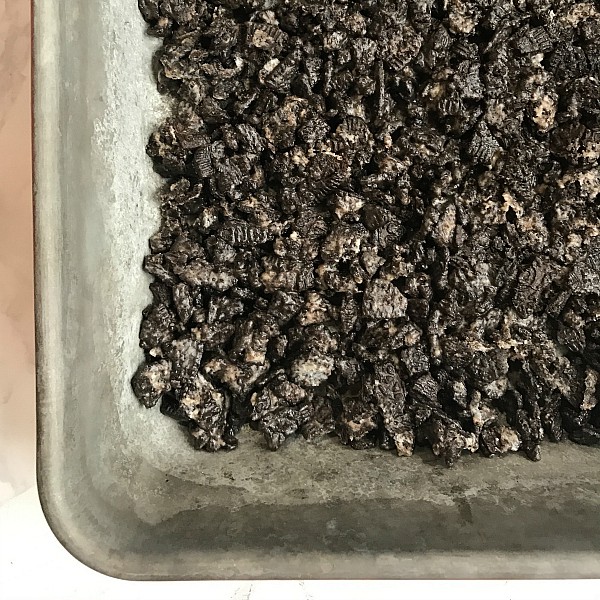 On a buttery cookie crust.
Our favorite White Chocolate Peppermint Bark ice cream!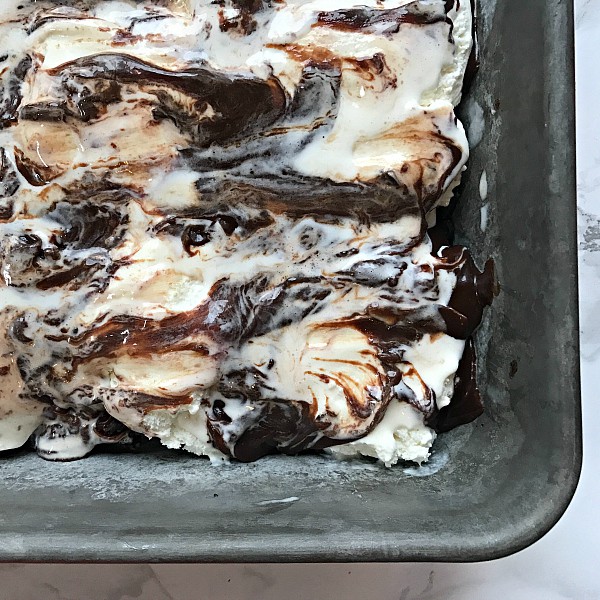 Freeze and serve!
A holiday treat that will have guests asking for seconds!
It's so festive and beautiful here in Sunriver.
And we can't wait … the week of anticipation!
Do you have a favorite dessert you like to make for holiday company?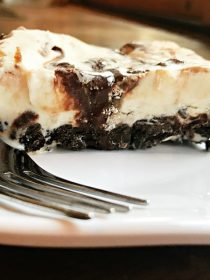 Get the Recipe: White Chocolate Peppermint Bark Ice Cream Cake
Ingredients
1 package, 10.1 ounces Oreo cookies (THINS), crushed
4 Tbsp. butter, melted
1 gallon peppermint ice cream, slightly softened
1 jar, 11-3/4 ounces hot fudge ice cream topping, warmed
Instructions
In a ziplock bag, place the Oreo cookies; seal and crush. In a large bowl, combine cookie crumbs and butter. Press into an ungreased 8×8-in. dish.

Spread the warm chocolate sauce over the crust. Spread the ice cream over the the chocolate sauce/crust. It will melt and mix together.

Cover and freeze until solid. May be frozen for up to 2 months.

Just before serving, drizzle with hot fudge topping, spreading with a spatula; sprinkle with peppermint candy.
More holiday dessert recipes:
Oregon Marionberry Galette (make with frozen berries!)

Hello and welcome to my home and table!
I'm Sandy—lover of food, family, cooking, THE BIG BOARD, travel, and bringing people together. Through great recipes and connection around the table, we become better, stronger, and more courageous people. Feasting on Life is real, and every time we do it, we grow a little more. Read more...