Oreo Cookies and Cream Cupcakes
It's time for a little sweetness for Valentine's Day, with these Oreo Cookies and Cream Cupcakes.
Friends, since Valentine's Day is right around the corner, I'm sharing a recipe from my Dad's wife, Ginny, who always makes the best treats for our family gatherings.
Oreo Cookies and Cream Cupcakes
Most recently she made these Oreo Cookies and Cream Cupcakes (inspired by Bakerita), now our family favorite! ENJOY!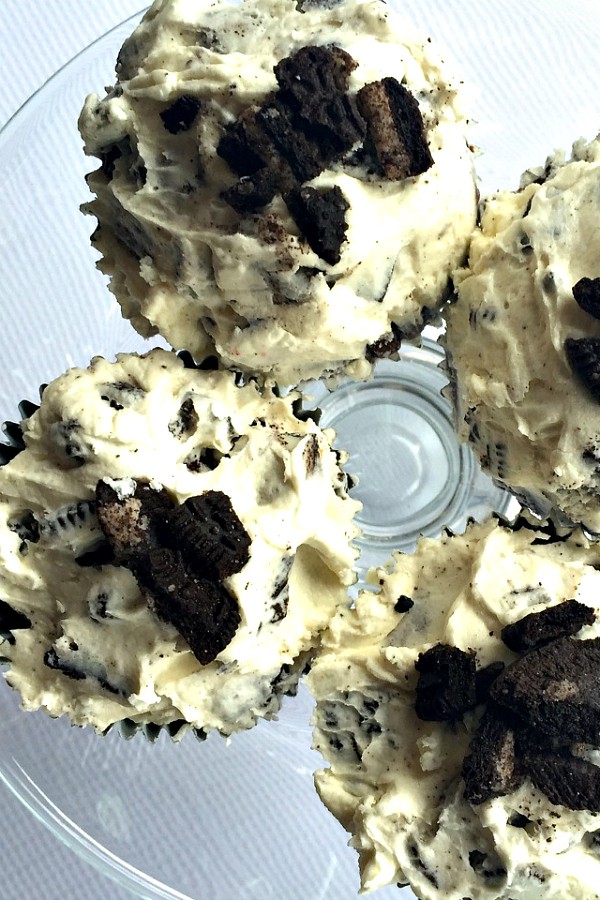 Do you ever feel like you are just coasting through life? You know, doing the same old routines, sort of cruising along? Like maybe you're missing out on joy and happiness?
Choose Joy book, by Sara Frankl and Mary Carver
My goal this year is to be a true inspiration and a bright spot to those around me. If it means I take a turn in the road that I'm not used to, I'm okay with that. I've been reading a very good book, Choose Joy, by my friend Mary Carver, written about the life of Sara Frankl (who used to blog at GlitzenGirl). I won't ruin the story and message, but this book is truly a gift that will make your heart sing. It just may challenge you to look at your life a little deeper, like how you can change your routine, thinking a little less about yourself, and others more. What are we missing out on!? Where does our joy come from?
Joy and happiness
For me, what makes me happy is never "stuff" (because I know it will never last). Happiness is so much more about looking at our blessings, and not at material things that can weigh us down.
But joy is deeper than happiness, and it lasts longer than being excited–it's satisfying, rich and full. It's deep within our souls.  I've been thinking this past week, about how I can change up my routine and add a few elements of happiness and joy into my life.
8 Things to bring JOY into your life
1. Do what you love. Maybe it's music, art, being with people, the outdoors, learning new things. Do what you love, because it brings a sense of fulfillment. Go in search of what inspires you deeply – Look for God – and then share it with others.
2. Do something for others. Keep it simple – bake, bring a meal, give a ride, take someone out to coffee and listen to their story, help a neighbor, volunteer at a non-profit!
3. Connect with people. Our relationships can have an almost magical effect on our happiness. Connect with new or old people, and learn more about their lives, which can be very inspiring.
4. Value experiences over things. Things are nice, but the joy we get from experiences lasts longer. For example, our family time is much better when we get into the outdoors and experience something new together, and just talk. You will have those memories for a long time.
5. Cultivate your courage. Identify your strengths and the areas in your life where you could be a little more courageous. Get involved in something bigger than yourself, or something you really believe in. Lean in, show up (as Bob Goff says).
6. Host a dinner party. People need one another. Host a "Knife and Fork" club and meet with friends on a regular basis in your home, sharing meals together. These casual, positive interactions with other people can cause a major lift in spirits. Or, host a tea, or get together for coffee.
7. Learn how to give a compliment. A sincere compliment boosts one's morale, and can uplift someone's spirits. A whole new world can open up when you start genuinely looking for positive things in others, sharing words that build them up! It's freeing to be able to give a compliment and mean it. I'm always amazed at the people that I meet that do not know how to do this.
8. Read something inspirational daily. Learn and grow by what you read, have quiet time, pray, settle into "quiet." Embrace the solitude. You will deepen your walk with God and something beautiful will come from this.
What goals do you have to help nurture happiness and joy in your life this year?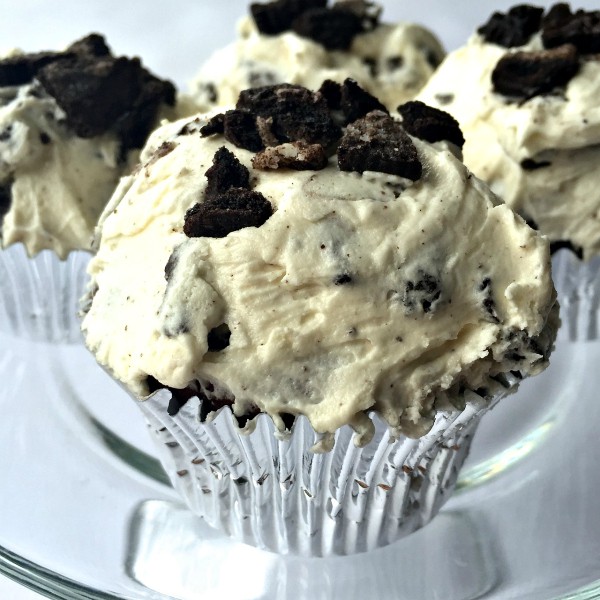 Oreo Cookies and Cream Cupcakes
Recipe from The Bakerita.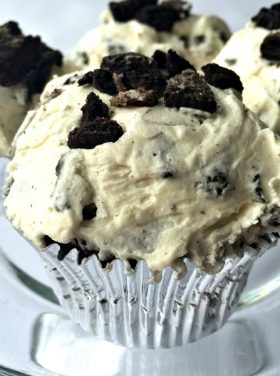 Ingredients:
30 Oreos
1 (15.25 ounce) package devil's food cake mix
1 (3.4 ounce) package instant chocolate pudding mix
1 cup (8 oz.) sour cream
1 cup vegetable oil
4 eggs, lightly beaten, at room temperature
1 teaspoon pure vanilla extract
1/2 cup warm water
For the frosting: 3 sticks unsalted butter, softened
2 1/2 cups powdered sugar
2 tablespoons heavy cream, or milk
2 teaspoons vanilla extract
18 Oreos, crushed into crumbs
Directions:
Preheat oven to 350 degrees F. Line muffin tin with paper liners or spray with non-stick cooking spray. Place 1 whole Oreo in the bottom of each muffin liner.
In the bowl of a stand mixer, fitted with the paddle attachment, or with a hand mixer in a large bowl, beat together the cake and pudding mixes, sour cream, oil, eggs, vanilla and water mixture. Beat for about two minutes on medium speed until well combined.
Using a large cookie scoop, fill each muffin cup 2/3 of the way full.
Bake in preheated oven for 16-20 minutes or until the tops of the cakes spring back when lightly touched. Allow cupcakes to cool inside muffin tins for about 10 minutes.
Remove cupcakes from muffin tins and allow to fully cool on a wire rack. Once cupcakes are cool, prepare your frosting.
For the buttercream, in the bowl of an electric mixer fitted with the paddle attachment, whip butter for 5 minutes on medium speed. Butter will become pale & creamy.
Add the powdered sugar, milk, and vanilla extract. Mix on low speed for 1 minute, and then on medium speed for 5 minutes. Add in crushed Oreos and mix to incorporate completely, about 1 minute.
Frost cooled cupcakes immediately. If desired, top with more crushed Oreo cookies to garnish.
Recipe from Bakerita.

All images and text ©


More Oreo recipes:

Oreo Mint Pistachio Ice Cream Pie
15-minute Oreo Pie Recipe {Money Saving Mom}
Dark Chocolate Salted Caramel Oreo Pie {Kevin & Amanda}