BEST Pear Coffee Cake Recipe
Pear Coffee Cake Recipe makes a wonderful treat for breakfast, brunch or dessert!. A moist breakfast cake made with Bosc pears, molasses, and cardamom!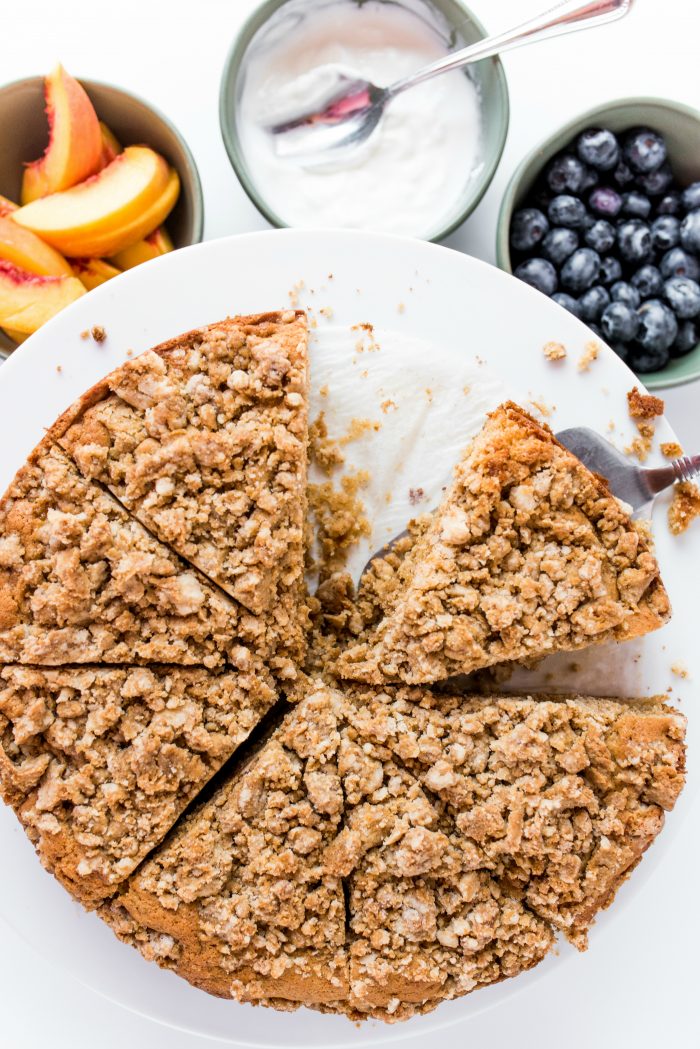 Friends, let's talk about "intention."
How many times have you said, "let's get together?" And then you never do anything about it?
Pear Coffee Cake Recipe
Here's the perfect weekend dessert to make, Pear Breakfast Cake, for a quick coffee date, or weekend brunch. I don't know about your family, but we're more apt to eat breakfast sweets on the weekend, and not so much during the week. Unless, that is, we have out-of-town guests.
You may have also tried my Pistachio Pear and Olive Oil Cake, another brunch favorite. So good! Or this Cinnamon Breakfast Cake or Lemon Thyme Breakfast Cake.

Pear Breakfast Cake
Remember that classic coffee cake you grew up eating — the kind with the buttery cake and sugared crumb topping you loved so much? Well, you'll love this topping, made with molasses and cardamom flavors!
Make the batter in a springform pan.
Add the crumble topping.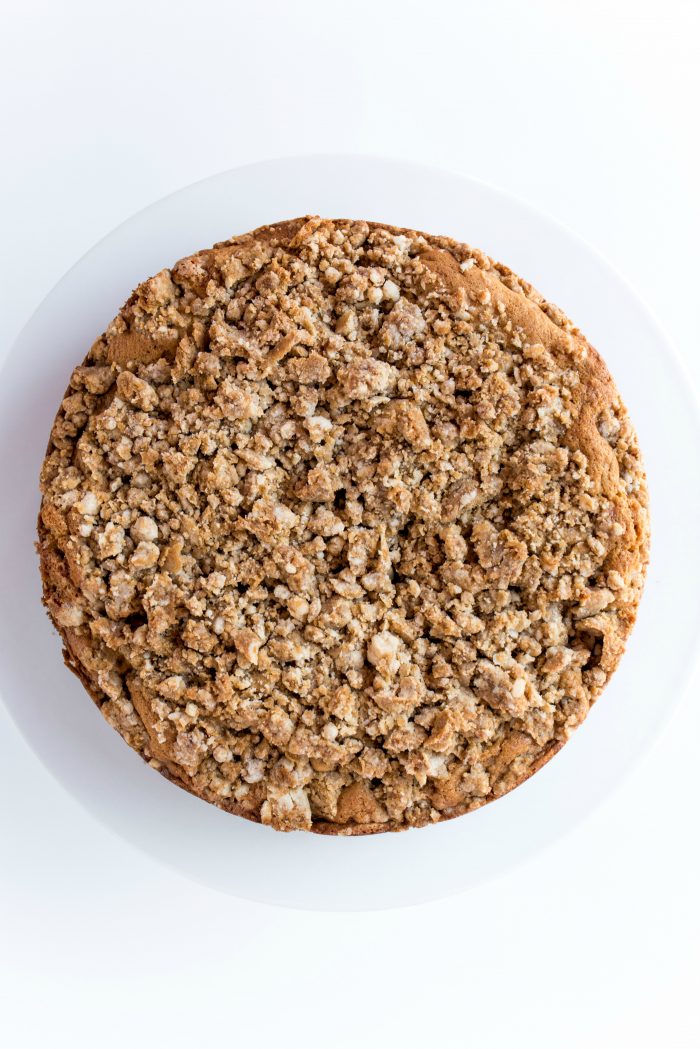 Bake and serve!
Being intentional with invites
I find the times I'm intentional, when I'm determined and actually get a date on the calendar (yes, it takes effort to make a dinner date happen)—are so rewarding.
The times I talk about it, but never follow through—well, it seems to haunt me. I feel bad about myself, like why did I even mention it to this person, blah, blah, blah.
Make this easy Pear Coffee Cake Recipe and invite your neighbors over for cake and coffee!
Be relentless, pushing towards what you want in life, like deeper friendships!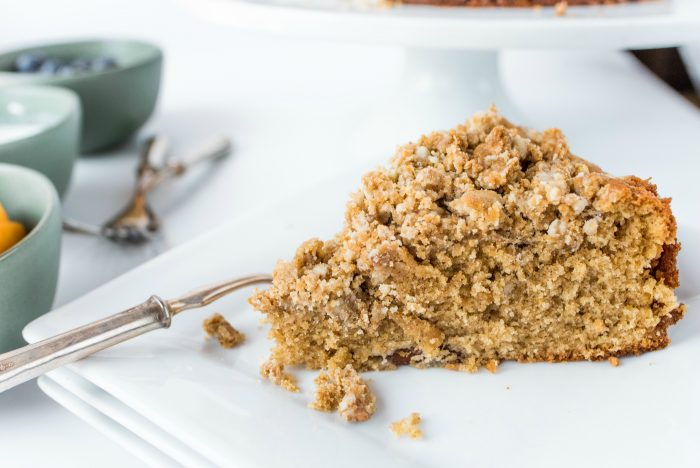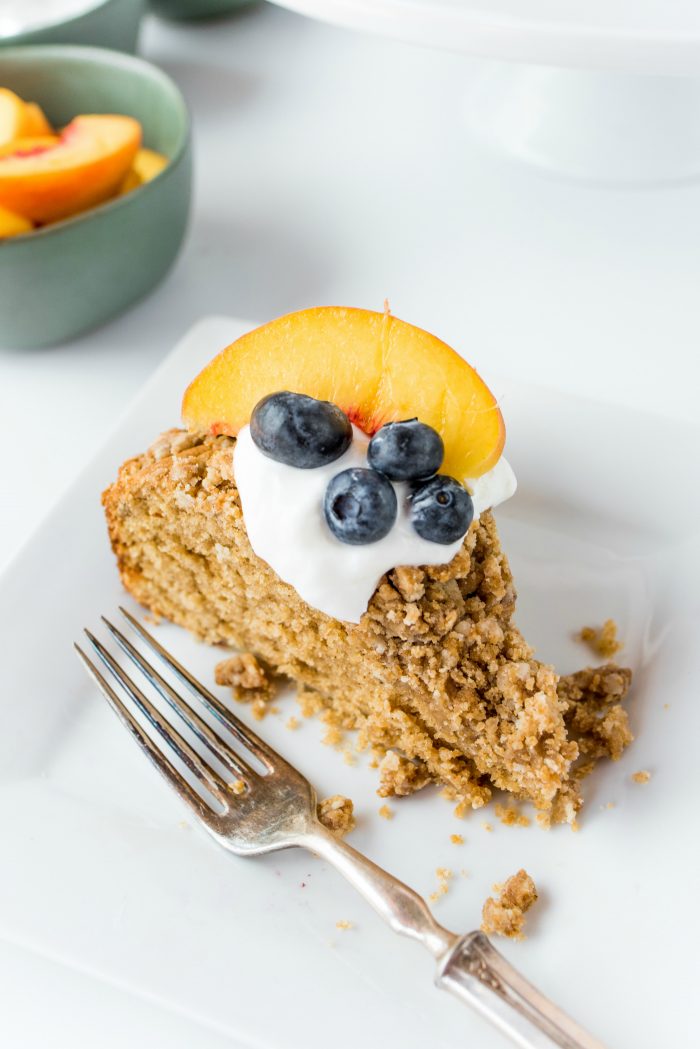 All of this starts as a spark, a thought, a sense that I want more in life.
I want to go deeper with people. I want to love and to be loved.
Who's on your list to invite over and get to know in a deeper way?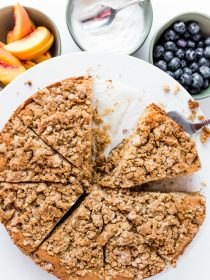 Get the Recipe: Pear Coffee Cake Recipe
Ingredients
8 Tbsp butter, 1 stick, at room temperature
3/4 cup granulated sugar
1 Tbsp blackstrap molasses
1 tsp vanilla
1 1/2 cups all-purpose flour
1 tsp baking powder
1/2 tsp baking soda
1/2 tsp kosher salt
1 tsp ground cardamom
1 tsp cinnamon
2 eggs
3/4 cup sour cream
1 medium Bosc pear
Crumble Topping:
1 Tbsp molasses
1/2 cup packed brown sugar
3/4 tsp cardamom
1/2 tsp cinnamon
1/4 tsp salt
8 Tbsp butter, melted
1 1/4 cups flour
Instructions
Preheat the oven to 350° F.

Grease a 9-inch springform pan and line it with parchment paper. Grease the sides with butter.

Cut your pear into thin, 1/4'' strips, and layer at the bottom of the pan in a circular pattern.

For the crumb topping, in a medium mixing bowl, combine the brown sugar, salt, cinnamon, cardamom, and molasses together until combined. Pour in the butter and mix until smooth. Add the flour, and stir until the mixture becomes lumpy, clumpy, and not completely blended (It's okay to have some flour that is unmixed). Set topping aside.

In stand mixer or large mixing bowl, cream together the butter and sugar until fluffy.

Meanwhile, in a separate bowl, mix together the flour, baking powder, baking soda, salt, cinnamon, and cardamom. Set aside.

Add each egg into the sugar and butter, one at a time. Mix on low and add in the vanilla, molasses, and sour cream.

Finally, beat in the flour mixture on low—don't overmix.

Transfer batter to the prepared pan and smooth the top. Spread the crumbles on top and transfer to the oven.

Bake for 40 to 50 minutes, or until an insert comes out clean from the center of the cake.

Remove the cake from the oven and let it cool in the pan for 10 minutes. Make sure the sides of the pan are not stuck to the cake, then pop the springform open.

Slide onto a dish or cake stand and serve warm with coffee and yogurt, or whipped cream and berries for dessert!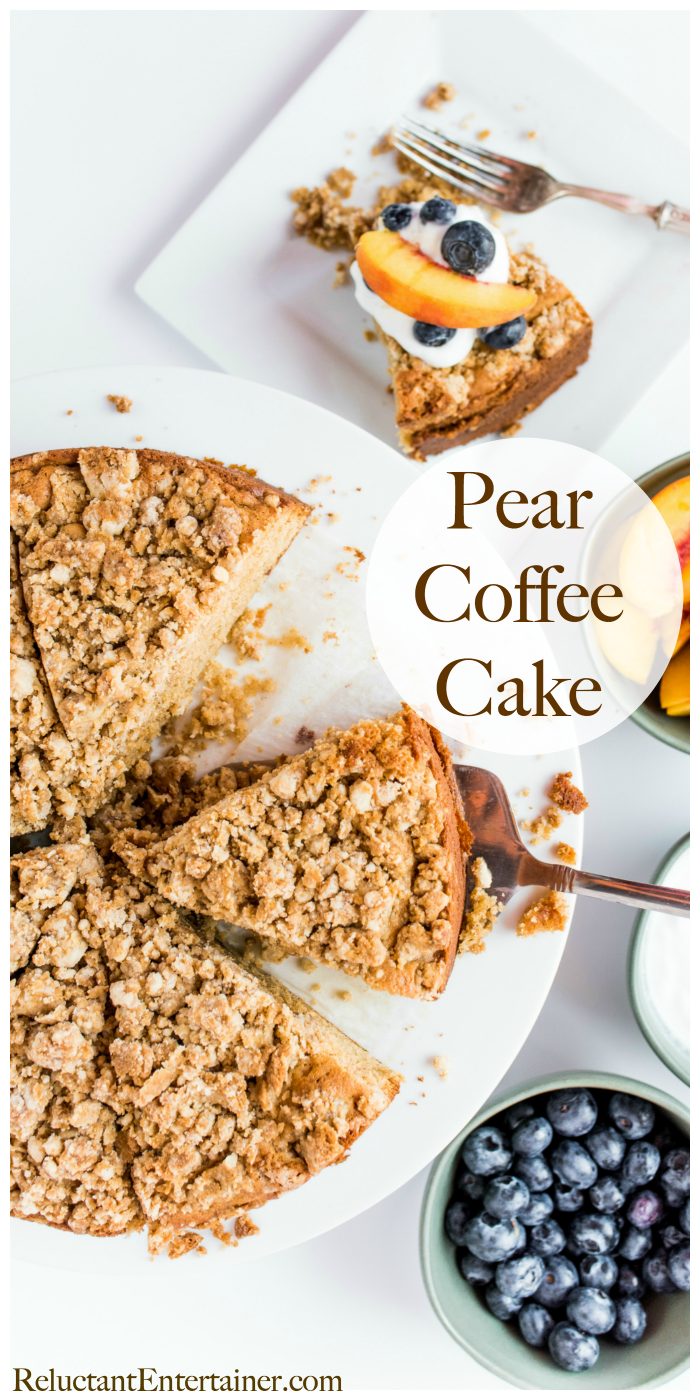 Hello and welcome to my home and table!
I'm Sandy—lover of food, family, cooking, THE BIG BOARD, travel, and bringing people together. Through great recipes and connection around the table, we become better, stronger, and more courageous people. Feasting on Life is real, and every time we do it, we grow a little more. Read more...