Last-Minute Pesto Tartine Appetizer Recipe
Last-minute Pesto Tartine Appetizer Recipe for a party, potluck, or enjoy with a nice glass of wine. Fresh and tasty, make with pesto and goat cheese!
Friends, HAPPY FRIDAY! I wrote this post 5 years ago, so I'm adding new text and photography, and one of my favorite quotes!
Great minds discuss ideas; average minds discuss events; small minds discuss people.

—Eleanor Roosevelt
Which means, find some positive people to hang out with this weekend, and make your words count. Think big, listen big, and be BIG people. Talk about things that will make our world a better place. (And God forbid, don't be a small person and gossip about other people).
Last-Minute Pesto Tartine Appetizer Recipe
If you are a basil lover (I love the smell), and love "easy," then this Pesto Tartine Appetizer Recipe is for you!
One thing I miss about being "back home" in Medford is our garden, which at one time we had 12 beds. Our herb trough always had basil, rosemary, thyme, oregano, and chives. Oh, and occasional dill.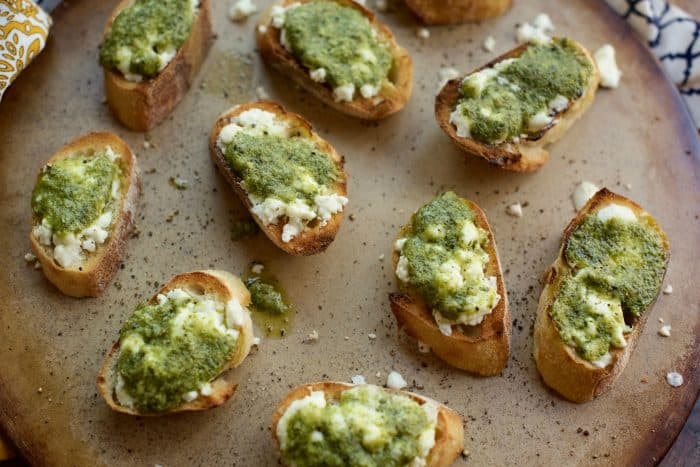 This recipe is perfect for last-minute get togethers or a quick bite with a hot bowl of soup.
Tonight we have friends in town from Portland, so our house will be full. Full of little kids, who are like or own kids (or grandkids), and we can't wait to see them.
I'm sure we'll be pulling out the tub of legos and bins of American Girl dolls.
Bring appetizer and wine!
When's the last time you were invited to a dinner party?
Bring an appetizer and wine! I love those words, especially when I have something so simple in mind.
Like this Last-Minute Pesto Tartine Appetizer Recipe!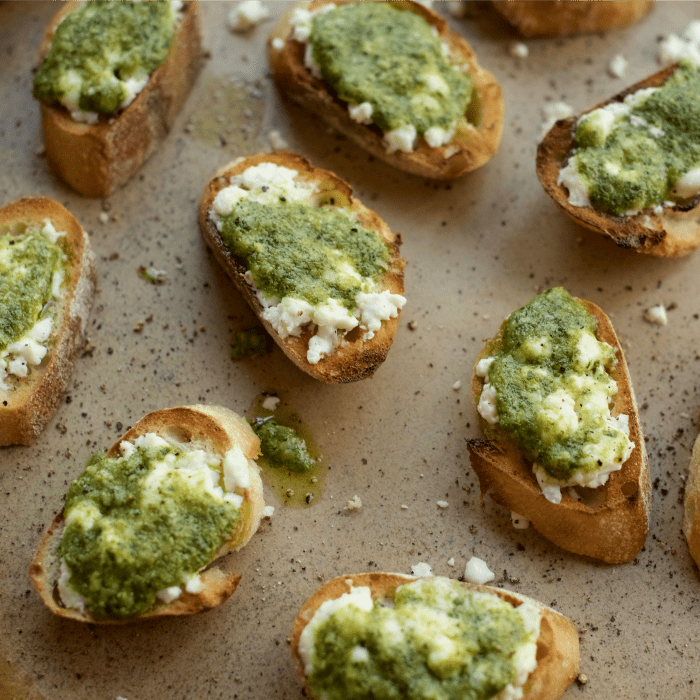 Pesto Tartine Appetizer
Last weekend I made this simple appetizer for a party that we attended. For me, simple, light appetizers always taste better than heavy ones. (Another quick, easy favorite? Goat Cheese Honey Crisp Apple Thins – so good!)
Tartine: A French word that means open-face sandwich.
Basil season can't come soon enough, but in the meantime, I use store-bought pesto. We keep it on hand from Costco, or in the pantry (DeLallo brand).
It's safe to never run out of pesto! HA!
Happy Friday, Friends!
Hosting Game Day? Italian Pesto Sliders [Wine and Glue], Turkey Pesto Onion Cheese Sliders — so good! [RE], Easy Homemade Pesto Pasta Recipe [FoodieCrush], and Pesto Chicken Tortellini Soup [The Cookie Rookie].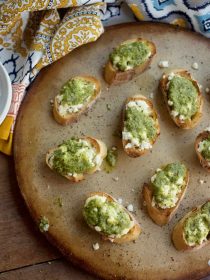 Get the Recipe: Pesto Tartine Appetizer Recipe
Ingredients
4 ounces softened goat cheese
1 fresh loaf baguette bread
1/2 cup pesto
Instructions
Slice the baguette bread into 1/2-inch slices. Optional to toast (under broil HI for 1 minute).

Spread the softened goat cheese on baguette slices.

Top and spread each piece with a 1 tablespoon of pesto.

Serve.

Optional to broil again for 30 seconds to 1 minute, until bubbly on top.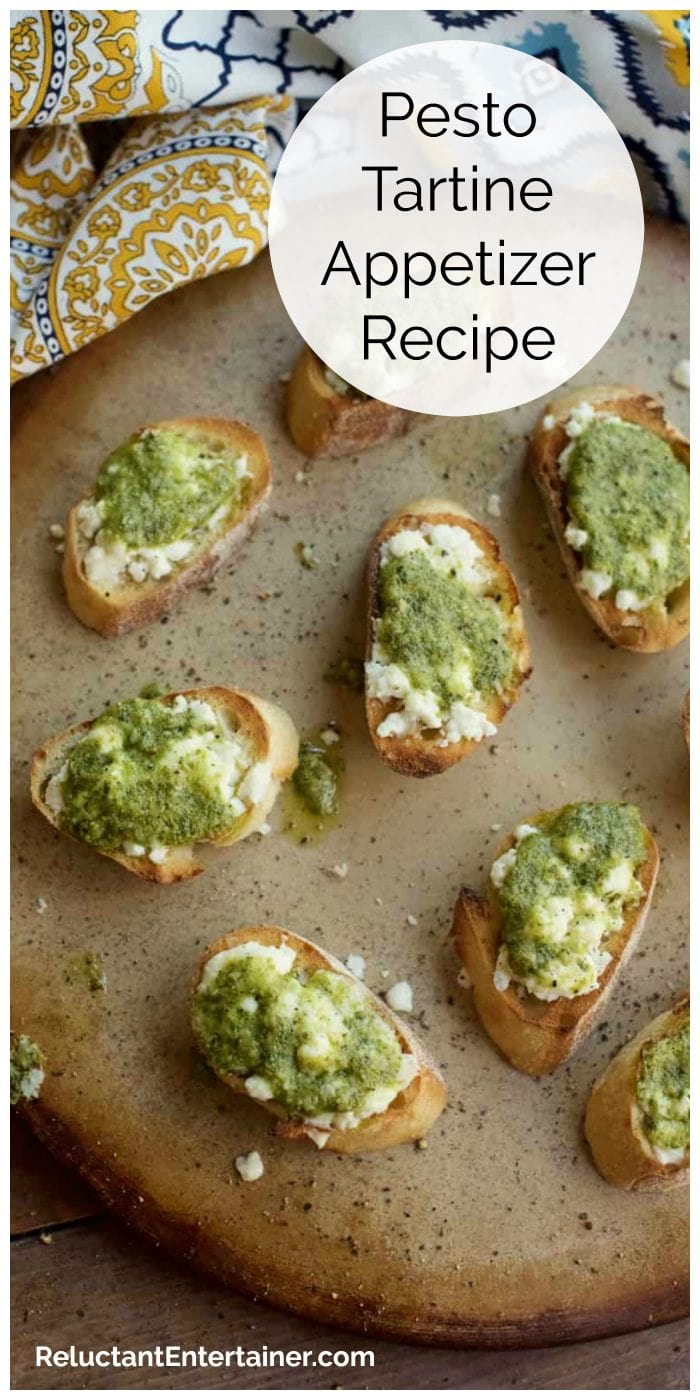 Hello and welcome to my home and table!
I'm Sandy—lover of food, family, cooking, THE BIG BOARD, travel, and bringing people together. Through great recipes and connection around the table, we become better, stronger, and more courageous people. Feasting on Life is real, and every time we do it, we grow a little more. Read more...