Goat Cheese Honey Crisp Apples Honey Rosemary Thins
Try this easy Goat Cheese Honey Crisp Apples Honey Rosemary Thins appetizer! A fresh, delightful hors d'oeuvre for any time of year!
Earlier this week was a perfect example of simple hospitality, when our Canadian friends came to central Oregon for the Eclipse 2017, and drove 2 hours out of their way to see our family! How honored we felt, as we sat together on the back deck – my favorite place to unwind – in the great outdoors.
Goat Cheese Honey Crisp Apples Honey Rosemary Thins
We served this delicioius Goat Cheese & Honey Crisp Apples appetizer!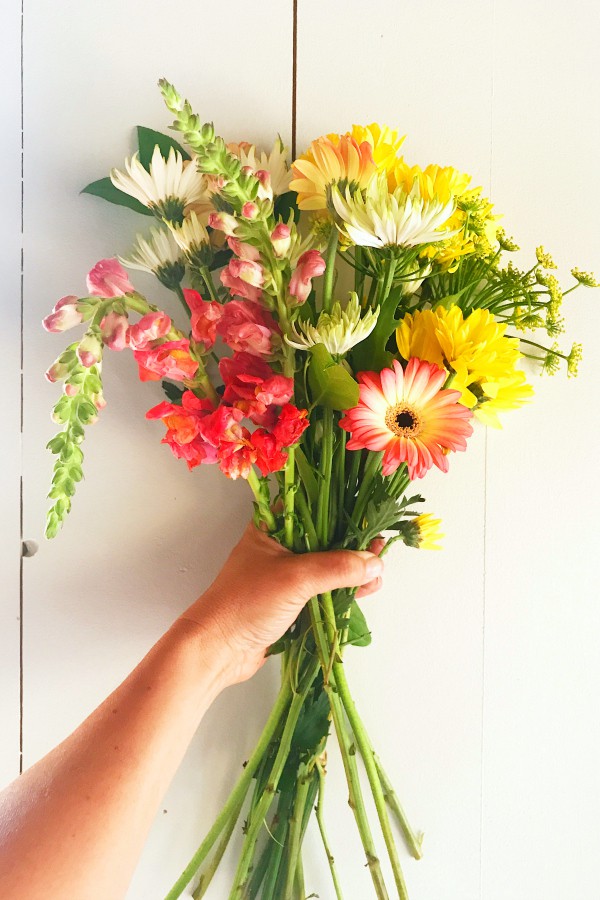 Driving up 2 hours from their camping spot, we greeted our friends and gave them a mini tour of our home. Of course Alder and Haggis were the center of attention at first, with new toys and treats.
I really don't mind casual get-togethers, because they take the pressure off of "perfect" and formal. (Always love a "just because" hostess gift.)
Honey Crisp Apples Thins
So great to catch up since it had been 3 years since we'd seen our friends, we enjoyed a light summer appetizer, Goat Cheese Apple Thins!
Honey crisp apples are the best for any appetizer because they are always crisp, light, and sweet. I don't buy any other kind of apple when I'm making an appetizer, because I've been disappointed too many times.
Keep on hand goat cheese and your favorite crackers, and fresh rosemary. Our rosemary is growing in our skinny garden beds!
A delicious HIT for summer, fall, and winter or holiday entertaining!
So good!
Mm-m-m-m …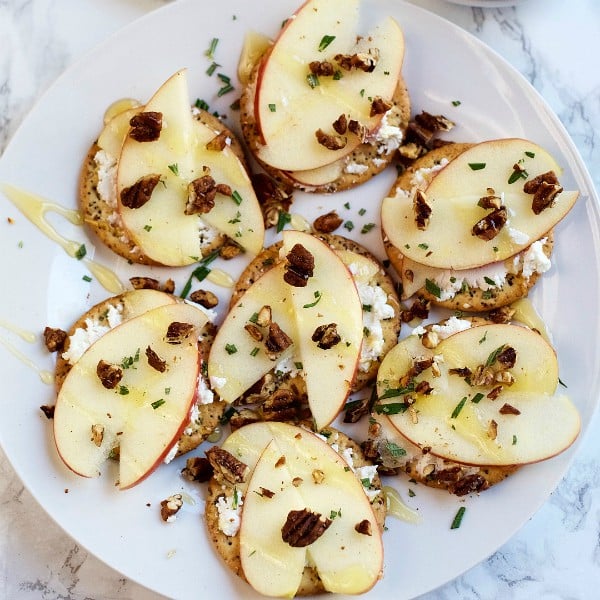 Get the Recipe: Goat Cheese, Honey Crisp Apples, Honey, Rosemary Thins
Ingredients
3-4 ounces goat cheese
2 honey crisp apples, thinly sliced
Honey to drizzle
1/4 cup glazed walnuts or pecans
Fresh rosemary, finely chopped
1 package large crackers
Instructions
Lay crackers on a platter. Even distribute goat cheese on top of each cracker.

Layer thinly sliced apple on top of the cheese.

Drizzle the cheese mixture with honey.

Lightly sprinkle the nuts and rosemary on top (they will stick to the honey).
More apple snacks: Banana Split Honeycrisp Apple Nachos, Honeycrisp & Goat Cheese Ladyfinger Crostini (really elegant!), Peanut Butter Yogurt Dip (served with apples) [Two Peas and Their Pod], Bacon Fried Apples & Onions [Foodie with Family].
SaveSaveSaveSave
SaveSaveSaveSaveSaveSave
SaveSaveSaveSave
SaveSaveSaveSave
SaveSaveSaveSave
SaveSave
SaveSave
SaveSave
SaveSave
Hello and welcome to my home and table!
I'm Sandy—lover of food, family, cooking, THE BIG BOARD, travel, and bringing people together. Through great recipes and connection around the table, we become better, stronger, and more courageous people. Feasting on Life is real, and every time we do it, we grow a little more. Read more...