Spring Creek Kayaking with Insalata Caprese
This classic Insalata Caprese was served on a camping trip, but is perfect to serve for any summertime appetizer or salad.
Keep close to nature's heart… and break clear away, once in awhile, and climb a mountain or spend a week in the woods. Wash your spirit clean. -John Muir
Oh, how I love this quote. On a recent trip over by Fort Klamath, Oregon, we did go on a hike, we actually did something different—for the first time in our marriage—we went kayaking together on Spring Creek.
Bring hospitality with you.
Let me back up. You know how much we love to camp in our VW Westfalia camper van. This trip was very fun because we met some new Canadian friends!
And how did we meet our new friends? I brought over a plate of appetizers to say hello and introduced myself to them. And … little did we know, within a couple of days we'd be planning a trip to meet each other again, either in Oregon, or us heading up to BC, Canada.
Bring hospitality wherever you go, right?
Insalata Caprese.
I have a lot of Caprese recipes on my blog, but not the original salad, or in our case for this trip, an appetizer. Inside our VW, I whipped up a plate of Insalata Caprese for our camping buddies.
Start with tomatoes, Mozzarella cheese, and whole basil leaves.
What makes this dish so delightful—besides the fresh basil and yummy Mozzarella cheese?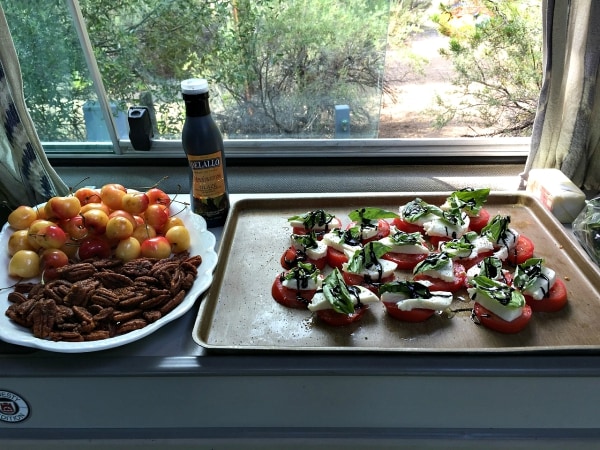 DeLallo's Modenacrem Balsamic Glaze, which I tell everyone about.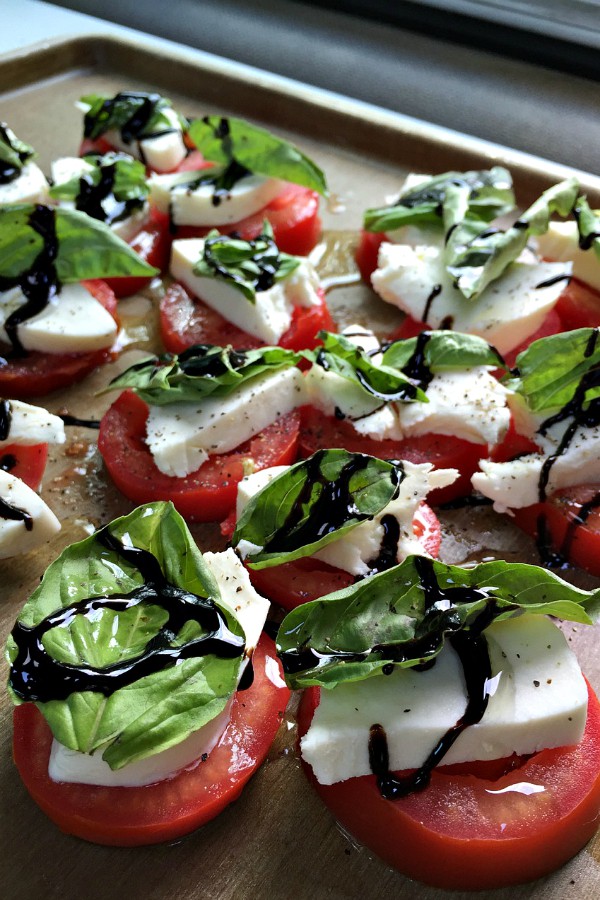 Seriously, there is nothing sweeter, or better on the market. We've tried all brands, and this brand is the best.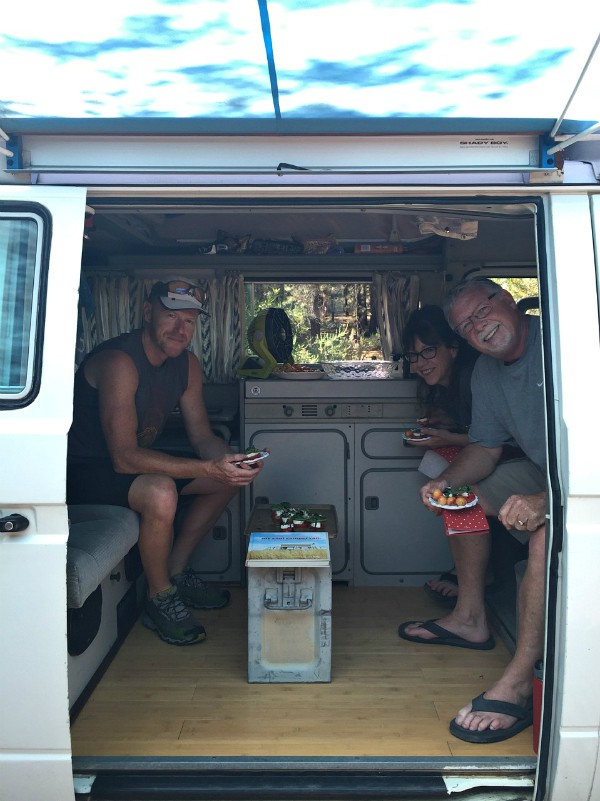 Hosting inside the van.
It's tradition that we host appetizers once night inside our VW. Then our friends host the next night, etc.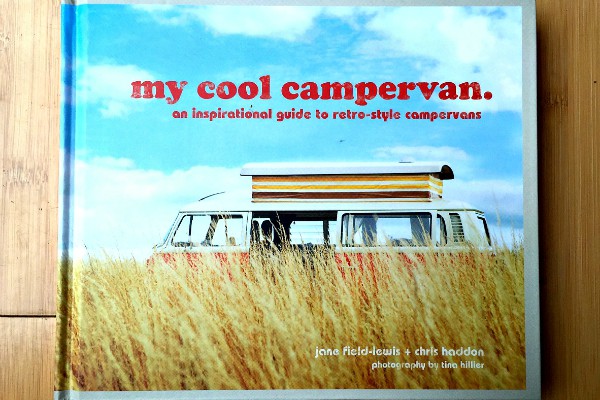 We turn up the music and rock out to Paul's playlist, with good food, a little wine, and great fellowship with our friends. (PS. I bought my husband this book for his birthday – it's really fun!)
Spring Creek, Oregon.
The cool thing about this visit was that our new friends, Bob and Susan, wanted Paul and me to try out their kayaks (for my birthday) and paddle all the way up Spring Creek – to the very end, where the springs were literally bubbling out of the ground.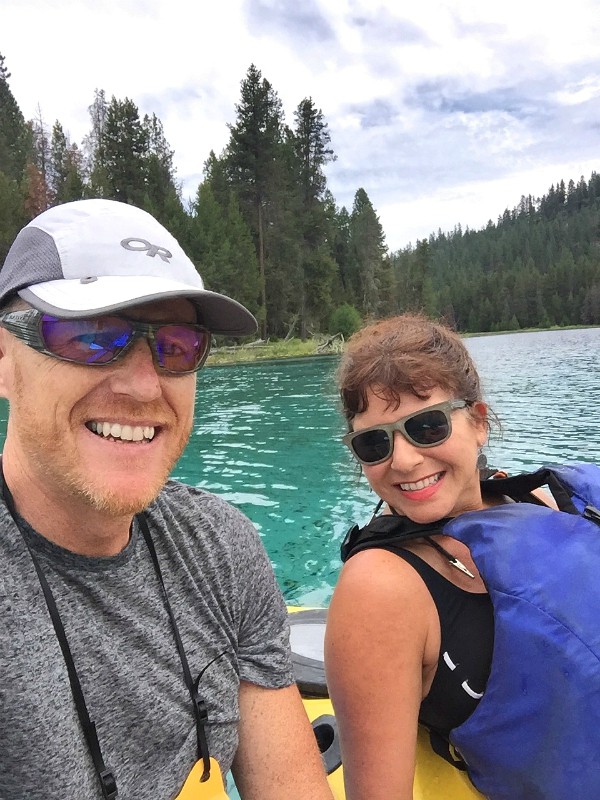 It was so gorgeous. An eagle was on the bank, and flew up to a tree—totally watching us.
When we came back down, he was still there. Another great birthday surprise!
In various areas of the water the bottom was so glorious (aqua) blue! We've never seen anything quite like this in Oregon!
I do love nature, and it is important to keep close to nature's heart, and get into the great outdoors!
I hope you're having a lovely August, Friends.
I'd love to hear of any outdoors or nature trips that you've been on?
Insalata Caprese
Ingredients:
Mozzarella cheese, thinly sliced
Fresh tomatoes, thinly sliced
Olive oil
Salt & pepper
Fresh basil leaves
DeLallo Balsamic Glaze
Dried Oregano
Directions:
Assemble thin slices of fresh mozzarella cheese on tomato slices.
Drizzle with olive oil; salt and pepper.
Place a basil leaf on top of the cheese.
Drizzle with balsamic glaze.
Sprinkle a pinch of dried oregano over the platter.
All images and text ©
Are you following me on Instagram, Twitter, Facebook and Pinterest? If you'd like to subscribe to Reluctant Entertainer, to have each post delivered straight to your e-mail box, then please add your email, here. It's really easy! Thanks for being here today!