Outdoor Breakfast with Greek Scrambled Egg Pockets Recipe
Delicious Greek Scrambled Egg Pockets Recipe for an easy breakfast or brunch, made with fresh flavors of garlic, lemon, and fresh herbs! Today's post has been updated with new photos–ENJOY!
Summer is for sure in the air, as our family worked in the yard all weekend stringing lights, blowing, mowing, cleaning, planting … you name it. It's work to get ready for spring and summertime entertaining, but once the hard work is done, it's so worth it.
At our old house, we cleaned off the back patio, making room for guests–for breakfast, taking a dip in the pool, or dinner.
Tulips are bursting in our front yard, which make the prettiest arrangement.
Which reminds me of this sweet quote: Use your "tulips" to kiss winter goodbye!
Greek Scrambled Egg Pockets Recipe
Spring and summer is the best time to serve breakfast outside, when the temp is just right!
A simple recipe today, perfect for breakfast outside, is this Greek Scrambled Egg Pockets Recipe!
Serve while it's hot, and think ahead to the serving dishes you have handy.
My favorite mixed and matched blue dishes.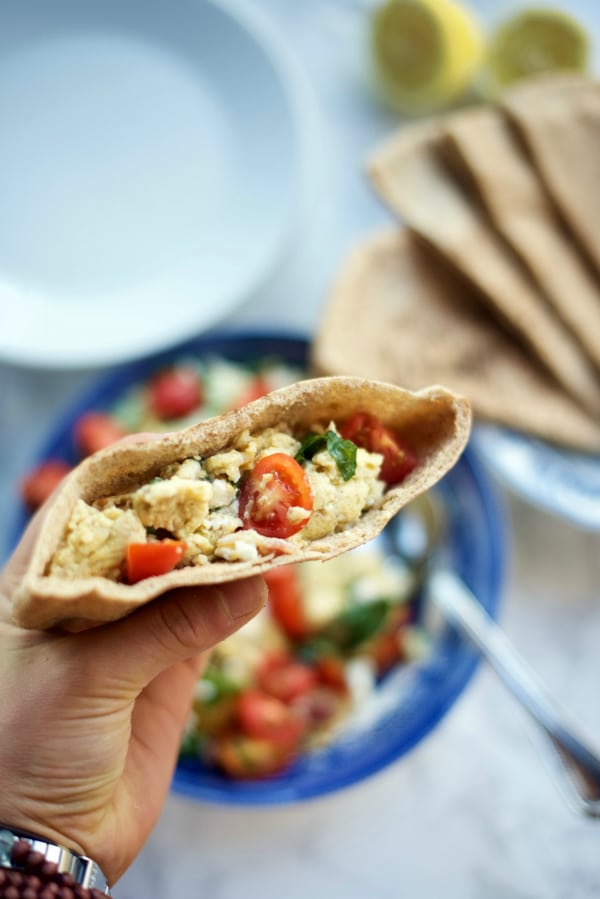 Easy Greek Scrambled Egg Pockets, with a simple presentation, so bright and cheery!
These pita pockets only take about 15 minutes to pull together.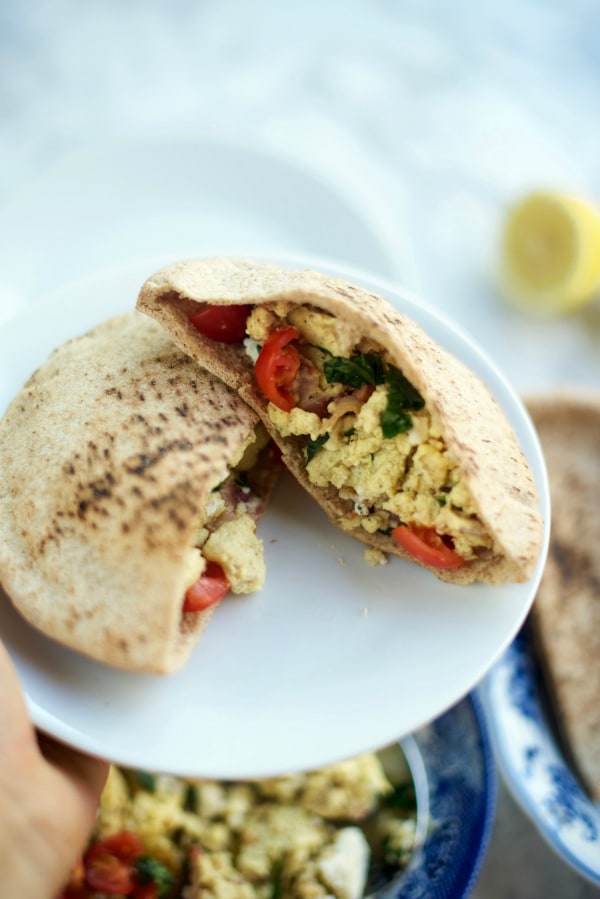 Full of summer flavors, with fresh basil from the garden.
And or some reason, food always tastes better in the great outdoors!
You hear "the secret is in the sauce?" Well, how about, "the secret is in the serving dish?"
Don't you find that the "right" serving dish can make or break the presentation of the food you are serving?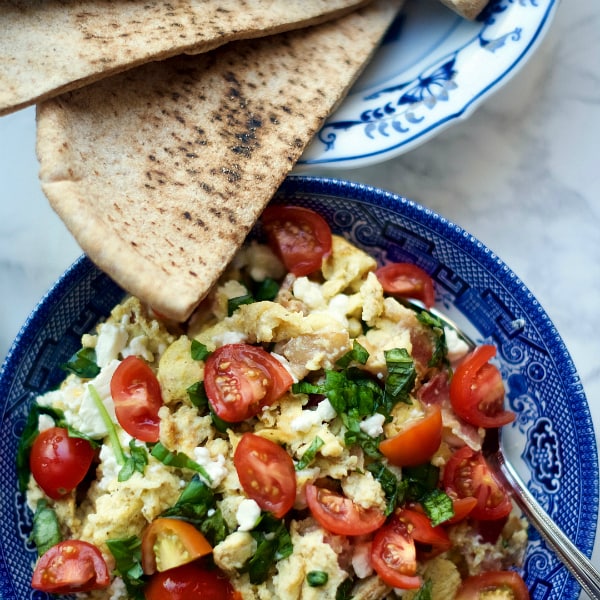 Greek Scrambled Egg Pockets Recipe
Ingredients:
4 Whole Wheat pita bread pockets

1/2 cup basil

1/3 cup Greek yogurt

6 eggs

1 Tbsp. garlic

1 Tbsp. olive oil

6 strips bacon, chopped

1/2 tsp. salt

3/4 tsp. pepper

1/4 cup feta cheese

1/2 cup cherry tomatoes, cut into fourths

1/4 lemon to squeeze on top
Directions:
Whisk together in a medium bowl the eggs, yogurt, salt, and pepper.
Heat frying pan on medium heat. When hot, add the oil. Add the garlic, sauté until slightly golden. Add bacon and cook fully. Reduce heat to medium/low. Add egg mixture. Allow eggs to cook slowly on low heat, stirring often.
When eggs are cooked, remove form heat. Squeeze 1/4 lemon over the eggs and sprinkle the feta, basil, and tomatoes on top.
Cut Pita pockets in half and toast lightly in toaster.
Fill each half of pita pocket with one cup of egg mixture; serve!
All images and text ©
More breakfast recipes: Raspberry Yogurt Cake, Easy Blueberry French Toast Casserole, Baguette Ham Overnight Breakfast Casserole, Cheesy Baked Breakfast Sliders, Banana Breakfast Cookies, and Baked French Eggs.
SaveSave
SaveSaveSaveSave
SaveSave
SaveSave
SaveSave
SaveSave