Summer Chicken Salad Sandwiches
Summer Chicken Salad Sandwiches are perfect for casual hosting. Make with fresh grapes and pineapple, and toast on your favorite bread with melted cheese!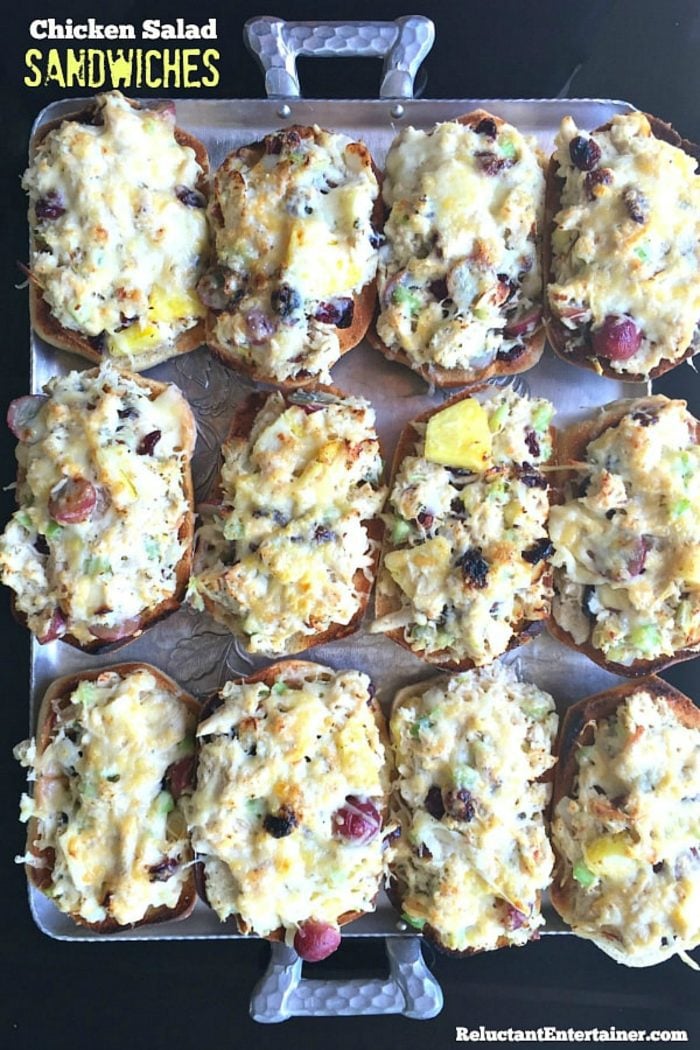 Friends, for summer enjoy these tasty Summer Chicken Salad Sandwiches. Plus, today I'm sharing some heart-to-heart deep topics and comparison and contentment.
Chicken Salad Sandwiches
But first … these delicious sandwiches.
We love to serve these for drop-in company (great for lunch).
Super yummy with summer grapes and fresh pineapple!
You may also want to try this Cranberry Almond Chicken Salad Wrap recipe or Southwest Avocado Chicken Salad.
Contentment can't happen until you decide to be yourself, whatever that means. Being yourself is so much better than being a poor imitation of someone else. —Shauna Niequist
Just last night I found myself falling back into it again. The painful, unfruitful act of comparing. I found myself reflecting on the idea that I often want what others have–a newer home, a perfectly decorated home, a spotlessly clean home, a bigger home—when realistically and deep in my heart, I'm actually wanting simpler, and less stuff. How can that be? I'm like Dr. Jekyll and Mr. Hyde when it comes to what I want. This feeling often comes after visiting our friends who have brand new homes—so shiny and clean and fresh. My head starts to ache, and then I realize, this is not good. My house is perfect the way it is, even though it does have many imperfections.
I'm a work in progress, friends. Even in my 50s, I struggle with the comparison game, wanting more, struggling with discontentment. It's easy to look at what others have and want more for ourselves.
Gratitude works every time
But … I'm catching myself much sooner now. The minute I get that "feeling," I immediately turn my thoughts to prayer and gratitude for what I've been given. It works, folks!
Quickly make a mental list, or written, of the things that you are thankful for.
I focus on my gifts, my home, the blessings around me. When I do this, I realize that I do not want to squander these gifts, but use them.
The other stuff is peripheral—the outside things that look shiny and pretty and new. They can sort of be deceiving.
Focus on what my hands can do
Here's another thing I try to do when I feel inadequate or unhappy. I focus on what my hands can do. I can give out to others by cooking a meal, inviting people over, and serving people.
Serve until you can't stop.
How beautiful is that?
Serve until you can't stop
Almost 25 years ago, when Paul and I got married and moved into a tiny 1000 square foot house, I remember sooooo longing for more. But my lesson was to wait, and learn how to love and and serve in that tiny house, with very little money.
All good things happen in time, friends. And for me, learning contentment was a part of the journey.
Use what you have today, and don't wait for tomorrow!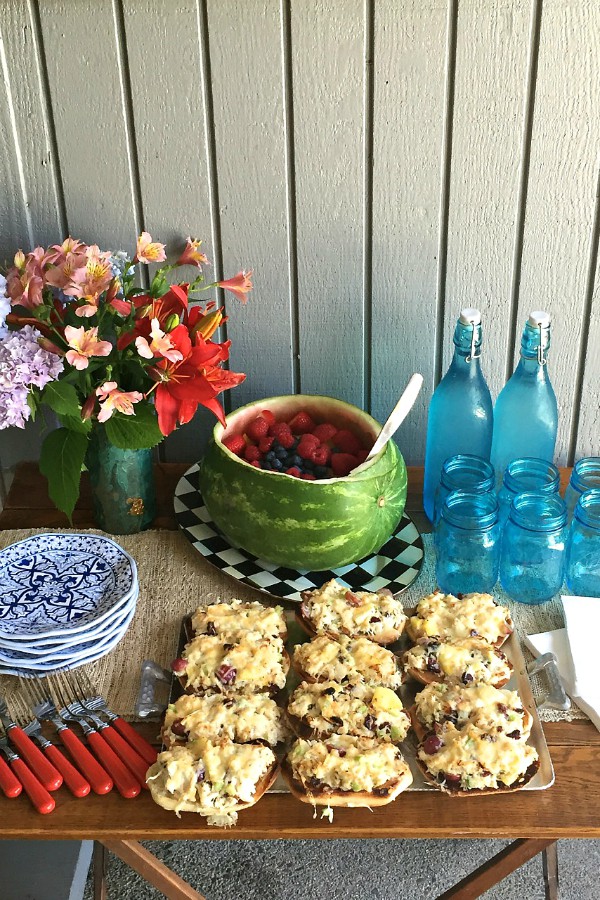 Summer Chicken Salad Sandwiches
We rarely invite others over for lunch, but this time we did. Our kids all happened to be home on a weekend, so we invited a couple over who are very dear to our family.
I made Pioneer Woman's easy Chicken Salad (with a twist of my own), and toasted it on buns with a delicious cheese.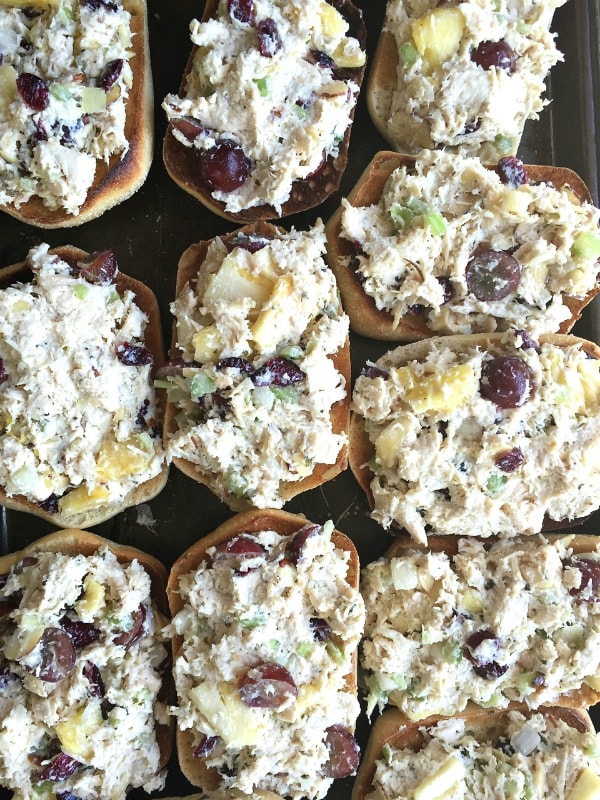 Grapes and pineapple — oh, boy!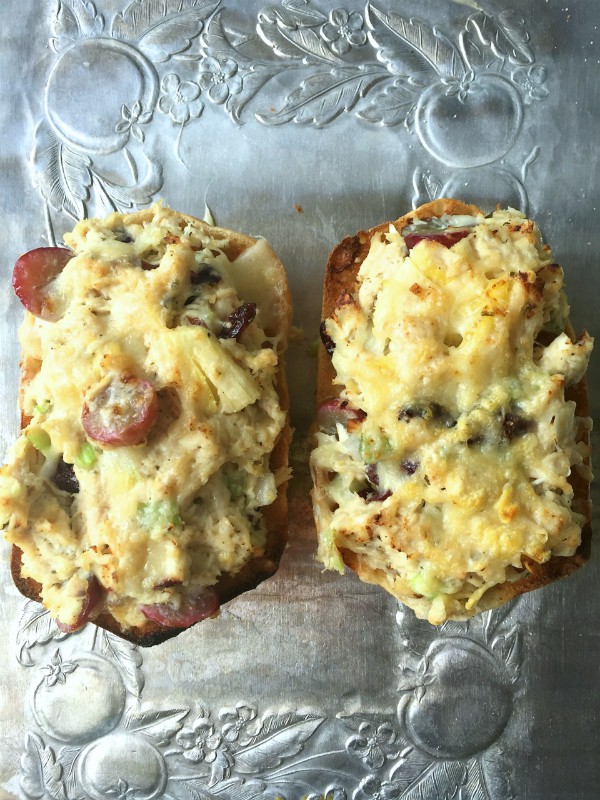 We sat on the back porch and told stories and caught up.
We don't know how long we will have each other, but we were thankful for that day.
Big or small …
Simple food, sitting together, listening, caring, loving …
Big or small, I'm really the most content when I'm surrounded by people and love.
What hospitable moment in your life helped you focus on the people you were with, rather than the new, shiny setting?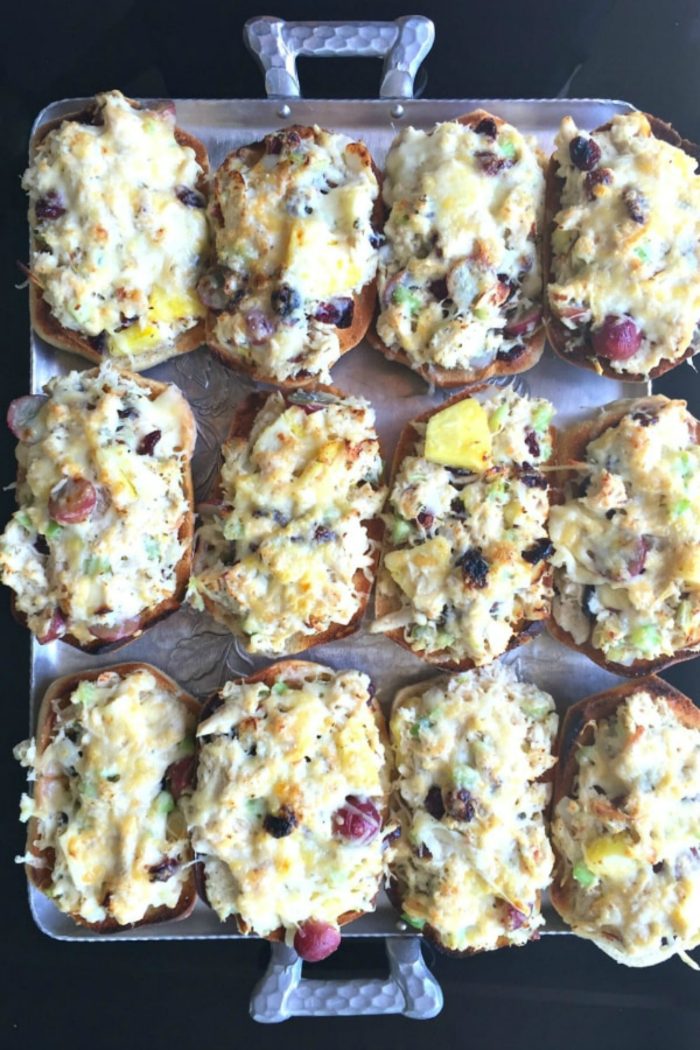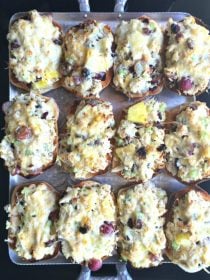 Get the Recipe: Chicken Salad Sandwiches
Ingredients
2 cups Rotisserie Chicken
2 stalks, to 3 Stalks celery, finely chopped
2 whole green onions, finely chopped
2 cups grapes, halved
1/2 cup mayonnaise
1/2 cup Greek Yogurt
2 cups pineapple, chopped in small pieces
1 cup almonds
1 Tbsp. brown sugar
Juice of one lemon
Salt and pepper to taste
Fresh herbs, such as thyme, basil, cilantro or oregano (optional)
Favorite cheese, I used Gruyere
Instructions
Chop all fruits and veggies and place them in a bowl with the chicken.

In another bowl mix mayonnaise, yogurt (or sour cream), lemon juice, brown sugar and salt and pepper to taste. Add fresh herbs (optional).

Pour the dressing over the chicken/veggie/fruit mixture and stir gently until everything is thoroughly mixed.

Allow the salad to chill for several hours (or even overnight). Serve on a slice of bread with your favorite cheese; broil for a bout 1-2 minutes until cheese is melted. Serve!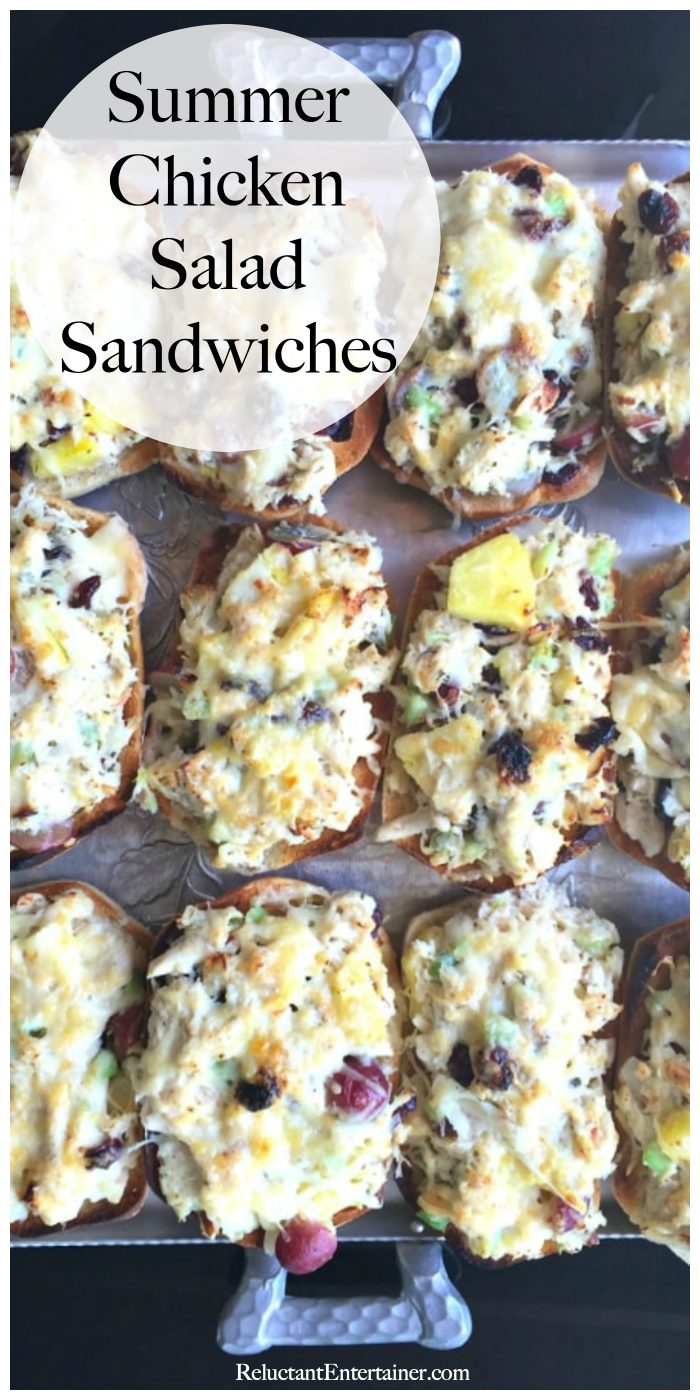 Hello and welcome to my home and table!
I'm Sandy—lover of food, family, cooking, THE BIG BOARD, travel, and bringing people together. Through great recipes and connection around the table, we become better, stronger, and more courageous people. Feasting on Life is real, and every time we do it, we grow a little more. Read more...