Peach Waldorf Salad Recipe
Peach Waldorf Salad Recipe is a spin on the traditional Waldorf salad, with fresh summer peaches and a sweet Greek yogurt sauce!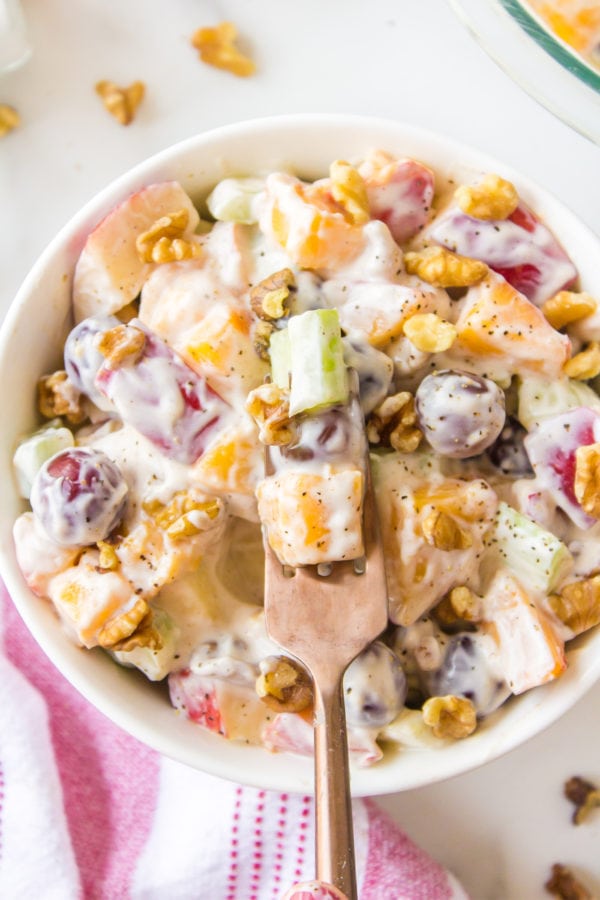 This summer spin on the classic Waldorf salad has fresh summer peaches in place of apples. But wait, you can also add in apples. Or chicken for extra protein. Mix up the herbs – make it your own for summer entertaining. This post is updated from August 2016 with new photos and text!
Peach Waldorf Salad Recipe
We adore this salad because it's light, refreshing, and if you add a protein to it, it becomes a great lunch or main-course salad on a hot summer day.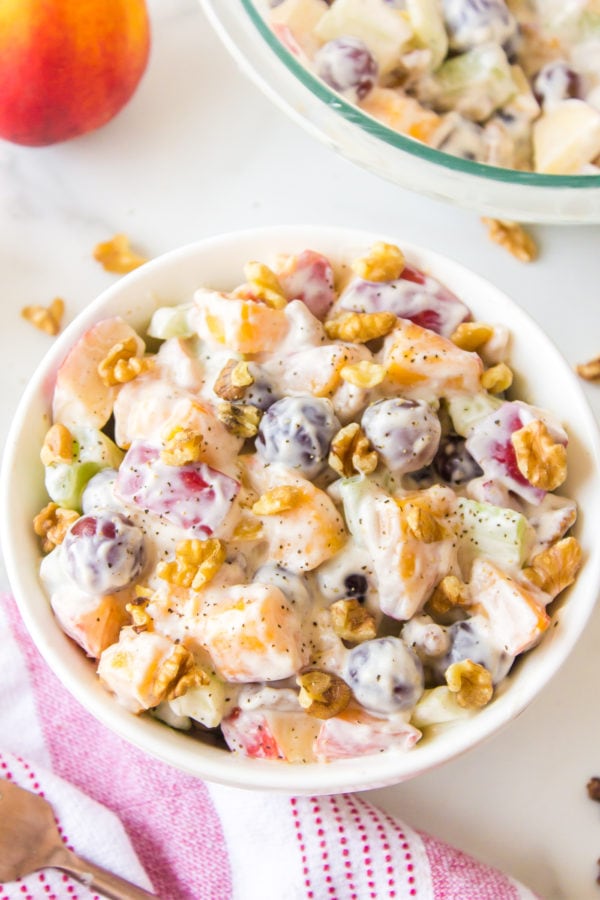 Why we love this Peach Waldorf Salad Recipe
When peaches are in season, we buy them in bulk! We used to living in southern Oregon where we'd stock up on fresh peaches from Harry and David. Now we visit the Farmer's Market where we live in central Oregon.
Ready in a flash, this fresh Peach Waldorf salad is ready for your next barbecue spread, picnic or potluck!
Our family loves peaches like crazy. You may have already tried our Peaches and Cream Bread Pudding or Best Peach Cobbler.
You can also serve peachs on an Epic Summer Waffle Brunch Board – gorgeous!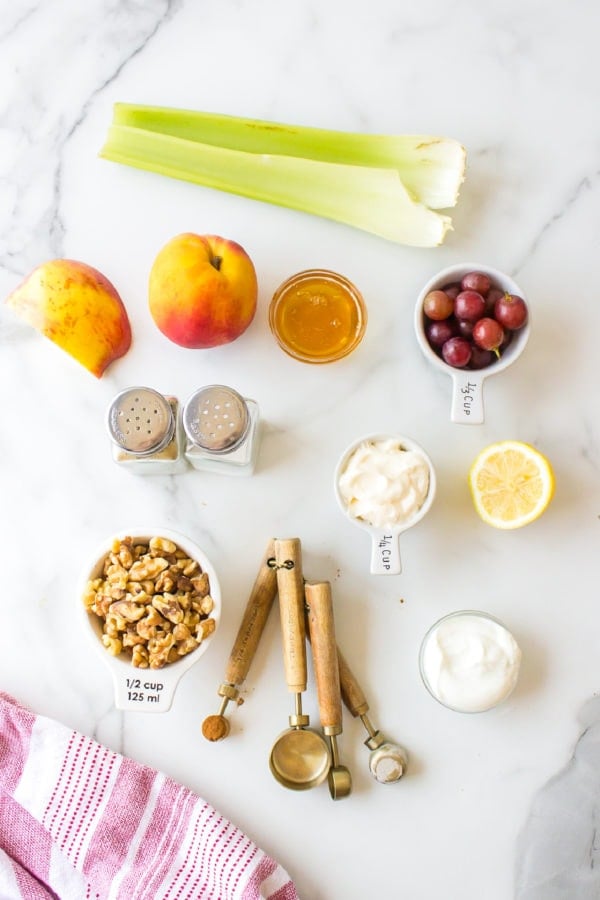 Easy Peach Waldorf Ingredients
Let's get started with these simple ingredients:
Peaches (our favorite peaches for this salad are white peaches, as they are more consistent in texture)
Grapes
Red apple
Celery
Walnuts
Mayo + Greek Yogurt
Lemon
Honey
Cinnamon
Salt + fresh cracked black pepper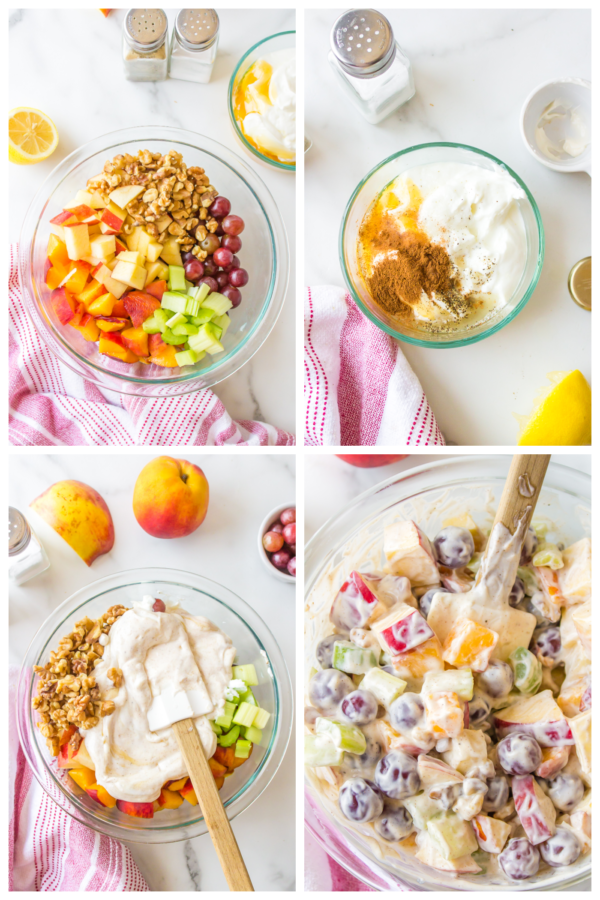 How do you make Peach Waldorf Salad?
Combine peaches, grapes, celery, walnuts and apple in a large bowl.
In a small bowl, combine mayo, yogurt, lemon juice, honey, salt and pepper.
Pour dressing over the peach mixture and gently toss to combine.
Chill and serve!
If you're going to add chicken: Cook the chicken ahead and chill before slicing to the top of the salad. Or, you can add in chicken chunks (or even canned chicken). We love to use chicken breasts or chicken thighs.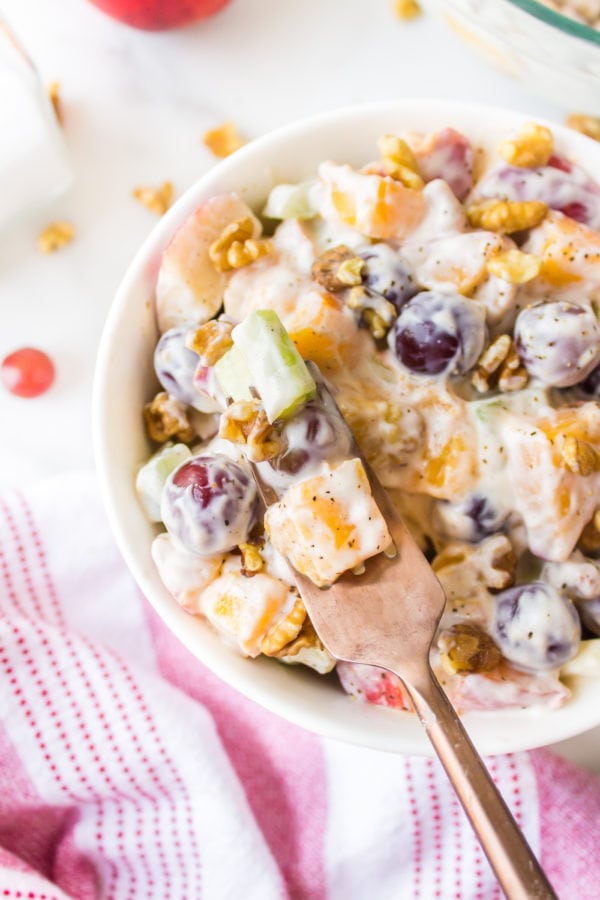 Tips and Substitutions:
Trim the ends from the celery and cut it on the diagonal into ½-inch-thick slices.
Cut the peach in half and remove the pit; and then slice the fruit into ½-inch pieces.
Remove any stems from the grapes; cut the grapes in half if they are extra large. If small, you can leave them whole.
Toast the walnuts first for the best flavor, and then chop.
Optional to add toasted pecans in place of walnuts.
Try adding in golden raisins! Yum!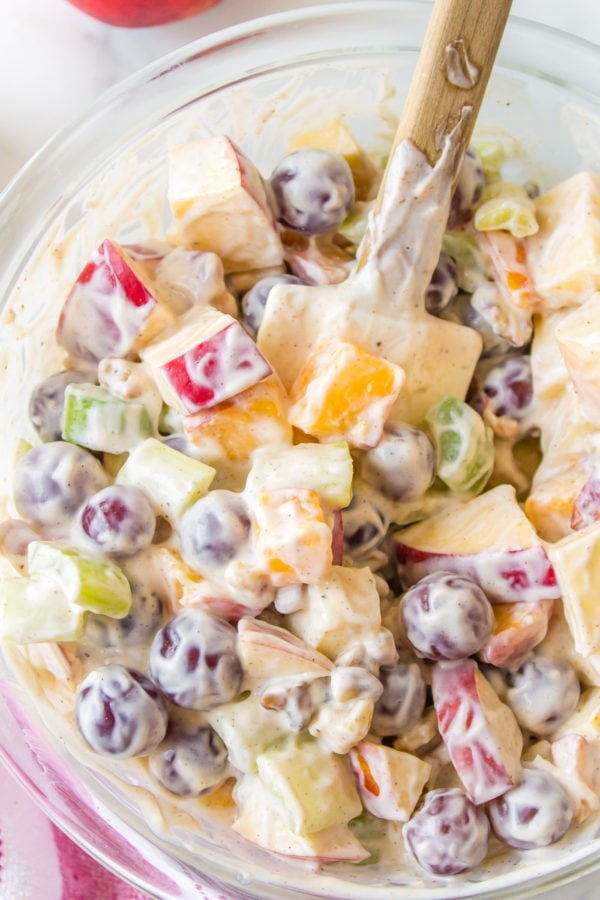 How do you serve a waldorf salad?
There are several ways to serve this salad.
Serve in a large bowl.
Add on top of a bed of mixed greens (on a large flat salad plate).
Serve in small individual salad bowls if you're hosting a brunch or sit-down dinner.
In our new cookbook, Big Boards and More, we have a beautiful deconstructed Waldorf Salad recipe perfect for summer or fall entertaining.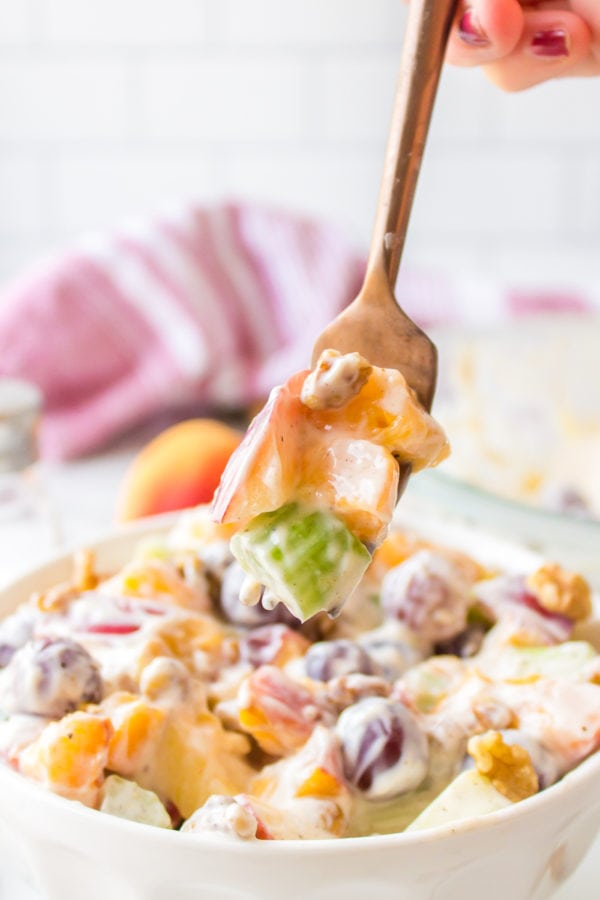 A salad for hospitality
Do you worry about hospitality in your home? I recently talked with a friend about this touchy subject. We talked about how scary it is to open your home for the first time, to people you do not know. What will they think? Will they like us? Is my house "cool" enough? What do I serve?
For the person that is scared to death, there are ways to be hospitable, outside of entertaining in your home. I really do believe that hospitality can happen anywhere. It's really about you, the state of your heart, and whether you care about others, or want to love on them.
One way for me to get to know another person is to invite them over for lunch. Just me and them. How easy is that?
Or, meet them at a park, and bring a picnic!
Or, just go for coffee. That is probably the easiest.
Sometimes we need to extend ourselves beyond easy, though, and stretch ourselves.
Let's start with this summer peach waldorf salad – so good!
More summer fruit salads to try:
Baked Peach Almond Brie Appetizer
Peach Blueberry Cobbler (this goes crazy on Facebook when I post it)
Chilled Carrot Ginger & Peach soup
Peach Crisp (with oatmeal)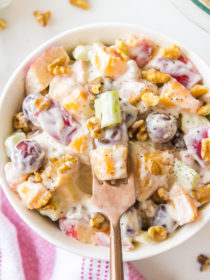 Get the Recipe: Peach Waldorf Salad Recipe
Ingredients
2 peaches, pitted and diced
1 cup red grapes
1 large crisp red apple
2 stalks celery, thinly sliced
1 cup chopped walnuts, toasted
¼ cup mayo
½ cup plain Greek yogurt
Juice of 1 lemon
2 Tbsp. honey
¼ tsp. cinnamon
Salt and freshly ground black pepper, to taste
Instructions
Combine peaches, grapes, celery, walnuts and apple in a large bowl.

In a small bowl, combine mayo, yogurt, lemon juice, honey, salt and pepper.

Pour dressing over the peach mixture and gently toss to combine. Chill and serve!
Notes
Reposted from August 2016.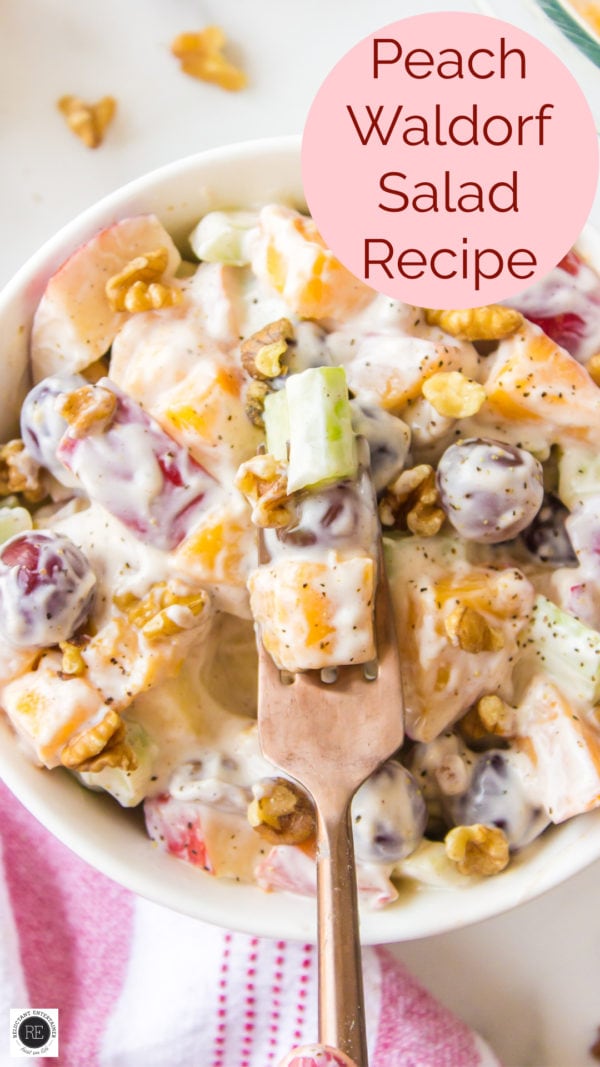 Hello and welcome to my home and table!
I'm Sandy—lover of food, family, cooking, THE BIG BOARD, travel, and bringing people together. Through great recipes and connection around the table, we become better, stronger, and more courageous people. Feasting on Life is real, and every time we do it, we grow a little more. Read more...