Mini Caprese Skewers
These Mini Caprese Skewers are a light, quick appetizer to serve at a dinner party, or bring to a picnic or potluck. Great for any season of entertaining!

My girlfriends were coming for a quick last-minute dinner. It was too cold to eat outside, so I set the table and pulled a simple meal together quickly, asking my friend Cindy to bring a salad, and my friend Judy this appetizer today! Which, by the way, I loved Judy's tip on buying mini skewers in bulk online! If you love to entertain, this is definitely the way to go!
Mini Caprese Skewers.
We enjoyed appetizers in my living room, some of us on the floor, some sitting on the sectional. This appetizer really needs to be made with a premium balsamic vinegar, if you can find some (do a little reseach online), and when the last skewer was picked up, we were dipping our fingers into the glaze left on the dish. They were that good.
When I host friends for dinner (usually when my hubby is out of town), I like to change up the guest list, the menu, and try to invite someone new! This time I invited 2 friends who've never been to my house. We had such a lovely time.
I love creating a setting, the mood, the atmosphere (music, candles, warm ambience), a place for others to connect and really get to know each another. It doesn't have to always be a dinner party, but for me, I find the "actual table" experience is really where it's at. It's good to really think about your intentions in bringing others together. For me, a very busy person (as are all my friends), it's a few precious hours that can be very meaningful.
Why set the table.

1. If you don't have the table set, having everyone sit together, then 2 or 3 people may end up talking together the entire evening, not mingling with others.

2. The table is the place where everyone gets to contribute, and everyone listens. For the introvert person, this is extremly important.

3. For someone shy or new, the table is a safe place to not have to talk much (listening in!), but still get to know others.

4. The host can ask questions and keep the conversation flowing in a positive and meaningful way.

5. The host can go around the table and ask questions, to get everyone involved.

6. You can still plan a casual buffet, having everyone serve themselves, then bringing their dish back to the table.
Most recently, a new friend wrote me and was sharing her experiences with her family, and with life in general. I loved the words she shared, that have stuck in my mind for days now.
Your blog for the past 2 and a bit year has been such a breath of fresh air and encouragement to me to keep me where I need to be. I know so many people are called to different things, but for me I appreciate your creativity, wisdom and encouragement to enjoy my family, the house God has given me, and these precious times that will never be again. This is for sure no dress rehearsal.
This is no dress rehearsal.
I loved it: Precious times that will never be again. And, This is no dress rehearsal.
Our moments together are present and real. I like to think of wasted words and energy, possibly even gossip, turned instead to an intentional, life-changing encouragement of hope.
I love it when I actually learn more about life, listening to some of my wise friends.
Surrounding ourselves with good people is part of being intentional with every moment that we've been given.
So, to sum up this post, this is why I entertain so much. I share the food preparation, I set a pretty table, and then the rest just happens … primarily around the table.
What's your favorite thing about gathering people around the table?

Mini Caprese Skewers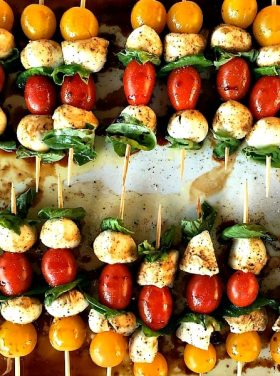 Ingredients:
16 ripe cherry tomatoes
16 fresh mozzarella balls or chunks, about the same size of the tomato
16 basil leaves
3 T. extra virgin olive oil
Premium balsamic vinegar
Sea salt and fresh ground pepper
Directions:
Wash and dry the cherry tomatoes. Pierce one tomato on each skewer and lay them out on a plate.
Next, push one chunk of mozzarella on top of the tomato, and place a basil leaf on top.
Repeat the process until there are 6 pieces on each skewer.
Lay each Caprese Bite in a row, on a platter.
Drizzle with olive oil, balsamic vinegar, and salt and pepper the skewers. Serve!
All images and text ©
Are you following me on Instagram, Twitter, Facebook and Pinterest? If you'd like to subscribe to Reluctant Entertainer, to have each post delivered straight to your e-mail box, then please add your email, here. It's really easy! Thanks for being here today!