Turkey Meatball Margherita-Style Fondue Recipe
Perfect for game day, your next tailgate party, serve hot, cheesy Turkey Meatball Margherita-Style Fondue Recipe with toasted baguette slices!
A generous home-cooked meal shared with friends is one of the best gifts in life. Truly, does life get any better?
Today I'm giving you a boost of Vitamin D. "D" for determination.
Determine in your heart that you want to expand your friend-circle.
Making an invite, and cooking a home-cooked meal, is a pretty simple way to win the hearts of others! Also, getting your mind off of yourself, and investing in others, brings a good amount of joy! (Or, are you a worry wart?)
Be determined to cook something simple! Try this Turkey Meatball Margherita-Style Fondue Recipe for an easy appetizer. Ask your guests to pitch in and bring a salad! Serve a loaf of hot, crunchy bread!
I was thinking about a conversation I had with a friend the other day, who just does not enjoy hosting. She has her reasons, but to be honest, she is lonely, and she just cares too much about what other people think. (And doesn't know who to invite.)
After years of hosting, I know for a fact that people love to get invited over for a meal!
If you can, set aside the fears of what people will think, that they will somehow be judging you. Focus on how to be a better friend, the rewards are far greater than you could ever imagine!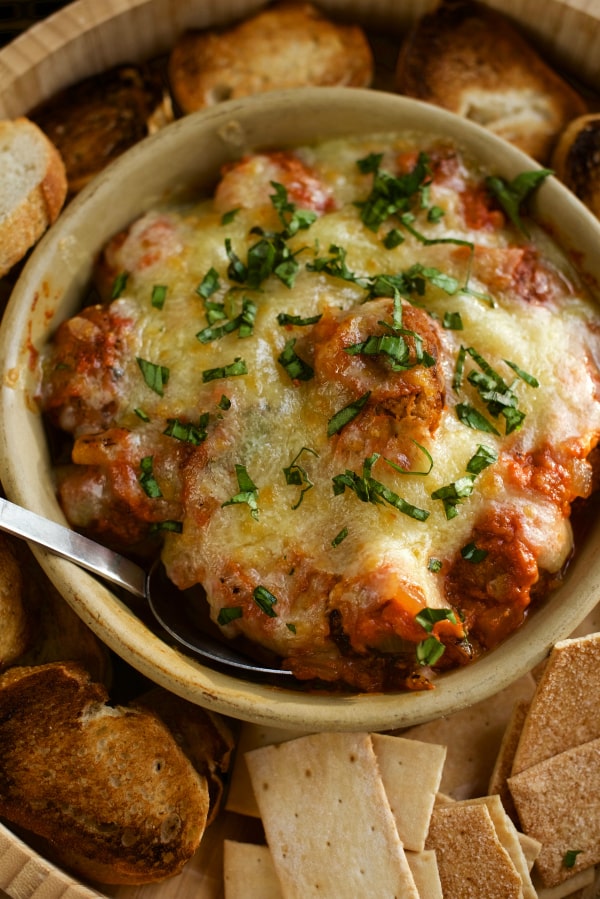 Turkey Meatball Margherita-Style Fondue Recipe
For this recipe, bake ahead the meatballs (I love to double or triple the recipe and freeze them!). When it's dinner time, it doesn't take long to pull this recipe together!
Love the addition of DeLallo pizza sauce, but of course you could also add any marinara!
Delicious hot in a baking dish or cast iron skillet.
Don't forget the toasted baguette slices!
Now for making that invite …
Friends, stand against the fears about what people think, and determine this week that you are going to make that invite!
What's stopping you from inviting others into your home?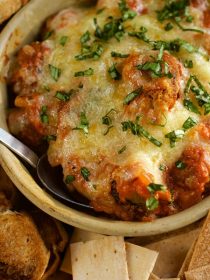 Get the Recipe: Turkey Meatball Margherita-Style Fondue Recipe
Ingredients
Cooking spray
3/4 cup shredded zucchini, about 1 small zucchini
1 pound ground turkey
1/2 cup white sweet onion, from 1 small onion
1/2 tsp. dried oregano
1/4 tsp. kosher salt
1/4 tsp. black pepper
1/2 tsp. basil
1 large egg
1 tablespoon olive oil
8 oz. sliced cremini mushrooms
2 garlic cloves, minced
1 1/2 cups DeLallo Italian Pizza Sauce, Margherita Style
1/4 cup water
1 cup Mozzarella cheese, shredded
1 cup Sharp white cheddar cheese, shredded
1 baguette, cut into 12-24 slices, toasted
Fresh basil, for garnishing
Instructions
Preheat oven to 400°F. Line a baking sheet with aluminum foil; coat with cooking spray.

Place zucchini between a double layer of paper towels; squeeze/press to extract excess moisture. Mix together zucchini, turkey, onion, oregano, salt, pepper, basil, and egg in a bowl. Form 24 meatballs with turkey mixture; arrange on prepared baking sheet.

Bake at 400°F until fully cooked, about 12 minutes.

Meanwhile, heat a large ovenproof skillet over medium-high. Add oil to pan; cook mushrooms and garlic about 5 minutes. Stir in pizza sauce and 1/4 cup water; reduce heat to medium, and simmer 5 minutes. Lay meatballs in the skillet (leave behind cooked-out proteins); gently stir to coat with sauce. Add mozzarella cheese; gently stir.

Sprinkle with Sharp white cheddar cheese. Broil meatball mixture until cheese is melted and bubbly, about 2 minutes. Garnish with fresh basil; serve with toasted baguette.
More meatball recipes: One Pot Meatball Stroganoff [Glue & Wine], Skillet Meatball Parm [Browneyed Baker], Cheesy Meatball Zucchini Skillet [Oh Sweet Basil].
SaveSave
SaveSave
SaveSaveSaveSaveSaveSaveSaveSave
SaveSave
SaveSave
SaveSave
Hello and welcome to my home and table!
I'm Sandy—lover of food, family, cooking, THE BIG BOARD, travel, and bringing people together. Through great recipes and connection around the table, we become better, stronger, and more courageous people. Feasting on Life is real, and every time we do it, we grow a little more. Read more...