Puff Pastry Cardamon Orange Twists
Puff Pastry Cardamon Orange Twists are an impressive dessert option, served with lightly sweetened whipped cream to dip them in.
Using store-bought puff pastry dough for these Puff Pastry Cardamom Orange Twists, they are a great dessert served with a soft whipped cream. Cut the puff pastry into even strips using a knife or pizza wheel, and gently twist each strip into a long stick. It's easy!
Puff Pastry Cardamon Orange Twists
For a twist on pastry twists, I love that you can make this recipe in your own kitchen, when they look and taste like they came from a bakery. We used a delicious, fragrant cardamom and added some complementary orange zest. If you don't like cardamom, try using cinnamon—both go perfectly with bright orange flavor. Just halve the amount of cardamom called for in the recipe.
So amazingly good!
And just in time for the weekend, serve these Cardamom Orange Twists on a breakfast board! You can also make Chocolate Puff Pastry Twists!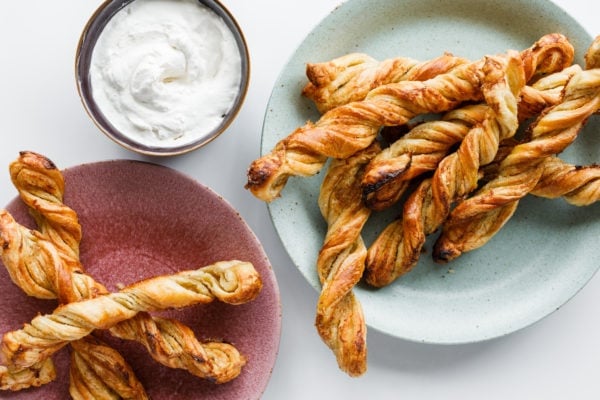 Ingredients for puff pastry twists:
Puff pastry
Orange
Sugar
Cardamom
Nutmeg
Kosher salt
Butter
Vanilla
Whipped cream
Here's a fun breakfast board idea; instead of scones or danish, make your own pastry twists made with puff pastry!
More recipes with cardamom:
And we love recipes with cardamom. You might want to try these recipes:
Blueberry Cardamom Vanilla Smoothie
Healthy Banana Bread with Medjool Dates
Oh friends, the little things in life really matter, don't they? Especially in our world today. Life is not made up of minutes, hours, days, weeks, months, or years, but of moments, says Sarah Ban Breathnanch. The way we live our days is essential to a mature life.
I've shared this poem before, but I think it's time to share again. It's inspiring!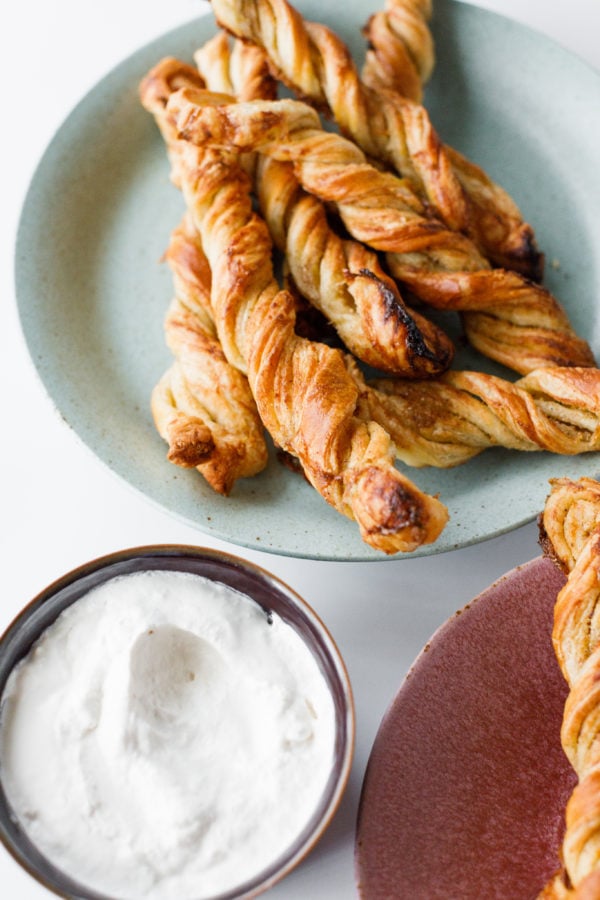 A Prayer for the Mature Life
A Prayer for the Mature Life, written by Dr. Margaret Rutherford:
LORD, Thou knowest better than I know myself that I am growing older and will someday be old. Keep me from the fatal habit of thinking I must say something on every subject and on every occasion.

Release me from craving to straighten out everybody's affairs. Make me thoughtful but not moody, helpful but not bossy. With my vast store of wisdom, it seems a pity not to use it all, but thou knowest, Lord, that I want a few friends in the end. ha!

Keep my mind free from the recital of endless details; give me wings to get to the point. Seal my lips on my aches and pains. They are increasing, and love of rehearsing them is growing sweeter as the days go by. I dare not ask for grace to enjoy the tales of others' pains, but help me to endure them with patience.

I dare not ask for improved memory, but for a growing humility and less cocksureness when my memory seems to clash with memories of others. Teach me the glorious lesson that occasionally I may be mistaken.

Keep me reasonably sweet; I do not want to be a saint — some of them are so hard to live with — but a sour person is one of the crowning works of the devil. Give me the ability to see good things in unexpected places and talents in unexpected people. And give me, O Lord, the grace to tell them so. AMEN.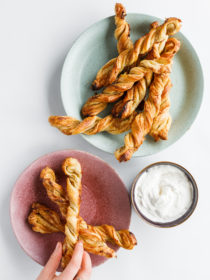 Get the Recipe: Puff Pastry Orange Twists
Makes 16 twists
Ingredients
2 sheets puff pastry, thawed
1 orange
1/3 c sugar, plus 2 1/2 Tbsp
1 1/2 Tbsp cardamom
1/8 tsp nutmeg
1/2 tsp kosher salt
1/2 c butter, softened
1 tsp vanilla
1 c whipped cream to serve
Instructions
Preheat oven to 425 degrees F.

In a stand mixer, beat butter with sugar, salt, and cardamom. Add the orange zest by zesting the entire orange over the bowl—this allows the zest and any oils to be incorporated into the butter. Beat the butter, scraping the sides as needed, until whipped smooth, and malleable— 3-4 minutes. Set aside.

Roll each sheet of puff pastry into a 12'' square—I recommend doing this on a sheet of parchment or a lightly floured surface.

Spread half the softened butter into a thin even layer onto one sheet.

Place the other sheet on top of the buttered pastry, and roll out about an inch in each direction, so the pastry is about a 13'' square.

Spread the top of the pastry with the remaining butter and fold in half, lengthwise, once more. Roll out until 16'' wide.

Using a knife or pizza cutter, divide the dough in half. Divide each half into 4 strips, then 8, then 16.

Take each 1 inch strip and gently pull apart an inch or so and twist tightly. into a spiral. Place on a parchment-lined baking sheet. Once all pieces are twisted, place in the refrigerator for 5 minutes until chilled. Transfer half of the twists to a parchment-lined baking sheet—you'll need to bake them in two batches so they have enough room to puff. Keep the second batch in the refrigerator until ready to bake.

Brush the twists with the egg wash and sprinkle each with about 1/2 tsp of the remaining sugar. Transfer to the oven for 18-20 minutes, rotating the pan 180 degrees midway through baking. Repeat for the second batch of twists.

Remove from the oven and allow to cool slightly before enjoying with whipped cream.
Hello and welcome to my home and table!
I'm Sandy—lover of food, family, cooking, THE BIG BOARD, travel, and bringing people together. Through great recipes and connection around the table, we become better, stronger, and more courageous people. Feasting on Life is real, and every time we do it, we grow a little more. Read more...