Pulled Pork with Black Bean Cornbread Topping
This Pulled Pork Cornbread Topping with black beans recipe is a one-pot, comfort meal with a cobbler-like cornbread topping!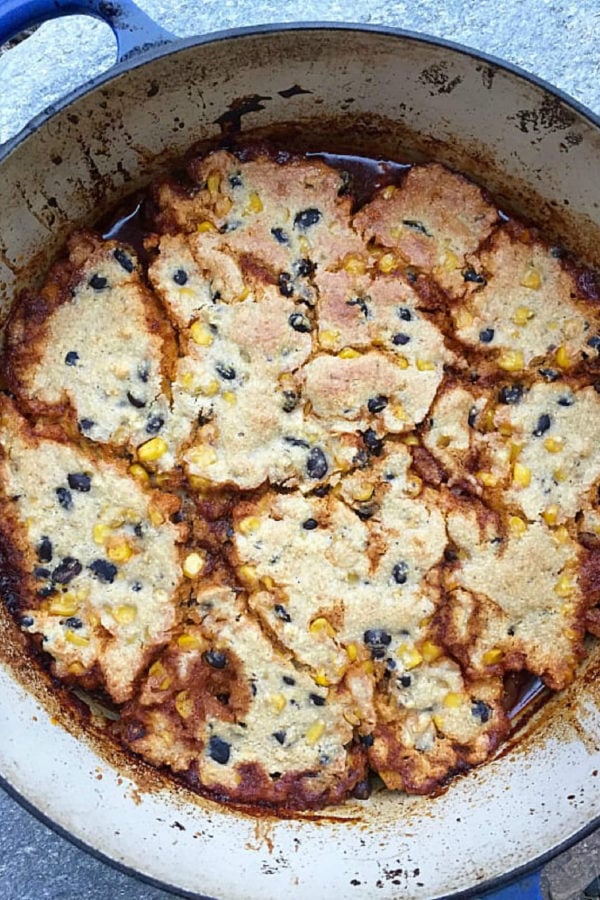 Friends, enjoy this easy Pulled Pork Cornbread Topping! This is a repost from January 2015 that I think you'll enjoy (the story). Plus a great FALL recipe!
Pulled Pork with Black Bean Cornbread Topping
We had a discussion the other night, about cream corn. We decided, either you love it or you don't. This recipe calls for a small amount of cream corn, just enough to make the perfect topping just like a cobbler-crust.
You may also want to try my 2-Ingredient Crock Pot Pork Verde. If you have an instant pot, try my Instapot Pork Carnitas Recipe.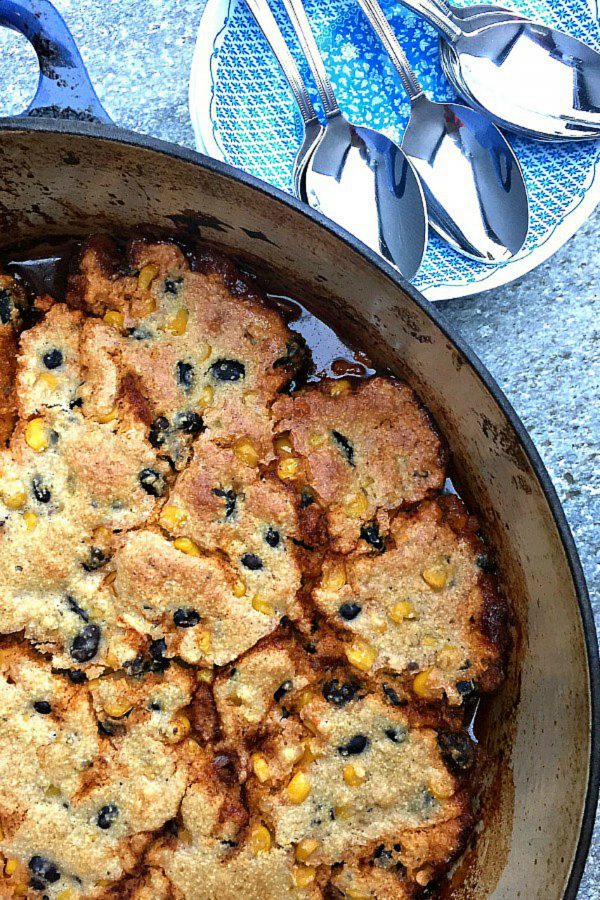 Ingredients One-Pot Pork and Corned Bread Recipe
Bottled barbecue sauce
Chicken stock
Chili powder
Boneless, country-style pork shoulder ribs
Onions
Cream corn
Black beans
Eggs
Sour cream
Honey
Corn muffin mix (we use Jiffy)
Scallions and more sour cream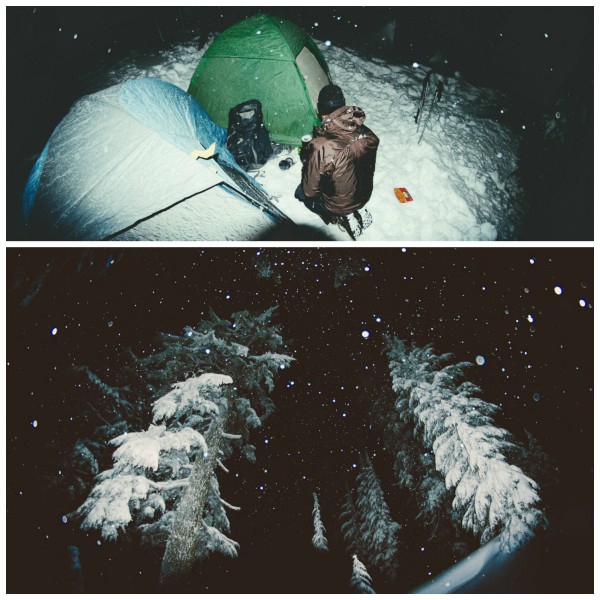 This is a repost from when my family went snow camping (2014) up to Crater Lake, leaving Haggis (our Cairn Terrier) and me behind. Which was just fine, exactly the way I wanted it. Happy, fed, warm house, cozy bed … we snuggled together while my family was out freezing, literally freezing, in the vast, great Oregon outdoors.
Comfort Pulled Pork One Pot meal
When they came home, this Pulled Pork with Black Bean Cornbread Topping was hot out of the oven …
Haggis was originally heading out with the crew (my husband and 3 adult kids), until they researched "no dogs on the trail."
Trail? What trail? I'm not sure they were ever on the trail.
Snow camping at Crater Lake, OR
Coming home to a delicious home-cooked meal made my family very happy. I'm so glad I had the Pulled Pork with Black Bean Cornbread Topping waiting, because it was exactly what weary, hungry, campers needed!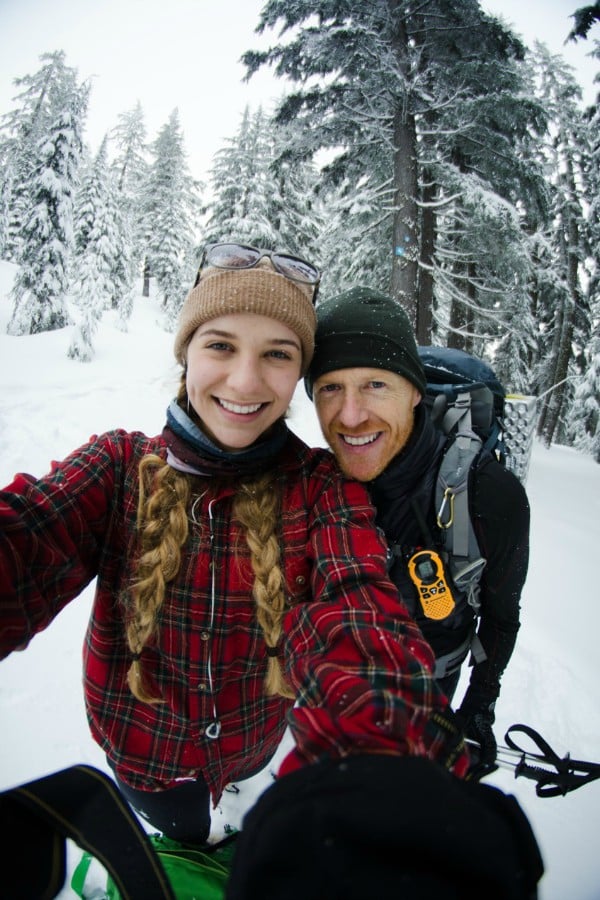 In the meantime, my husband had shared his story on Facebook on New Year's Eve (2014), and I thought it was so endearing, and beautiful, I wanted to share it with you today:
Stronger Than Strength, More Powerful Than Power–by Paul (my husband)

We don't know for sure. We guess the low was about -5, not counting windchill, which probably put the 4 of us in the crosshairs of -10 to -15 weather just below the rim of Crater Lake two nights ago. What we do know for sure is that something large and wild sniffed our tent that night—inches from Abby's head–then patrolled on. We were too cold (and afraid) to open the fly to learn exactly what.

Our frozen tent smelled like pure and wholesome ice. Each breath turned to crystals that clung to the inside, making it shimmer like a cheap disco ball. The next morning was so cold that it was all we could do to break camp and escape to our car, which we prayed would turn over.

That's when I faultered. Dehydration, hunger, sleeplessness, hands so cold they made me sick from pain. I couldn't zip zippers or tighten straps. Garrett put my snowshoes on me. I still can't feel my fingertips. But there's a more likely and humbling reason why I felt doomed.

Though I approach 50, I still think I'm a young 30, able to play 90 minutes + overtime of soccer and make the winning goal. That vain deception hasn't been true for many, many moons. Each step through deep and powdery snow stole life from me, exposing the real me. My knees buckled and my head spun and my stomach got worse. I kept eyeing a safe place to collapse and let fine snow blanket me.

No father wants to show weakness in front of his children. You want forever to be alpha, never omega. But that cheap vanity dissipates when you walk through a clearing and blizzard winds shove you in the back like a bully and you have no strength to fight back. When you can barely lift your legs like a drunk to a soup kitchen, when you lose the will to wipe the nose-sickles that turn you into a gross caricature to be pitied. I broke that morning. Prepare for crash landing.

Then something snowshoed toward me. My children put their strong arms under mine and carried me on. They willed me forward by speaking hope into their old man's spirit, repeating the same lines I've told each of them when they were weak:

"Looking good. Almost there."
"You got it."
"Doing great, dad."

Holy words that shine an odd truth.

My weakness allowed something that pride and strength oppose. It paved the way for their love to shine, and we're all blessed for the experience.

Survival of the fittest? What a myth! Darwin was stolen from death's doorstep more than once by his loving wife, something textbooks forget. Oh weakness, where is thy sting? You were mocked that blizzard morning. You're mocked every day because a quiet irony swirls in the firmament above and graces this frozen land below, something stronger than strength and more powerful than power.

It's God's cosmic Love, who with her twin sisters Hope and Faith make the weak strong.

This New Year's Eve, let's do something truly daring. Let's raise a cold glass not to our strengths, accomplishments or aspirations, important as they can be. Let's honor what weakness and humility do, or want to do, with God and man: Allow love to shine brighter and warmer than we ever thought possible.
Thank you, Friends, for letting me share this beautiful story of love, hope, and faith from my hubby!
Cornbread Topping on Pulled Pork Casserole
More about the dinner. It's an easy recipe!
Scrumptious – add the ingredients.
For less topping, you can cut the "cobbler-like topping" in half.
Optional to leave out the black beans, too.
Baker and serve–the perfect black bean and cornbread topping!
It feeds a lot of hungry travelers!
ENJOY!
More cornbread & pulled pork recipes:
Chili Cheddar Cornbread [Spend with Pennies], Ham Cheddar Onion Cornbread [Foodie with Family], and Slow Cooker Pulled Pork Sliders.
Also try this 5 ingredient Mini Pork Meatballs with Farro or Pork Meatballs in Aromatic Broth recipe.
Get the Recipe: Pulled Pork with Black Bean Cornbread Topping
Adapted from Rachael Ray December 2014 magazine. For less topping, cut the "topping" recipe in 1/2 for a thinner cobbler-like crust.
Ingredients
1 cup bottled barbecue sauce
1 cup chicken stock
2 Tbsp chili powder
2 ½ pounds boneless country-style pork shoulder ribs, cut into small pieces
2 small onions, halved and thinly sliced
2/3 cup cream corn
1 15 oz. can black beans, drained
topping:
2 eggs
2 Tbsp honey
¼ cup sour cream
2 8 1/2 oz box corn muffin mix, (Jiffy)
Finely chopped scallions (or green onions) and extra sour cream for garnish
Instructions
Preheat the oven to 350 degrees. In a large, heavy ovenproof pot or Dutch oven, whisk the bbq sauce, stock, and chili powder together in the pot. Add the pork pieces and onion; bring to a boil. Cover the pot with the lid and place in the oven; roast until the pork is tender, about 2 hours.

Remove the pot from the oven and discard any grease. Using 2 forks, shred the pork in the pot. Increase the oven heat to 400 degrees.

In a bowl, stir together the cream corn, beans, eggs, honey, and 1/4 cup sour cream, then gently fold in the muffin mix. Spoon the batter to cover the pulled pork. Bake uncovered, until cornbread is golden and tester comes out dry, about 30 minutes or more.

Serve each serving in a bowl, with a dab of sour cream and finely chopped scallions (green onions) on top.
Notes
Reposted from JAN 2015.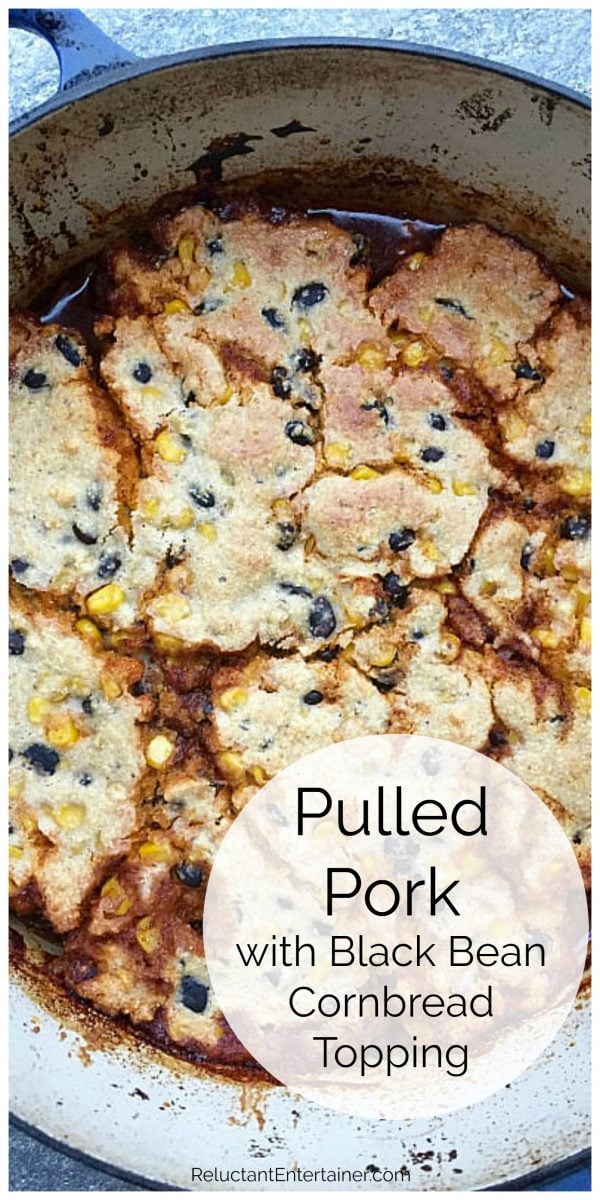 SaveSaveSaveSaveSaveSave
Hello and welcome to my home and table!
I'm Sandy—lover of food, family, cooking, THE BIG BOARD, travel, and bringing people together. Through great recipes and connection around the table, we become better, stronger, and more courageous people. Feasting on Life is real, and every time we do it, we grow a little more. Read more...