Pumpkin Enchilada Bake Recipe
Looking for a weeknight comfort dish? Your family will love this Pumpkin Enchilada Bake Recipe, sweet and savory, and delicious as leftovers!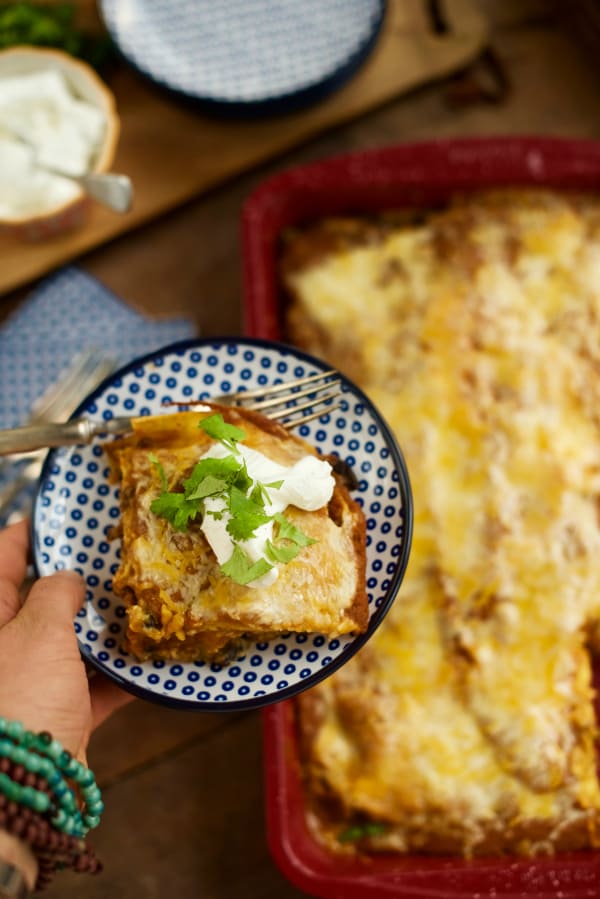 Life is much simpler when you learn to go with the flow in life. When I think about hosting, being organized is key, but once the guests walk through the door, they are priority!
One way to be organized is to cook a dish ahead of time, one that you can pop into the oven before the guests arrive. This Pumpkin Enchilada Bake Recipe is just that.
Learning to be flexible is a journey, because for many (hand raised) you learn as you go! Or you watch others and learn from them. This is how I became a more relaxed hostess.
Also, keeping our expectations in check, being willing to see what is important (people over perfection), helps my heart relax and learn to go with the flow!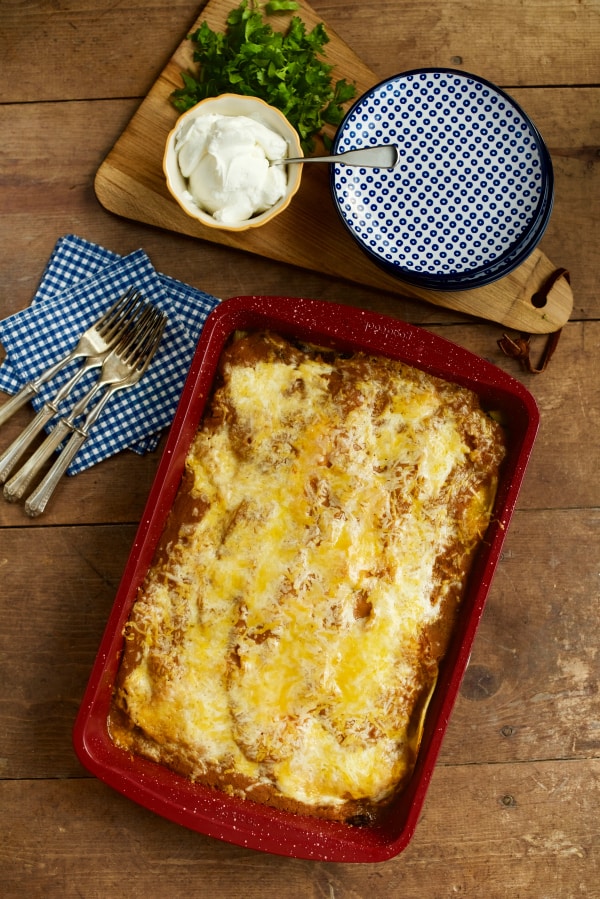 Learning to cook an easy recipe is also key!
As ingredients may differ from party to party, with the flavors of the season, sharing your table with others is about giving of yourself, your family, your time and resources, and putting the emphasis on the guests.
You listen, you love, you share your heart and soul.
Pumpkin Enchilada Bake Recipe
Since it's pumpkin season, this Pumpkin Enchilada Bake Recipe is perfect for a casual gathering!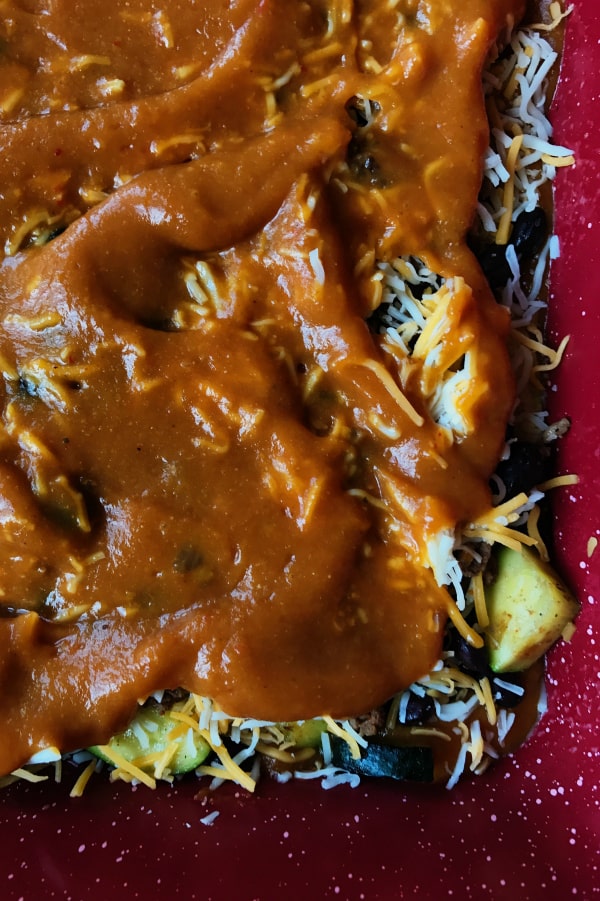 It's fun to cook with what's in season. This recipe, super easy with a can of organic pumpkin!
Adjust the level of spice according to your palate.
Yes, I'm thankful that I could be flexible last week. I wasn't always that way! And part of what I am continuing to learn about flexibility is that it starts with a willingness to do something different. To be able to go with the flow, and make a schedule change.
With that willingness, a blessing is usually right there ready to follow.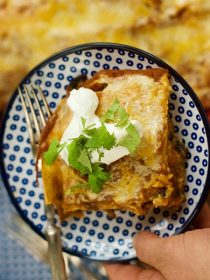 Get the Recipe: Pumpkin Enchilada Bake Recipe
If desired, bake and refrigerate up to 3 days, or freeze for up to 3 months. (If you choose to freeze, bake and cool completely before freezing.)
Ingredients
1 Tbsp. extra virgin olive oil
1 zucchini, diced
1 small red onion, chopped
1 sweet white onion, chopped
1 pound ground beef, cooked and drained
Salt & pepper to taste, or add Mexican seasoning
15 oz. Bush's Black Beans, drained and rinsed
2 cups salsa
1/4 cup water
15 oz. canned pumpkin
2 Tbsp. cumin
2 Tbsp. Chahlula hot sauce
12 corn tortillas
3 cups grated white cheddar or Monterey Jack cheese
1 cup nonfat sour cream, for serving (optional)
Cilantro, chopped (optional)
Instructions
Preheat the oven to 400 degrees. Prepare a 9 x 13-inch baking dish with nonstick cooking spray.

Heat a large heavy skillet over medium to medium-high heat; add the oil and cook zucchini and onions for 2 minutes. Turn heat down and cook until tender, about 8 minutes. Remove from the pan into a bowl.

In the same pan, cook the ground beef; season to taste and drain off the fat. Add the beans and veggie mixture to the drained beef; gently stir and cook on low heat for 2 minutes.

Combine the salsa, water, and pumpkin in a blender; puree until smooth and creamy. (Add more water if too thick, depending on what type of salsa you use.) Add the cumin and hot sauce; mix well. Taste with your finger; adjust seasoning as needed.

Pour 1 cup of the sauce into the bottom of the baking dish; spread evenly with a spatula. Top with 6 overlapping tortillas. Next add 1/2 the meat and veggie mixture, 1/2 the remaining sauce, and ½ the cheese. Repeat the layers with the remaining tortillas, vegetable beef mixture, and sauce, ending with a layer of cheese.

(At this point you can cover and refrigerate the casserole for up to 24 hours, and bake later if desired.)

Spray a piece of foil, cover the dish with the sprayed side down, and bake for 25 minutes.

Remove the foil and bake for 5 more minutes. Let the casserole cool for 10 minutes; cut into squares to serve, topped with sour cream.
More enchilada recipes: Vegetarian Sweet Potato Bean Enchiladas [RE], Cheesy Meat Enchiladas [RE], Make Ahead Breakfast Enchiladas [BellyFull], Green Chili Chicken Enchiladas [Well Plated], Pressure Cooker Shredded Beef Enchiladas [Pressure Cooking Today].
SaveSaveSaveSaveSaveSaveSaveSaveSaveSave
Hello and welcome to my home and table!
I'm Sandy—lover of food, family, cooking, THE BIG BOARD, travel, and bringing people together. Through great recipes and connection around the table, we become better, stronger, and more courageous people. Feasting on Life is real, and every time we do it, we grow a little more. Read more...