Sweet and Spicy Tomato Basil Spread
Enjoy this Sweet and Spicy Tomato Basil Spread for your next appetizer, or serve with burgers, wraps, or your favorite sandwiches!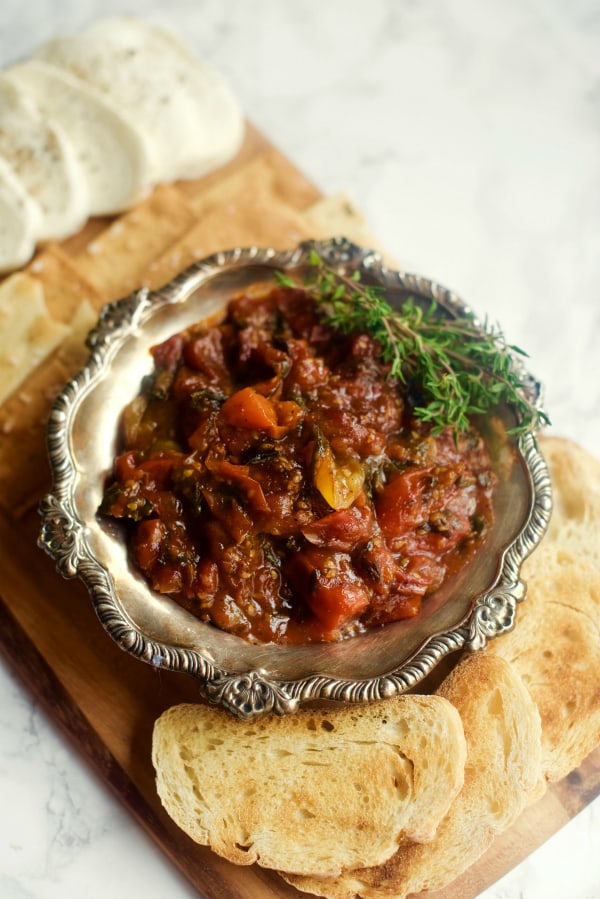 Friends, have I told you how much we miss our garden tomatoes? I believe I have, but I'm whining about it again. HA.
I've been snagging as many tomatoes as possible from the farmer's market here in Bend, to bring home to make delicious recipes, such as Sweet and Spicy Tomato Basil Spread. Recipes that I love to can end of summer: Sweet Smokey Zucchini Salsa and Sweet Zucchini Relish.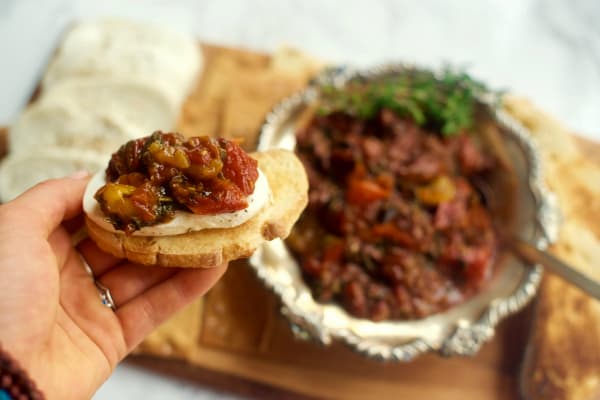 I love this served with a side of goat cheese, and a good crunchy cracker. It's also amazing on a baguette, or served on top of scrambled eggs. So many options.
The feel of the air, the season changing, nature shedding its fruits and vegetables, preparing for a barren season—we're transitioning to winter, and I'm not sure how I feel about this.
Fall is truly one of my favorite seasons. It's as if the world is saying, wake up! There is so much to do, people to invite over, to get out of our comfort zones and try new things, to grow and mature and learn to go with the flow.
The natural light takes on a golden glow, a deep burnt umber color, as the sun changes position in the sky.
We have candles ready to be lit in our house, blankets stacked near our sofa, jackets hung in the closet. Downstairs we have a large basket with hats, mittens, and miscellaneous items (YAKS).
We're basically ready to ward off the winter chill that is right around the corner, and our wood pile is ready!
Sweet and Spicy Tomato Basil Spread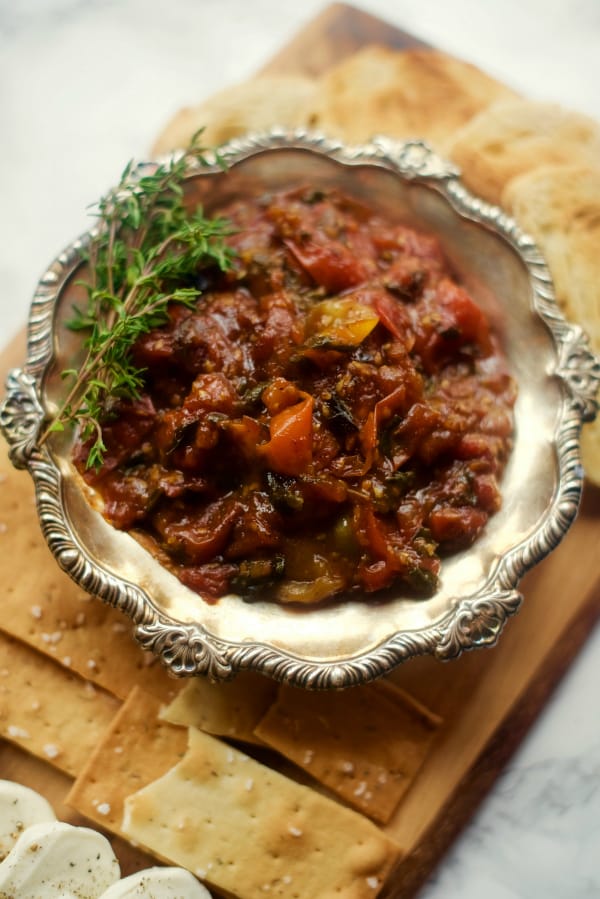 But for now, let's get back to warm, end-of-summer tomatoes.
Serve this Sweet and Spicy Tomato Basil Spread with your favorite cheese (goat or mozzarella), a baguette or crackers, or slice them and serve Garden Fresh Caprese Salad!
ENJOY!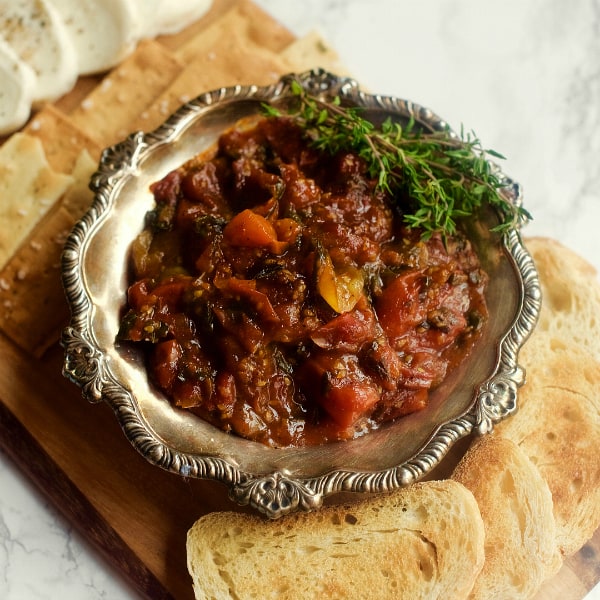 Get the Recipe: Sweet and Spicy Tomato Basil Spread
Ingredients
1/4 cup honey
1/4 cup orange juice
1/4 cup apple cider vinegar
1 pound mixed tomatoes, diced
1/2 cup chopped fresh basil
1/2 tsp. liquid smoke
1/2 tsp. paprika
1 1/2 tsp. salt
Instructions
Bring honey to a slight simmer, until it turns a darker brown. Pour in apple cider vinegar and orange juice; simmer for 2 minutes. Add in tomatoes, basil, salt, pepper, liquid smoke, and paprika; stir.

Allow to simmer, stirring occasionally, until sauce is reduced to 1/3 of the original amount. This takes about 45 minutes to an hour. Keep occasionally stirring.

Serve with fresh mozzarella, crackers, and toasted French bread.
Other tomato recipes: Sweet & Tangy Tomato Jam [Garnish with Lemon], Tomato Ginger Jam by Heather Christo [The Pioneer Woman].
SaveSave
SaveSave
Hello and welcome to my home and table!
I'm Sandy—lover of food, family, cooking, THE BIG BOARD, travel, and bringing people together. Through great recipes and connection around the table, we become better, stronger, and more courageous people. Feasting on Life is real, and every time we do it, we grow a little more. Read more...