Pumpkin Shrimp Curry Recipe
A light, warm, and flavorful Pumpkin Shrimp Curry Recipe. Made with delicious spices, and rich flavors; serve on rice, with fresh herbs and chili oil.
Friends, I'm so happy it's November! With a ton of travel behind me (such great memories), I now say, Pass me the pumpkin pie and my Mom's Best Fresh Cranberry Grape Salad, Friends.
I'm here for them! :)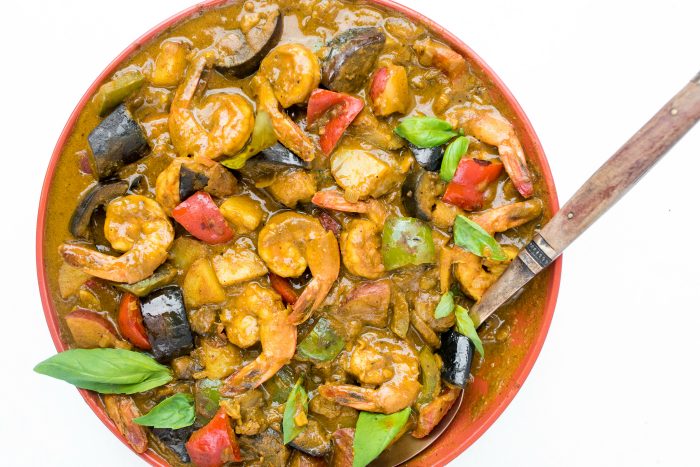 Hosting in November just makes me happy. Even simple weeknights, where you can serve a one-pot meal, are a good time to have friends over. Right now my Skillet Lemon Chicken recipe is really popular!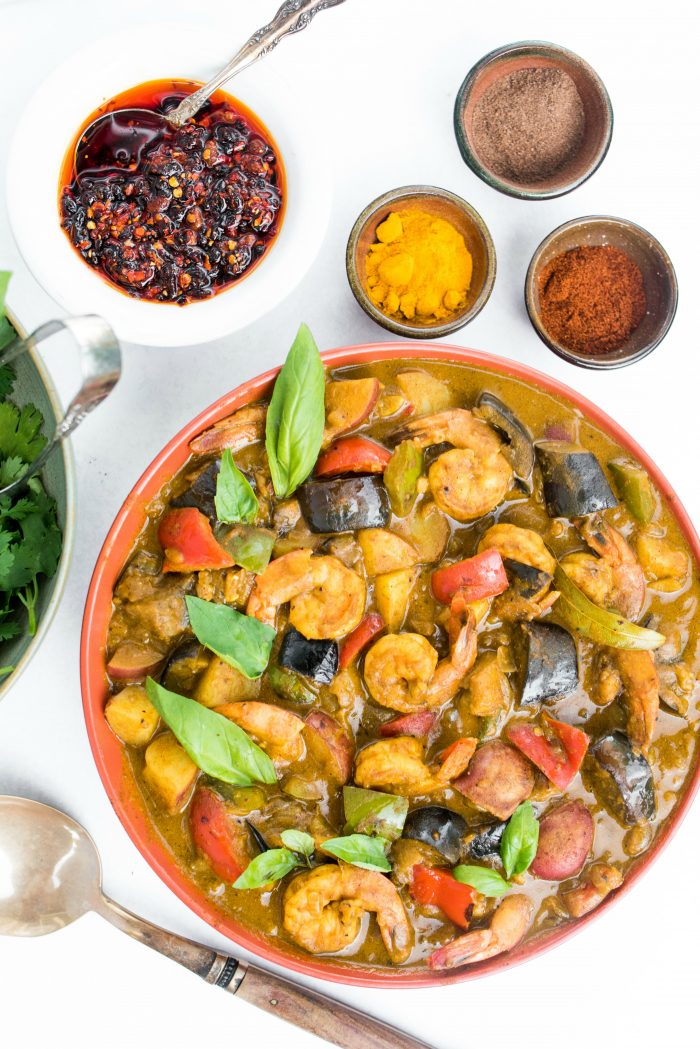 Pumpkin Shrimp Curry Recipe
This Pumpkin Shrimp Curry Recipe is super easy, and delightful for the colder nights and cozy dinners.
With these yummy ingredients, you can't go wrong.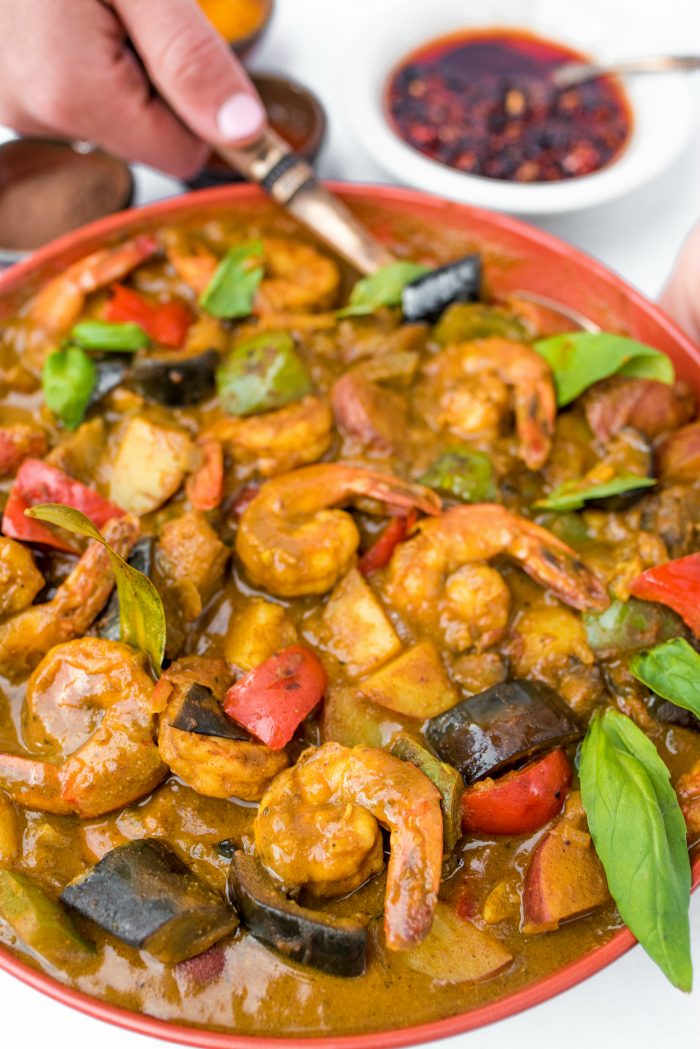 Shrimp, garlic and ginger
Onions, delicious spices, and pumpkin puree
Veggies like potatoes, eggplant, and peppers!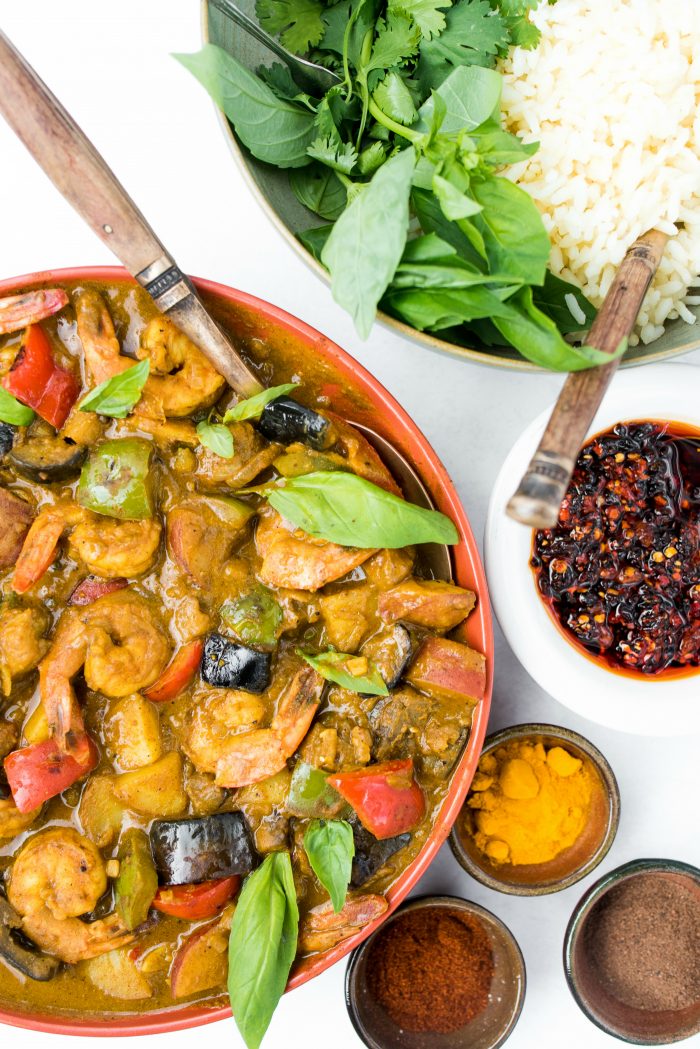 Delicious shrimp curry
The curry is rich and savory with warm pumpkin, sweet eggplant, and vibrant lime.
And of course, a beautiful table to gather around is a welcomed bonus for a cozy meal.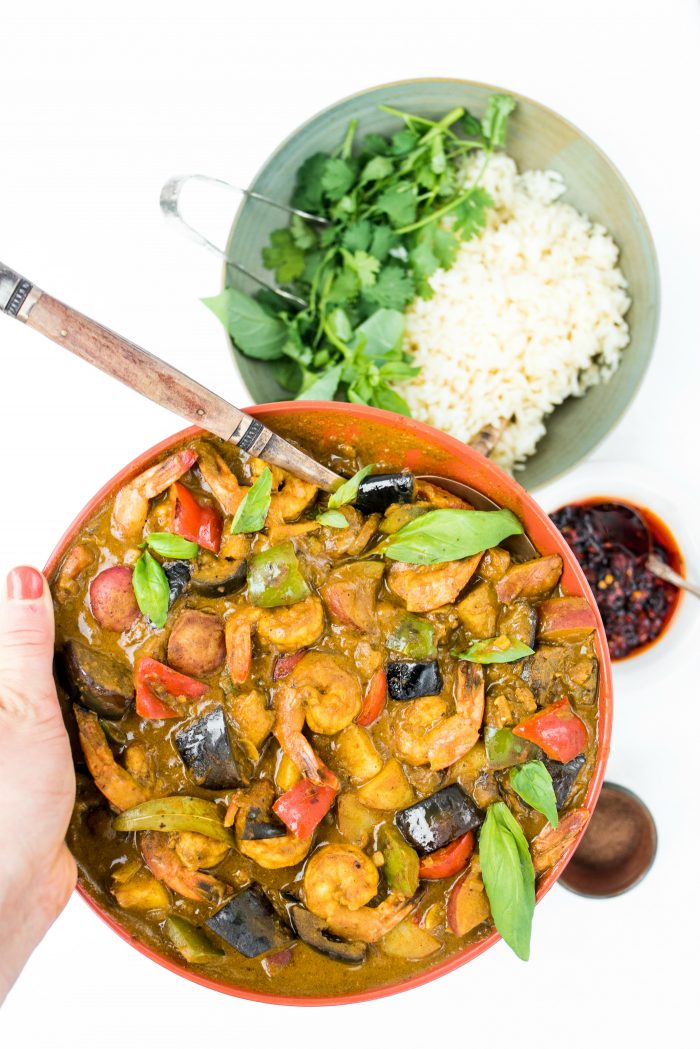 A table runner, dried or fresh florals, and yummy smelling candle help make your table feel intentional and ready for your guests.
We're just in to simple, when it comes to setting the table!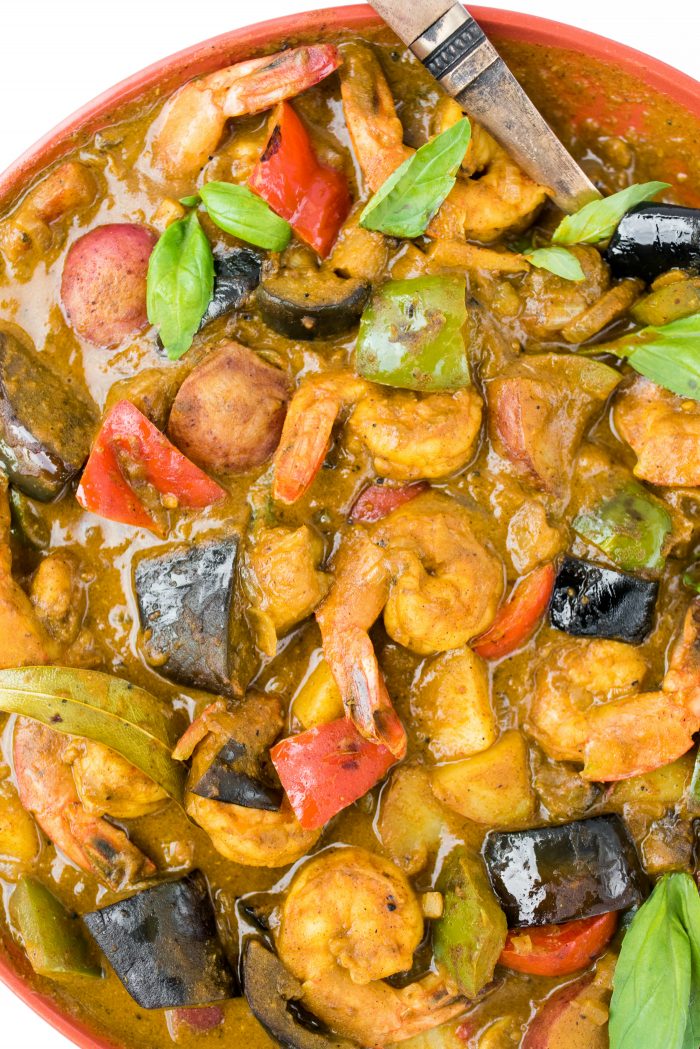 When it's time to serve the meal, feel free to remove, or push aside, the decor in order to make space for the food.
Serve this dish in the center of the table, and let everyone serve themselves!
You may want to try my friend Heidi's Slow Cooker Thai Chicken Soup (it's fantastic), or Holly's Chicken Curry (in case you are not a seafood lover!) Or, my Thai Red Curry Peanut Sloppy Joes. So good!
Or, host a potluck and let everyone bring their favorite curry or Thai dish! Now that's a fun idea!
Happy Hosting!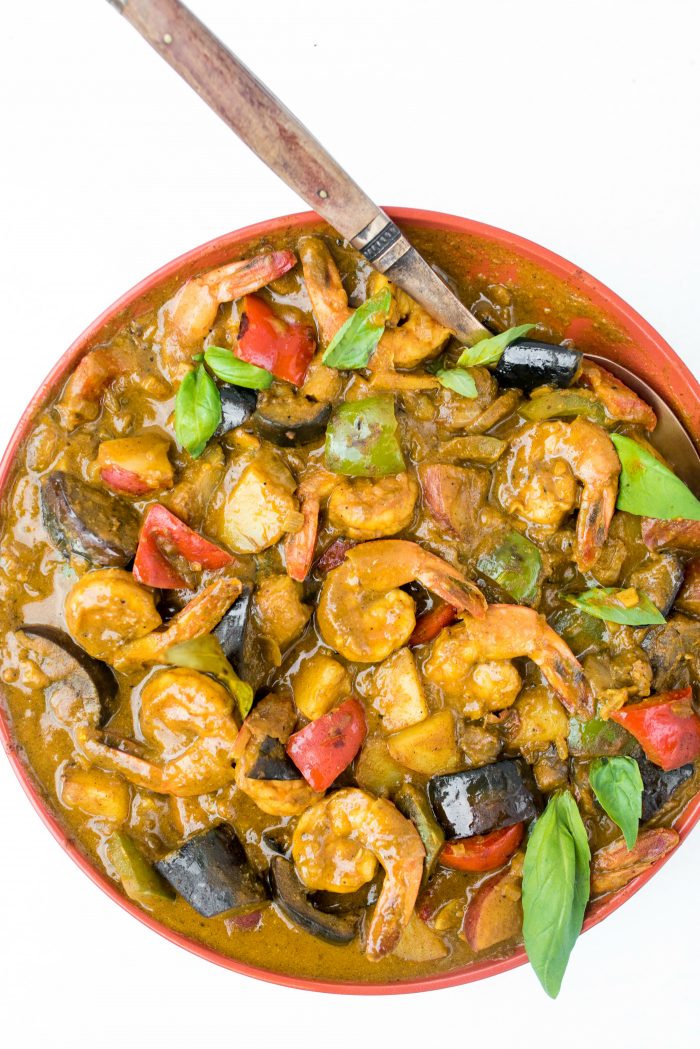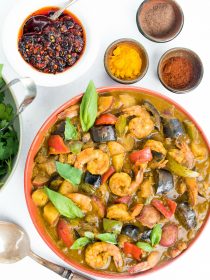 Get the Recipe: Pumpkin Shrimp Curry Recipe
Ingredients
1/4 cup olive or canola oil, plus 2 Tbsp
1 lb medium shrimp, tails on
3 cloves garlic, finely chopped, or 3 tsp garlic powder
1 2" piece ginger, peeled and finely chopped
1 medium yellow onion, finely chopped
2 bay leaves
2 tsp ground coriander
1 tsp ground cinnamon
1/4 tsp allspice
1 tsp ground cumin
1 Tbsp garam masala
1 tsp smoked paprika
1/2 tsp ground turmeric
1 15 oz can full fat coconut milk
1 7 oz can pumpkin puree (not pumpkin pie mix)
4 red potatoes, cut into 1'' cubes
2 small eggplant, cut into 1'' cubes
1 red bell pepper, cut into 1'' piece
1 green bell pepper, cut into 1'' pieces
Juice of 1 lime
1/2 cup chicken or vegetable stock
Chopped cilantro and basil leaves to garnish
Kosher salt and freshly ground black pepper, to taste
Instructions
Heat 1/4 cup oil in a large saucepan on medium-high heat. When it is hot and shimmery, add the eggplant, bell pepper, and potatoes. Allow vegetables to brown and char slightly in the oil before stirring. Salt and pepper to taste. When the vegetables are slightly golden and almost cooked through, 12 minutes, reduce heat to low and keep warm.

In a separate pan, heat 2 Tbsp oil and add ginger, onions, and garlic. Cook on low until translucent—10-12 minutes. When aromatics are tender, add to the vegetables.

Next, add coconut milk, pumpkin puree, stock, lime juice, and all of the remaining spices to the vegetables and stir to mix together—taste for salt and pepper. Bring to a boil, then reduce to a simmer. Stir the mixture frequently and allow it to reduce in volume and thicken slightly for 10 minutes. Taste for salt.

After 10 minutes, add in the shrimp, and simmer for 7-10 more minutes, or until shrimp are fully cooked—they will be pinkish and opaque, but still have some spring to them (not a rubbery texture). Keep a close eye and remove them from the heat when they are just about done.

To serve, pour curry over rice with fresh herbs and chili oil.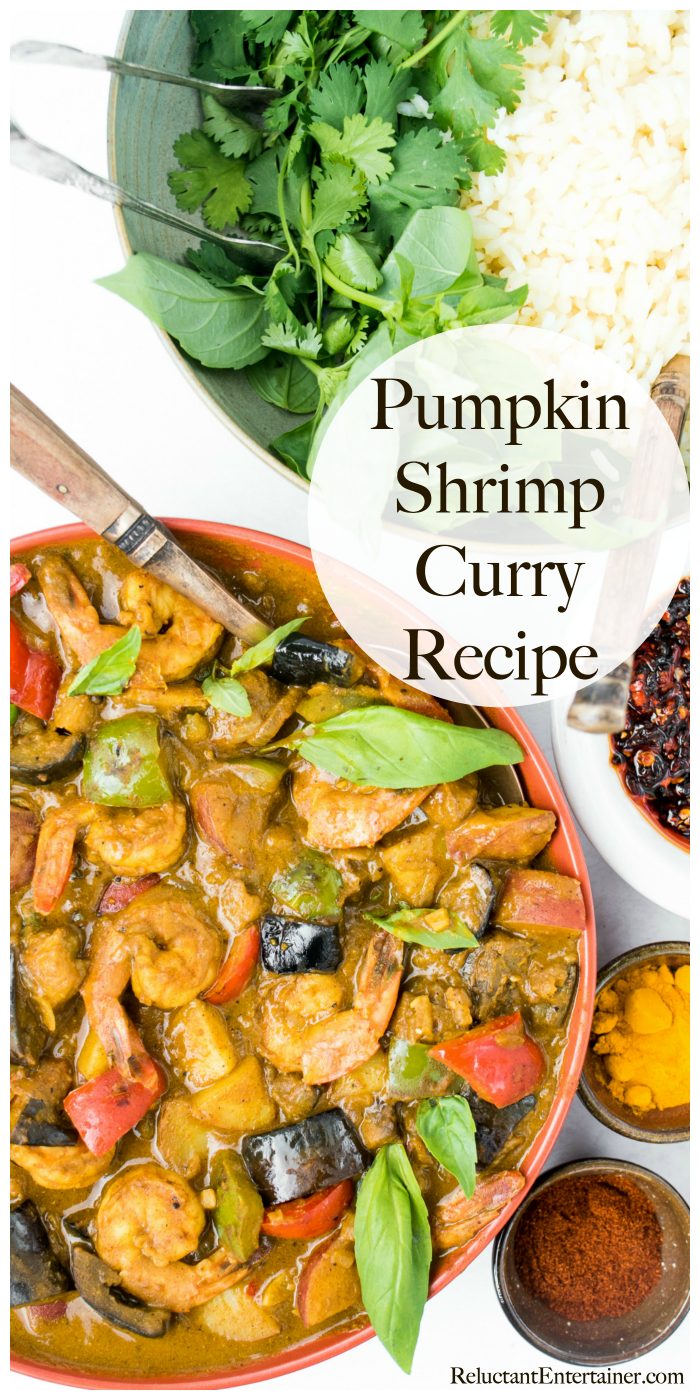 Hello and welcome to my home and table!
I'm Sandy—lover of food, family, cooking, THE BIG BOARD, travel, and bringing people together. Through great recipes and connection around the table, we become better, stronger, and more courageous people. Feasting on Life is real, and every time we do it, we grow a little more. Read more...