Essence of October with Pumpkin Tortellini
A lovely pumpkin-themed dinner party is a fun way to entertain, with each dish containing a pumpkin flavor, such as this Pumpkin Tortellini recipe.
How's your week going, Friends? Are you enjoying this gorgeous season like I am?
Later this week I'll be sharing some fun ideas for entertaining along with delicious recipes, so get ready … you may just get in the mood to plan your own Pumpkin Party!
My sweet friend Carrie, who lives in Portland, took these photos of our backyard two years ago, and I love the pumpkin theme.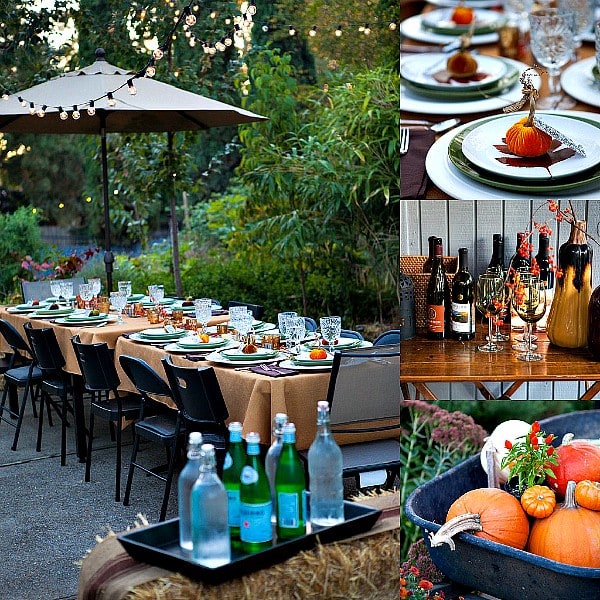 Pumpkin Tortellini.
I recently created a new side dish of Pumpkin Tortellini, using DeLallo's three cheese tortellini of Italian egg pasta filled with Pecorino Romano, Grana Padano and Edam cheeses, so tender and full of flavor.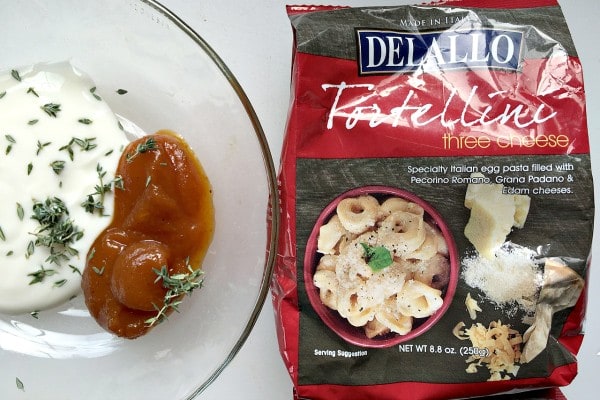 Mix and swirl.
I mixed together pumpkin butter with the Greek yogurt—perfect flavors! If you don't have pumpkin butter (I buy it at either Harry & David or Trader Joe's) you can use my pumpkin combination in the recipe and make your own! So easy, and topped off with fresh thyme from our garden.
Don't have any pumpkin butter? How about making your own?
How to make quick, easy pumpkin butter:

For this recipe mix 3 Tbsp. of pumpkin, 2 tsp. of brown sugar, 1 tsp. melted butter, 1/4 tsp. cinnamon, 1/4 tsp. nutmeg.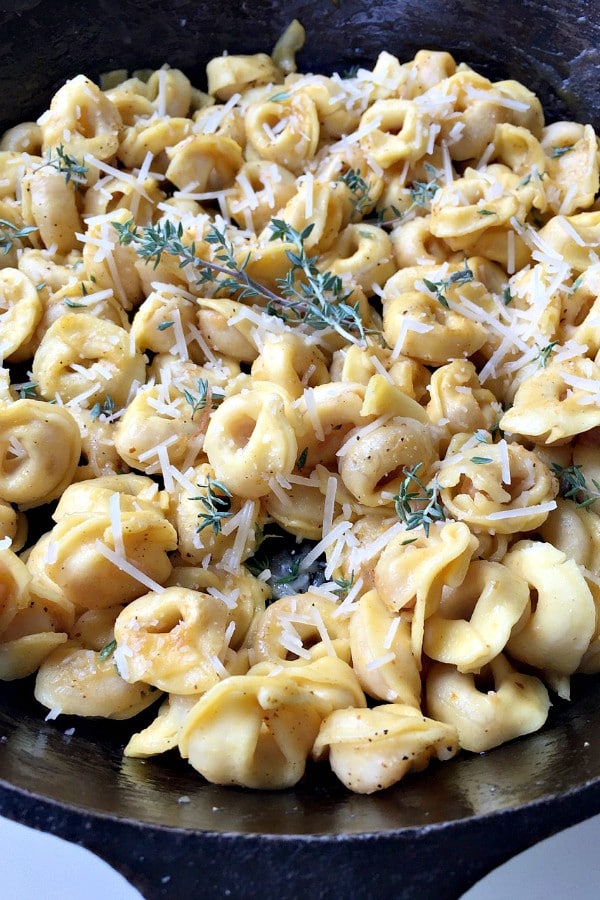 Side dish or main dish.
This recipe is the essence of a perfect pairing with salmon, a salad, and pasta. Not too saucy, which I love. (That is salmon that my dad caught. Isn't it gorgeous?)
It can also stand alone as a main dish!
Oh, and the sweet honey pear on the plate? I have an amazing appetizer recipe that is coming your way very soon! Stay tuned!
Do you have any October parties on the horizon, and if so, please share the details?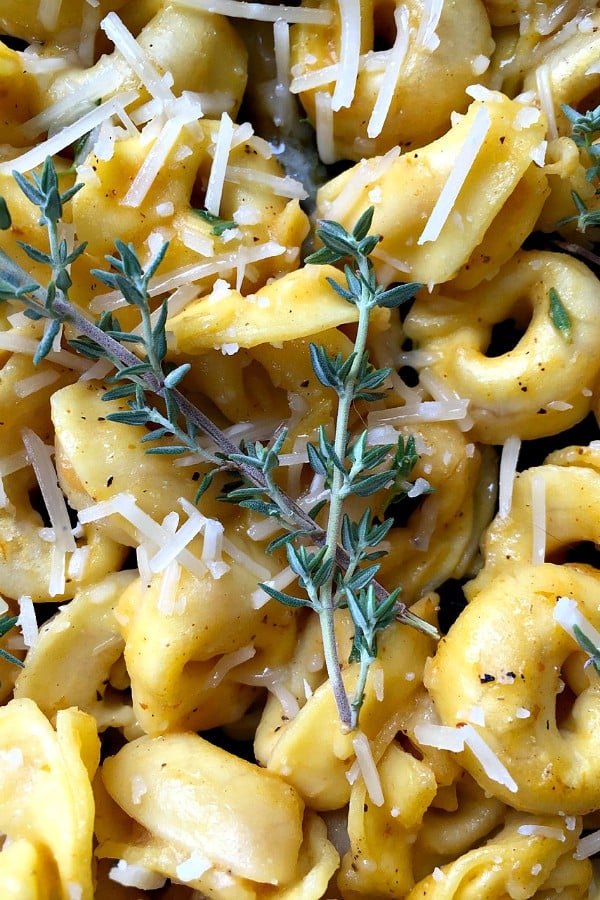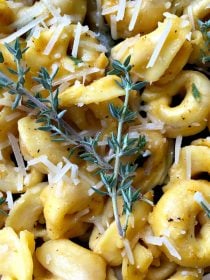 Get the Recipe: Pumpkin Tortellini
If you do not have pumpkin butter, use the following: 3 Tbsp. of pumpkin, 2 tsp. of brown sugar, 1 tsp. melted butter, 1/4 tsp. cinnamon, 1/4 tsp. nutmeg.
Ingredients
8.8 oz. DeLallo Tortellini, three cheese
1/4 cup Greek yogurt
3 T. pumpkin butter
2 T. butter
Fresh thyme
Salt and pepper
1/2 cup Parmesan cheese
Instructions
Cook the tortellini according to the package instructions. Once the tortellini float to the top, drain and rinse, until cool.

In a small bowl, mix together the Greek yogurt, pumpkin butter, and chopped fresh thyme.

In a medium-sized frying pan, on medium heat, melt the butter. Add the tortellini, gently heating through; sprinkle the salt and pepper.

Add the pumpkin sauce and gently mix and cook another 1-2 minutes until heated through. Lightly sprinkle with fresh thyme; serve.
Hello and welcome to my home and table!
I'm Sandy—lover of food, family, cooking, THE BIG BOARD, travel, and bringing people together. Through great recipes and connection around the table, we become better, stronger, and more courageous people. Feasting on Life is real, and every time we do it, we grow a little more. Read more...