Roasted Honey Pear Crostini
Lay sliced pears on a baking sheet, drizzl with honey and sprinkle with fresh thyme. Make Roasted Honey Pear Crostini where every bite is pure tantalizing sweetness!
Today's our baby's birthday and she is 18. It seems like yesterday when Abby was born, such an exciting time, bringing home a new baby sister to her two brothers, completing our family of 5. Thinking ahead and praying for my kids, my mind would wander off to different scenarios —how exactly would this little baby girl turn out, so fresh with fragility? Did Dr. Leman (Birth Order Book) have it right–the youngest and only girl in the family would in a sense act as the oldest—and what would the relationship with her brothers be? Would she be tough, caring, courageous, other-centered, and compassionate? I love the personality stuff, as it's fun to look at the dynamics of families and figure it out without even knowing birth orders. I think Dr. Lehman was on to something … the question is, are these characteristics present at birth or are they gifted through experiences in life?
Abby was born!
I was excited to have a baby born in the fall, since the boys were both May babies, but it was unseasonably cold, and with that came colds, colic … and the holidays. A mixed bag of blessings. What was this exhausting thing called colic, anyway? The boys never had it, I had always only heard about it, and it wasn't fun. But we loved our little girl anyway, and rolled right into Christmas, bouncing her on forearms and dealing with the colic, right into the wee morning hours. We'd pass her off to each other, and then fall exhausted into bed. Babies make us believe in the future. There is hope that they will grow up into amazing people!
Around the corner.
Fast forward 3 years, sitting in our tiny living room on Havana Avenue, sun shining in on the Christmas tree, alone in our house with 3-year-old Abby, we were reading a book.
Abby, in her quiet demeanor, looked up and around the room and said, Mama, now exactly what corner is Christmas around?
The sweetest moment of gratitude and hope, I squeezed our little girl, you know—the way you do when you don't want to let them go—ever! I laughed and kissed her sweet cheeks. Kids say the darnedest things!
Abby is 18!
That's our Abby. Full of wonder, passion, talent, beauty, not wanting to miss out on the element of surprise, always looking for beauty, new birth, something extraordinary, around the corner.
Now 18 years later, your life is before you, Miz Abby! There is no perfect life, but strive for the good life, and count your blessings every single day!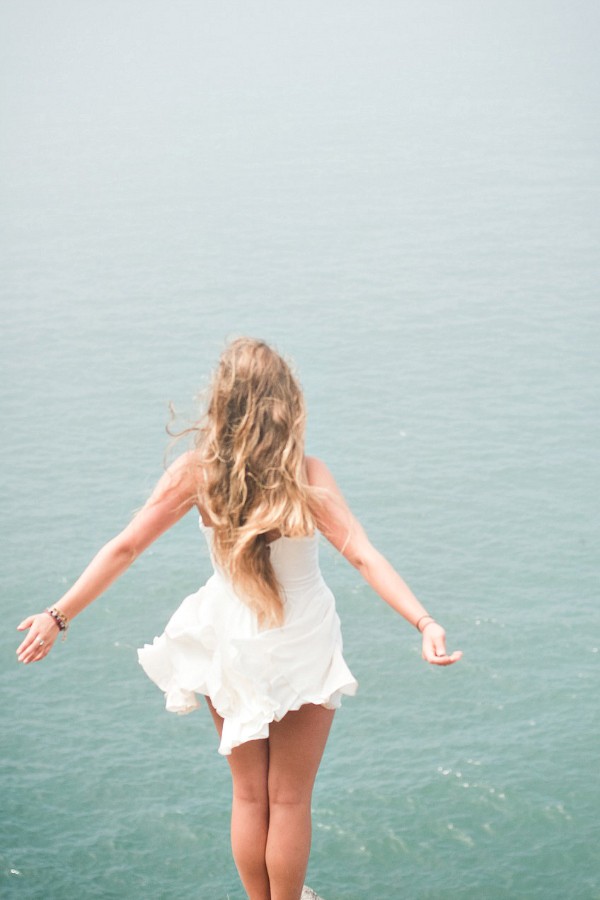 Tonight I'm cooking dinner for Abby and some of her lovely friends. I plan to make my rendition of Croque-en-bouche with bacon and maple frosting, or possibly a cake.
Roasted Honey Pear Crostini
In the meantime, I'll be whipping my new favorite Roasted Honey Pear Crostini for a simple appetizer, because after all, it is pear season!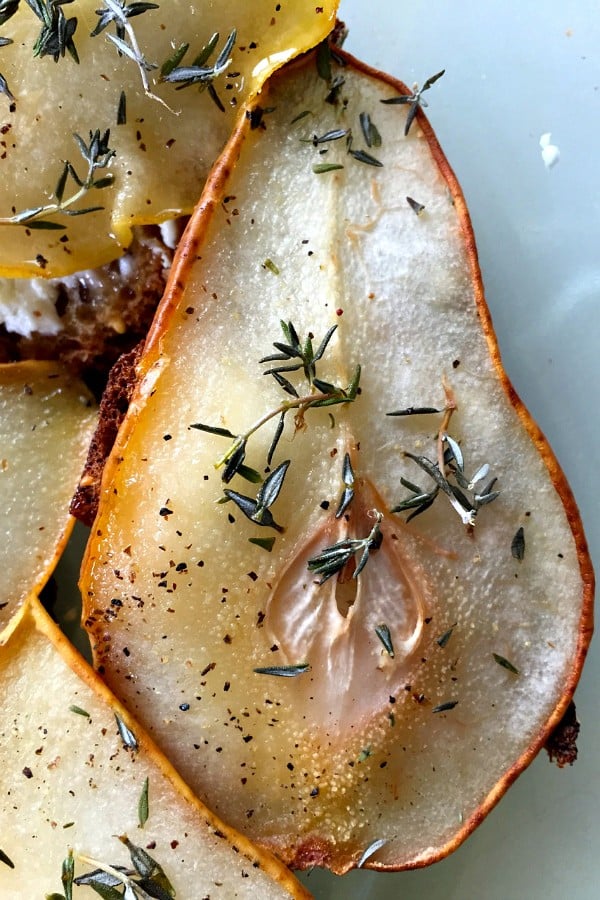 Mouth-watering pears with honey and thyme, caramelized and paired with a delicious goat cheese, served on a crunchy piece of bread.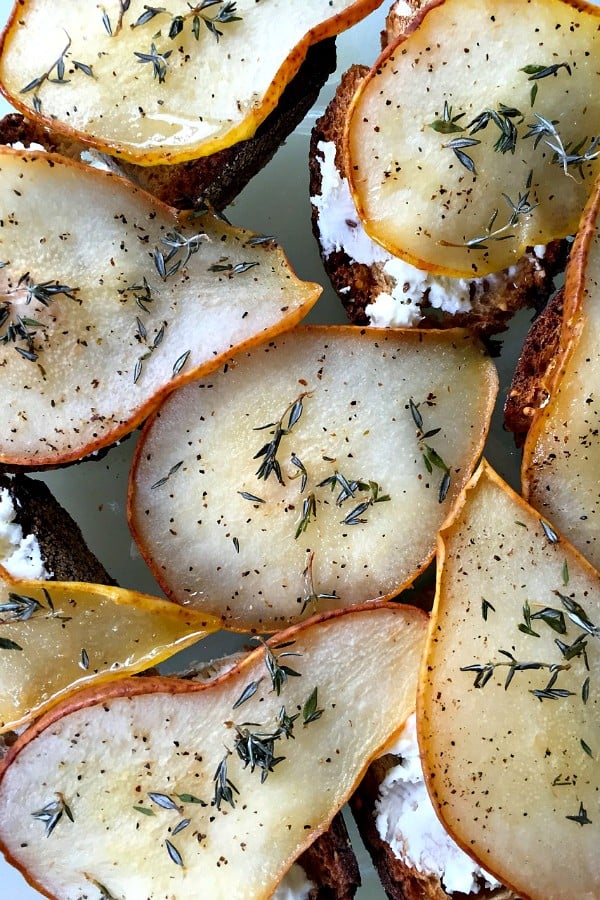 You can't go wrong with pears and honey, right?
Thinly slice the pears, leaving the skins on, discarding the center of the pear.
Lay the pears on the sheet, drizzle with honey, salt and pepper (lightly), and sprinkle with fresh thyme.
Roast the pears slowly at a low heat. Perfect-o!
While the pears were roasting, I lightly toasted the leftover crunchy bread, but you can easily use a baguette here as well.
Now for the perfect timing. While the bread is warm, spread goat cheese on each piece.
Pull the roasted pears from the oven and lay one pear slice on one piece of bread.
ENJOY!
Birth Order Book.
Unrelated to pears or goat cheese, I'd love to hear your thoughts on birth order!
Do you think birth order matters in your family?
Here's a very good article, taken from Birth Order Book, that explains what I'm talking about very well.
Get the Recipe: Roasted Honey Pear Crostini
Lay sliced pears on a baking sheet, drizzl with honey and sprinkle with fresh thyme. Make Roasted Honey Pear Crostini where every bite is pure tantalizing sweetness! Use baguette or leftover crusty bread!
Ingredients
1 Bartlett pear, thinly sliced
2 T. honey
1 T. fresh thyme, finely chopped
Salt and pepper
2 oz. goat cheese
1 small loaf crusty bread, or baguette
Instructions
Preheat oven to 200 degrees.

Thinly slice the pear, leaving the skin on (each pear about 3-4 slices each side), discarding the center, stem and seeds.

Prepare a baking sheet with parchment paper. Lay each pear on the sheet. Drizzle with honey, and lightly salt and pepper each pear slice.

Sprinkle with thyme. Bake for 15 minutes.

In the meantime, cut the crusty bread into slices and toast (or reheat). Spread the goat cheese on each piece.

Remove the pears from the oven and lay each slice on one piece of toast.

Place the crostini on a plate and immediately serve.

Hello and welcome to my home and table!
I'm Sandy—lover of food, family, cooking, THE BIG BOARD, travel, and bringing people together. Through great recipes and connection around the table, we become better, stronger, and more courageous people. Feasting on Life is real, and every time we do it, we grow a little more. Read more...