Quick Summer Cheese Charcuterie
A Quick Summer Cheese Charcuterie comes together in no time, with your favorite summer fruits, cheese, salmon dip, for a light snack dinner!
Friends, I'd love to hear if you'd like smaller cheese board and dinner board ideas! Today I'm sharing a nice summer snack board, a Quick Summer Cheese Charcuterie.
Quick Summer Cheese Charcuterie
When we got home from a quick trip to southern Oregon, our daughter was visiting and set out this fabulous little snack dinner. The perfect size for a light meal! If you love this smaller board, great news. The 20-inch board is an option, but also we have a NEW 12×24-inch board coming to our store SOON!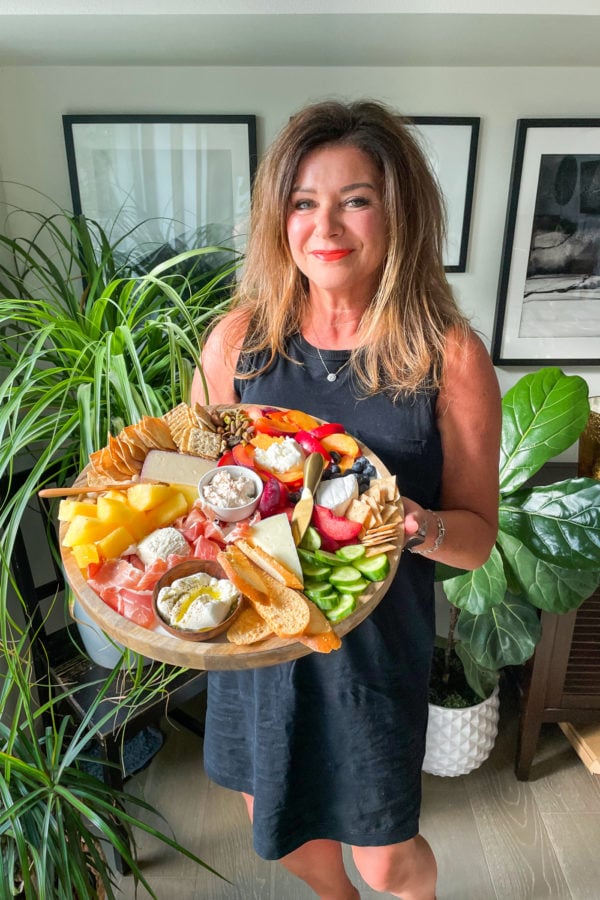 What's a snack dinner charcuterie board?
A snack dinner is a light charcuterie that you can have for dinner! Sometimes if you start off with a cheese board or charcuterie, you are no longer hungry for dinner. So why not just have it for your dinner?
You don't have to always make a huge board, and you can can always cut a wedge or round of cheese in half (for example, the Boursin cheese). Make it small, with your favorite cheese, and share it with a friend!
Basically, it's appetizers for dinner!
We are very excited to share the news that we have three new boards coming to the House of Hyacinth in a week or so. Two are an ebonized black, and the other one is a smaller natural-colored board.
How do you decide what to put on a small snack charcuterie board?
What's in your pantry?
What is in season?
How many are you feeding?
Set out the food you want to enjoy, and cut/serve smaller portions on a smaller board. See the example of my board. It makes the perfect Snack Dinner!
Can you have both a cheeseboard and a charcuterie board on the same plate?
Sure! Why not? Charcuterie is cured meat and cheese, and then just a cheese board, we set out six kinds of (small portions) of cheese!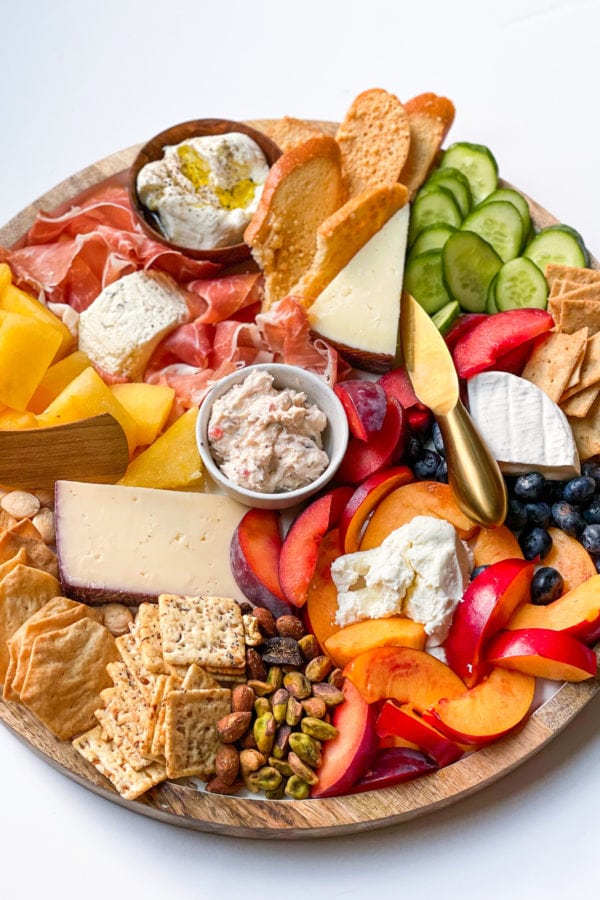 Quick Summer Cheese Charcuterie Ingredients
Here's what I put on my board!
Cheese:
Burrata
Boursin cheese
Manchego cheese
Creamy Tuscano cheese
Brie cheese
Goat cheese
Produce:
Blueberries
English cucumber
Nectarine
Plumcots
Yellow watermelon (you can use red, too)
Meat:
Smoked salmon and dill dip
Prosciutto
Nuts:
Pstachios
Mixed nuts
Macrona almonds
Crackers:
Parmesan crostini crackers (Trader Joe's)
Gluten free Milton's Crackers
Seed and grain cracker squares
Sea salt crackers
Olive oil to drizzle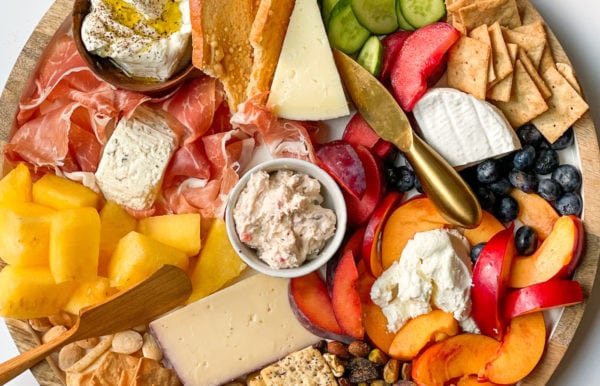 We went fly fishing twice this week (best to go during the week when less people on the water). This poem is true. Even if you don't catch a fish, there's just something about being in the cool water on a hot summer day, and out in the quietness of nature. SO good for the soul.
I caught about ten fish the first day, and three the second day. I am loving being on the water! Just look how beautiful the Fall River is! (With my hubby and friend, Cindy)
Many go fishing all their lives without knowing that it is not fish they are after."
~ Henry David Thoreau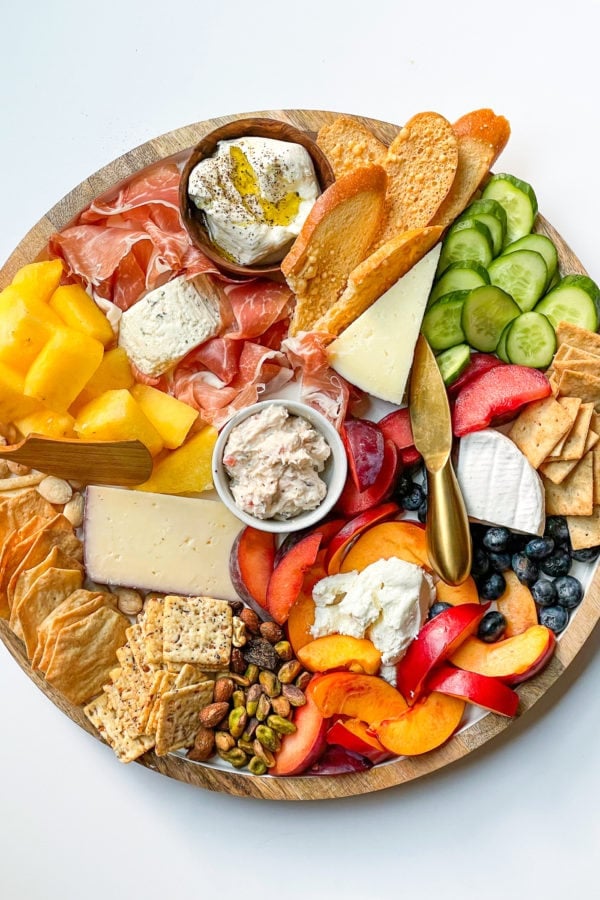 Friends, are you following me on Facebook and Instagram? I share a lot of recipes over there, sometimes oldies but goodies from my archives! Also, outdoor activities! You don't want to miss out.
Happy weekend!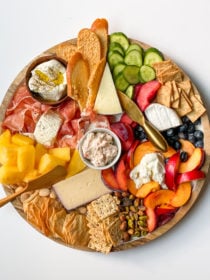 Get the Recipe: Quick Summer Cheese Charcuterie
Ingredients
1 2 oz burrata
3 oz Boursin cheese
1 wedge Manchego cheese
1 small wedge Creamy Tuscano cheese
4 oz Brie cheese
4 oz goat cheese
½ c blueberries
¼ English cucumber, sliced
¼ c smoked salmon and dill dip
4 sheets prosciutto, torn
¼ c pistachios
¼ c mixed nuts
¼ c macrona almonds
1 nectarine
2-3 plumcots, sliced
¼ yellow watermelon, cubed
4-6 Parmesan crostini crackers
15 gluten free Milton's Crackers
15 seed and grain cracker squares
15 sea salt crackers
Olive oil to drizzle
Instructions
On a small round board or tray, place the cheese down first. Then arrange the other food items on the board. Lastly, drizzle the burrata cheese with a little olive oil.
Hello and welcome to my home and table!
I'm Sandy—lover of food, family, cooking, THE BIG BOARD, travel, and bringing people together. Through great recipes and connection around the table, we become better, stronger, and more courageous people. Feasting on Life is real, and every time we do it, we grow a little more. Read more...