Winter Blues and Quinoa Granola with Currants and Coconut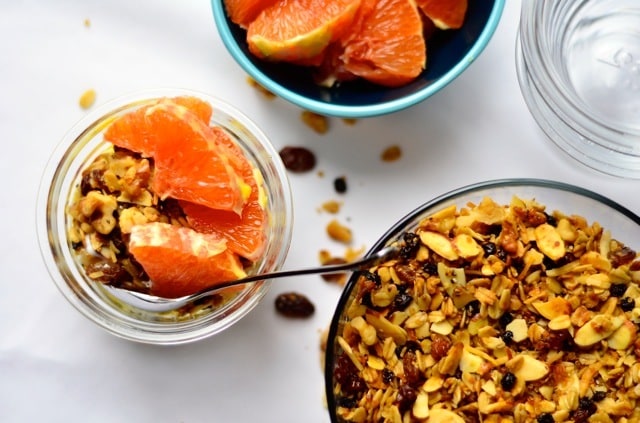 Happy Monday, Friends! Breakfasts are an easy approach to entertaining, especially if you're serving a brunch. You can definitely keep things simpler by buying pre-made desserts, muffins, and coffee cakes, but I like to know that my family and guests are eating as organic and homemade as possible. My favorite new recipe is Quinoa Granola with Currants and Coconut, which I adapted from this recipe, but added in quinoa and chia seeds, and different fruits and nuts.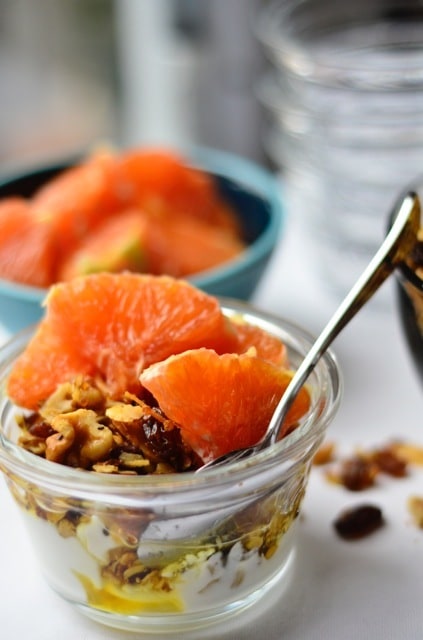 Perfect this month served with Cara Cara oranges (love the fantastic flavor!)
You start with Greek yogurt and a little bit of honey (or Agave).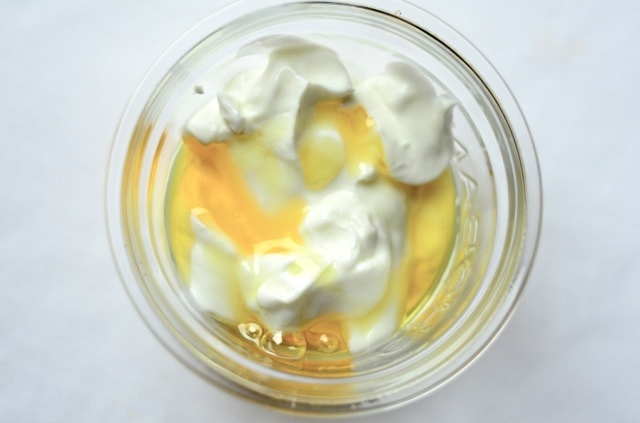 Oh, my goodness.
Then sprinkle on top the granola.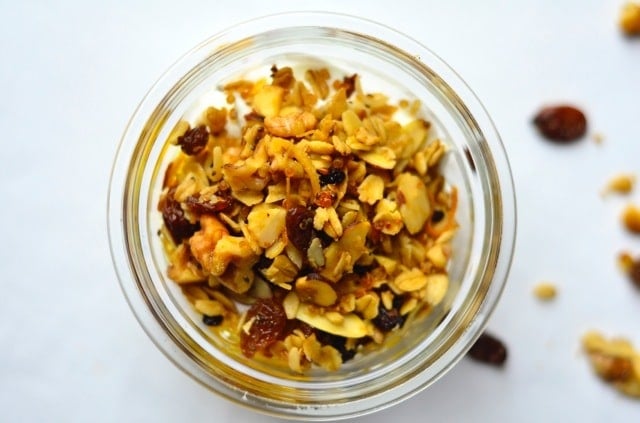 Top with Cara Cara oranges, and you have the perfect breakfast!
I've sort of had the winter blues the past week. One, I tweaked my back at the gym. Two, I'm tired of the cold weather. Three, I am much happier when the sunshine is OUT!
But, putting those things aside, I'm grateful for so much in life. There's really no room to complain.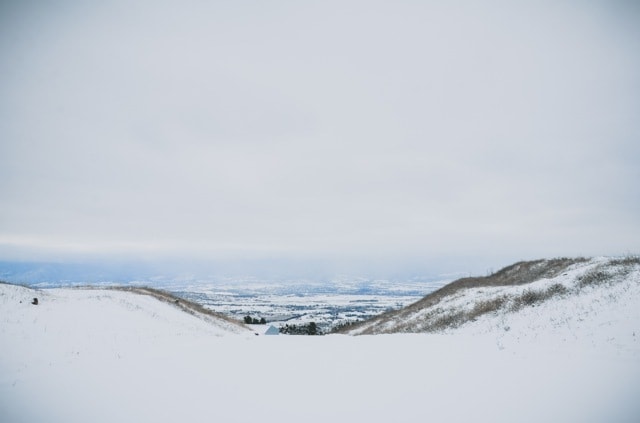 Because these photos are so beautiful, and we're talking about family, life, good food … and sunshine, I'm borrowing a few of my daughter's stunning photos from her hike up to Roxy Ann a few weeks ago in the snow, with her Dad and Haggis (our Cairn Terrier).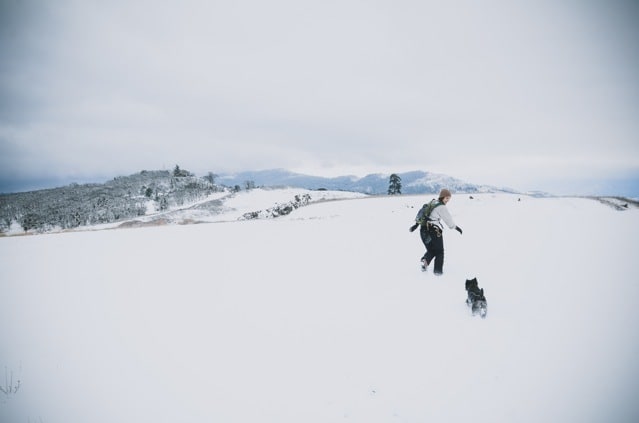 Yes, the sun was peeking through the clouds. (Abby overlooking the Rogue Valley.)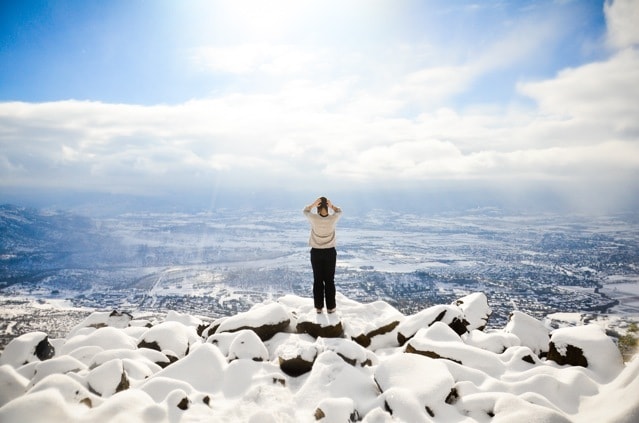 Back home, Quinoa Granola with Currants and Coconut was waiting for the hungry hikers. :)
Love the combination of quinoa, currants, coconuts and golden raisins. To me, this is a wintry recipe.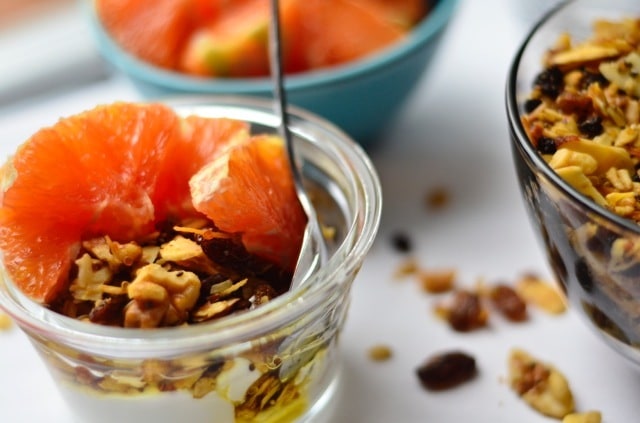 I love changing up my traditional granola recipe, and making something fresh and new!
There's something about snow and sunshine and a good healthy breakfast that really warms my heart!
What's your "secret ingredient" that you love putting in granola?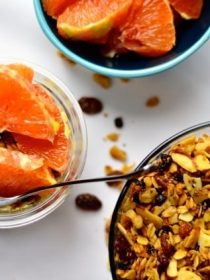 Get the Recipe: Quinoa Granola with Currants and Coconut Recipe
Ingredients
1/2 cup maple syrup
1/2 cup packed brown sugar
3/4 cup vegetable oil
2-3 tsp. vanilla
1 tsp. Sea Salt
5 cups Old-Fashioned Rolled Oats
3 cups quinoa, cooked
2 cups coconut
3 cups sliced almonds
3 cups whole walnuts, chopped
2 cups dried currants
1 cup golden raisins
1/2 cup chia seeds
Instructions
Heat oven to 250 degrees. Line 2 rimmed backing sheets with parchment paper.

Mix all dry ingredients together in a large bowl, except the dried fruit (will add in later).

Whisk the first 5 ingredients together. Pour over the dry ingredients. Mix well with a wooden spoon.

Transfer the mixture to the baking sheets, baking on 2 oven levels, stirring every 15-20 minutes. After 40 minutes, swap pans on the oven racks.

Bake for 60-80 minutes until granola is the consistency that you like.

Remove granola from the oven and cool on cooling racks for an hour before stirring in the dried fruit.

Using an airtight container, you can store on your kitchen counter for up to 2 weeks (if it lasts that long).
Snow photography by Abigail Coughlin.
Hello and welcome to my home and table!
I'm Sandy—lover of food, family, cooking, THE BIG BOARD, travel, and bringing people together. Through great recipes and connection around the table, we become better, stronger, and more courageous people. Feasting on Life is real, and every time we do it, we grow a little more. Read more...