The Joy of Cooking Greek Quinoa Tacos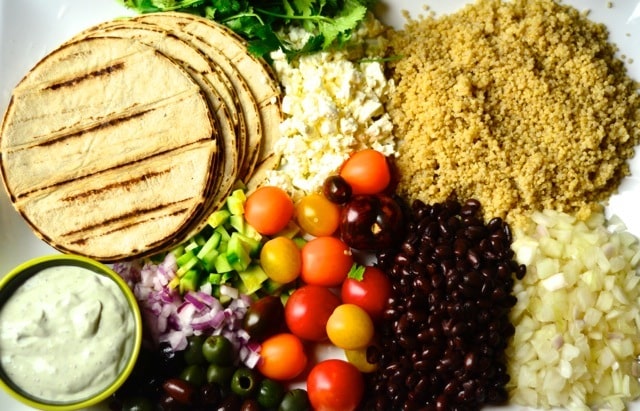 The joy of cooking for my family comes from several areas in my life. I love to make people happy (and food always does the job, like making these Greek Quinoa Tacos), I love to think about the heritage my parents gave me—all the entertaining they did, making other people happy—for which I'm thankful, for good role-models. And deep down inside there's just a connection with the body and soul, and food has something to do with that. It's nourishment, we can't live without it, and the icing on the cake for me is the joy of sharing a meal with people you love. Even if it's people you don't love, I think about "new" people who we've shared meals with—out of town or even at a restaurant, where you end up talking to several people— it's the great connector in life.
Last minute entertaining:
Having a few simple meals you can whip up makes last-minute entertaining easy! Lately, you may have noticed that many of my recipes include quinoa.
The secret of quinoa:
One of the secrets of cooking quinoa is to make a "batch" of it (I use my rice cooker), to store in the fridge. That way it's a "protein" that is always available, for last-minute meals.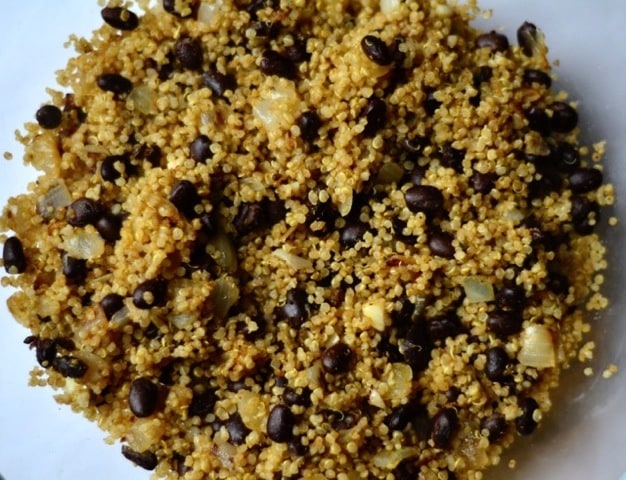 How to make quinoa:

3 cups of quinoa + 4.5 cups of water. Cook in the rice cooker on "brown rice setting."
Add a can of beans to it? Plus onions and seasoning?
Mix up some healthy vegetables, like tomatoes, cucumbers, and red onion?
Make a delicious avocado sauce and chop up fresh cilantro – mix in feta cheese.
Pull out the frozen corn tortillas from the freezer, and heat the way you like them.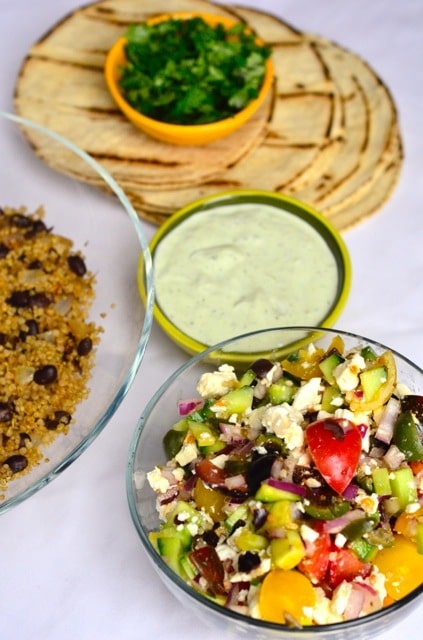 You've got yourself an EASY meal, for friends to gather around the table to enjoy! Greek Quinoa Tacos.
Get the meal on the table in 30 minutes:
IF your quinoa is already made up, you can get this meal on the table in 30 minutes.
What I love about it is the freshness. The flavors come aLIVE, and seriously, you cannot stop at 2 tacos.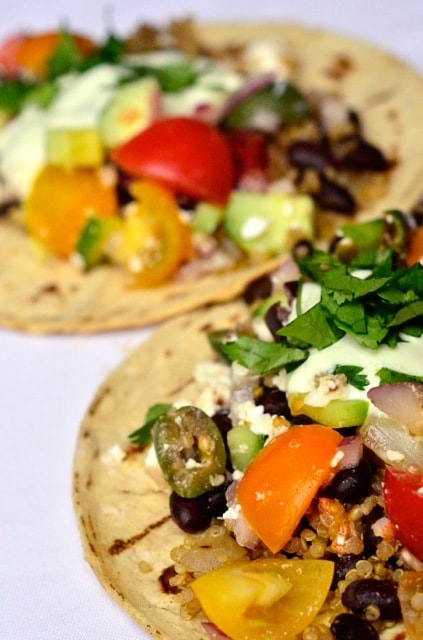 I think you may just have to have 3 or 4.
What's your favorite "go-to" taco that works for last-minute company?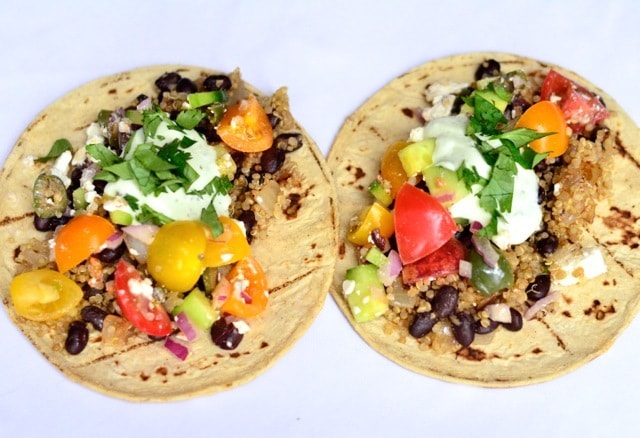 Get the Recipe: Greek Quinoa Tacos Recipe
Quick and easy when using pre-cooked quinoa.
Ingredients
1 tablespoons olive oil
1 medium sweet onion, diced
3 cloves garlic, minced
1 1/2 teaspoon chili powder
1 Tablespoon ground cumin
1 teaspoon salt
1/2 teaspoon freshly ground black pepper
3 cups cooked quinoa
1 15 oz. Bush's Black Beans, drained
1 dozen corn tortillas
1 cup tomatoes, preferably baby heirlooms chopped
1/2 cup cucumbers, chopped
1/2 cup red onion, chopped
1/2 cup kamatka olives, chopped
1/2 cup feta cheese, crumbled
1/4 cup fresh cilantro, chopped
1/2 cup plain fat-free Greek yogurt
1 ripe avocados, peeled and seeded
1 clove garlic, minced
3 tablespoons chopped fresh cilantro
2 tablespoons fresh lime juice
1/4 teaspoon ground cumin
Salt and ground black pepper, to taste
Instructions
Heat oil in a large saucepan over medium heat. Add onion and cook 5 minutes, or until soft. Add garlic, chili powder, cumin, salt and pepper, and sauté 1 minute.

Stir in 3 cups cooked quinoa and the drained black beans. Cook for about 5 minutes, then turn down to low to keep hot.

Prepare the "Greek salsa" by combining tomatoes, cucumbers, onions in a bowl with fresh cilantro. Season with salt to taste; add in the fresh cilantro.

To make the sauce, place the yogurt, avocados, garlic, cilantro, lime juice, and cumin in a food processor. Mix until smooth. Salt and pepper, to taste.

Heat the corn tortillas.

On each tortilla, layer the quinoa and bean mixture with the Greek salsa, ending with the creamy avocado sauce on top.

Fold in half and serve. Serve with lime wedges if desired.
My friend Kelley, from Mountain Mama Cooks, has many delicious taco recipes she posts on Tuesdays. Peanut Butter and Honey Pancake Tacos? Great idea, Kelley!
Hello and welcome to my home and table!
I'm Sandy—lover of food, family, cooking, THE BIG BOARD, travel, and bringing people together. Through great recipes and connection around the table, we become better, stronger, and more courageous people. Feasting on Life is real, and every time we do it, we grow a little more. Read more...