Red Pepper Turkey Meatloaf Pie
This Red Pepper Turkey Meatloaf Pie is the ulitmate healthy weeknight meal, using up garden red peppers, with a pesto on top!
I'm so excited I'll be seeing my college boys here soon – it's hard to believe that Spring Break is almost here! I revised an old favorite recipe this past week into a Classic Red Pepper Turkey Meatloaf Pie, and can't wait to try it out on the boys. What college boy doesn't love meatloaf? Right?
Meatloaf to me growing up was, well, boring. Basic beef with egg, onion, bread crumbs and plain ketchup on top. Mom always served it with baked potatoes and overcooked peas (sorry, Mom!)
This time I used a fresh, beautiful red pepper, cutting it into thin slices, and lined a green pie pan.
Mixed the meatloaf ingredients together, pressed firmly into the peppers, and covered with a new sauce that I found at Costco, Organic Roasted Red Pepper Pesto. Oh, yum! My new favorite. I've been experimenting with it on everything!
I realize not all of my readers live near a Costco (or a Trader Joe's), so for this recipe which I used a Red Pepper Pesto, all you have to do is replace this sauce on top with your favorite salsa! How easy is that?
And baked it to perfection!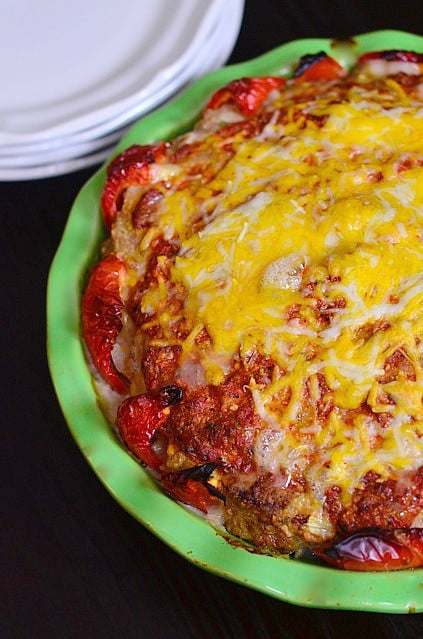 I'm enjoying this season of life when the kids are taking off, growing up, doing their own thing, living their own life, but we still get to (and hopefully share a little wisdom now and then) with them.
These are the glory days. Every day is a gift and I never ever want to forget that. The days are fleeting, the times together are precious and I love to watch, each time we're together, that the boys truly are "growing up."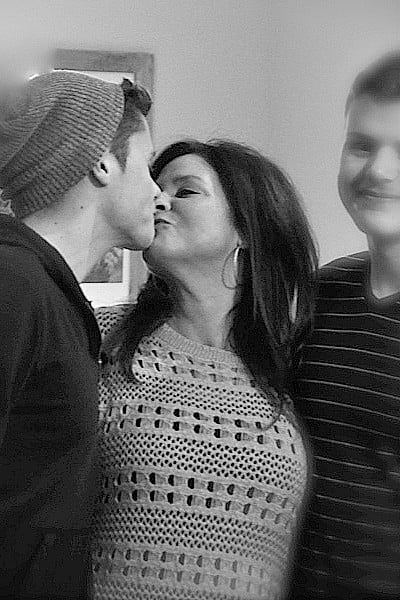 You never think this day will come, but when it does, you long for the old days. The days of stinky-head boys–action figures, tree forts, soccer balls, imagination, legos, skateboards—now turned into wonderful young men whom I adore!
Boys, this meatloaf is for you!
What's our favorite topping for meatloaf? Plain old ketchup, or a specialty sauce?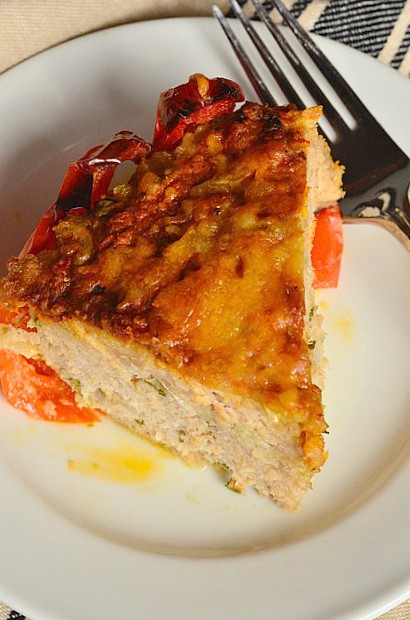 Get the Recipe: Red Pepper Turkey Meatloaf Pie
Delicious crustless pie using red peppers, topped with pesto or salsa! Yum!
Ingredients
1 large red pepper, sliced and seeded (2 if smaller)
4 oz. onion and garlic, chopped
4 ounces shredded Mexican cheese blend, 1 cup
1 1/2 pounds ground turkey
1 cup bread crumbs
2 eggs, lightly beaten
1/3 cup chopped flat-leaf cilantro
3/4 teaspoon salt
3/4 teaspoon pepper
1 cup red pepper pesto, or regular pesto, or salsa
Instructions
Preheat the oven to 375 degrees. Saute onions and garlic until tender, about 3-5 minutes. Grease a 10-inch pie plate lightly with olive oil and line with the red peppers.

In a large bowl, mix 1 cup cheese, the beef, 1/2 cup of the pesto (or salsa), the bread crumbs, eggs, cilantro, salt and pepper until just combined.

Press the meat mixture into the pepper-lined pie plate. Spread the remaining pesto (or salsa) over the top. Bake for 45-50 minutes.

Let cool for about 15 minutes before slicing.

Hello and welcome to my home and table!
I'm Sandy—lover of food, family, cooking, THE BIG BOARD, travel, and bringing people together. Through great recipes and connection around the table, we become better, stronger, and more courageous people. Feasting on Life is real, and every time we do it, we grow a little more. Read more...