Repurposing Cans for Fiesta Dinner Party Tabletop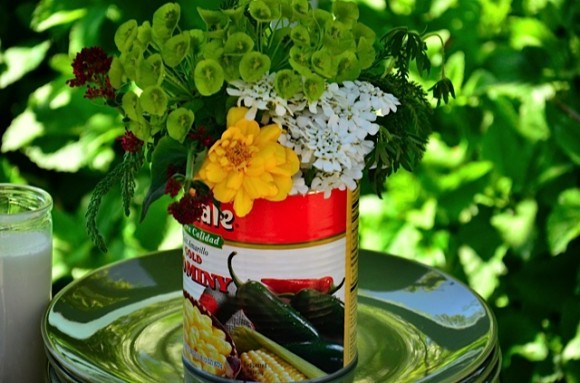 I saw this quote and it made me smile: Never give anybody a fondue set or anything painted avocado green.
Those were the popular colors for home decor when I was a young girl. My parents built a brand new home and the kitchen's appliances were avocado green; the wallpaper was bright orange, yellow, and green with mushrooms! When I see anything with those colors now, I get warm fuzzy feelings inside.
Happiness. Good memories.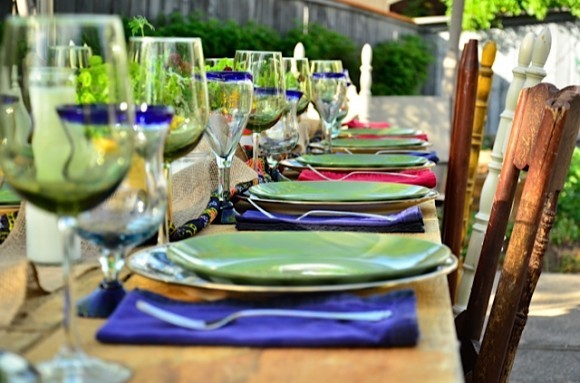 You may remember my Fiesta Party that I held a few weeks back. The weather was so nice and we had a great time. The story behind the cool table is here, but I wanted to tell you more about the Mexican cans that I repurposed for the vases. It was an easy idea, one I'd seen on Pinterest. The dinner plates were … avocado green! Yes!
I love the idea of repurposing and keeping a pantry full of items to use for entertaining tabletops. I had these cans stored in my garage and I went to my friend Jeannie's house for flowers, because the colors that I was looking for for a Mexican theme weren't blooming in my yard yet (red, yellow, greens).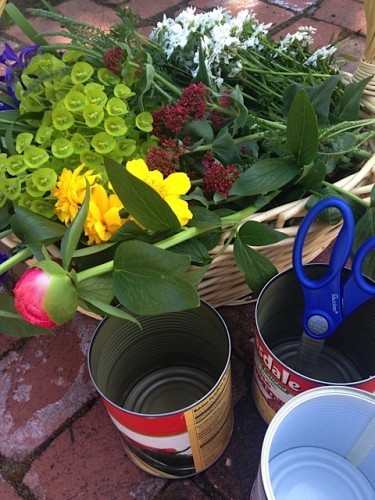 Snip-snip.
Wash out the cans (or in my case, they were already repurposed and already sitting in my outdoor pantry).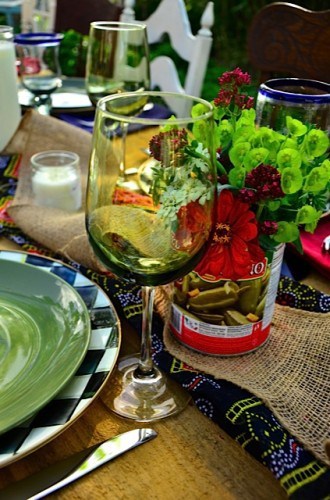 Fill with your favorite flowers.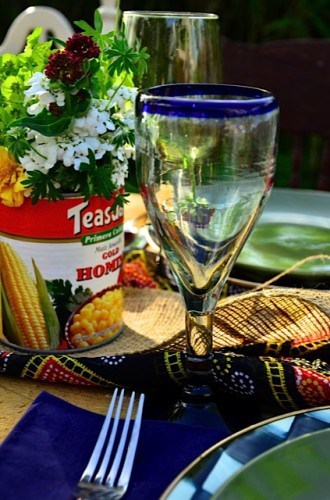 Grocery store one-dollar candles.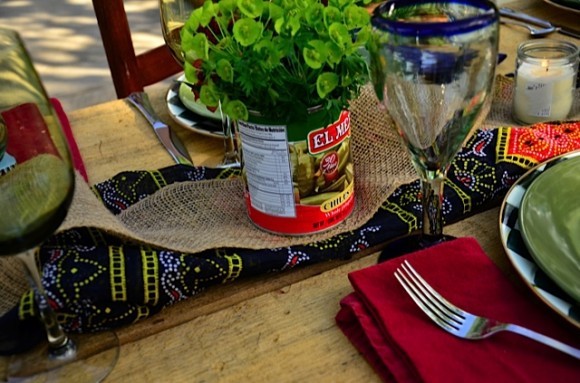 Scarf from a yard sale.
A touch of burlap.
And the table was set!
Here are the rest of the items I used in this setting:

1. Blue water glasses. I borrowed 12 from my friend, Judy, who blogs at From Home to Roam, but I do have 6 of my own from our honeymoon 22 years ago in Mexico!

2. Dollar Tree olive-tinted wine glasses.

3. MacKenzie-Childs chargers.

4. Dollar Tree avocado green dinner plates.

5. Mix-match red and blue cloth napkins.
What's your favorite way to set a simple fiesta-theme tabletop?
Hello and welcome to my home and table!
I'm Sandy—lover of food, family, cooking, THE BIG BOARD, travel, and bringing people together. Through great recipes and connection around the table, we become better, stronger, and more courageous people. Feasting on Life is real, and every time we do it, we grow a little more. Read more...