Ricotta Gnocchi with Berry Compote
A delicious summer treat, enjoy this Ricotta Gnocchi with Berry Compote recipe. Toss with cinnamon and sugar and serve with fresh whipped cream!
Friends, I hope you had a great weekend. And enjoyed a delicious summer dessert, like this Ricotta Gnocchi with Berry Compote!
Ricotta Gnocchi with Berry Compote
Grab the recipe for the berry compote, and make these little gnocchi pillows. Such a treat. For a savory dish, try this Summer Crispy Gnocchi Salad recipe made with fresh corn, radish, green beans, and garden herbs!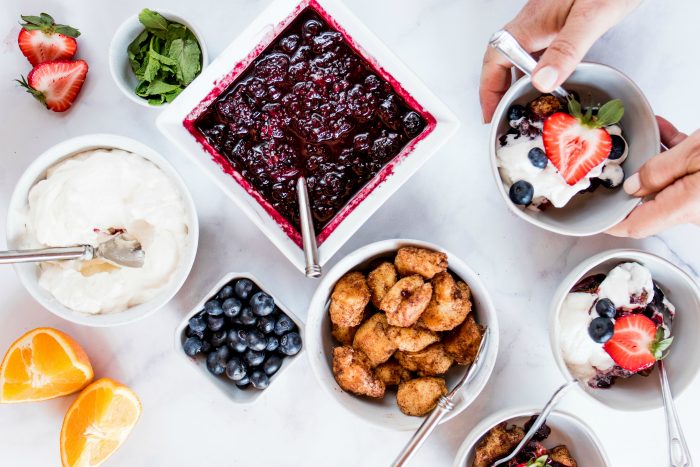 I spent last weekend organizing my kitchen. So much of our day revolves around the kitchen. Cooking and cleaning are easy, but when things get disorganized and messy, it makes it hard for me to focus. The actual process is daunting to me … things get out of order so quickly in my kitchen!
Clutter is real
I came across this quote:
"A confused mind cannot direct deft hands and what is more confusing than a cluttered, disorderly place to work? What is more uninviting, too? The grateful appearance of order – this is the one important way women judge each other's housekeeping. And every efficient housekeeper knows that no room does it count for more than in the kitchen."

–Woman's Home Companion, August 1924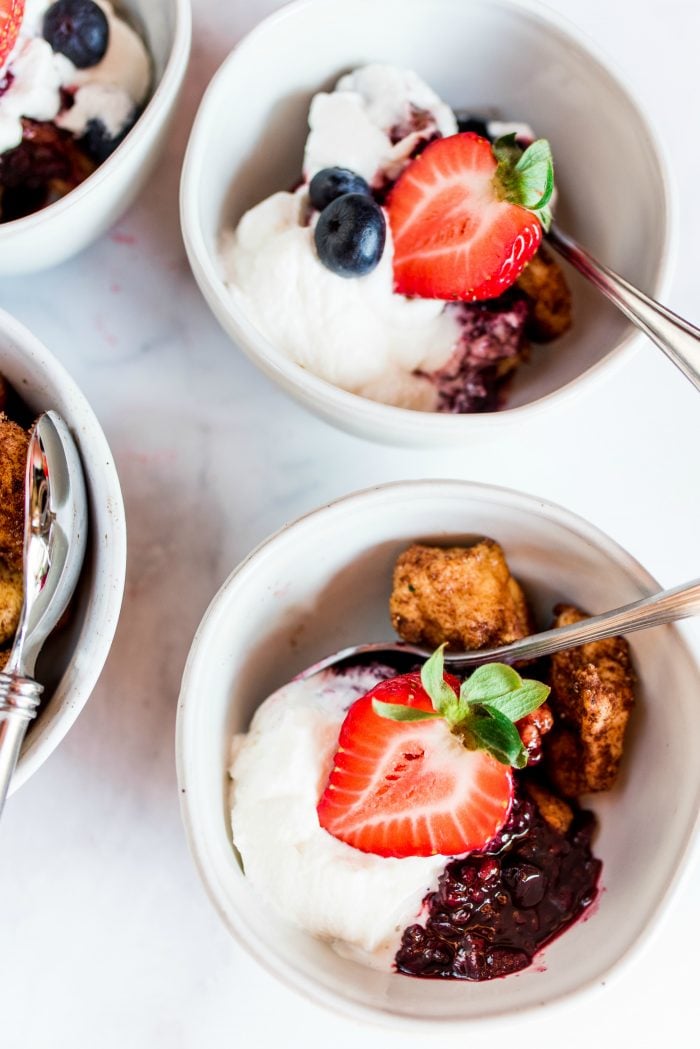 After months of procrastination, we finally got in and organized the clutter, repainted the white kitchen cabinets, and I feel much better. You can only imagine the food and recipes and people that come into our home. LOL. Our home is a very busy place and I love it!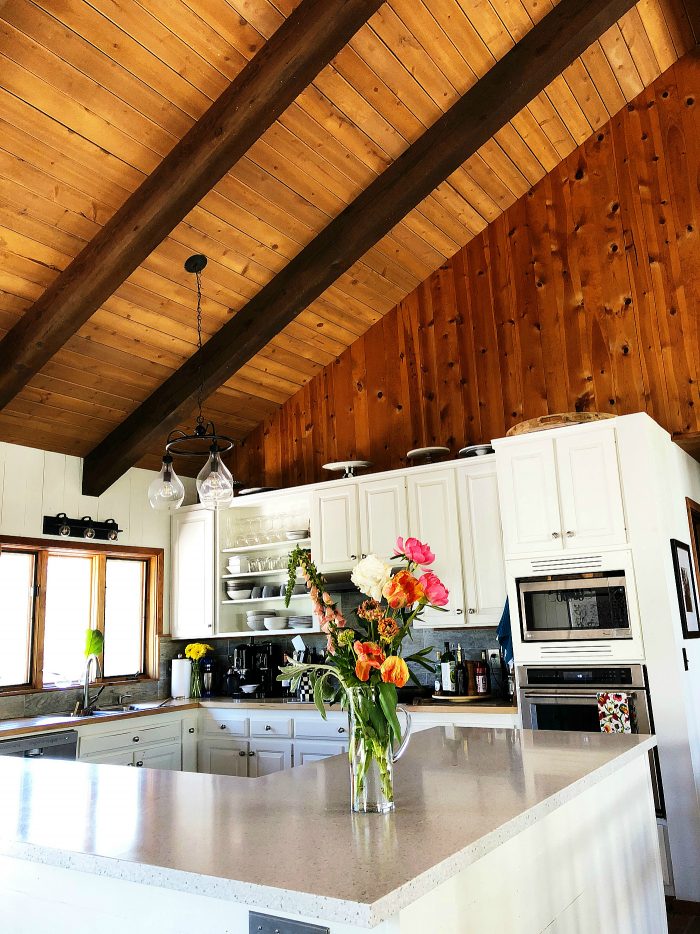 Kitchen is the heart of the home
The process taught me once again, that getting through the ordinary tasks and things that we put off (hello, organizing a large kitchen!), is worth it. We all know–the kitchen is the heart of the home!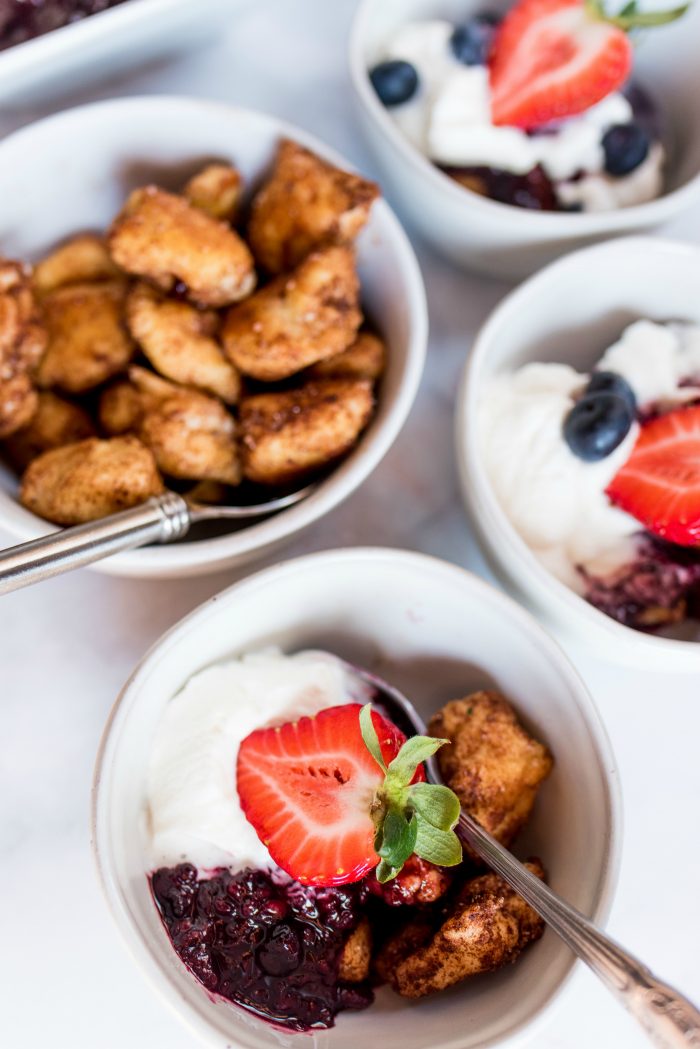 Clutter is real, and the busier we get, the more we don't want to have people into our homes! I wish it wasn't the case. I push through it and do it anyway, because I really don't have high standards like I used to. My goal: To get people into my home and around our table!
These times, like with our kids at home (a short season), are what counts!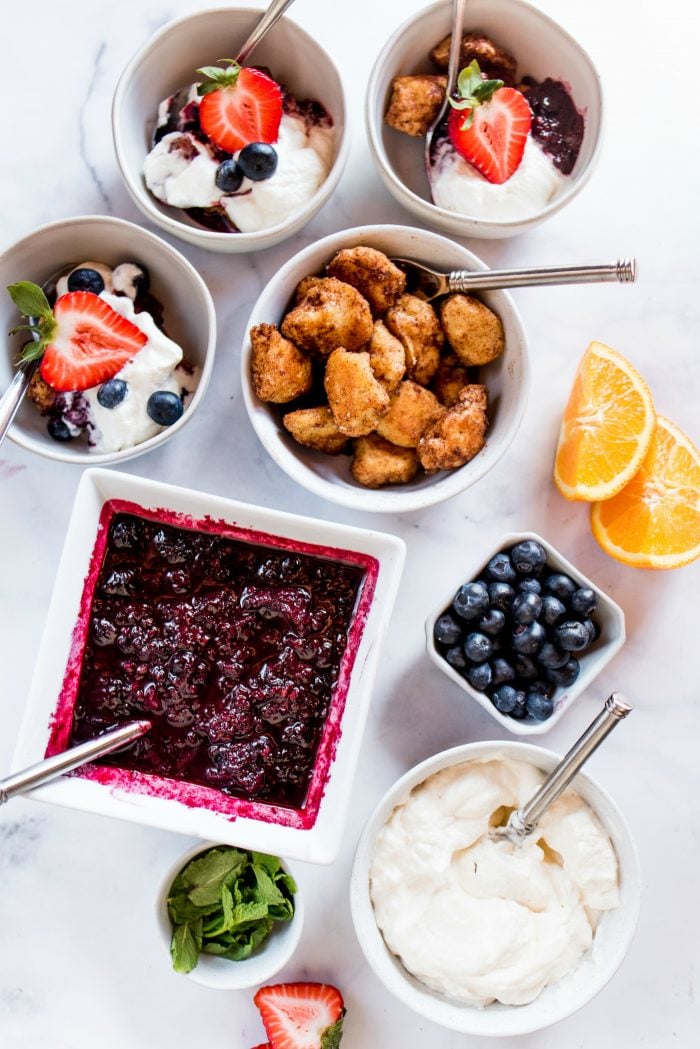 Ricotta Gnocchi Dessert
And then a dessert like this Ricotta Gnocchi with Berry Compote? Come on! (Hello, summer!)
I love that you can make the berry compote ahead and store in the fridge (up to 2 weeks) in a canning jar or container.
These little puffs (or gnocchi) are super fun to make. They do take a little time, but they are elegant and so tasty!
Or, for a shortened version, you can always my friend Becky's Crispy Cinnamon Sugar Biscuit Bites (from a can).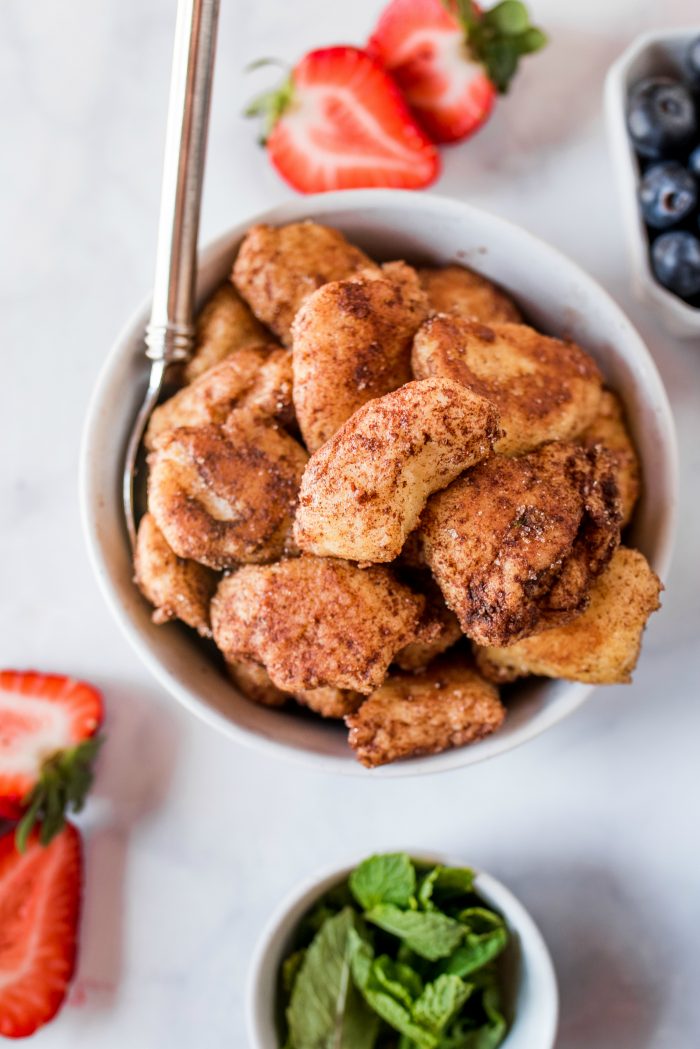 While these homemade "dumplings" are warm, toss them in the cinnamon and sugar.
You can make the compote with fresh berries or this Frozen Mixed Berry Compote recipe!
Do you struggle with clutter, and what are your secrets to staying on top of it?
Happy hosting!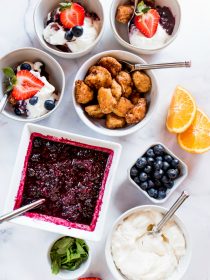 Get the Recipe: Ricotta Gnocchi with Berry Compote
Ingredients
Ricotta Gnocchi
2 cups whole-milk ricotta cheese
2 large eggs
1 tsp Kosher salt
2 tsp lemon zest
¾ cup all-purpose flour, sifted
2 Tbsp cinnamon
1/8 cup sugar
2 tsp vanilla, divided
1 c heavy whipping cream
1/4 cup powdered sugar
1/2 cup olive oil, divided
Berry Compote
1/4 cup avocado oil or butter
1/3 cup coconut sugar
1/2 large orange, juiced
1 tsp vanilla
4 cups of frozen mixed berries
Instructions
In a medium mixing bowl, whip the heavy cream on high until it thickens and barely holds its form, then add in vanilla and powdered sugar. Whip until soft peaks form, but don't over-whip into butter!

In a medium sauce pan, heat oil, coconut or brown sugar, and orange juice. Mix together until sugar dissolves, then add in berries. Bring to a slight boil over medium heat and begin reducing until berries are thick and syrupy—stirring occasionally and scraping the sides with a rubber spatula. I reduced them for 20-23 minutes, because there was a great deal of water from the freezer, but you can remove the berries from the heat when the compote reaches your desired consistency—more time equals thicker compote. When compote is done, keep warm and set aside.

Meanwhile, in a medium bowl, combine ricotta, eggs, salt, zest, 1 tsp vanilla, and flour. Stir until thoroughly mixed, but be careful not to overwork! Stop mixing when all ingredients are combined.

Using a sifter, flour the surface of a baking sheet thoroughly.

Next, scoop 1 heaping tablespoon of dough onto a spoon, then scrape the spoon on the edge of the bowl at an angle to create a semi-flat side on the gnocchi. Dip your finger in flour, then—pushing from the handle of the spoon to the tip—scrape the dumpling off onto the floured baking sheet. Make sure the dumplings don't touch or they will stick. When all the dumplings are on the sheet, top with more sifted flour. Use two baking sheets if needed.

Bring a pot of water to a boil. When the water is bubbling, carefully drop in each dumpling—I did this in two batches. Allow dumplings to boil for 4-5 minutes (they will begin floating to the top), then remove from water with a slotted spoon and strain gently. Repeat this until all dumplings are cooked.

In a medium skillet, heat 1/4 cup of olive oil. When oil is hot, place dumplings in the pan—allow each side to crisp and brown for about 3 minutes before flipping to the other side. Repeat this step (using a new 1/4 cup of olive oil if needeuntil all dumplings are fried.

While dumplings are warm, toss them in the cinnamon and sugar.

To serve, layer dumplings, compote, and whipped cream. Top with fresh berries to garnish. Enjoy!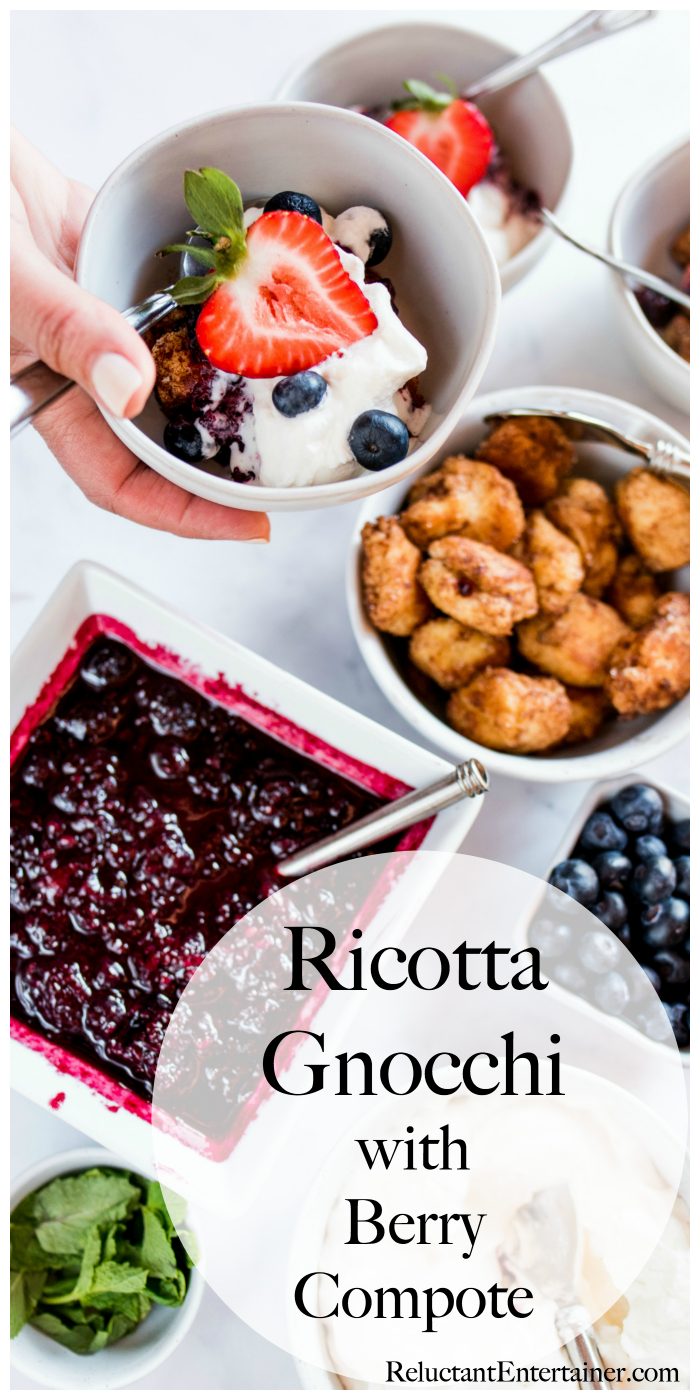 Hello and welcome to my home and table!
I'm Sandy—lover of food, family, cooking, THE BIG BOARD, travel, and bringing people together. Through great recipes and connection around the table, we become better, stronger, and more courageous people. Feasting on Life is real, and every time we do it, we grow a little more. Read more...